Before Sideshow Collectibles blew our minds with their sickeningly cool Carnage and Venom Premium Format Figure prototypes at NYCC 2016, this claimed hundreds of my future dollars when they revealed their Premium Format Groot & Rocket Raccoon statue at SDCC 2016. The only question was when Sideshow was getting my money–and how much. And as it happens, now I know both: the Sideshow Exclusive Groot & Rocket Raccoon Premium Format Figures are now up for order!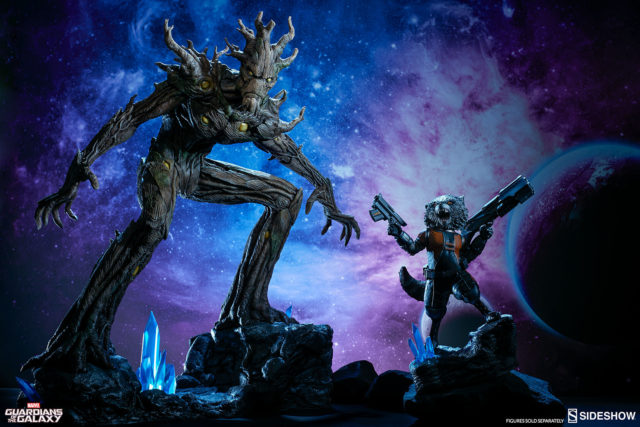 Five years ago I would have never thought it would be even within the realm of possibility, but the day has come when two of my favorite oddball formerly obscure characters in the entire Marvel Universe are getting their own Sideshow Quarter-Scale statues.
That's right: comic book versions of Rocket Raccoon and Groot, an anthropomorphic raccoon and tree-man, are actually getting the high-end quarter-scale treatment! It really is the golden age for Marvel collectibles!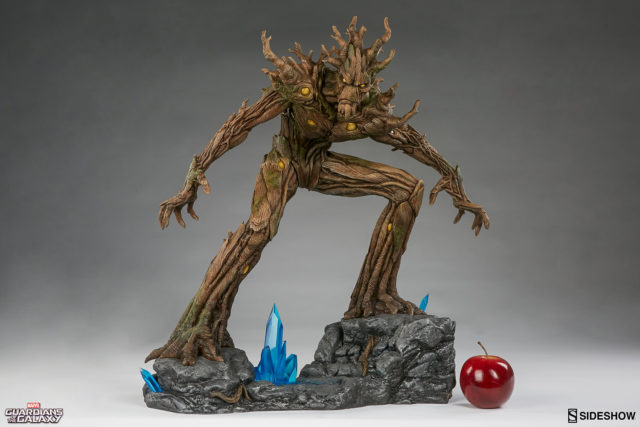 If you want this dynamic duo, though, you better have plenty of unoccupied space picked out for them: the Groot Premium Format Figure stands nearly 23″ tall and has a base that's 20″ wide! Yipes! Rocket's 10″ tall height while on his base is pretty puny by comparison (just the way it should be).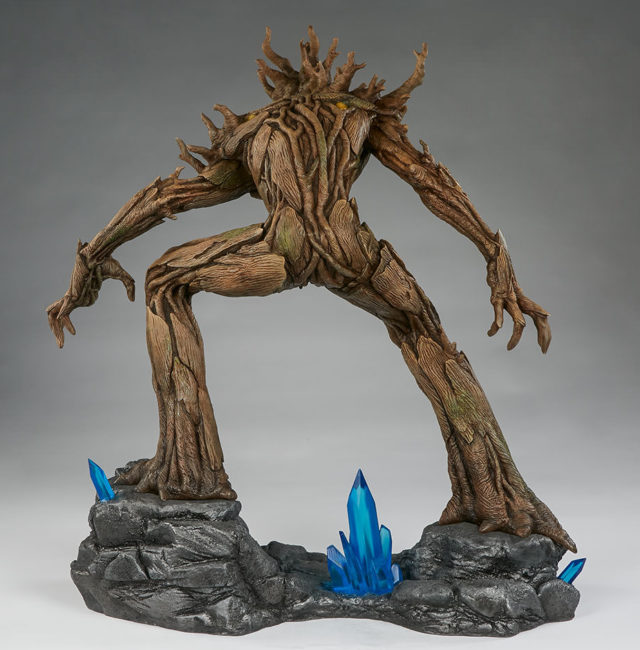 Front and back, this Groot Premium Format figure is looking awesome. I much prefer the alien and creepy-looking comic book design of Groot to his "friendly" movie portrayal, so this is the statue of Groot that I've been waiting all my life for (well, part of my life for, anyway).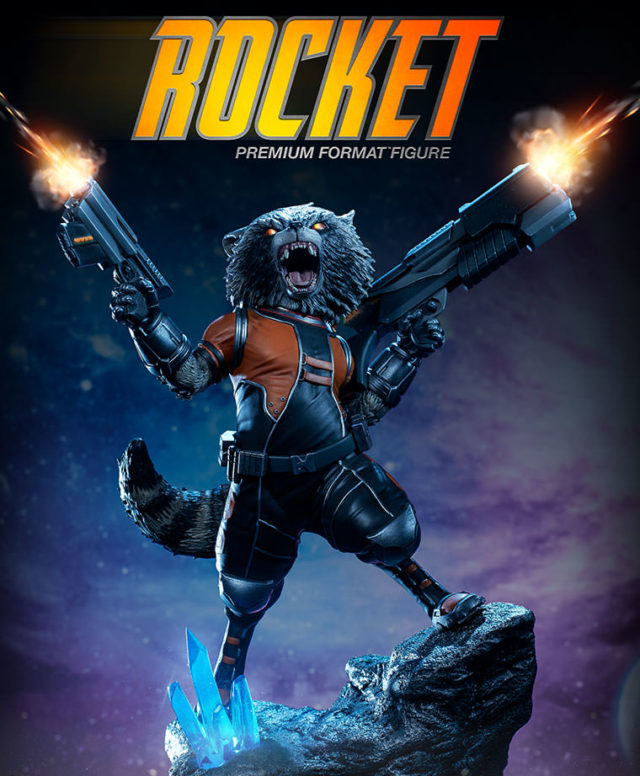 We were originally led to believe that Rocket and Groot were going to be sold only as a set and not separately, but clearly Sideshow Collectibles looked at the enormous price-tag this duo would cost and thought better of it. As such, you can purchase the Exclusive Groot for $599.99 or Rocket by his lonesome for $279.99 (or get a discounted bundle of the two).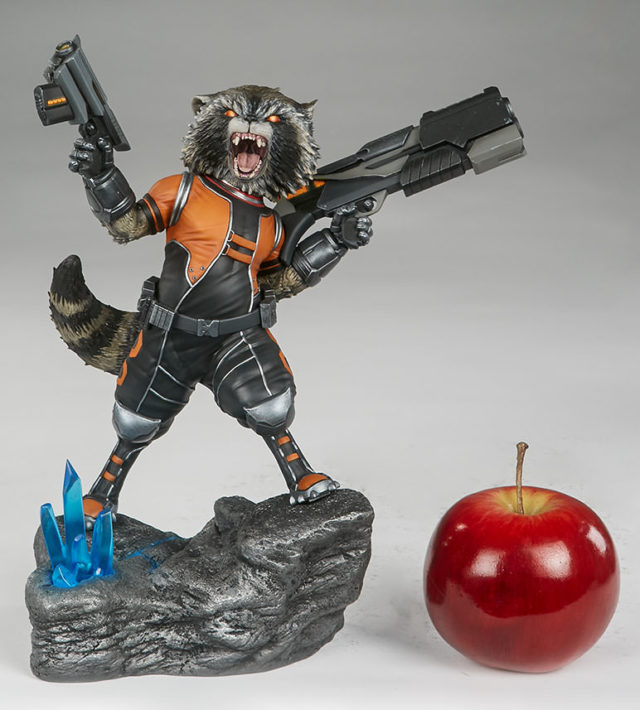 As Rocket is clearly the smallest Marvel Premium Format Figure ever, 280 bucks definitely feels like a little bit of a ripoff for him. I think he looks amazing and I have to have him regardless, but I definitely flinched a little bit when I realize the bundle of these two would cost $830 shipped. Yowza.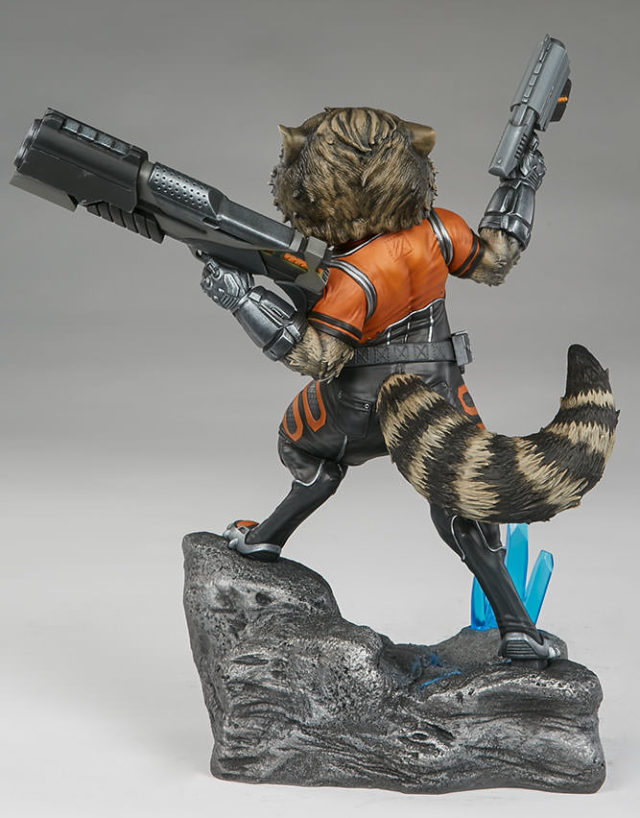 Even so, look at that fluffy little ($280) raccoon tail! AWWWWWW!! It's so, so worth it. (There are some days that I really hate myself.)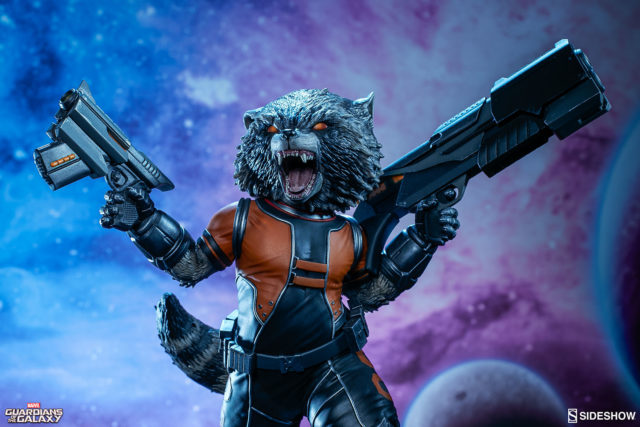 Rocket's orange-and-black jumpsuit provides a great color contrast to the rest of the colors in the full Sideshow Premium Format Guardians of the Galaxy series. And speaking of which…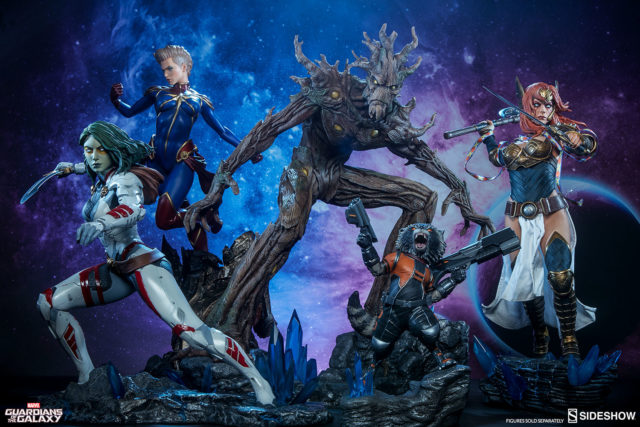 With Gamora and Angela having gone up for order earlier this year and a future Star-Lord Premium Format Figure confirmed, that just leaves Drax necessary to complete the Sideshow Guardians of the Galaxy statues lineup.
Supposedly Drax isn't on the drawing board at Sideshow Collectibles right now (likely because he's easily the least popular of the core GOTG members), but I'd like to think that Sideshow will want to complete the team for their fans.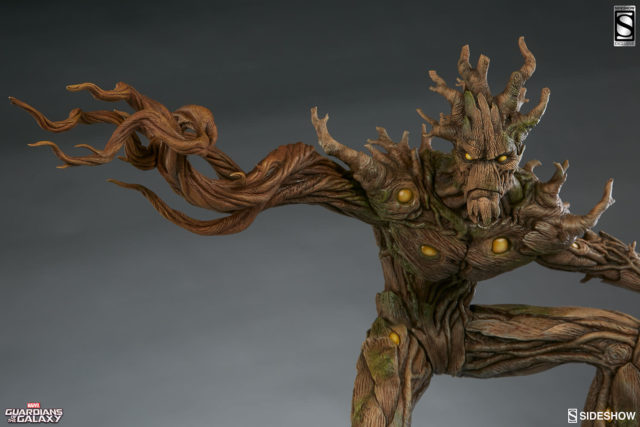 As with almost every Marvel Premium Format Figure that goes up for order these days, there will be an EXCLUSIVE Groot edition that comes with an extra accessory: a swap-out interchangeable "attack tree" arm. Think of this as being like an arboreal tentacle!
Like yesterday's "Bag of Stolen Jewels" with the Black Cat EX, this isn't the most exciting exclusive add-on ever, but I'm also not about to turn my nose up at a free bonus that will make my statue's value much higher than the non-exclusive version.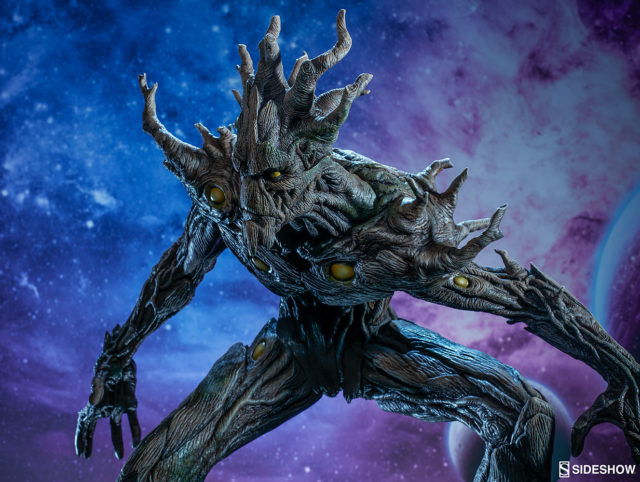 The Sideshow Exclusive Groot and Rocket Raccoon statues are now up for pre-order, and are scheduled to be released in Q4 2017. That's good and far from now–and I'm thrilled about it, because that means my Flexpay payments can be spread out nicely. If you purchase both the Rocket and Groot statues right now as a bundle, Sideshow is giving 50 bucks off and free shipping. Considering that this is a very expensive set, I'll thankfully take that free shipping and fifty dollar discount.
What do you think of the latest Sideshow Guardians of the Galaxy statues, Marvel collectors? Are you all-in for the biggest series of GOTG statues ever, picking and choosing your favorites, or skipping out on this humongous (and humongously expensive) line altogether?