We're officially under one month away from the Guardians of the Galaxy Vol. 2 movie hitting theaters–but only one week away from the deadline to order the Funko Marvel Collector Corps GOTG Vol. 2 Box! Funko has been pretty tight-lipped about the contents of this box since it was announced in February, but we got a major hint today. And by "hint", I mean "complete spoilers for the exclusive POP Vinyl figure included"! It's a cutie, but I suspect this choice will be a divisive one…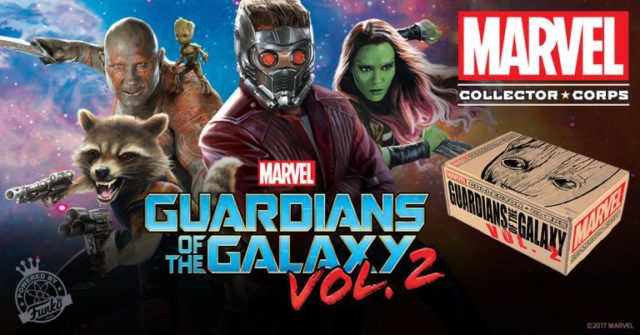 The first Guardians of the Galaxy movie is my favorite superhero film ever, and the sequel is at the top of my list of "must-see" 2017 movies. So when Funko officially announced the Guardians of the Galaxy Vol. 2 Collector Corps box (not that we didn't all know it was coming anyway), I was pretty jazzed.
Given that the GOTG 2 POP Vinyls series is quite expansive to begin with, there didn't seem to be many characters that could be possibilities for the subscription box. But what I suspect many collectors weren't expecting is this…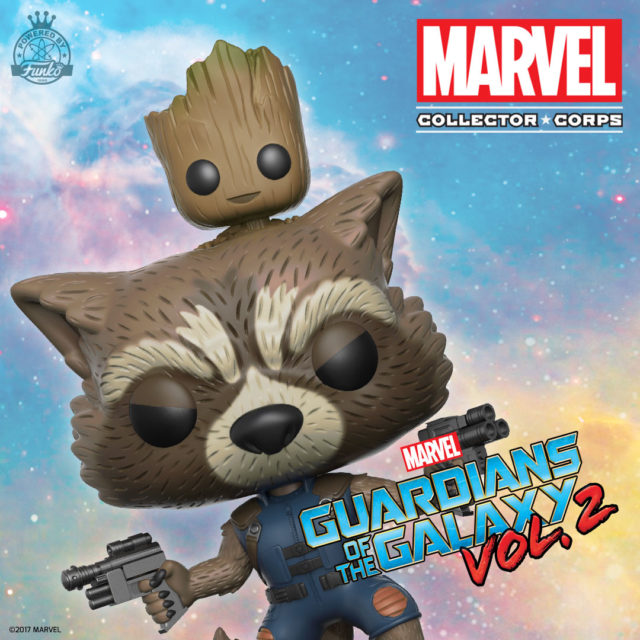 …a Funko Rocket Raccoon & Groot POP Vinyls figure. While we got an exclusive POP Rocket Raccoon holding potted Baby Groot figure for the first movie, this is the first (and to date, only) two-in-one figure of Rocket and Groot for Guardians of the Galaxy. A Collector Corps exclusive Rocket and Groot POP Vinyl an obvious choice to appeal to the masses, but I think in this case it's going to be a disappointment to some collectors.
While the new Rocket Raccoon POP Vinyl body is actually a unique mold with a different chest, he's in exactly the same dual-wielding pose as the GameStop Exclusive version of Rocket–just with squinting eyes, Baby Groot on his shoulder and a different body.
This is definitely an adorable POP and easily my favorite version of Rocket Raccoon that Funko is doing from the movie, but it really doesn't feel quite as special as the usual MCC exclusives that we get.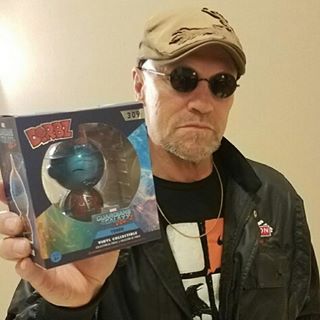 I think what's really going to disappoint some folks is that the text on the Marvel Collector Corp page ("Here's your first look at
the
Exclusive Pop! that will be included in the upcoming
Guardians of the Galaxy Vol. 2
 box.") makes it sound like this is the only exclusive POP Vinyl figure in the box.
A lot of people were expecting and hoping for a new version of POP Yondu with Mohawk (especially since a Dorbz Yondu with Fin figure is already announced for release at Hot Topic this spring).
Mohawk Yondu is such a major variant of a a significant character that I just can't see Funko not announcing a POP Vinyl for release in some manner soon, but fans expecting him in this box very well might be disappointed (so try to keep your hopes down in this instance!).
The Marvel Collector Corps Funko Guardians of the Galaxy Vol. 2 box is available for order until 4/15/2017, and should be shipping out to collectors immediately after orders close. I'll be posting my usual full review, unboxing photos and spoilers as soon as my box arrives.
What are your thoughts on the first item revealed for the GOTG Vol. 2 Collector Corps Box, Funko fans? Does knowing that the box's exclusive POP Vinyl is Rocket Raccoon with Baby Groot make you more or less likely to order this box? And besides this POP, what are you hoping to see fill out the rest of the box?