Earlier today I discussed the nine new figures that will make up the first wave of Guardians of the Galaxy Vol. 2 Funko POP Vinyls at mass retail, but as usual, Funko's got a cavalcade of exclusives coming for us as well! Whereas the first GOTG movie had only one store exclusive when it launched, Funko is quintupling that number for Guardians of the Galaxy 2, with five exclusives including a Target Exclusive super-sized Baby Groot POP!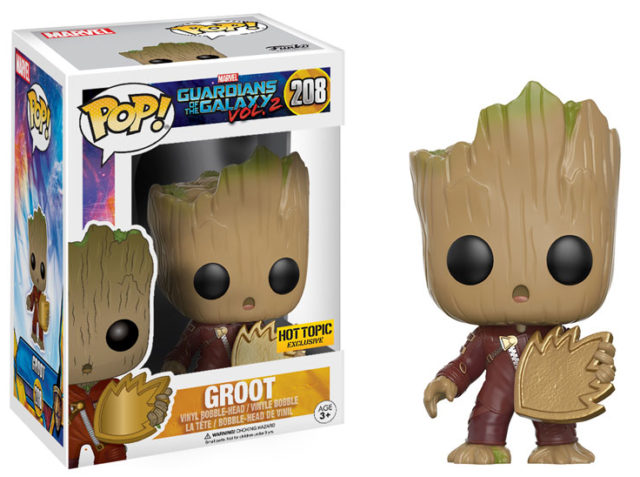 At this point, we all know that desirable store exclusives are a fact of life when collecting Funko POPs. The question is no longer "if" there will be exclusive releases–it's "where" and "how many". And while we're still a month out from them hitting stores, we know exactly what the five exclusive GOTG 2 POP figures are and where we'll be able to find them!
First up–and cutest–is a to-die-for is the Hot Topic Exclusive Baby Groot in Jumpsuit POP, who's wide-eyed and in awe of the Guardians of the Galaxy Badge he's holding. I'm ecstatic that this figure is a Hot Topic exclusive, as Hot Topic is almost universally the easiest store to obtain POP exclusives from.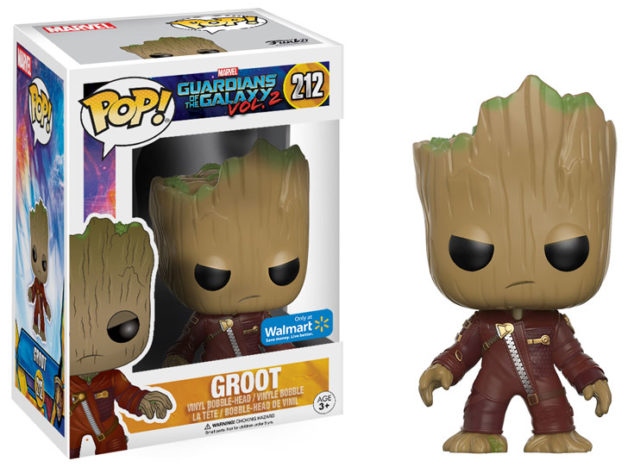 Also in his team uniform–but far less amused–is this angry-eyed Baby Groot POP that will be available exclusively at Walmart.This is similar to the Hot Topic version, but with a totally different facial expression and eyes, plus a different left arm that's not holding a badge.
Walmart is among my least favorite destinations for hunting exclusive toys, but this POP Angry Baby Groot figure is a must-have for me. Love it! (Let's hope Walmart isn't dumb enough to under-order this gem.)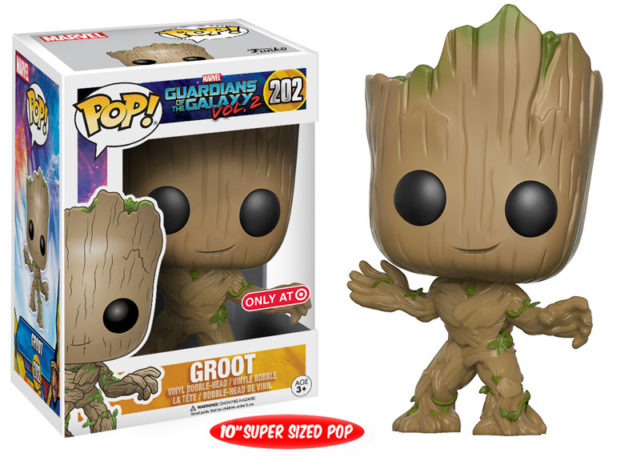 Rounding out the trio of Baby Groot Funko exclusive figures is the Target exclusive Super-Sized Baby Groot 10″ POP Vinyl! He's big, he's adorable, and he will be on my desk later this winter. Another inspired choice, and thankfully, Target Marvel POPs tend to be pretty easy to come by as well.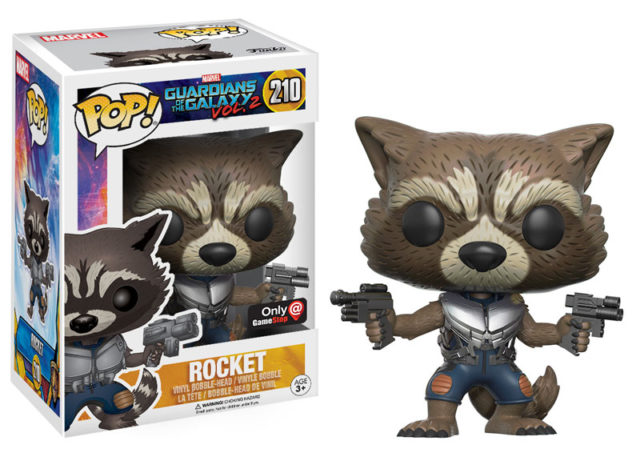 The last two exclusives are not anthropomorphic tree people, believe it or not (though one
is
an anthropomorphic raccoon).
Unlike his standard jet pack-flying release, the GameStop Exclusive Rocket Raccoon POP will still be dual-wielding guns, but this time without his jet pack. This exclusive is a little dull, and if I wasn't all-in, it might be a pass for me.
Meanwhile, the Toys R Us Exclusive Action Pose Star-Lord POP features masked Star-Lord armored up and ready to fight with one blaster. This is the only GOTG 2 Star-Lord POP with his mask up other than the Chase figure.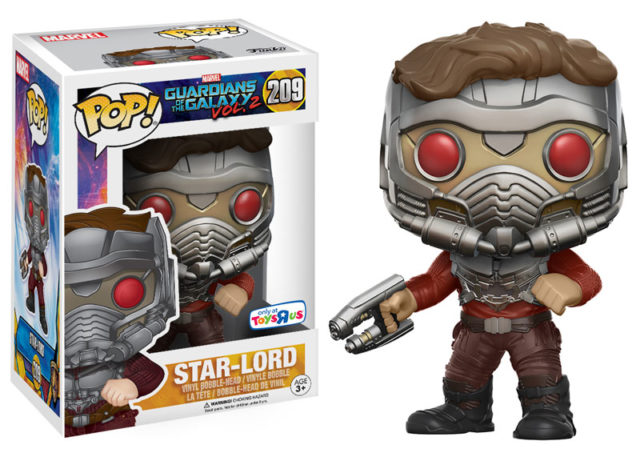 I'll post updates and order links to the Marvel Toy News Twitter and Facebook Pages as these Exclusive POPs go up for order online, so be sure to stalk our social media pages for instant heads-ups if any of these figures make your "gotta-have-it" lists.
What do you think of the quintet of store exclusives for the Funko POP Guardians of the Galaxy Vol. 2 series, Marvel collectors? Are any of these figures bound for your collection, and if not, what would you have preferred to see as exclusives instead?