To the dismay of pretty much everyone, it appears that the street date/release date on the Marvel Legends Guardians of the Galaxy Vol. 2 figures has been pushed back until March 2017, with the new target month reflected on virtually every retailer website now. But while we're going to be waiting another two months to get our hands on Angela (that sounded dirty) and Yondu and Darkhawk, it looks like there's one new GOTG figure that we may be seeing a bit sooner: a Toys R Us Exclusive Marvel Legends Groot Evolution Pack has surfaced online–with the first Marvel Legends Baby Groot figure!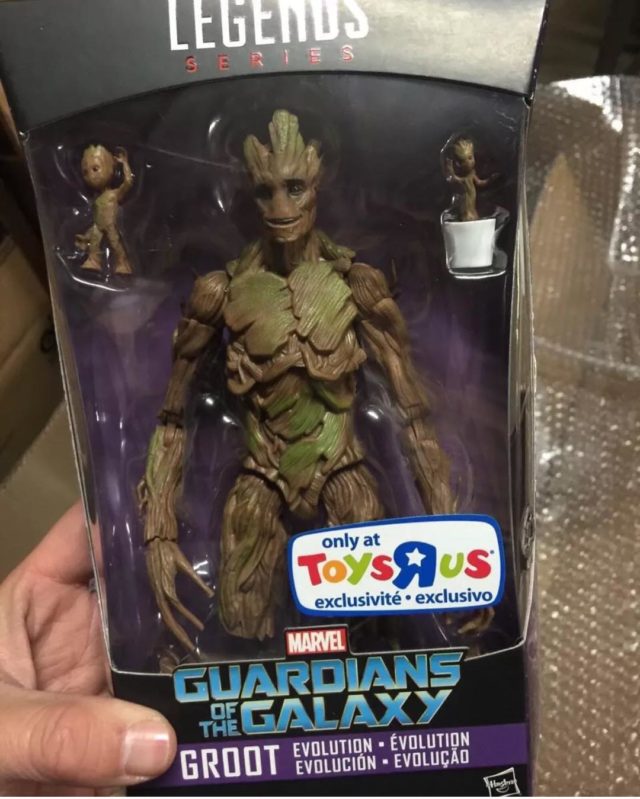 With Groot being the genuine surprise breakout hit character of the first Guardians of the Galaxy movie, I was a bit boggled when the lineup for the first Guardians of the Galaxy 2 Marvel Legends wave was announced and a sure-to-be-popular Baby Groot figure was nowhere to be found in the series. Like everyone else, I assumed we'd be waiting until Wave 2–and the inevitable new Legends Rocket Raccoon figure–to get our first Baby Groot Marvel Legends figure.
But it looks like the world's most beloved anthropomorphic tree will be making his debut in a different, unexpected way–as part of a Toys R Us Exclusive Marvel Legends Groot Evolution figure set!
The set includes three figures: the Groot Build-A-Figure from the first movie with a new head, a PVC potted Groot figure from the end of the first movie (which I actually think might be new, as I can't recall seeing it released before), and a Young/Baby Groot figure in a waving pose.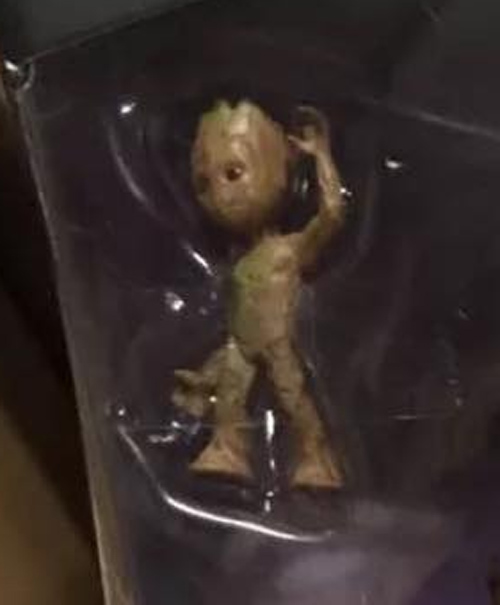 Unless the articulation is incredibly deceptively hidden, it looks like this Baby Groot figure is going to be an unarticulated PVC statue. I'm totally okay with that, although I would love it if Hasbro would do a whole bunch of Young Groot figures as pack-ins in different poses. We need Young Groot in his adorable Guardians of the Galaxy Uniform, after all!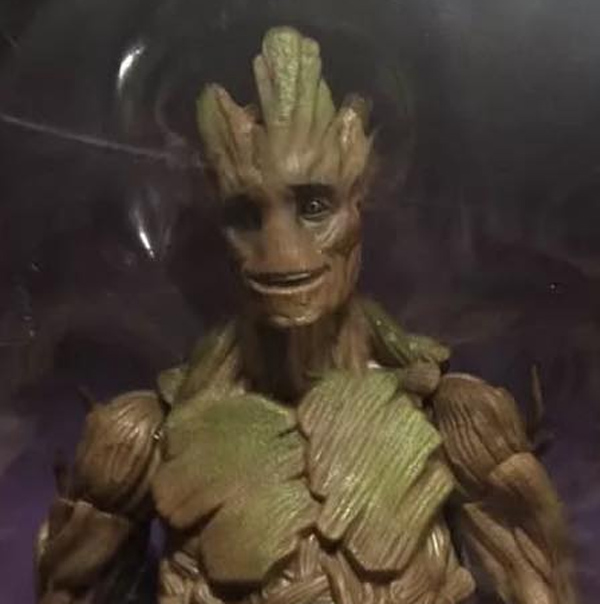 I know some folks are gonna be miffed that the Groot BAF is making a comeback, but honestly? It's been three years since the first movie one was released, and this one has an all-new (and
way
-friendlier) head. Not everyone could build the first Groot and this is a good way to allow collectors to complete their cast from the first movie. Thumbs up from me.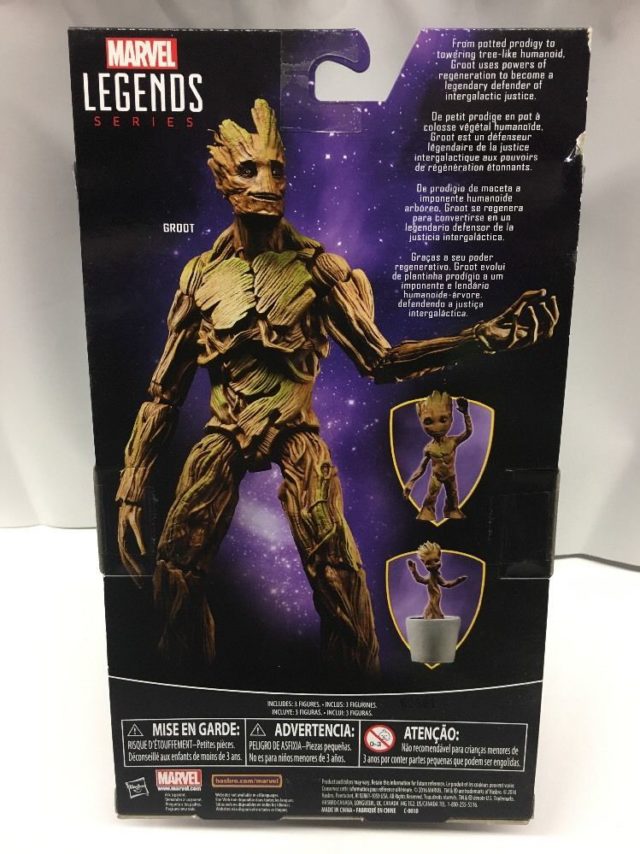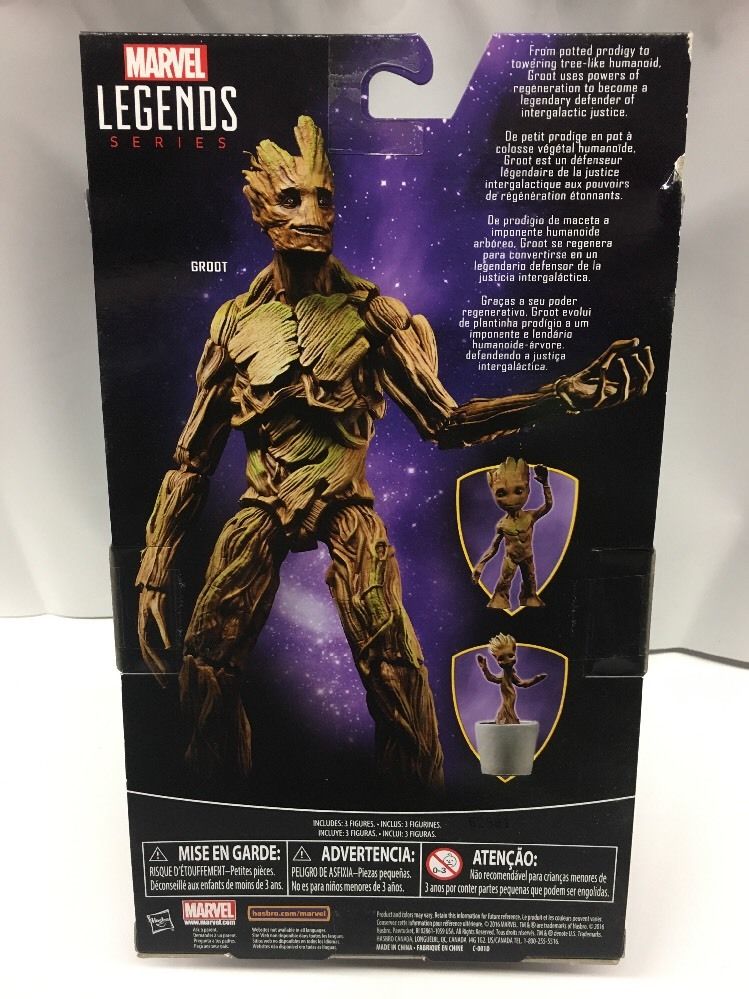 You'll notice that the Build-A-Figure Groot is too large for the standard Marvel Legends packaging, so he's been put into the box with his legs detached and peeking out at the bottom of the package (under the logo).
Oddly enough, while the photo of this figure is sourced from an ebay auction, I can't seem to track down said auction on anywhere on any of the ebay sites–domestic, international or otherwise. Any help, dear ebay expert readers? UPDATE: Here's the Ebay auction where the Groot Evolution Pack was first discovered. Thanks, Alejandro!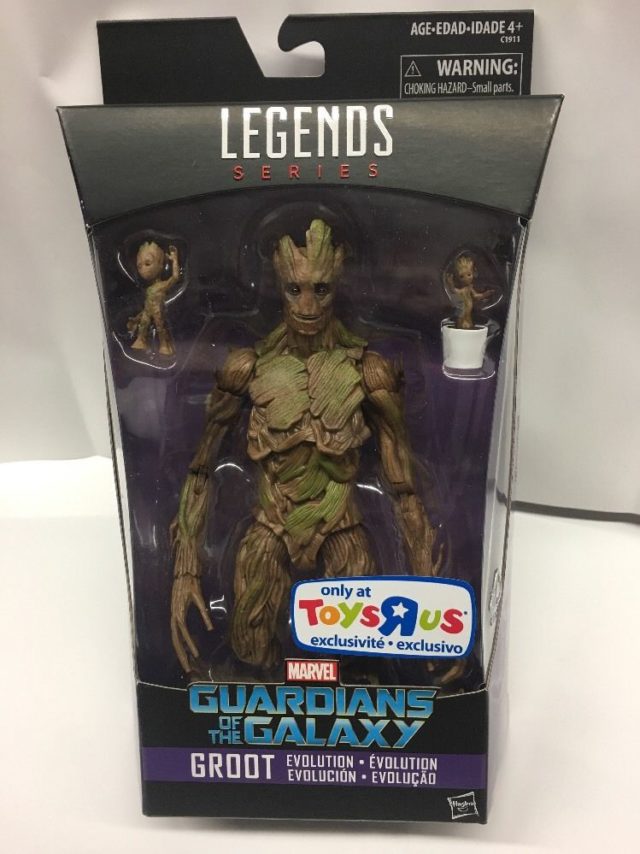 As of now, there are no details on the price or release date of this Toys R Us Exclusive Groot Evolution Marvel Legends figure pack, but I would be surprised if Toys R Us priced him above the standard $19.99 MSRP they have set for their Hasbro Legends. They didn't do that for the 100% new sculpt Rogue One Black Series Hovertank Driver, so I don't see why they would do it here. I'll post updates to the Marvel Toy News Twitter and Facebook Pages when more information is available.
What do you think of the first exclusive figure release in conjuction with Guardians of the Galaxy Vol. 2, Marvel collectors? Do you like the first Marvel Legends Young Groot figure, or were you hoping for a different look? For that matter, are you mad about the Groot Build-A-Figure returning, or thrilled to see him back with a new head that more authentically reflects his gentle nature?