Now that we're officially into 2017, I knew it was only going to be a matter of time until Funko flooded us with Guardians of the Galaxy Vol. 2 merch. Well, the dam has officially burst, and man has Funko ever got a lot of GOTG 2 goodness coming our way! So much, in fact, that I'll be breaking their offerings into several smaller, more digestible posts. But we'll begin with the main line most fans will be excited about–the Funko Guardians of the Galaxy 2 POP Vinyls are now up for order!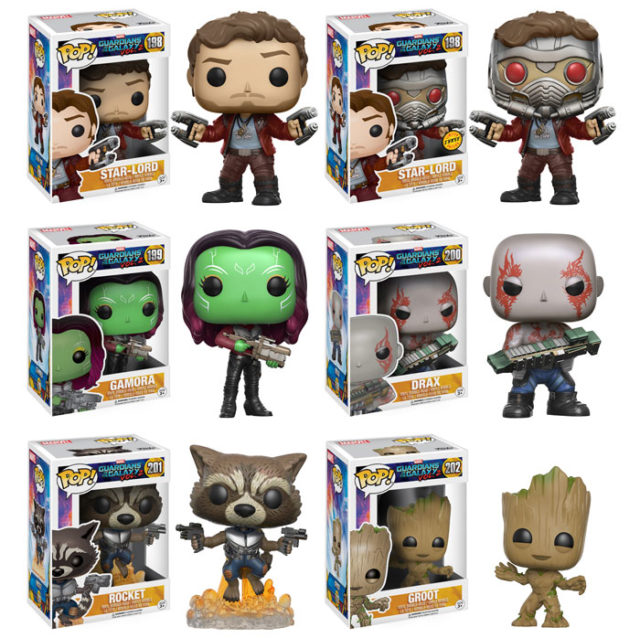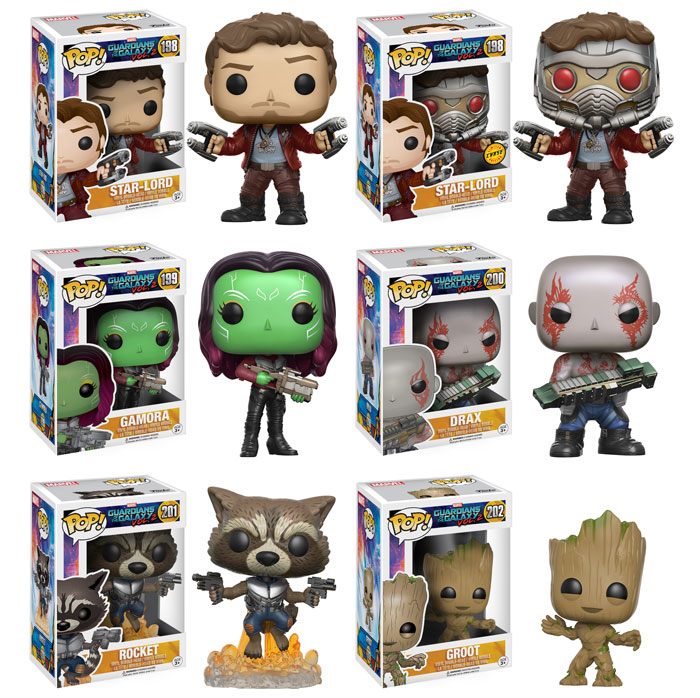 When the first Guardians of the Galaxy movie hit theaters and was a blockbuster success, Funko had a mere five characters on shelves as POP Vinyls figure. They remedied that situation with a second wave months later (with Cosmo, Thanos, Howard the Duck and more!), but the damage and had been done and money had been lost.
Not wanting to leave collectors with spare dollars in their pockets again, a much larger line of Funko Guardians of the Galaxy Vol. 2 POP Vinyls is coming in with guns blazing… literally!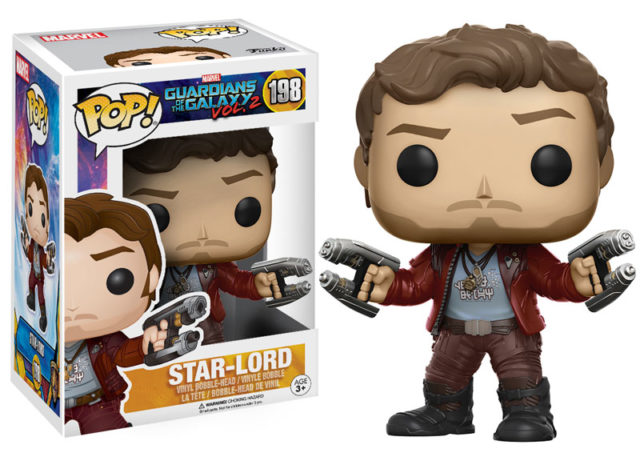 Funko Star-Lord will be making his fourth, fifth, and sixth appearances in the POP Vinyls lines with a mass release figure, a store exclusive (that I'll discuss later) and a special Chase variant.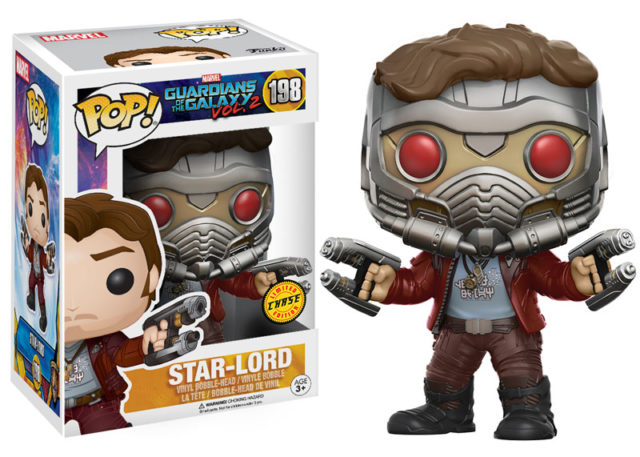 The standard Star-Lord POP Vinyl for GOTG 2 will be the more desirable unmasked Chris Pratt head version this time, with the masked version being a Chase Star-Lord POP with Mask on coming to stores in a 1:6 ratio with the regular version. (Thankfully, the version I want is not the Chase for once.)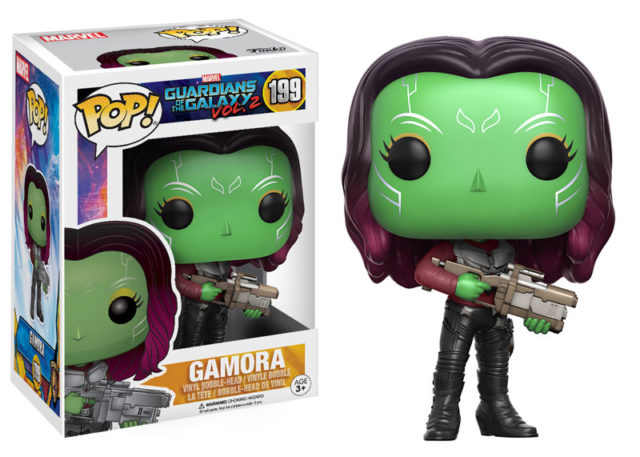 Gamora gets her second-ever POP Vinyls figure for the new movie as well, and this time she's packing a heavy blaster instead of her sword. Gamora is as deadly with guns as she is with blades, so I like this POP showing another of her myriad abilities.
And speaking of gun-toting Guardians–Drax is back with a BFG of his own! While I much prefer Drax with knives to Drax with a gun, there's no denying the appeal of the new angled "angry" eyes on Drax.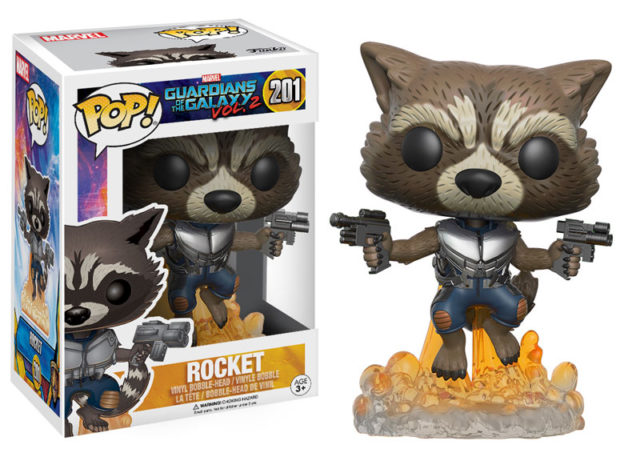 The Guardians of the Galaxy 2 Rocket Raccoon POP Vinyl figure brings us a wholly different aesthetic from previous versions, as this time Rocket is not only dual wielding–he's taking off with a jet pack with flame effects pieces!
I have all the previous Rocket Raccoon POPs, but this one is fun and different-looking, so it's another must-but for me.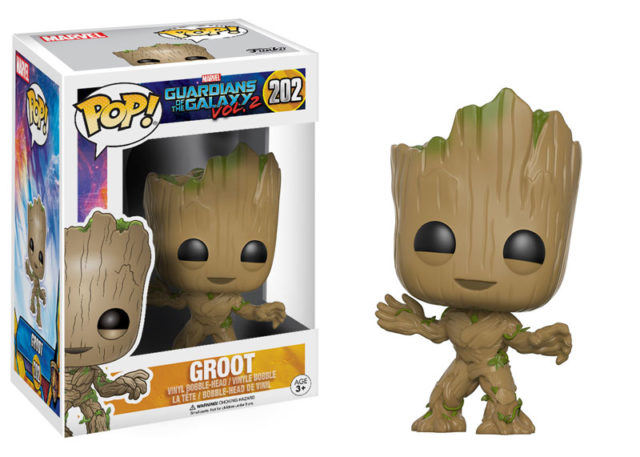 The new Guardians of the Galaxy 2 Baby Groot POP Vinyl figure rounds out the core team. This version is cute, but the (multiple) exclusive POP Baby Groot figures coming out are a lot more fun (and more adorable), in my opinion.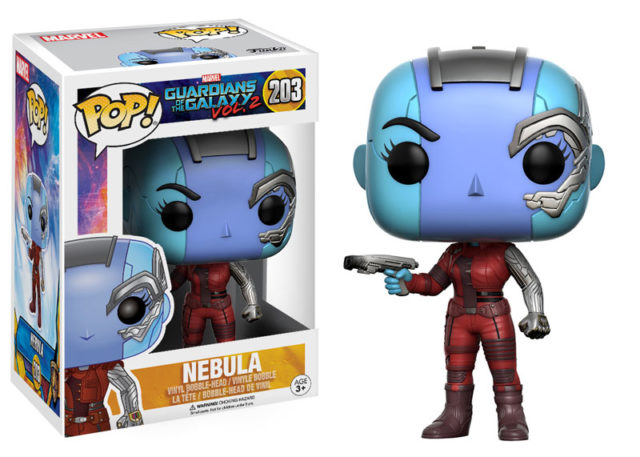 …But wait, there's more! Two new characters will be joining the GOTG 2 POP Vinyls lineup, along with a returning adversary.
Hopefully Nebula will have a meatier role in the new film, but regardless, she'll be getting her second POP Vinyls figure. Is it me, or does she look a little bit friendlier this time out…?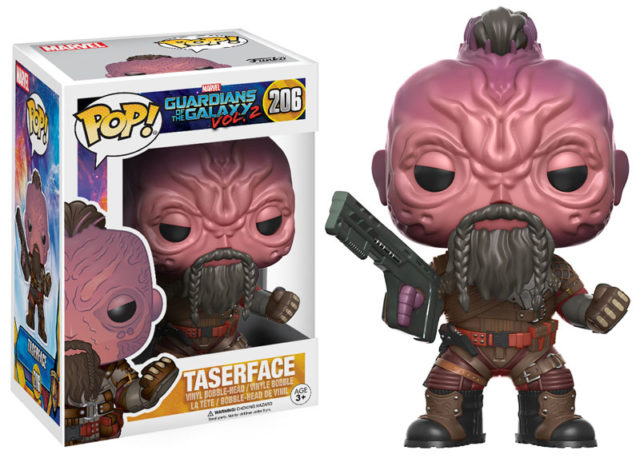 Meanwhile, new team member Mantis will be commemorated with the first-ever Funko Mantis POP Vinyls figure, while a POP Taserface will be the tenth and final figure in the first (and maybe only) mass-release wave of POP Guardians of the Galaxy Vol. 2 figures.
I think it's worth noting that the much-hyped character of Ego is noticeably absent from this (or any Funko) series. Could Peter Quill's father be making an appearance in the April Marvel Collector Corps Guardians of the Galaxy 2 box…? Yondu is also missing, which is a strange omission given his increased involvement in this movie. Hmm.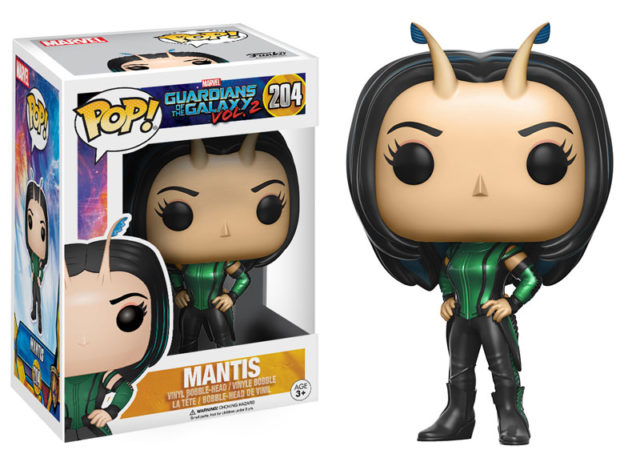 The Guardians of the Galaxy 2 Funko POP Vinyls are now available for order, and are expected to be released in February 2017. With the Marvel Legends series also being pushed to March, it's looking like this winter is going to be a very expensive season for GOTG2 collectors (namely, me!).
What do you think of the Funko POP Vinyls Guardians of the Galaxy 2 series, Marvel collectors? Will you be building a whole new team, mixing new characters with your collection from the first movie, or passing on these stylized vinyl figures altogether?