Returning home from a little bit of late holiday shopping, I discovered what just may constitute a Christmas miracle: UPS had made a Sunday morning delivery of my December 2015 Funko Guardians of the Galaxy Marvel Collector Corps Box! I'd heard some early criticism about the contents of this box, so I was skeptical, but after unboxing the Guardians of the Galaxy box, this turns out to be my favorite Collectors Corps box so far…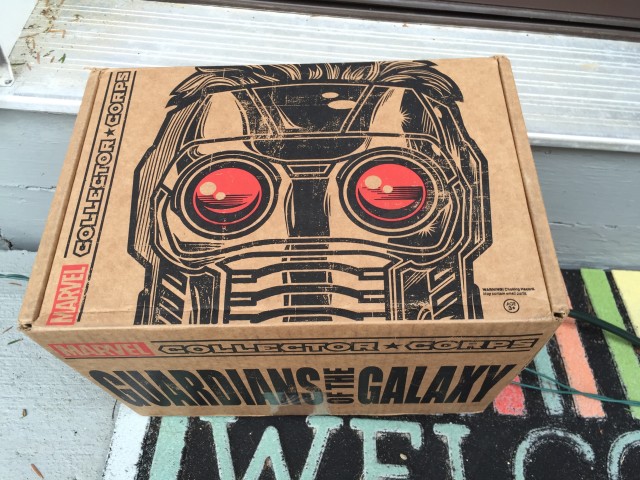 WARNING: This is a review and unboxing, so from this point on, there be spoilers. Be forewarned!
As hard as I try to remain unspoiled for the contents of each Funko Marvel mystery box, it's next to impossible to avoid hearing anything and remaining active on social media these days.
And so, I did know that some folks were disgruntled with this month's Marvel Collector Corps Guardians of the Galaxy box, and I had heard the word "ornaments" tossed around. Let's begin…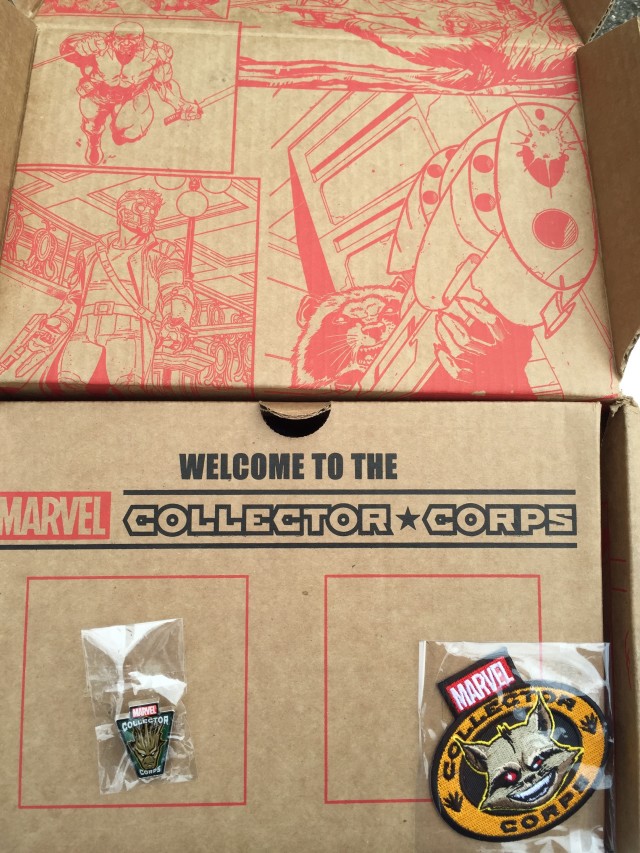 Opening up the December 2015 Collector Corps box, the first thing we see is the obligatory metal pin and patch. As most people had guessed, these items are of the two most popular members of the GOTG…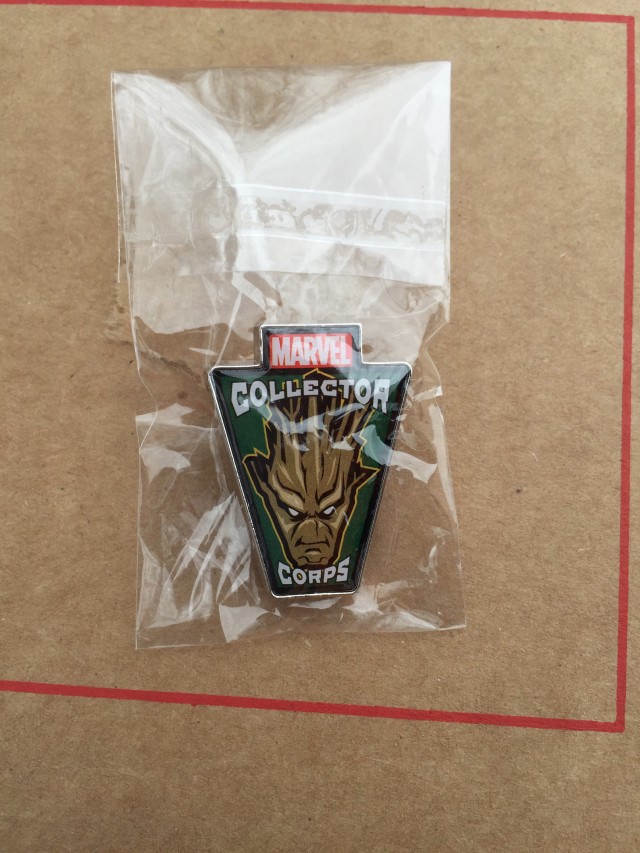 This month's pin is a Groot head. It's not the cutest Groot I've ever seen, but as Groot is a character I genuinely love, this is easily my favorite of these MCC pins this far.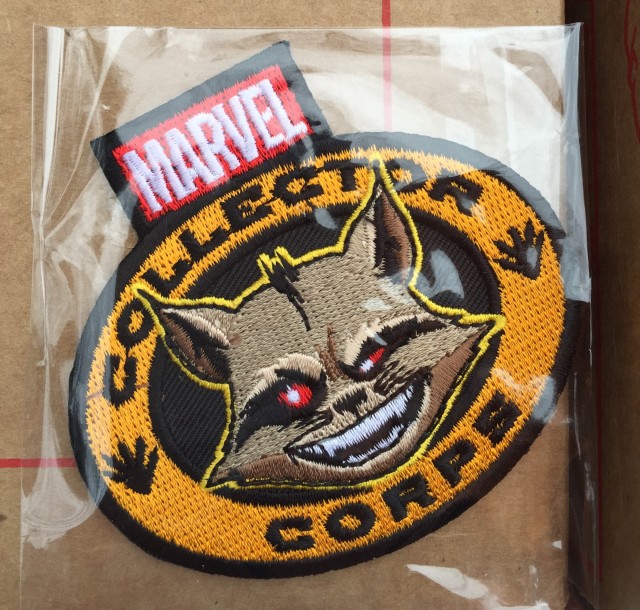 Meanwhile, the patch is Rocket Raccoon this month. Better yet–it's based on Skottie Young Rocket Raccoon artwork! This is just so adorable. I really will have to find a messenger bag or something to attach this Rocket patch to. Nice choice!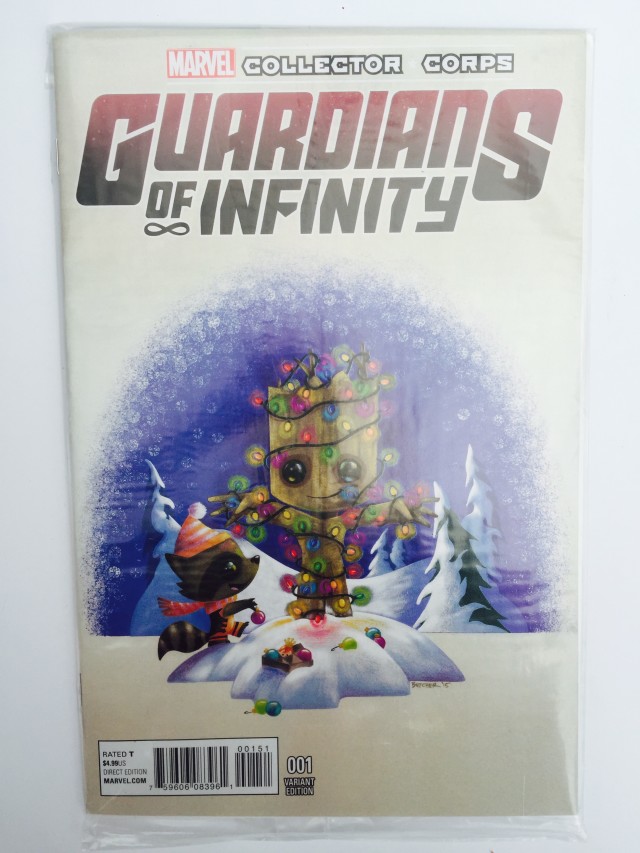 Further opening the box, we see this month's comic: a Guardians of Infinity #1 exclusive variant cover comic book!
This comic just hit recently and I didn't buy it, so I'm thrilled not only to have it to read without having to pay for it (sort of), but also to get the best cover for it. If this isn't the most heartwarming cover ever for a GOTG comic book, I don't know what is.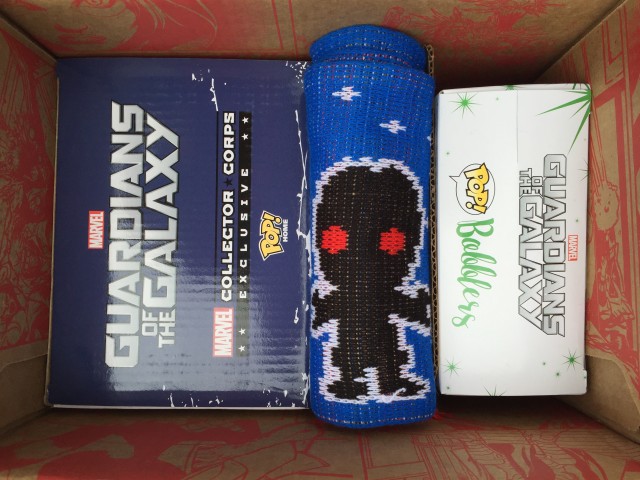 Removing the comic, the final three items are revealed–and two of them are ones I was totally not expecting (particularly the demonic-looking red eyes on that soft-goods Star-Lord item)!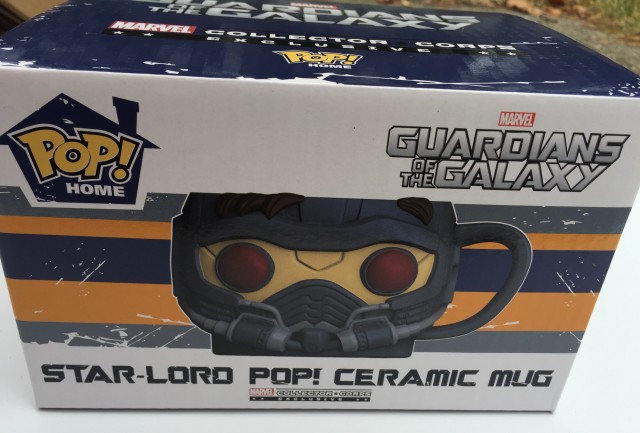 First, we've got a way-cool exclusive Funko Star-Lord mug from the new POP Home line.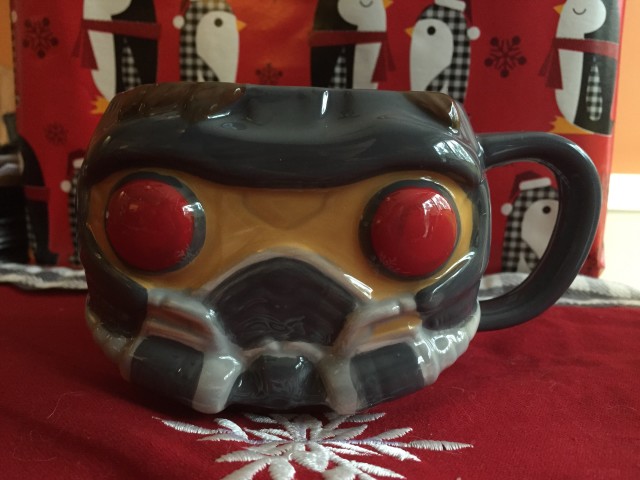 I have the Rocket Raccoon and Groot mugs on order, but I assumed those would be the sole Guardians mugs released. I guess not! If you want a complete collection of POP! Ceramic mugs, looks like you'd better make sure to renew your Collector Corps Subscription! Ha.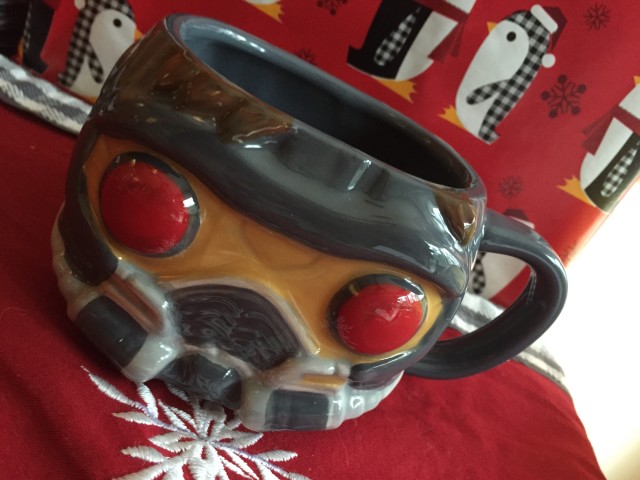 The sculpting and paintwork on the ceramic Star-Lord mug are terrific, and I'm really looking forward to drinking hot chocolate out of Star-Lord's head.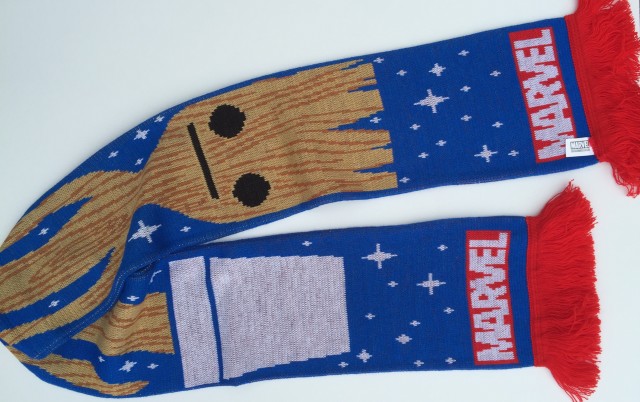 The second-to-last item in the box totally blew my mind: in place of a T-Shirt in this month's box, it's an incredible double-sided Guardians of the Galaxy scarf!
One side has a Baby Groot AKA Dancing Groot on it, and while super-cute, isn't quite my style.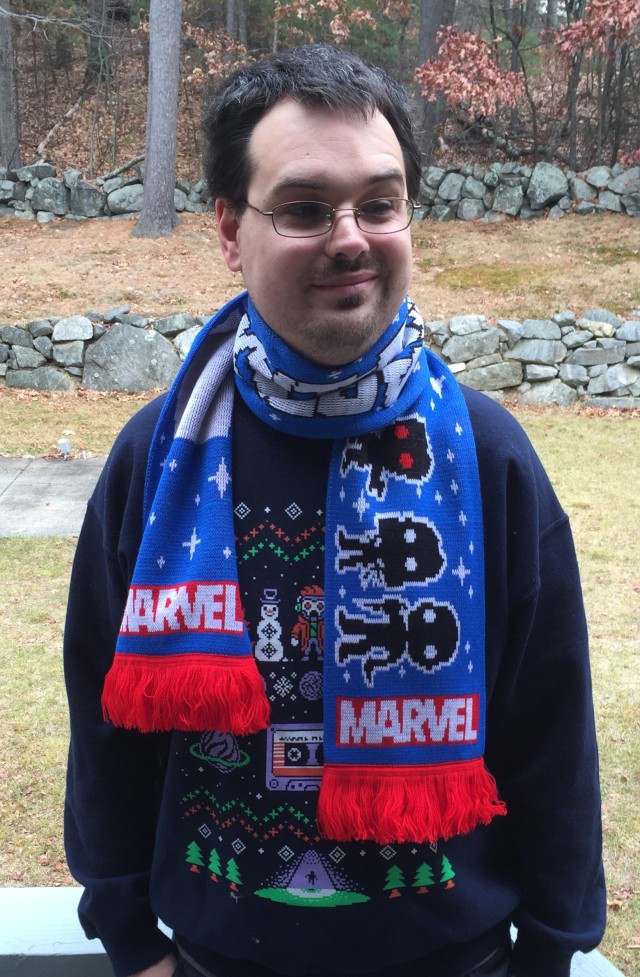 But the alternate side's Funko POP Guardians the Galaxy vinyls silhouettes are totally my style!
It's a bit of a bummer that this scarf is the only representation for Gamora and Drax in this box, but it is super high-quality and put a huge smile on my face. Love it!!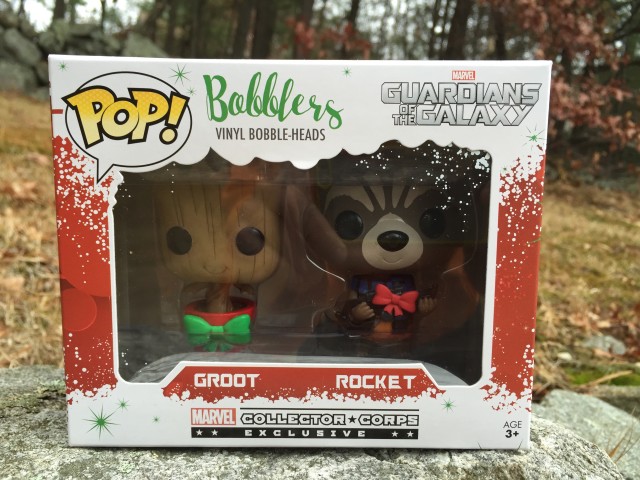 Finally, we come to the "main" item of the Collector Corps Guardians of the Galaxy unboxing: a pair of Funko POP Bobblers: Rocket Raccoon and Groot!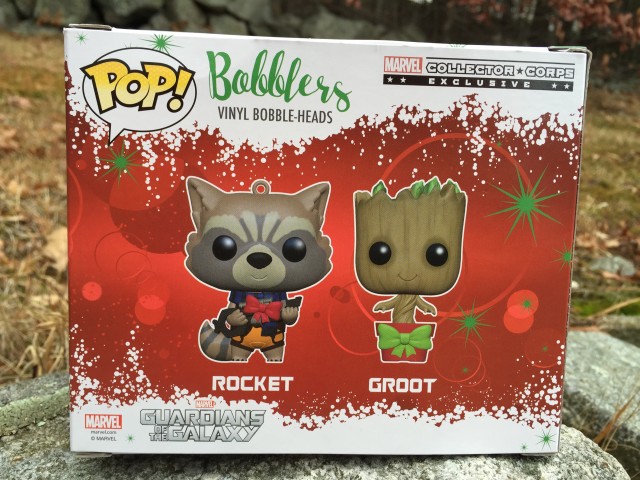 The spoilers I didn't want to see (thanks person who posted spoilers in the comments on my site without tagging them as spoilers) were true: instead of a POP Vinyl or Dorbz, this month's MCC figures are Funko ornaments!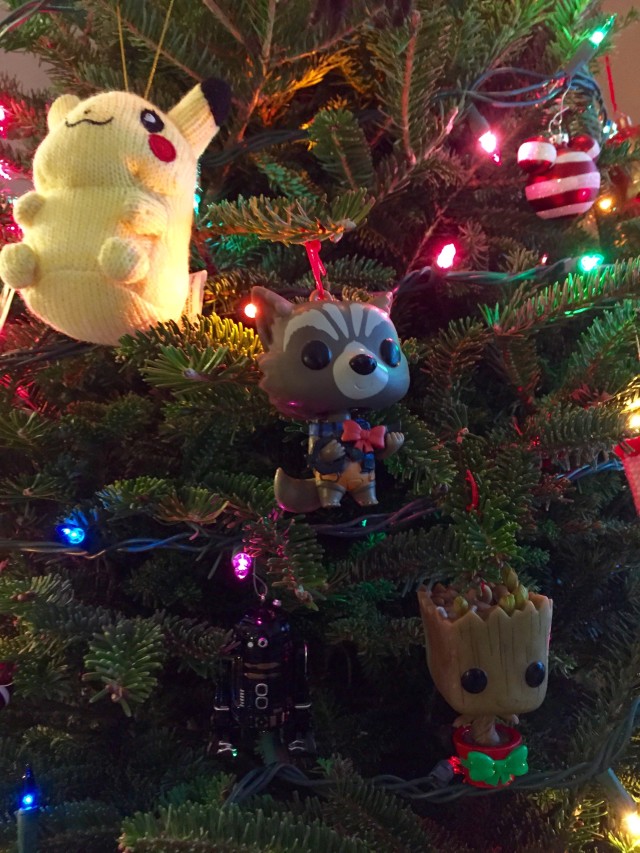 I know some folks are annoyed by this choice, but I'm a Christmas nut and totally adore this selection.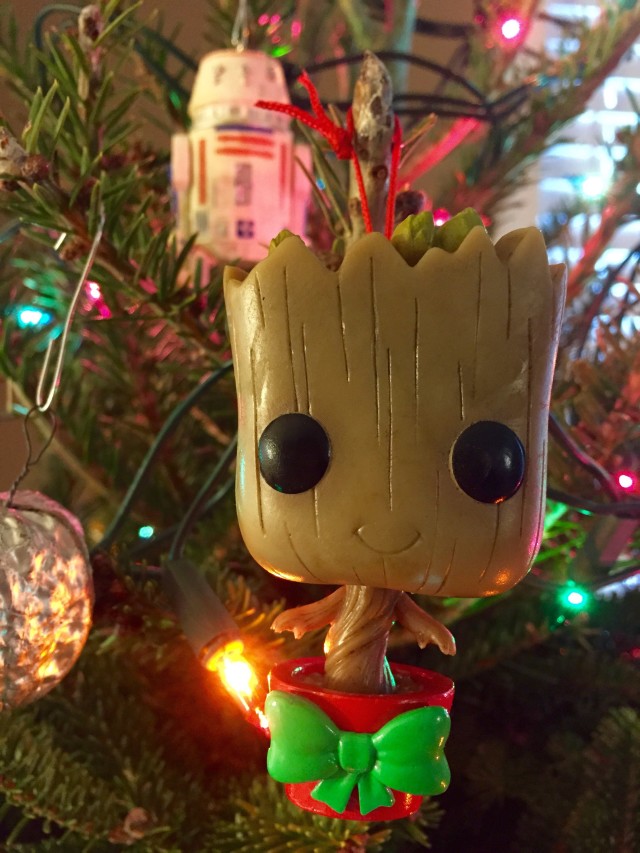 I probably could go my entire life without needing another Dancing Baby Groot POP Vinyl repaint (I've lost track of how many I have at this point, but I believe at least five), but an ornament version…? Count me in!
And Rocket… dear Rocket! Chibi Rocket Raccoon happily clutching the blaster he got for Christmas (bow and all!) is now proudly displayed on my Christmas tree.
Great, unique items!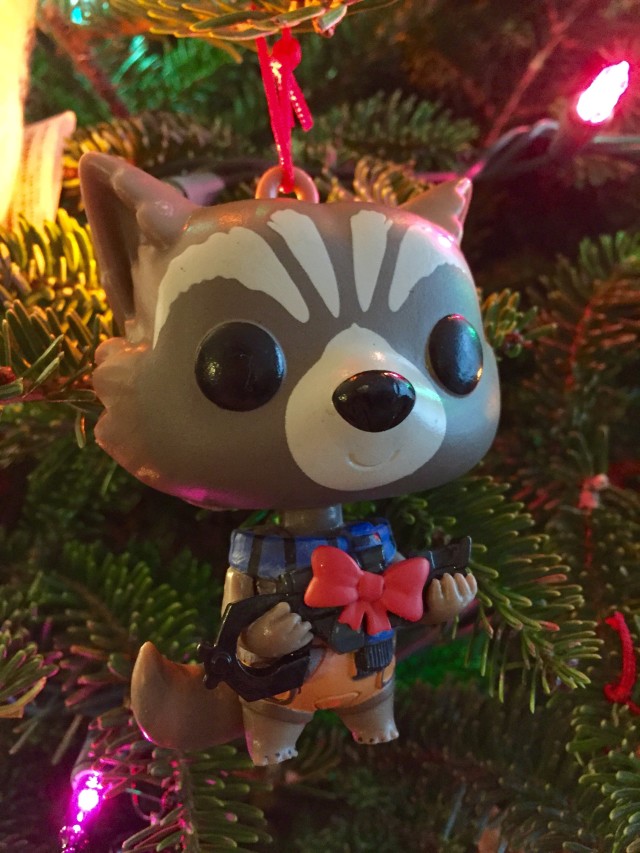 Overall, I can say without hesitation that this is my favorite Marvel Collector Corps box yet, and I really feel that Funko did right by Marvel fans by thinking outside-the-box with this month's "presents". From the scarf to the mug and ornaments, this box is totally full of fresh and fun ideas, and doesn't feel like a rehash of past boxes in the slightest.
POP! Vinyl collecting purists may have a gripe with this month's box, but for my money it's downright perfect. Thanks, Funko!
GRADE: A+