Artwork of unreleased Deadpool Funko POP Vinyls and tales of a Funko "Pirate Deadpool" vinyl have been floating around the net for quite a while now, but this week Funko decided to let the Wade Wilsons out of the bag (or I guess boxes, in this case), as a variety of new Funko POP Deadpool vinyls and a Pirate Deadpool Dorbz are now up for order!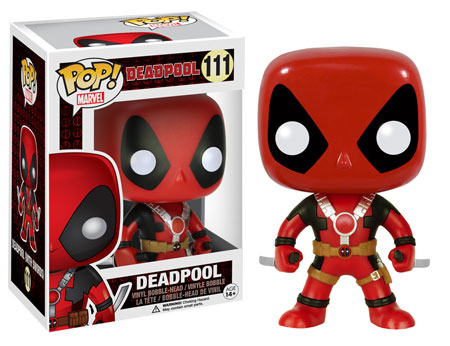 Not surprisingly, where there's smoke, there is fire: it turns out that the leaked artwork of a pair of unreleased Deadpool Funko POP Vinyls is in fact authentic, as both of those Deadpool vinyl figures have now been officially announced and put up for pre-order!
While these particular figures bear the "Deadpool" logo at the top of their boxes, they're definitely comic-based and have no relation to the upcoming Deadpool movie (despite being non-movie toys of the titular character, obviously).
First, we've got a Funko POP Deadpool holding a pair of swords (appropriately named "Two Swords Deadpool"). The original mold was holding one sword and a gun, but now Deadpool can finally dual-wield swords! It sounds like a minor change, but the pose and body mold are changed enough that this figure really does feel "new".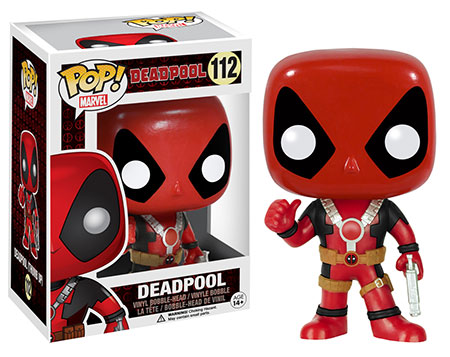 Meanwhile, we've also got the (way cooler) "Thumbs Up" Deadpool, who's breaking the fourth wall and giving his lucky owner a genuine "Thumbs Up"!
The combination of thumbs-up gesture in one hand and silver pistol in the other feels fun and unique, and makes this my favorite of the four Deadpool POPs that Funko has released. I do prefer the zanier look of the Super Deluxe Deadpool I talked about the other day–but of course, that vinyl figure also costs eight times what this one does, so I imagine this is the version most (sane) folks will be opting for!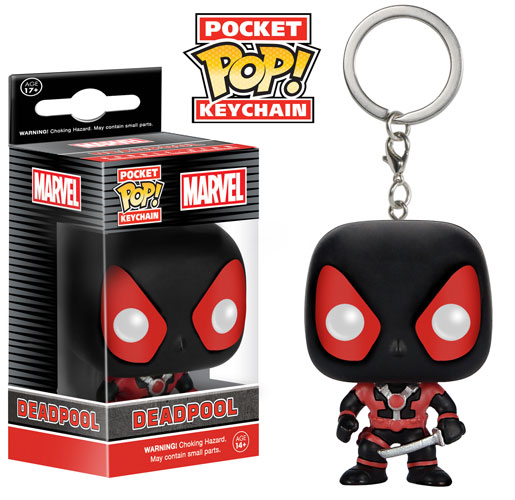 In addition, there's also a Black Costume Inverse Deadpool Pocket POP Keychain available.
I can't begin to guess why Funko opted to make this variant for the keychain instead of more popular costumes like X-Men and X-Force, but I suppose they figured Deadpool looked most "badass" in black and this version would appeal to the masses. We'll see!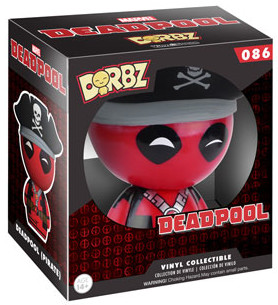 Finally, we've got a unique-boxed Deadpool Dorbz: Pirate Deadpool! The Pirate Deadpool vinyl figure is exactly the same as the previously-released Dorbz Deadpool–but now literally with "a new hat"! This is funny and all–and I'll buy it–but it's honestly a smidge underwhelming.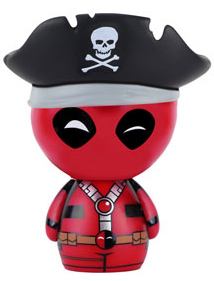 It's important to note that none of these newly-announced Funko Deadpool POPs will be part of
the February 2016 Marvel Collector Corps Deadpool box
, as everything in that box will be exclusive to it.
That said, there's nothing that says any of these items couldn't be repainted for that box. It would be a huge disappointment if the exclusive item in the February MCC box was just one of these POP! Vinyls repainted as Deadpool or something, but that possibility is definitely not out of the question.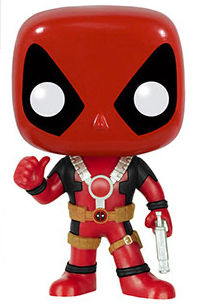 The 2016 Funko Deadpool POP Vinyls and Pirate Deadpool are now up for order, and are scheduled to arrive in January/February 2016. I'm a Deadpool fanboy, so I ordered them all (yes, even the Inverse Deadpool keychain I complained about–so sue me).
What do you think of this quartet of new Deadpool vinyls, Marvel collectors? Are you excited for any of these new pieces, or with the huge number of vinyls he already has available, are you all Deadpool-ed out?