As I was out on the prowl at my local Target yesterday, I noticed that they had an entire end cap set up for Funko products that isn't usually there. That end cap was unfortunately cleaned out but for three plain Netflix Daredevil POP Vinyls, but others were luckier than I, as the fully-stocked display includes several as-yet unannounced Funko Deadpool, Daredevil and Punisher toys…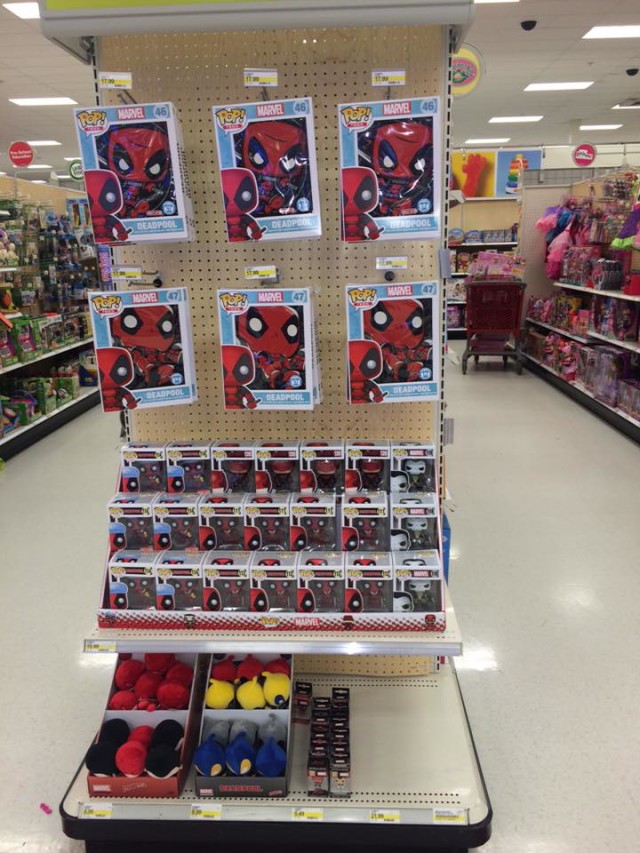 We've known for a couple weeks now that Target had an official release date for their exclusive Bath Time Deadpool POP Vinyl display (which also includes the awesome Nemesis Punisher POP I reviewed this weekend), but what we didn't know was that Target had an entire end cap display planned as well!
Not only are POP Vinyls part of the display, but also POP Tees, Pocket POP Keychains and some previously unannounced Mopeez plush! Huge thanks to Chris RC Hart for sending in the photos of the display from his local Anchorage, Alaska Target store!
It's rather unusual for Funko products to show up for sale before even being announced, but that's exactly what happened with four items in this display.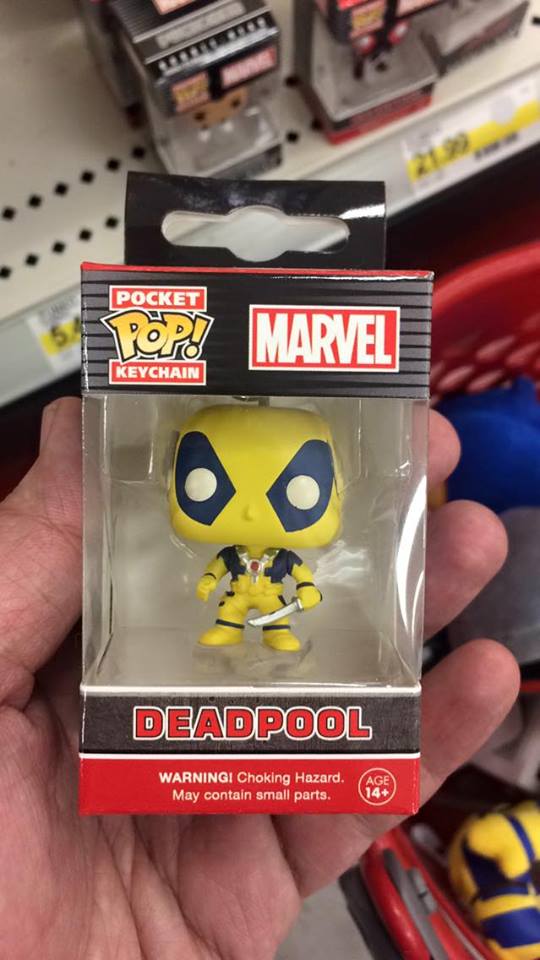 First, we've got a yellow/blue Deadpool Pocket POP Keychain. This is my favorite of the common Funko Deadpool color schemes, and definitely the one that I want to have on my backpack, so I'm very psyched to learn of its existence.
The red Deadpool and recently-announced Inverse Deadpool (Black Deadpool) Pocket POP Keychains are also included as part of the display, although these aren't exactly big news, since they've been up for order elsewhere for quite a while now.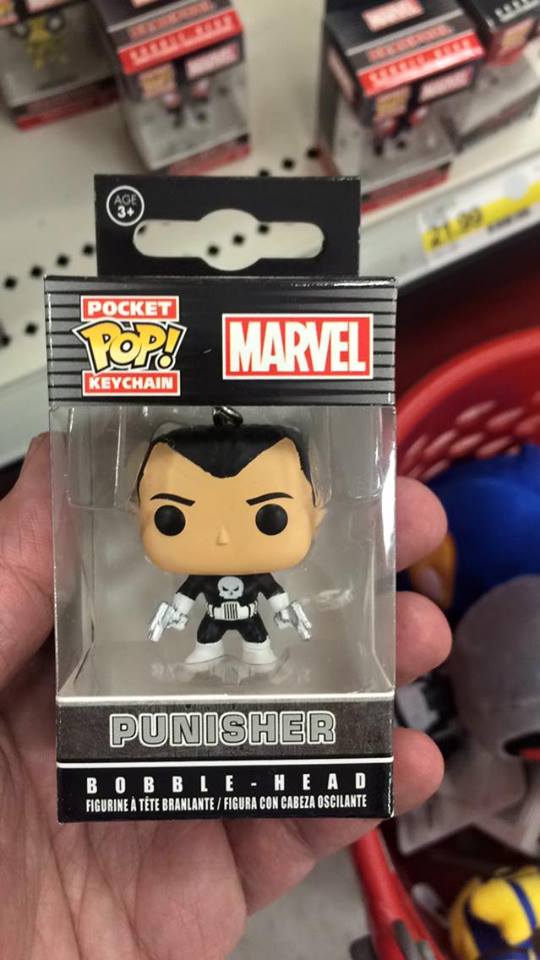 There's also a mini Punisher Pocket POP Keychain, which is pretty weird since the regular version of the Punisher POP Vinyls figure was a Walgreens exclusive. Interesting to see that design miniaturized and brought to mass retail.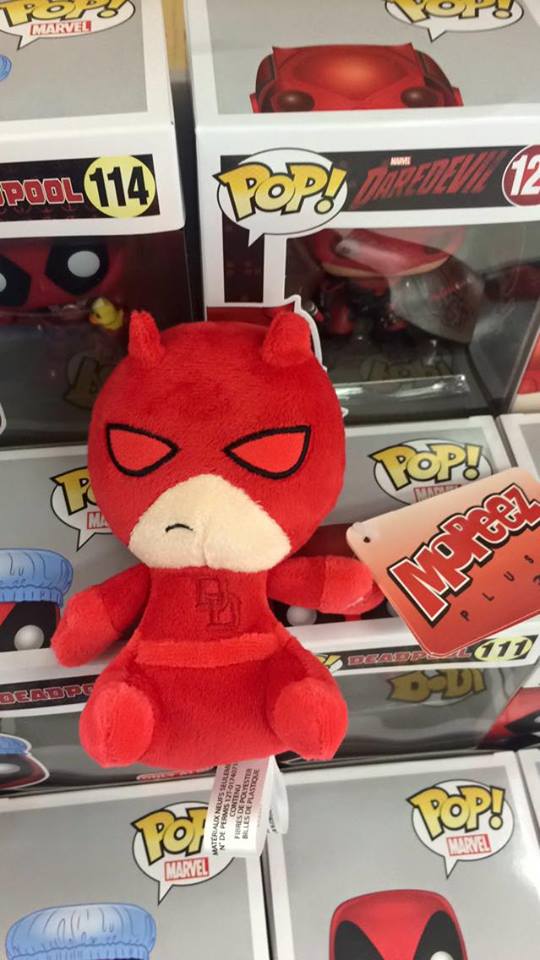 Next, we've got a Mopeez Daredevil plush! I would have thought that Funko might have opted for the Netflix Daredevil costume, but looks like they went for the classic comics look instead. That's fine, as this Daredevil Mopeez has a real Skottie Young vibe to him. Love it!
Finally, there's a Punisher Mopeez plush toy! The Punisher is not a character I usually expect to see in huggable plushie form, but I think this is about as cute as any stuffed Punisher is going to get.
The four "Rainbow Deadpool" Mopeez are also present, and I believe this is the first time that they've been sighted anywhere. I would assume that the Mopeez Daredevil and Punisher plushies are part of an upcoming Marvel Mopeez Series 2 set that has yet to be revealed. Perhaps at New York Toy Fair 2016 next month?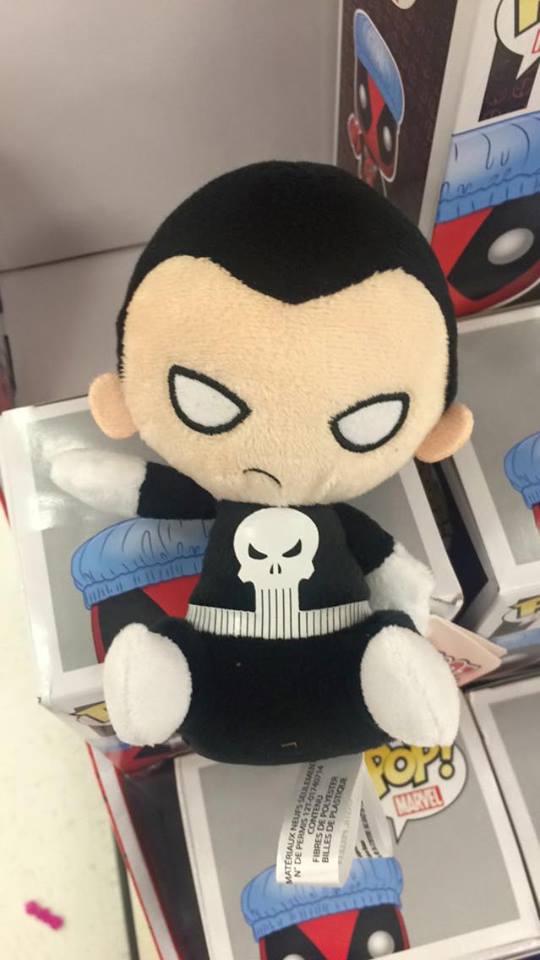 None of these four unannounced Funko Marvel toys have any sort of "exclusive" sticker designation on them, so presumably they'll all be available at other retailers in the coming months (just like the Punisher Nemesis POP Vinyl figure). I'll post an update once Funko actually announced or clarifies the release status of these Deadpool/Daredevil/Punisher plush toys and vinyl figures.
Has anyone else seen the fully-stocked version of this Target Funko end cap display at their local stores yet? Which items–if any–are you planning to pick up from this assortment?