Among their many, many skills, I think we can add "mind-reading" to Funko's resume. Because they totally have to have mastered that ability and reached into my mind, as they've somehow chosen the exact three Marvel characters I would have picked for their newest line. Debuting at New York Toy Fair 2016 last weekend: Funko POP Plush Spider-Gwen, Loki and Deadpool plushies!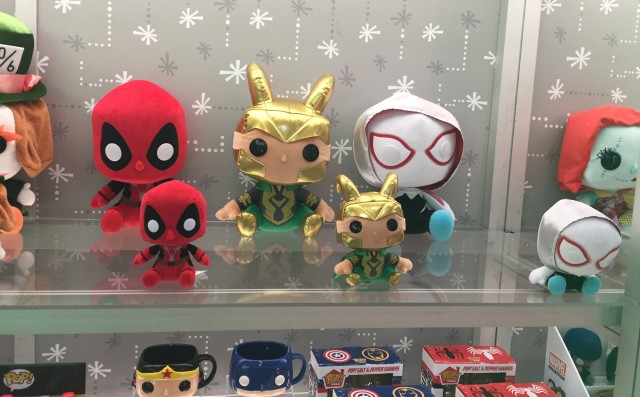 For the most part, the Funko booth was pretty predictable on the Marvel front at the 2016 Toy Fair.
There were a few new Marvel POPs on display (including Doctor Strange and Spider-Gwen), Mopeez and POP Rides we'd already seen before, one Chase Dorbz Civil War figure not previously shown, two new Fabrikations and… two shelves of Funko's newest line, POP! Plush!
The idea with this line is to move the aesthetic of POP Vinyls–giant circle eyes and all–to a stuffed toy in a sitting pose. The Funko POP Plush line should be arriving in stores around May, and will include other themes besides Marvel such as Alice in Wonderland, Nightmare Before Christmas and so on.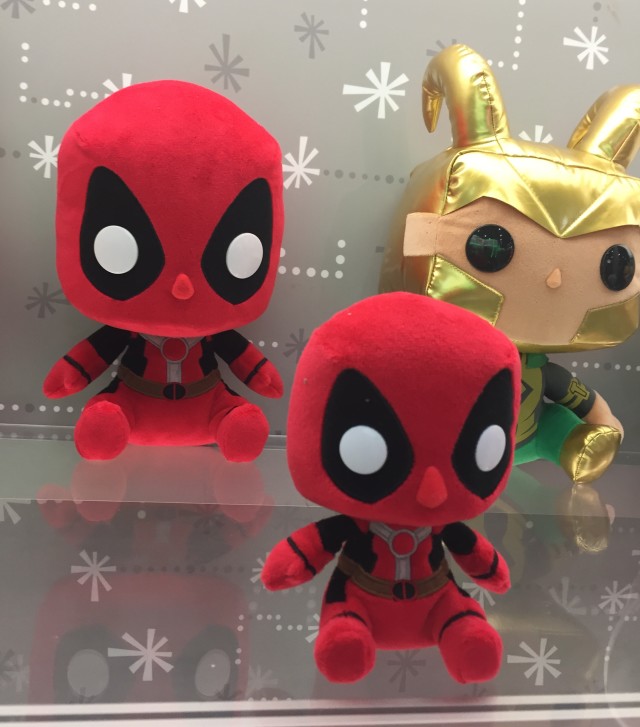 Where things get really fun in the characters chosen to jumpstart this line. While every other company on Earth might have put Iron Man, Spider-Man and Captain America in their first series, Funko has opted for choices that are a little more… enticing!
With the runaway success of the Deadpool movie and the need for an X-Men related character in the first series, a POP Plush Deadpool seems like a no-brainer. I've already got five Deadpool Mopeez in various colors, personally, but I still expect the Deadpool POP Plush will sell like gangbusters.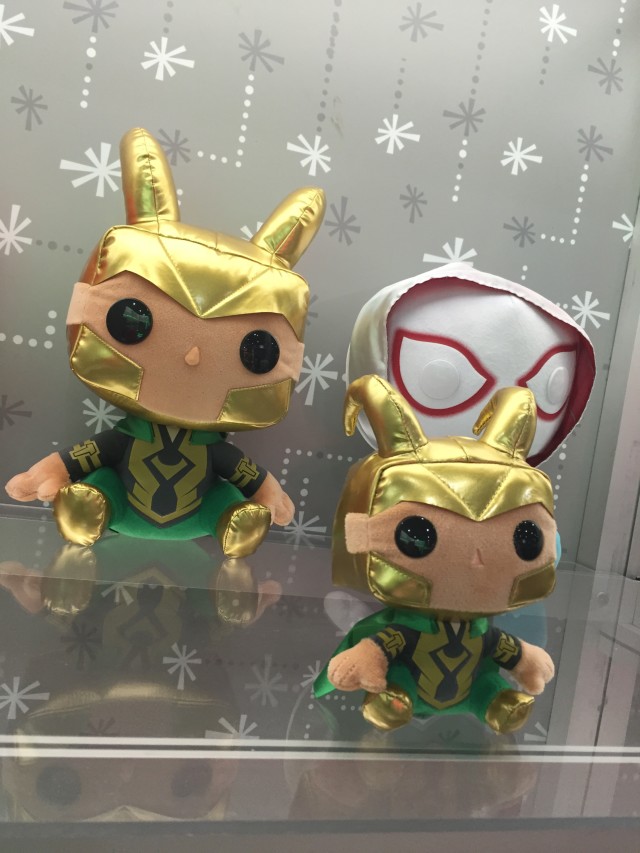 For the Avengers fans, we've got everyone's favorites Avenger……s villain, Loki! This definitely has the look of the movie Loki costume, so all the Tom Hiddleston fangirls (and boys) can now have their own Loki POP Plush to hug and cuddle! I kind of wish he wasn't wearing his helmet, so we could pretend he was Kid Loki or Teen Loki, but alas–stuffed helmeted Loki will suffice.
Finally, we've got a surprise choice for the Spider-Man related slot, and the first female in the Marvel POP Plush line: Spider-Gwen! With one of the best costume designs in modern history and the fact that Gwen is red-hot right now, I suspect this Spider-Gwen POP Plush is going to rocket out of stores this spring.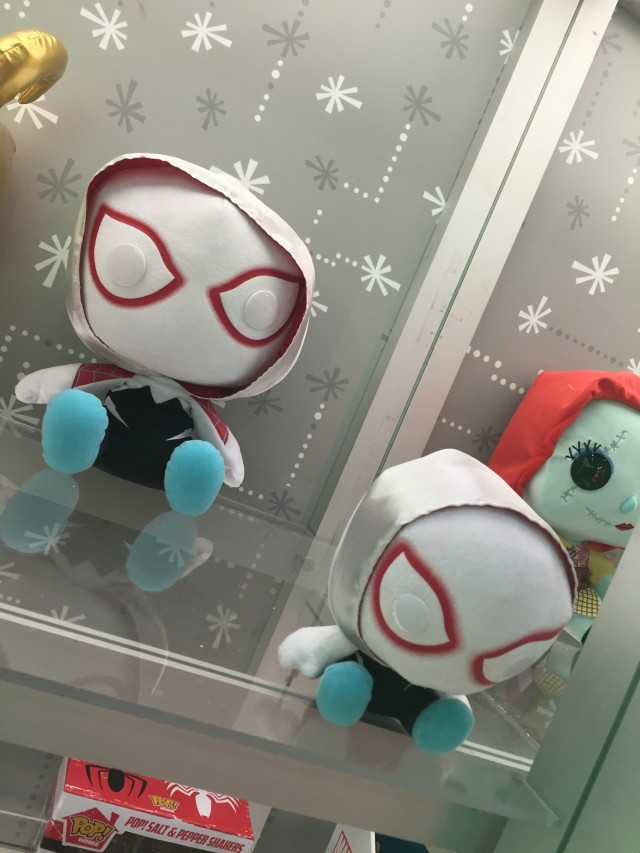 The Funko Marvel POP Plush toys should be available for order later this winter, with the first series scheduled to arrive around May 2016. Each character will come in two sizes: large ($24.99) and small ($9.99). The plushies have the same level of detail at both sizes, so it's really just about how big a statement you want to make on your shelf. More entries in this line are planned for later in 2016, but were not ready to announce at New York Toy Fair 2016.
What do you think of the newest of the many, many branches of the Funko tree of products, Marvel fans? Are you in for any of this first wave of Marvel plush toys? If not, are there different characters Funko could have picked to sell you on the line?