Look out, Kotobukiya–you're about to have some stiff competition stateside from Diamond Select Toys! One of the displays I was most surprised to see at New York Toy Fair 2016 last week was a quartet of additions to the recently-announced line of DST Marvel Gallery Statues including Deadpool, Hulk and Spider-Man! Beautifully sculpted and economically priced at under $45, this line has "winner" written all over it…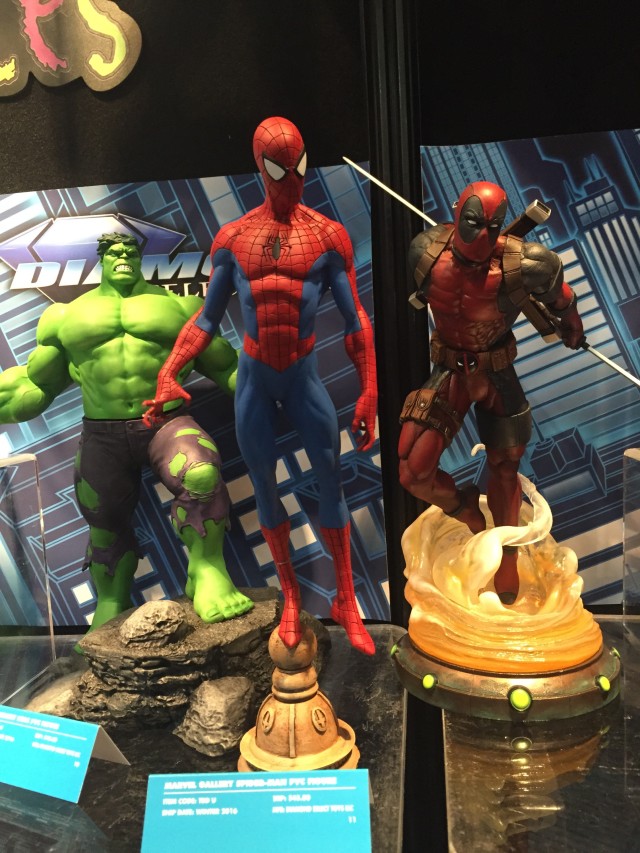 I was a little confused when DST announced their Spider-Gwen statue a few days before the 2016 Toy Fair was part of a heretofore unannounced line of statues called "Marvel Gallery" and not the popular "Femme Fatales" series.
Luckily, I didn't have to be baffled long, as the New York Toy Fair 2016 Diamond Select Toys booth shined the spotlight on four more Marvel Gallery statues–all of which heavy-hitters, and all of which in a scale compatible to the Marvel Femme Fatales line.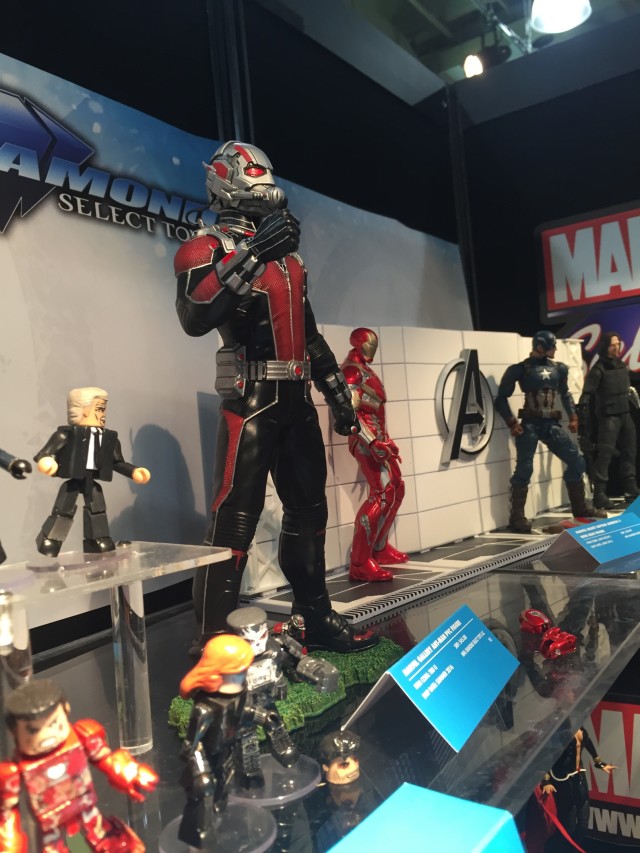 I talked about the Diamond Select Ant-Man/Giant-Man figure on Valentine's Day, but three other characters premiered that day as well: Deadpool, Spider-Man and the Hulk. All three are classic comic book versions, and look absolutely outstanding.
The Marvel Gallery Deadpool was the standout for me in this group, as I love the action-oriented nature of Wade's pose, dual-wielding swords while leaping out of semi-translucent clouds of smoke.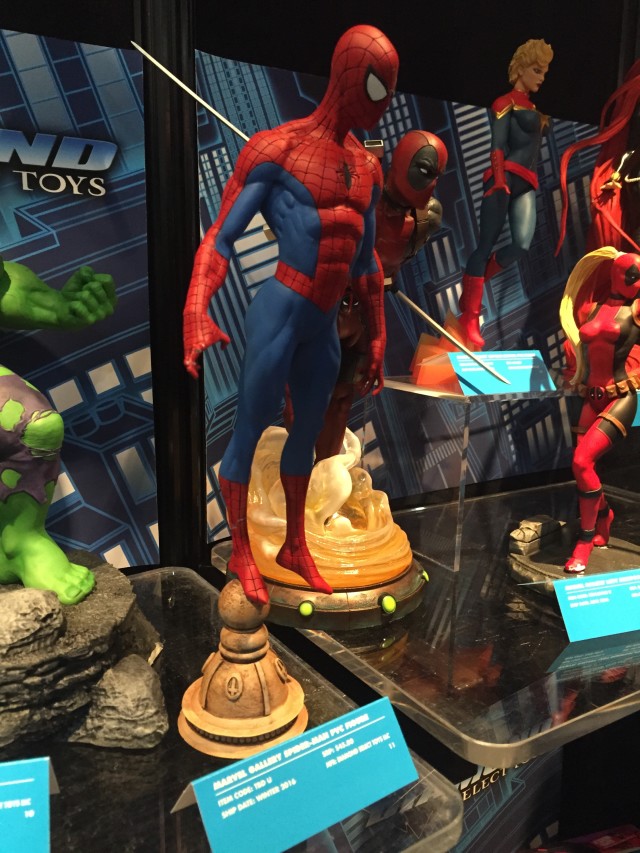 The Diamond Spider-Man Marvel Gallery statue looked really nice as well, although the base only connecting to one of Spidey's feet while the other hovers over the void seemed a bit weird.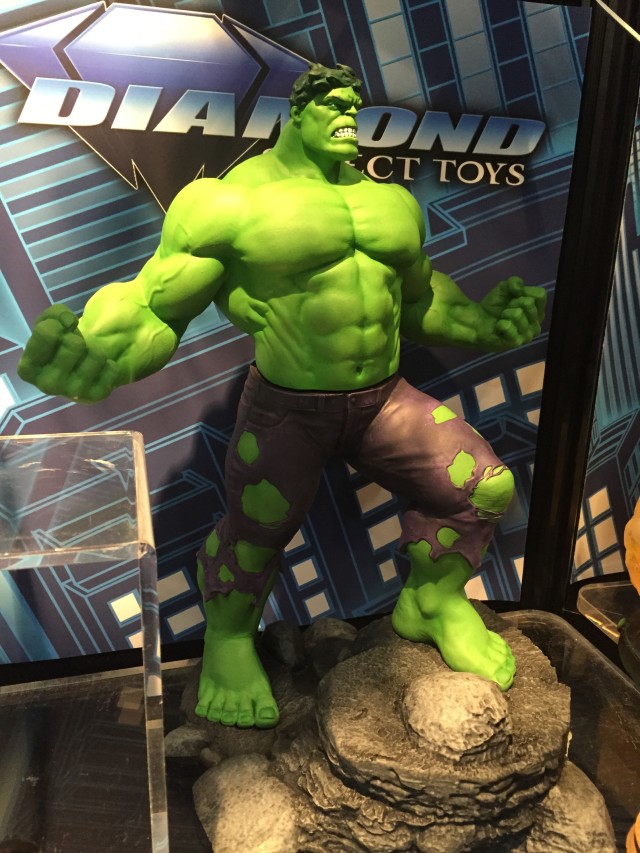 Meanwhile, Hulk wasn't quite as detailed as his comrades, but was still a very well-done (and large) depiction of the classic green Hulk character. If I were to pass on one of these statues it'd likely be Hulk, but with the bargain pricing of this line, I genuinely think I'm going to end up being all-in.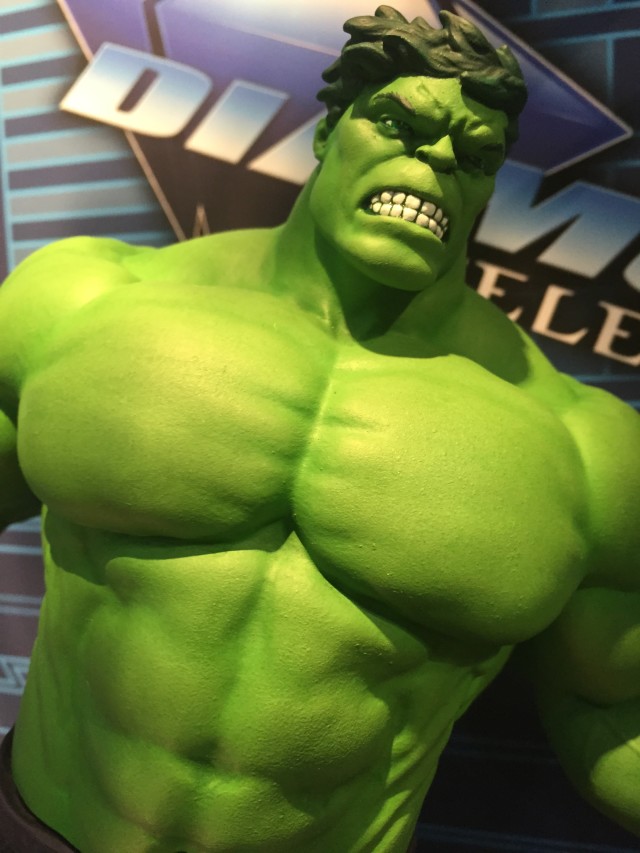 The closest comparison to the Diamond Marvel Gallery figure line of 9″ scale statues is probably Kotobukiya's ARTFX+ Marvel line of 1/10 scale statues. I've been a fan of the Marvel ARTFX+ statues series since it began in 2013, but Diamond has several clear advantages over it with their new line.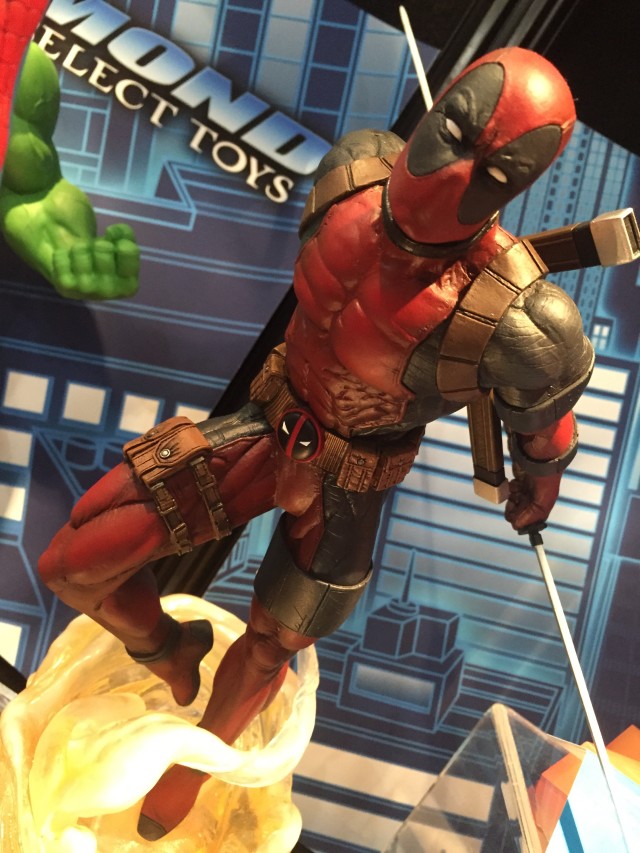 The Marvel Gallery statues look to be slightly larger than Koto's, will feature elaborate diorama-like bases instead of plain black rectangles, and perhaps most importantly, will be much
cheaper
than what Kotobukiya is putting out.
With the most recent Koto ARTFX+ X-Men statues retailing for $59.99, DST is undercutting that cost by 25% with their Marvel Gallery statues. That's quite a feat, given the other advantages of this line!
I know I probably sound like a commercial, but I was really impressed with what I saw of this series at the DST booth at Toy Fair.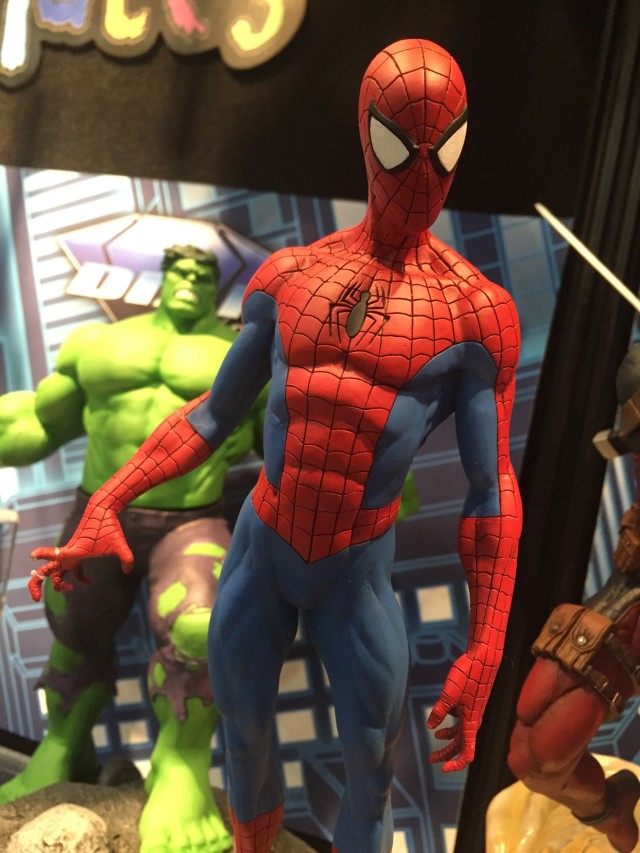 Thus far only the Spider-Gwen Marvel Gallery statue has been placed up for pre-order, but the other four characters announced for this line are expected to go up for sale in the next few months and be released from summer through winter 2016. For a first-year line, I think Diamond Select Toys has put together a very solid lineup, and I'd be surprised if it doesn't end up doing great things for them!
What do you think of DST's new 9″ line of Marvel statues, collectors? Do any of the first five statues revealed catch your attention? Are you planning on picking up any (or all!) of the first year's entries to this series?