The question I've gotten with more frequency during the first 42 days of 2016 has been, without a doubt, "When are we going to see the 2016 Marvel Legends X-Men Series figures revealed?" My go-to answer to that question has been "New York Toy Fair 2016", but Hasbro has thrown us a curveball tonight with a surprise pre-Toy Fair reveal: the immensely-anticipated new Marvel Legends Deadpool figure!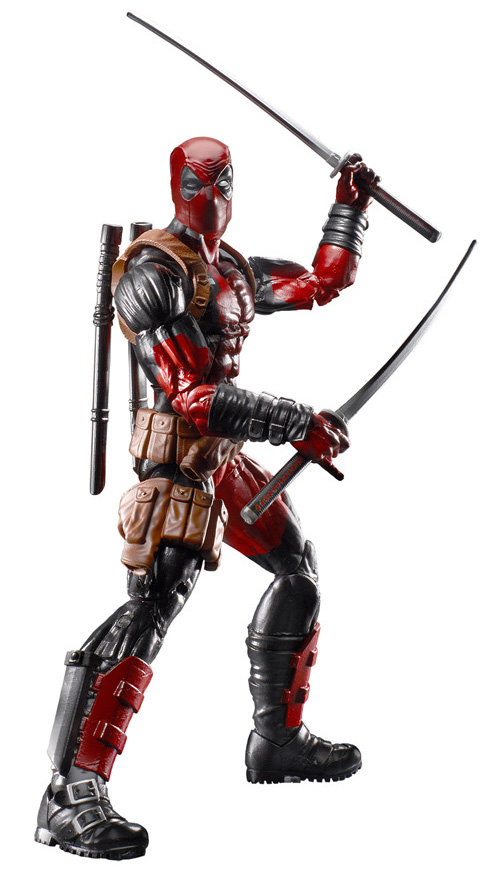 Is there any day more appropriate that today, the day before the first-ever Deadpool movie's release, for Hasbro to drop the potential Toy Fair-winning megaton bomb that is the first mass-released red costume Deadpool Marvel Legends figure in over half a decade? Yeah–I didn't think so either!
This new Hasbro Deadpool action figure features several usable holsters, as well as two sword sheaths on his back and a variety of pouches (no doubt Rob Liefeld would approve!). Presumably there will be additional weapons included along with the two shown katanas, as the preview photo is showing off usable holsters. This is easily the best-looking 6″ or smaller Deadpool figure that I can remember seeing since, well… ever! Hopefully Hasbro is planning on double-packing this Wade Wilson at two-per-case when he ships later in the year, because this figure is gonna be hot.
Hasbro's post on the new Deadpool 6″ figure makes a special note of the new boots and gauntlets on this figure, but I'm hard-pressed to identify the molds used for the rest of this action figure's body parts off the top of my head. I believe that the head is reused from the Toys R Us two-packs Deadpool from 2010, but otherwise I'm drawing a blank as to where the rest of the pieces are derived from. Help me out, dear readers?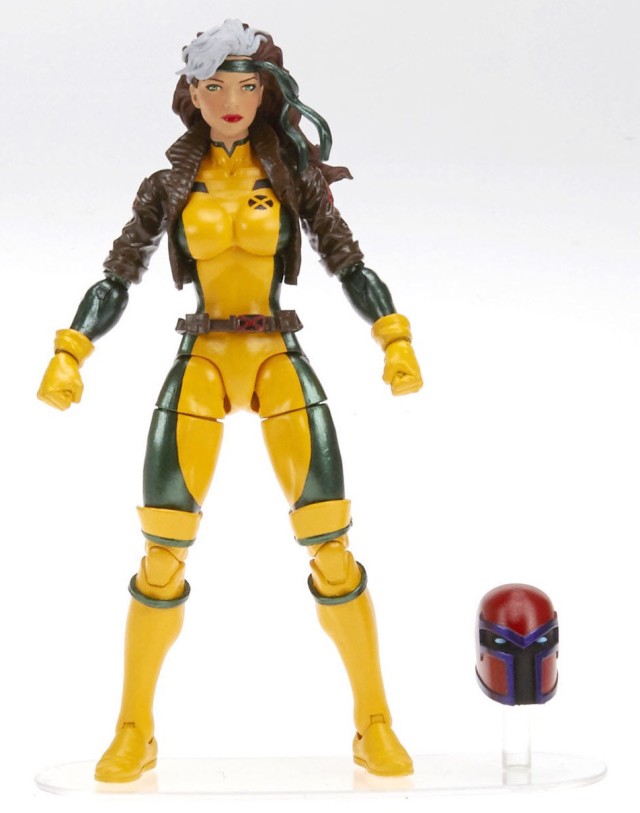 The X-Men Marvel Legends series is scheduled to be released in summer 2016, with the wave also confirmed to include a gorgeous new Jim Lee Rogue X-Men Legends figure (which we saw an early prototype of at NYCC 2015) and an interchangeable classic Onslaught head that can be swapped into the Red Skull Onslaught Build-A-Figure that was released with the Captain America Legends set last month. It's unknown who the actual Build-A-Figure of this wave is going to be, but I've been willing to bet money on Apocalypse since last year–that's my guess and I'm sticking to it!
The rest of this year's series of 6″ Marvel Legends X-Men figures are expected to be revealed during the New York Toy Fair Hasbro event on Saturday noon, 2/13/2016. I'll be on-hand in New York City to take as many photos as possible and pass along the news as quickly as I can on Saturday, so be sure to stay tuned to this site, as well as our Twitter and Facebook pages, to stay up-to-date on all of the latest news and reveals!
What do you think of the first finished figure that Hasbro is showing off for this summer's most-awaited wave, the X-Men Marvel Legends 6″ series? Who do you hope to see accompanying Deadpool and Rogue in this series, and are you planning on picking up either (or both!) of the figures we've seen sneak peeked?