We're less than two days away from all eyes in the toy collecting world turning toward New York City, where the New York Toy Fair 2016 will begin this Saturday, February 13th! But that's two days from now, and there's a pretty big event for us Marvel fans happening one day from now: the opening of the long-awaited and longer-rumored Deadpool movie! And what better way to celebrate it than with a chance to win a free Sideshow Deadpool sixth scale figure?! Want to know how? Read on…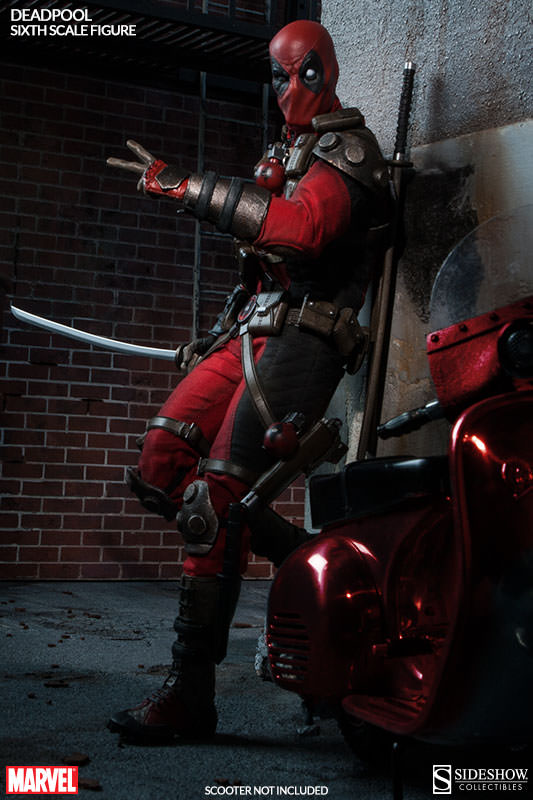 In honor of this week's release of the FOX Deadpool movie, Sideshow Collectibles has generously donated one of their
awesome
12″ Deadpool Sixth Scale figures to give away to one lucky Marvel Toy News reader!
This realistic/comic hybrid-styled Sideshow Deadpool figure went up for order in 2014 and arrived in late 2015, but it was well worth the wait and ended up being one of my very favorite Marvel toys released last year.
The Deadpool 12″ figure retailed for $229.99 on the Sideshow Collectibles website, and is still available for order there (at least, it is until the world goes gonzo for Deadpool after this movie and all the remaining stock gets wiped out!).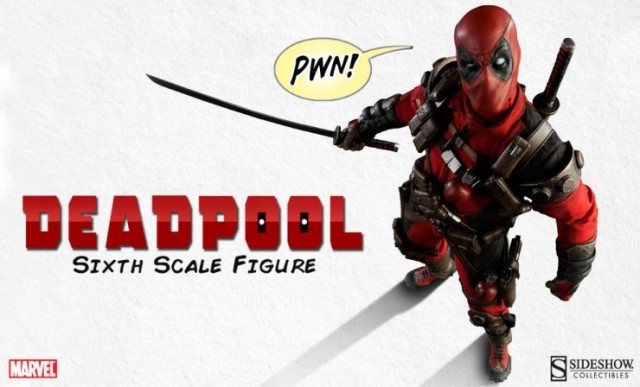 But for those of you who don't have an extra $230 and still dream of owning this 1/6 Deadpool figure, now you've got a chance with this special contest! While I restricted our previous Marvel Legends case giveaway to Twitter followers, I'm expanding this contest to include our Facebook followers as well.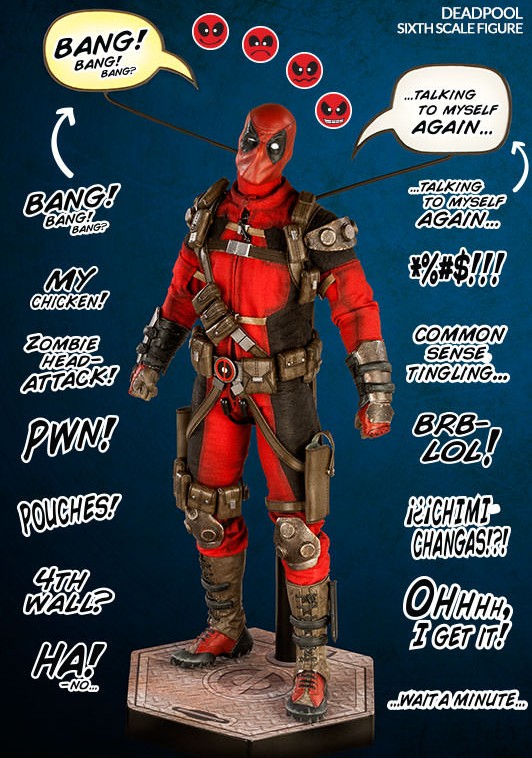 The rules are pretty simple:
1) Individuals are allowed a total of two possible entries: one for Facebook, and one for Twitter. Individuals who try to create duplicate accounts on either form of social media to gain additional entries will be disqualified.
2) To enter via Facebook, 'Like' Marvel Toy News on Facebook and comment on or share the Contest Announcement post on Facebook in order to indicate that you want to be entered into the giveaway. BAM! One entry down.
3) To enter via Twitter, Follow Marvel Toy News on Twitter and Retweet the Contest Announcement as an indication that you want to win the Deadpool 1/6 figure prize for your very own. KAPOW! Entered!
4) The winner will be randomly selected and contacted on Friday, February 26th 2016. The winner will have 24 hours to claim their prize, or I'll draw another winner.
5)  Sideshow Collectibles will ship the prize directly to winner and pay all shipping fees if the winner resides in the United States.  International readers are also eligible to enter the contest, but the winner will be responsible for taxes and fees if they live outside of the United States.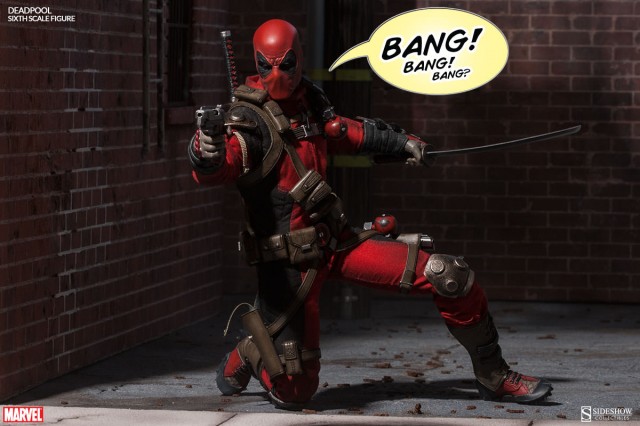 Easy, right?!
So if you want to win the best (and uh, only) Deadpool sixth scale figure that's been released so far, now you know what to do! And remember–if you're selected, you must respond to my direct message on Facebook or Twitter within 24 hours after I message you in order to claim your figure. No quick response…? No sweet Deadpool prize! Be forewarned, and check back shortly after 2/26/2016 to find out who's won!