From creating Ultron to smacking around his wife (The Wasp), there's probably been more criticism aimed at poor ol' Hank Pym over the years than any other member of the Avengers. But one of Hank Pym's greatest failures came in recent years, when he allowed a bunch of the children he was responsible for at the Avengers Academy to be kidnapped and brutally murdered by Arcade (yes, Arcade). It's unlikely that many Avengers Academy characters will ever see the light of day in plastic form, but now we can all commemorate this glorious era in Hank Pym's life with the Marvel Legends Giant-Man figure available as part of the Ant-Man Legends Series!
The Right:
I'm not a Hank Pym hater. I swear. But unfortunately, Hank has done some questionable things over the years that have permanently sullied his reputation. And that's probably why Marvel (wisely) opted to feature Scott Lang in the Ant-Man movie and to keep Hank Pym in a supporting role.
Lucky for Hank, there's only one movie-based figure in the Marvel Legends Ant-Man series, and thus, the most iconic Ant-Man is able to sneak into the wave as the first Marvel Legends Giant-Man figure in ages!
Considering how legendary Hank Pym is and how few Hasbro mass-release 6″ figures he gets, this Giant Man figure's inclusion in the Ant-Man Legends series definitely qualifies as a "Right".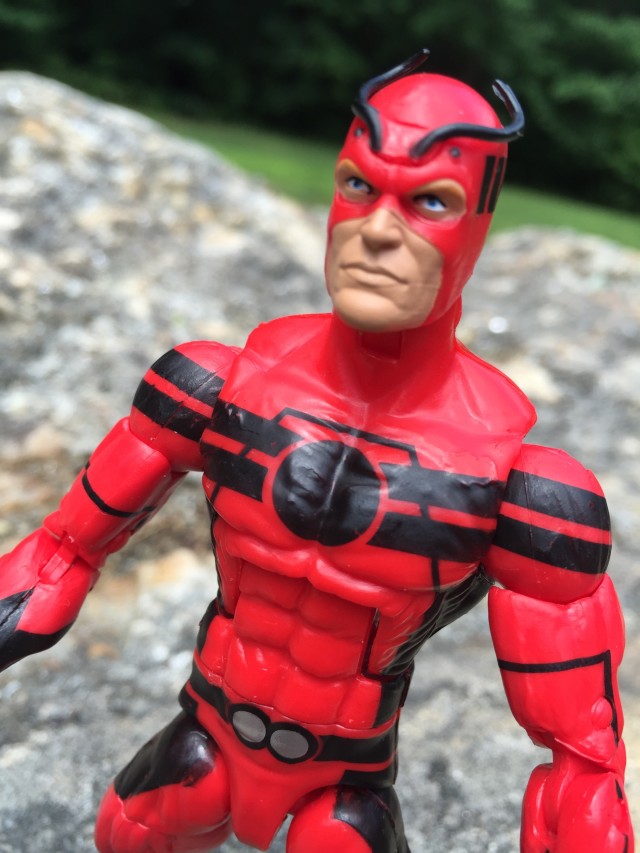 The best part of this figure is almost certainly Giant-Man's new head sculpt. Giant Man has a serious look etched onto his face, which is just perfect for "Doctor Boring" AKA Hank Pym. The little antennae attached to Hank's forehead really pop, making the head clearly the most unique aspect of this action figure.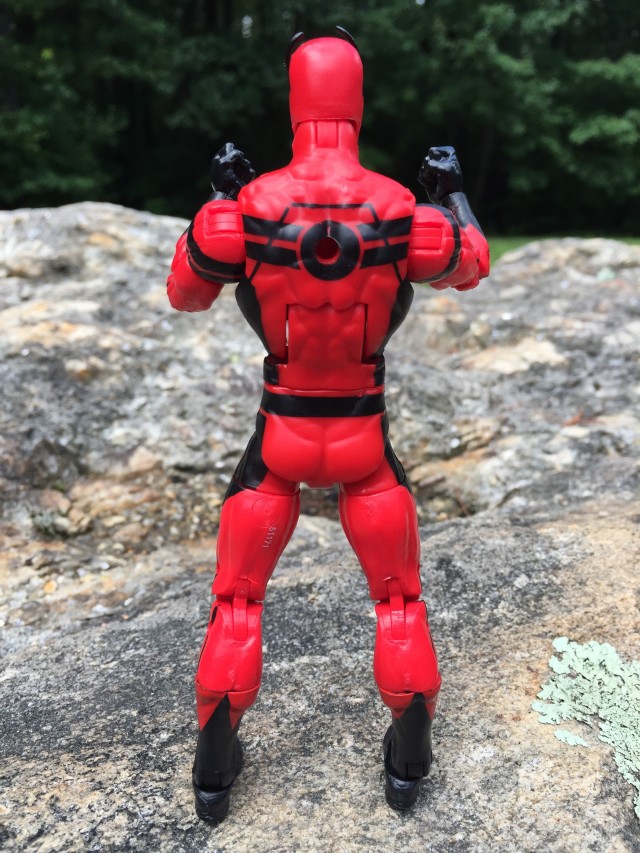 Marvel Legends Giant-Man's body is otherwise completely reused from old tooling, but that's not a bad thing when it's as nicely-sculpted and full of articulation as this one.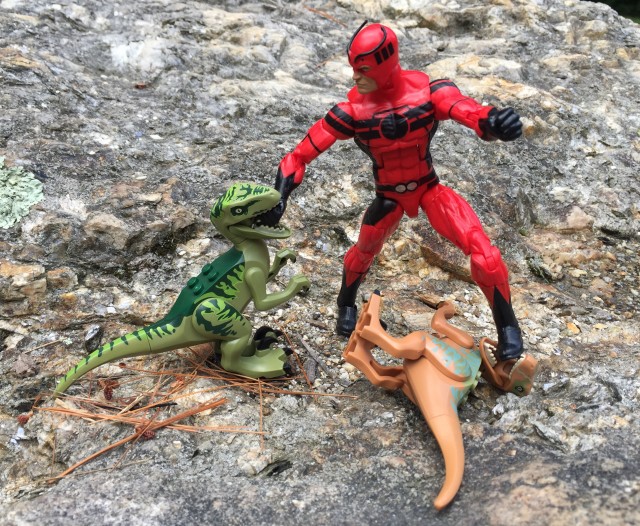 The Marvel Legends 2015 Giant-Man figure has every point of articulation you could ask for in an action figure of Giant-Man, including ankle rockers, double-jointed knees and elbows, an upper-torso ab crunch, swivel thighs and biceps, and so on. None of the points of articulation are limited very much–all-around, the flexibility on this Giant-Man Marvel Legends figure is aces.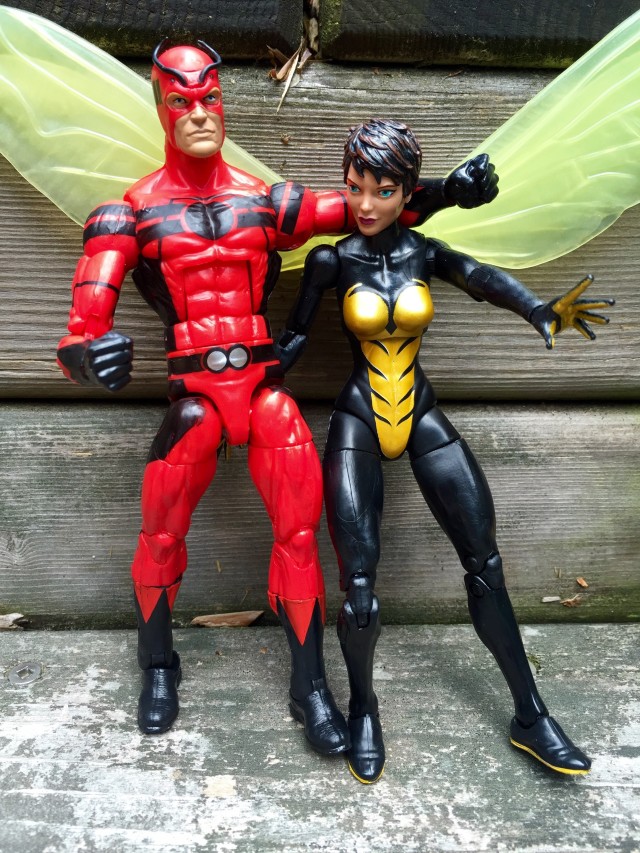 I've had more issues than usual with the paint applications on the Marvel Legends figures released this year, but the paint apps on Giant-Man impress me a lot.
Usually you see some slop or uneven lines when there's tons of black paint being applied, but the paint deco on the Giant-Man figure is masterful. From a paint perspective, this figure is a triumph.
The Wrong:
If there's anything to truly condemn about this Marvel Legends Ant-Man Series Giant Man figure, it's that it's, well… boring!
This is a standard-sized 6″ action figure of a guy named "Giant-Man", which comes with a whopping zero accessories. No miniature Giant-Man figurine, no interchangeable hands, no unmasked head sculpt… nothing. If it wasn't for the Ultron Prime Build-A-Figure leg that's packed in, this would be one very empty package.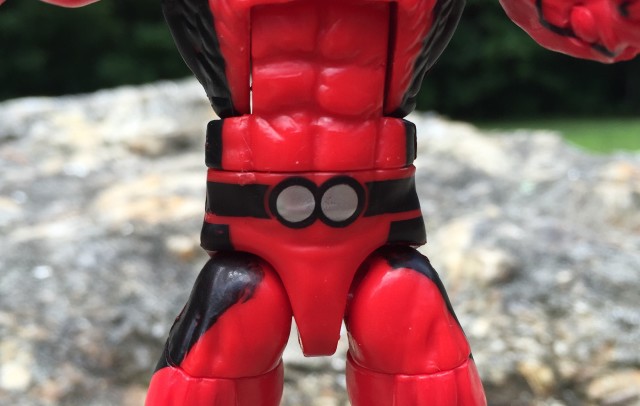 Heck, Hasbro even painted Giant-Man's belt on! As nice as the paint is, that's just cheap. I think it's great that we're getting an oversized 12″ Giant-Man as part of the SDCC 2015 Ant-Man set–but frankly, I'd rather have that figure than this one.
Also, Hank's boots have been molded in black, unlike the rest of his body (which is molded in red). As a result, the red on the boots is a total mismatch from that on Giant Man's legs (and everywhere else on him). Red plastic would have been a much better choice here.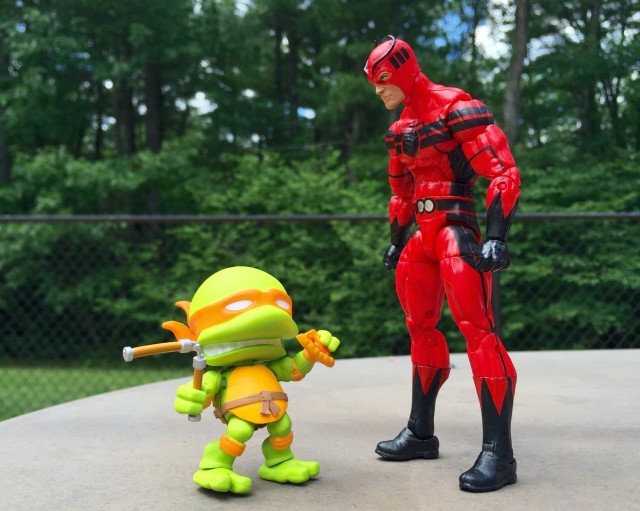 Overall: I have mixed feelings about this Ant-Man Marvel Legends Giant-Man figure. The articulation, head sculpt, and paint deco on this figure are all superb. But when it comes right down to it, this is a ~$20 figure that's just a regular guy standing there, with no accessories of any kind. This is a well-done ML Giant-Man figure–for what it is–but even as a fan of "Avengers Academy", this 6″ figure fails to excite me.
GRADE: B