Let's face facts: there are not a ton of marketable characters (as far as merch goes) in next month's Ant-Man movie. When the third-biggest name in the movie is "Ant-thony the Ant", you know you've got a problem. And so, I've been waiting patiently for the first of the inevitable Unmasked Ant-Man figures to be revealed. I thought it would be Funko, but I was wrong: the exclusive Marvel Select Unmasked Ant-Man is now up for order!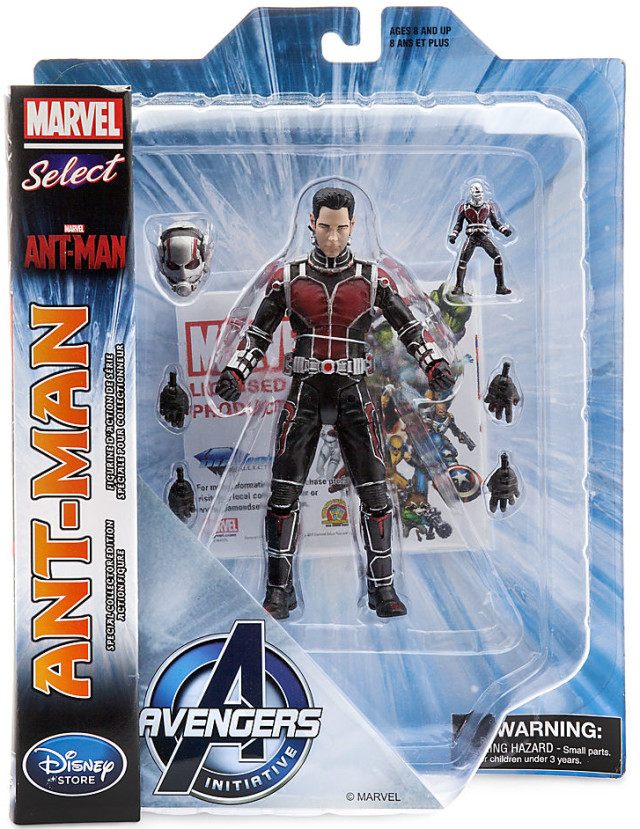 Disney Store and Marvel Shop
love
their shared exclusives, and the ones that they love the most seem to be unmasked versions of movie characters. From Spider-Man to Captain America, the unmasked Marvel Select figures of movie characters are definitely Disney Store's "thing".
And so, I've been expecting to see an unmasked Paul Rudd Ant-Man Marvel Select figure announced by Diamond Select Toys for quite some time. And with under a month until the movie drops, the Disney Store hasn't let me down!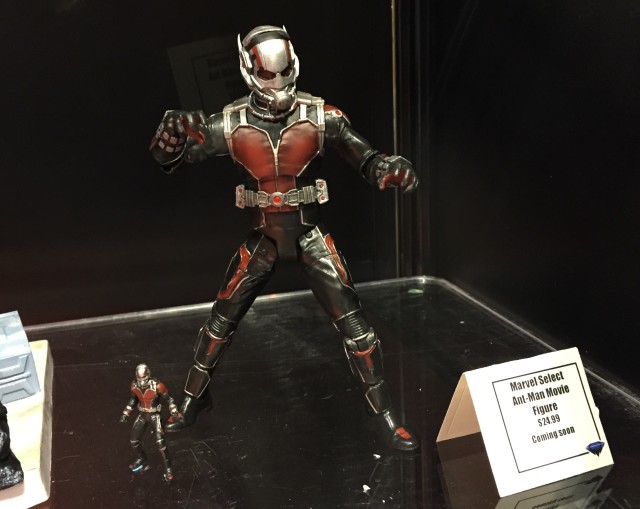 What has let me down, however, is the description in the product specs that this figure will allegedly only have nine points of articulation! Wha–?! We've become very accustomed to our standard 16 points of articulation in a 7″ Marvel Select figure, so this change is definitely unexpected and discouraging. It's also a bit baffling, since I'm pretty sure I can see more than 9 points of articulation on the figure in the images on the Disney Store website, so hopefully this detail is just a typographic error.
I thought the sculpting work on this Ant-Man 7″ figure was awesome when we first saw it on the regular release version of this figure, and it remains just as superior to the detail on the Marvel Legends Ant-Man with this variant figure. As for the Paul Rudd head sculpt… I think it's pretty decent, but it could have definitely used a bit more prominent stubble. I believe that I can actually see some itty-bitty stubble on the portrait in the product photos, but this Scott Lang head looks way too clean-shaven to me.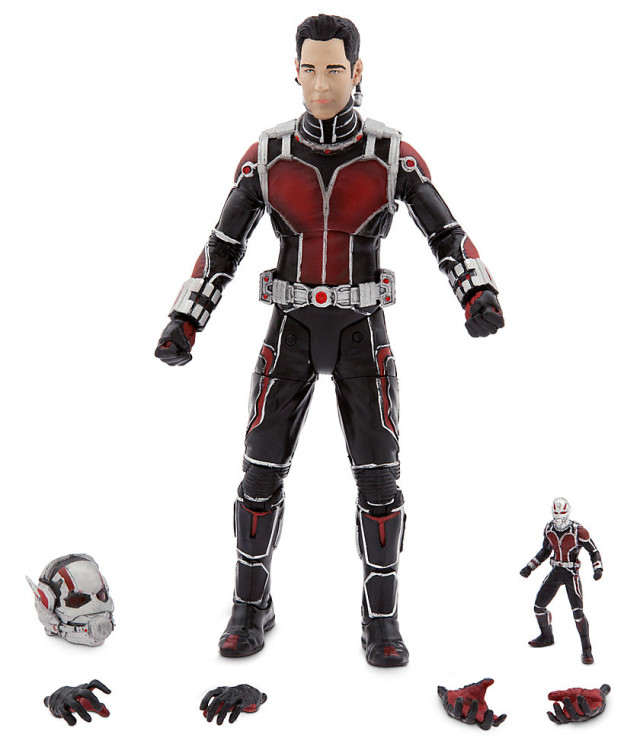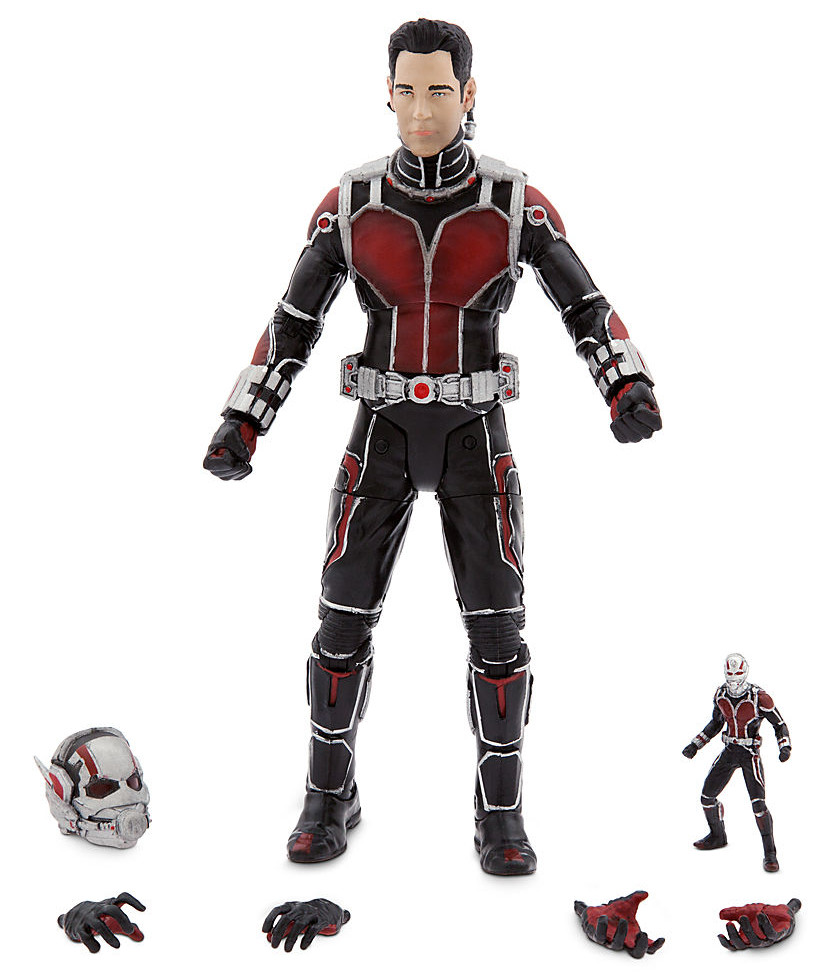 Other than the new removable Ant-Man mask (with Paul Rudd head sculpt underneath) and supposed drop in articulation, this Marvel Select Unmasked Ant-Man action figure looks identical to the standard release of the figure, as far as I can tell (right down to the six interchangeable hands and mini Ant-Man figurine included). Can you spot any other differences, readers?
The Disney Store exclusive Unmasked Ant-Man Marvel Select figure is now up for order, and is scheduled to ship out by July 17th. Disney Store has been very good about getting their exclusives shipped out on-time after announcing a release window for them, so I'd be very surprised if the release for the Ant-Man Unmasked figure got pushed back now that it's been announced for July 17th (which, coincidentally, is also the day that the Ant-Man movie comes out).
What do you think of the exclusive Diamond Select Toys Unmasked Ant-Man figure, Marvel collectors? Are you opting for this version of Scott Lang, the mass-release Marvel Select Ant-Man, the Marvel Legends Ant-Man movie figure… or perhaps no Ant-Man at all?