At this point, we've seen high-quality photos released of virtually every major character in this year's "Captain America: Civil War" movie. But there's one character that's been hard to spot, and he's both the MCU's smallest and largest superhero: Scott Lang, Ant-Man (and someone else). But thanks to Bandai Japan, we've got our best look yet at the Civil War Ant-Man costume–the Captain America Civil War SH Figuarts Ant-Man figure goes up for order March 1st!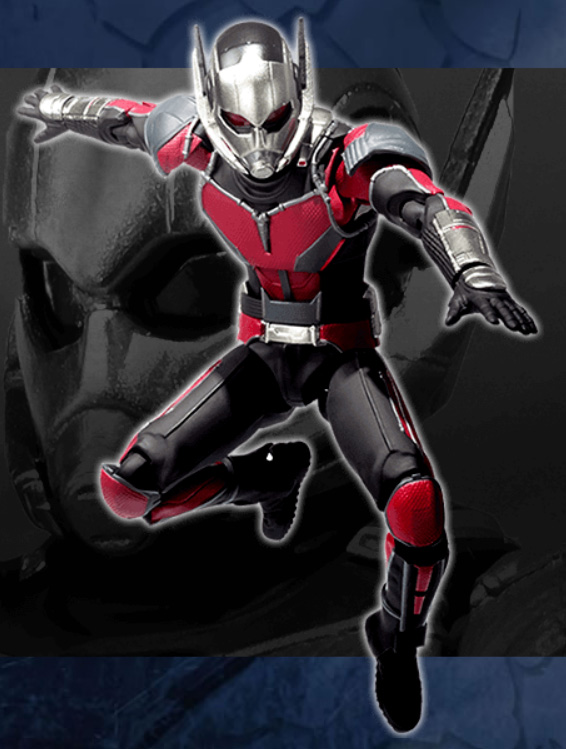 First, a word about Giant-Man. Talking to various manufacturers at the New York Toy Fair 2016 earlier this month, I learned that Disney is literally trying to put the genie back in the lamp with the movie Giant-Man.
Basically, Disney/Marvel Studios told licensees that producing Civil War Giant-Man merch was fine–until the end of 2015, when they pulled out the rug on manufacturers and told them it was not fine, deciding that the movie version of Giant-Man should be a surprise. Whoops.
As a result, we've got a Marvel Legends Giant-Man Series that can't be put up for order because the identity of the Build-A-Figure is a "spoiler", Civil War Dorbz that can't be released yet because Giant-Man is on the side of the box and a huge LEGO Civil War Airport battle that LEGO is now trying to hide the previously-revealed box art for.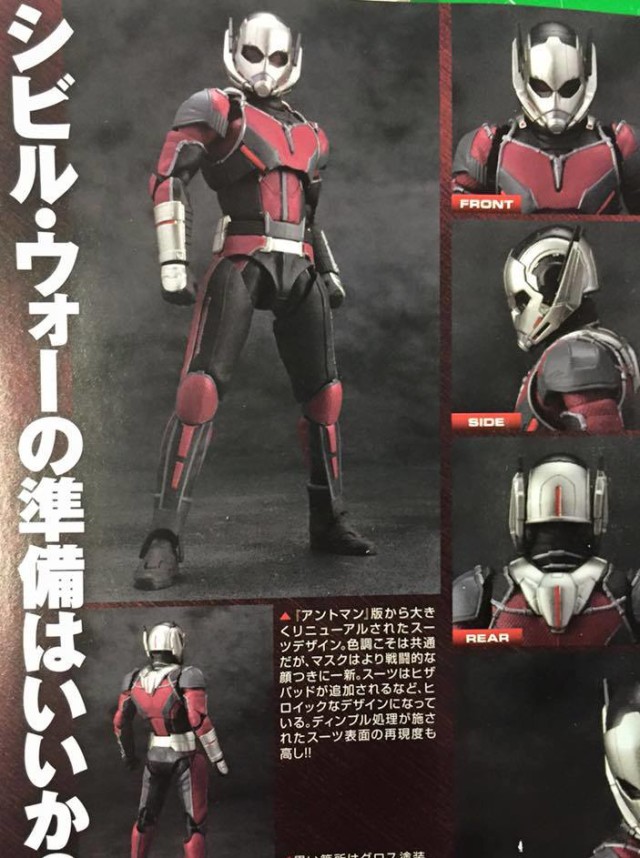 Anyway, the point is that, for whatever reason, Disney is trying to obscure the inclusion of Giant-Man–and Ant-Man–in Captain America: Civil War. So if you're wondering why we've seen so very little in the way of merch and photos of Civil War Scott Lang–that's why.
But–! While Ant-Man has had very little presence in the Civil Wars toys lineup we've seen thus far, he's about to be getting some love from one of the best 6″ scale action figure lines in the world: Bandai Japan's S.H. Figuarts!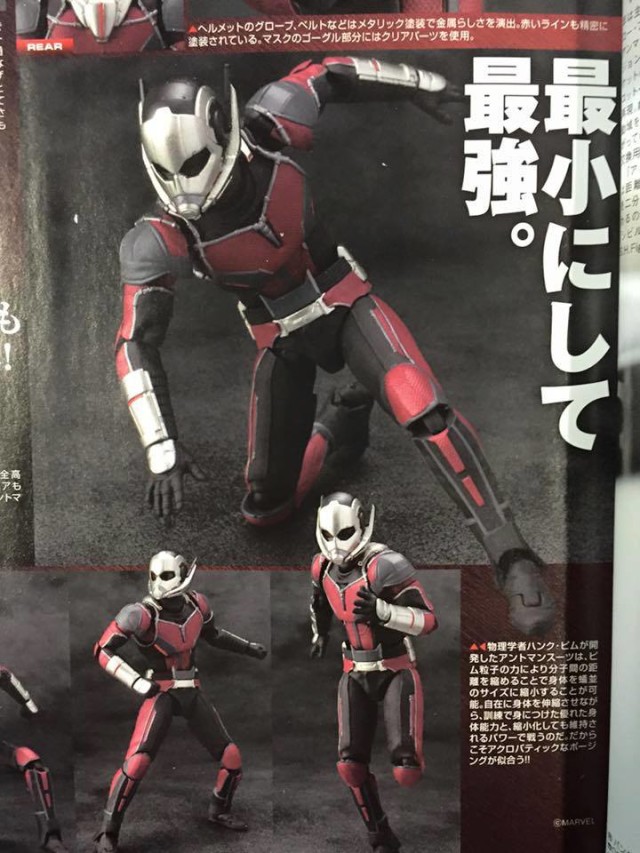 Following up on the Captain America and Iron Man Mark 46 figures that previously went up for order, the third figure in the Civil War line is indeed Ant-Man, and the preview photos of the action figure give us the best look we've seen at his Captain America Civil War costume.
While the body of Ant-Man's costume retains its basic look with some clear changes (such as a new belt), the Ant-Man Civil War helmet is totally different, with all of its red being removed completely and the shape of the helmet being a substantial change.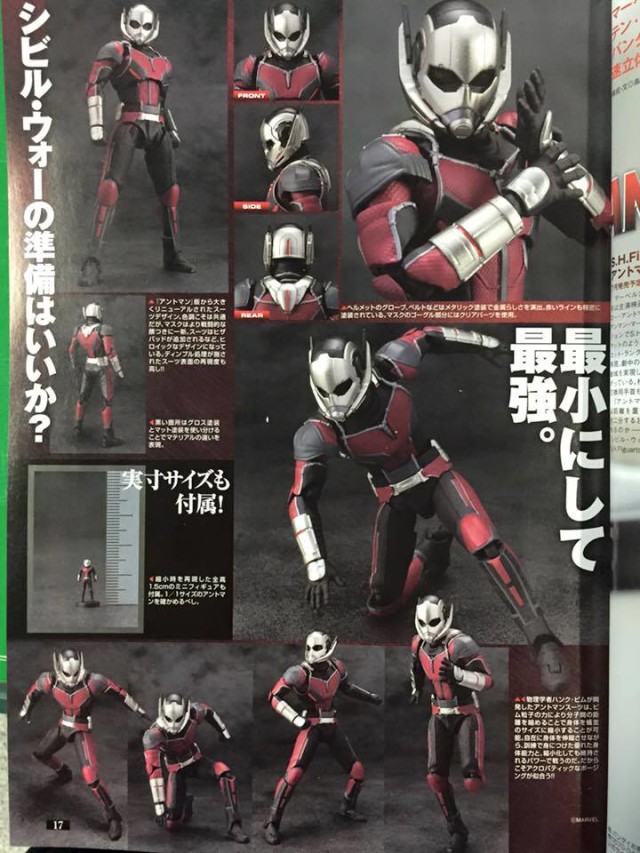 At a glance I'm not sure I like the new helmet, as its angularity and blacked-out eyes evoke the Dark Elves from the horrible Thor: The Dark World movie too much for my tastes.
Even so, the Ant-Man Figuarts figure looks awesome. Exquisite sculpting detail on the texture of the costume, and tons of articulation.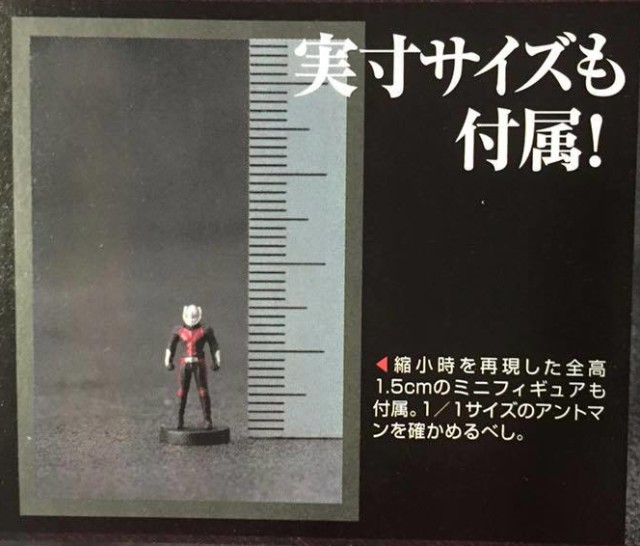 Bandai Japan favors–and excels at–movie figures that don't require an actor license, so I can see why they opted for this S.H. Figuarts Ant-Man action figure so early. It's for this reason that I think we have a far better chance in seeing War Machine and Black Panther soon that anyone without a mask such as Agent 13, Black Widow or Hawkeye.
Along with the obligatory alternate hands, one other accessory will be included with this figure: a 1.5 cm (.6″) miniature Ant-Man figurine. Hey, we can always use more mini Ant-Man figures to replace ones we've inevitably lost, right?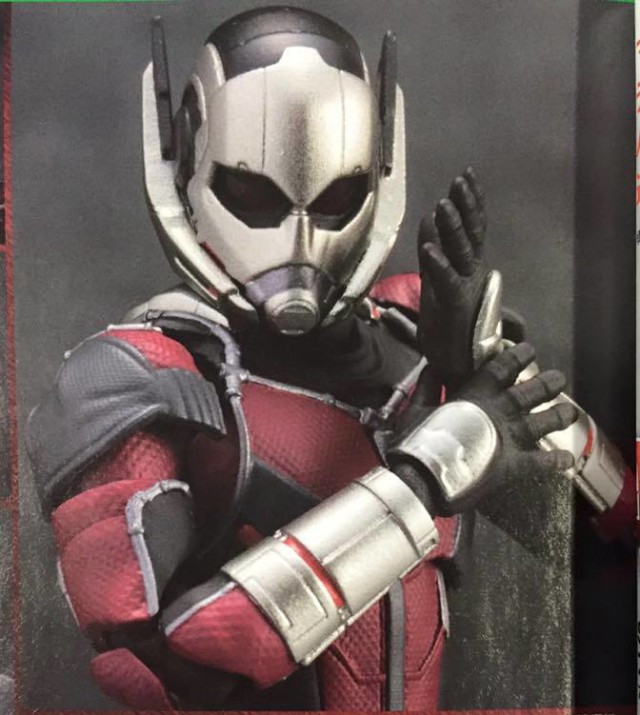 The S.H. Figuarts Ant-Man Civil War figure goes up for order March 1st, and will retail for 6,264 Japanese yen (about $55.77 U.S.). Bandai Japan does not have a license to distribute these figures in the United States, so fans who want Scott Lang (and the rest of the Civil War Figuarts figures will have to purchase from an import shop (where he will most assuredly sell out within hours).
Having had our first really great look at it, what are your feelings on the Civil War look for Ant-Man? Will you be picking up the first Ant-Man Figuarts action figure?