Hot Toys has been giving us a slow and steady rollout of their Captain America: Civil War movie figures for the last few months–so slowly, in fact, that I didn't realize a half-dozen figures were up for pre-order already! And today, Hot Toys is going to go ahead with lucky number seven and a figure never-before-shown: the Hot Toys Civil War Ant-Man figure goes up for order later today! Is this better than their original Ant-Man…?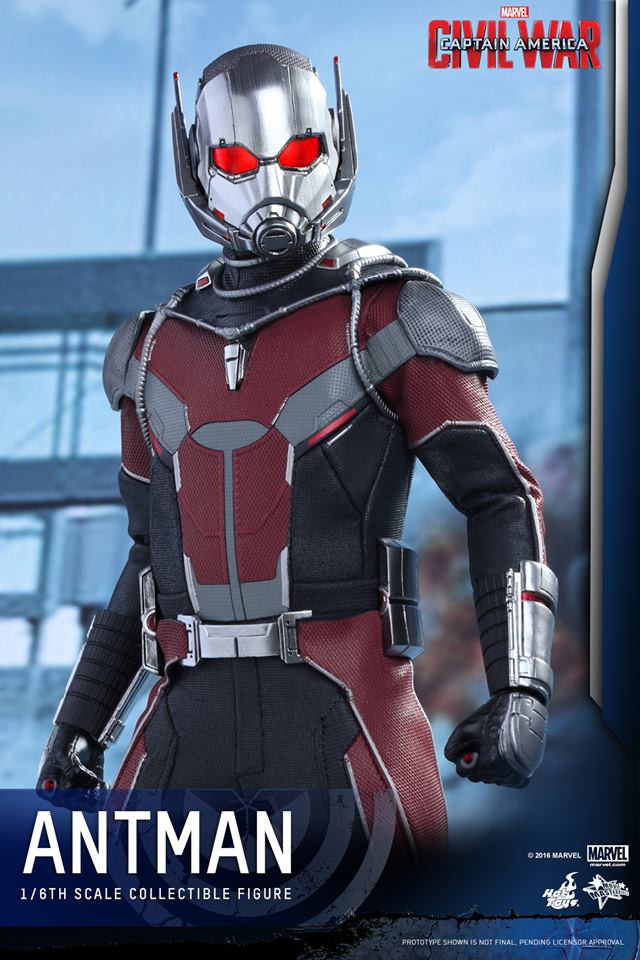 Disney's late decision to try to hide Ant-Man and Giant-Man's involvement in the Captain America Civil War movie has been met with predictably lackluster success, and we've had a pretty good idea exactly what Scott Lang would be looking like in the movie in both guises for months.
But one company that did successfully keep their Civil War Ant-Man toy under wraps is Hot Toys–who finally made a surprise reveal of the figure overnight!
Is this going to be the definitive MCU Ant-Man Hot Toys figure? Let's take a look…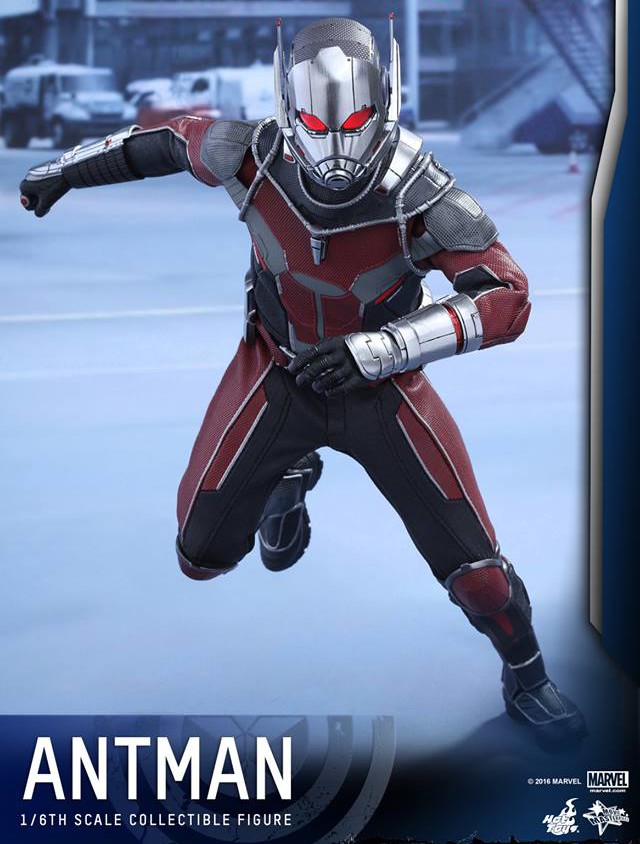 Those expected a slightly updated version of last year's Hot Toys Ant-Man figure from his solo movie are going to be very surprised this time. The costume, helmet and unmasked head for this figure are all totally different this time out.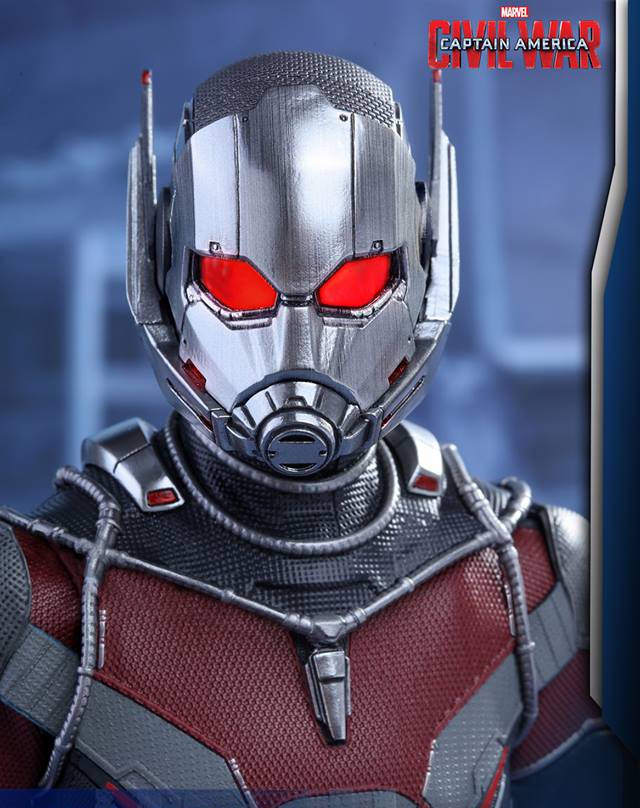 The Captain America Civil War Antman helmet is radically different from the helmet in the solo movie, with the dual antennas making this feel much more like a comic-styled Ant-Man sixth scale figure.
I didn't especially like this new helmet the first time I saw it, but it's genuinely growing me. There's also a light-up LED function to this Ant-Man helmet, which I think looks quite cool.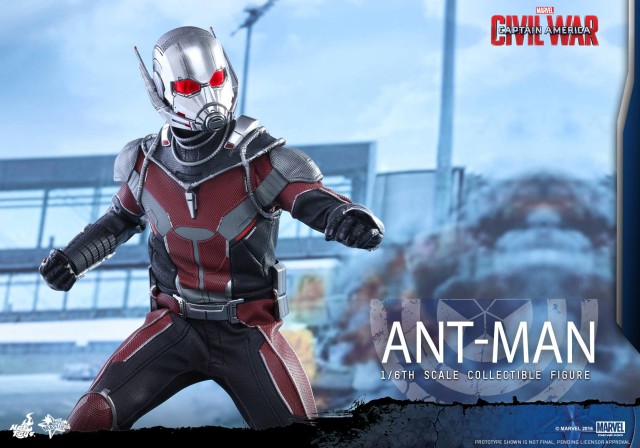 Meanwhile, the Civil War Ant-Man costume itself looks much more streamlined–and Teflon-like–than before. This costume has been met with some divisiveness, but I like it a lot. I think people will think more favorably of the costume once they see it in the movie.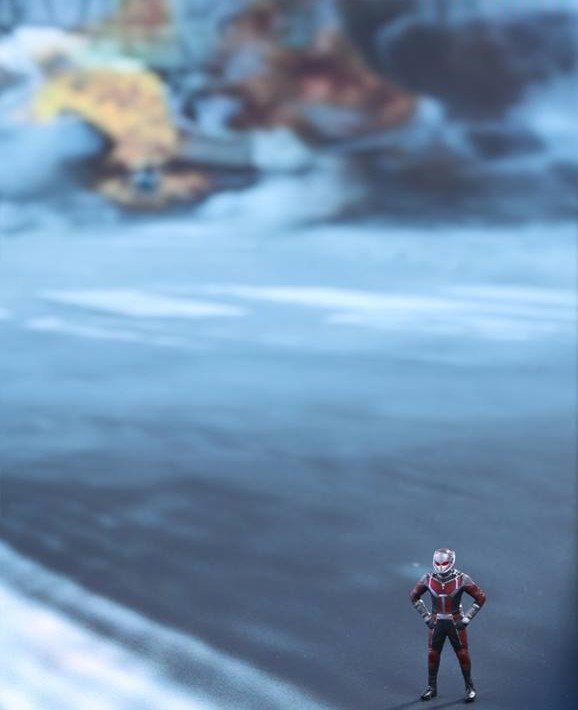 There is, of course, a 2.8 cm mini Ant-Man figure included here as well. Can't have Ant-Man without a miniature version to show off his powers, right?
There's also a Civil War figure stand and some alternate hands included. Not a ton of accessories, but I imagine Hot Toys wants to keep the price-point on this figure low (probably $220-ish).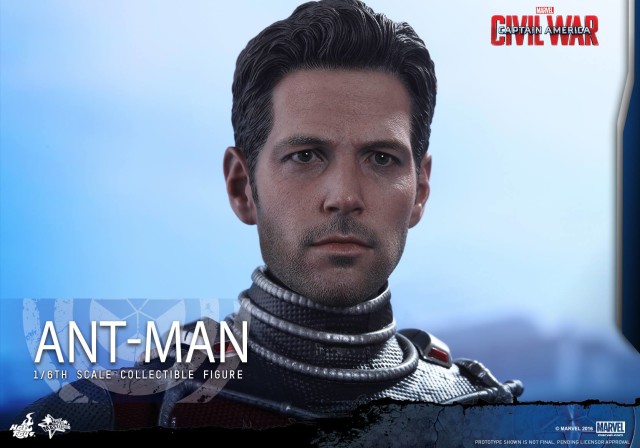 I thought Hot Toys hit the bullseye with their first unmasked Ant-Man Paul Rudd portrait, but this time out with the alternate head sculpt they've given us an incredibly uncanny likeness… to Ben Affleck.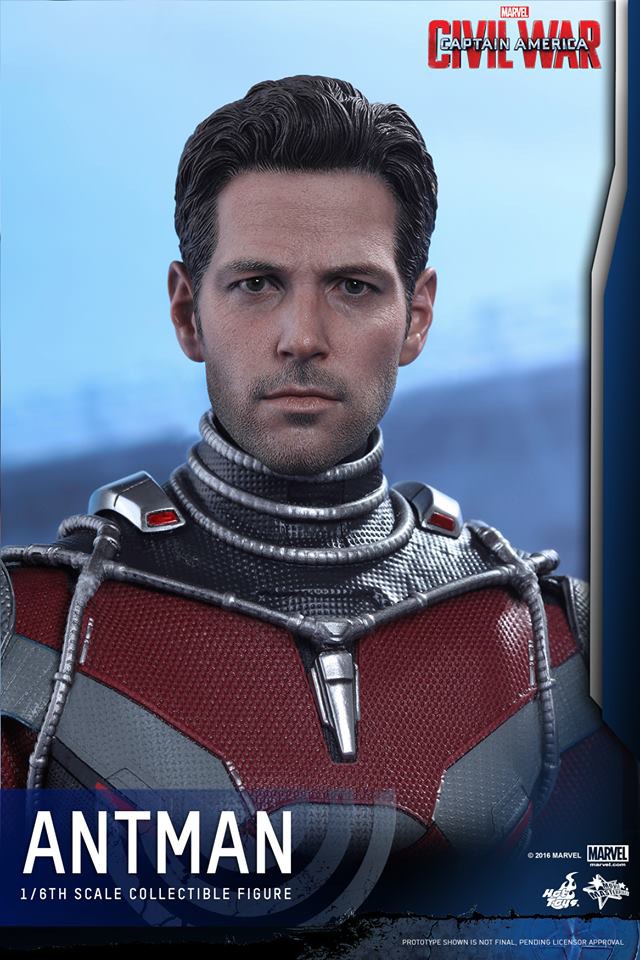 I'm certain that Hot Toys is gonna change this before the figure ships, but man–I think the sculptors were accidentally looking at Batman v Superman photos when they sculpted this portrait.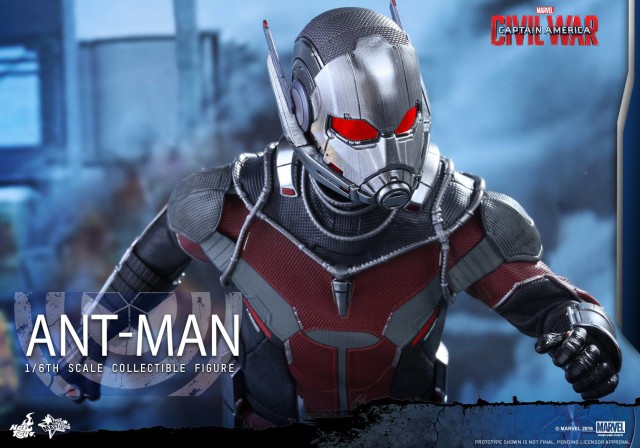 And of course, I'd be remiss if I didn't discuss the giant (not yet) in the room. Will there be a Hot Toys Giant-Man figure? Survey says: absolutely. Hot Toys makes gorgeous 18″ and taller quarter-scale figures, and I have zero doubts the Giant-Man Hot Toys figure will shine when it's released.
For display purposes, many collectors will love having this 1/6 Ant-Man to stand in front of the inevitable Giant-Man figure that will be hitting after it.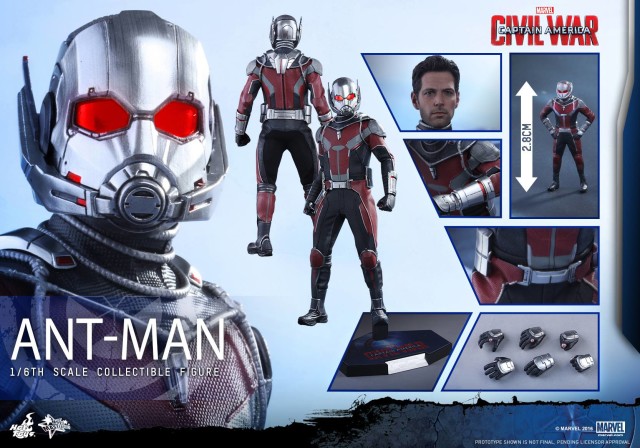 The Hot Toys Civil War Ant-Man sixth scale figure goes up for order later today, and is expected to be released in fall 2016. I suspect this figure is going to end up being quite popular once the Hot Toys Giant-Man figure gets announced in a month or so.
What are your thoughts on this new 12″ Ant-Man Civil War figure, Marvel collectors? Is this figure better than the first version, in your opinion? Are you planning on snagging the newest Ant-Man for your collection, or is this Scott Lang a wait-and-see for you?