At San Diego Comic-Con 2015 last week, Hot Toys finally dropped the curtain and revealed their much-anticipated Ant-Man Movie Masterpiece Series figure. Reaction to the overall look of the figure has been positive, leaving most collectors with just one question: "When can we buy it?" Well, Hot Toys must have figured that what day could be better than the one when Ant-Man hits theaters–the Hot Toys Ant-Man figure is now up for order!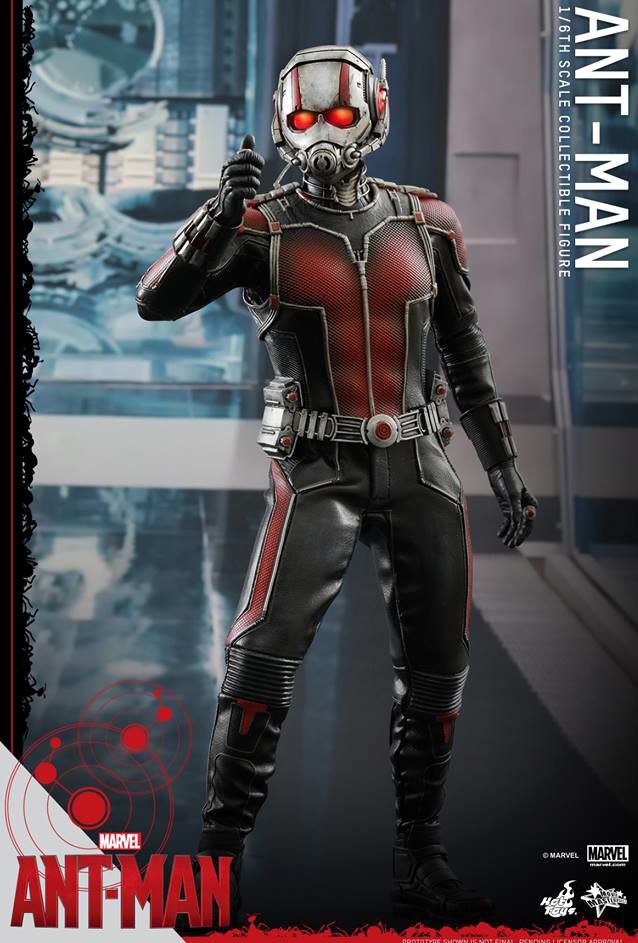 While more people chose "Ant-Man" as the first movie destined to be a bust in the Marvel Cinematic Universe than any movie before it, the movie has gotten reasonably good reviews thus far and looks to be on-track for about a $60,000,000 opening. By most standards (that aren't those of the MCU), that's pretty good–especially for a character that's not exactly a big name (no pun intended).
And as the newest major addition to the MCU, it's only right that Scott Lang Ant-Man receive his own 12″ Movie Masterpiece Series figure from Hot Toys. The first two (of what I expect to be a total of three) figures from the Ant-Man movie debuted at SDCC 2015 last week, and now the first one is officially set to go up for order!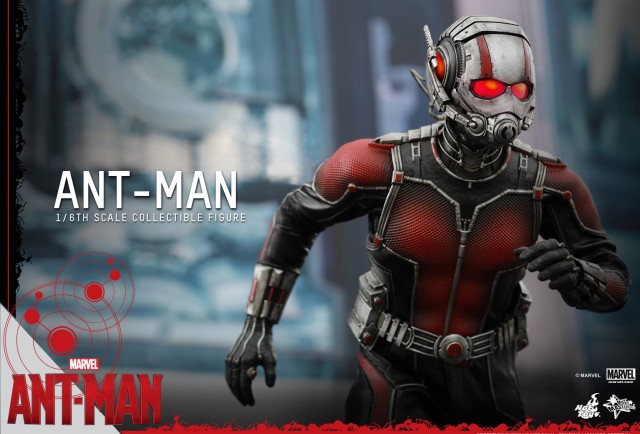 I'm still not entirely sold on the Ant-Man movie (and I doubt I will be until I see the movie this weekend), but what I am sold on is the inherent coolness of this movie Ant-Man costume! I've always thought that Ant-Man had one of the lamest costumes around, but this movie look for Scott Lang is far sleeker and more visually-compelling than any costume we've ever seen for the founding Avengers before.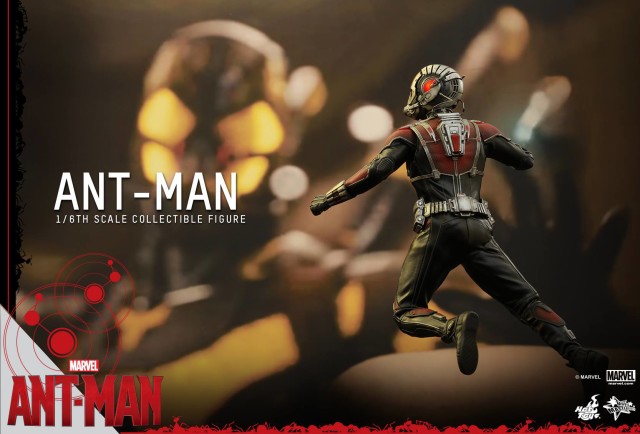 The detailed texture and shading of the costume also make it lend itself extremely well to high-end, larger-sized toys and collectibles such as this Ant-Man Hot Toys figure. I have no idea whether or not I'm going to love this movie, but this is already shaping up to be one of my favorite Marvel Hot Toys figures!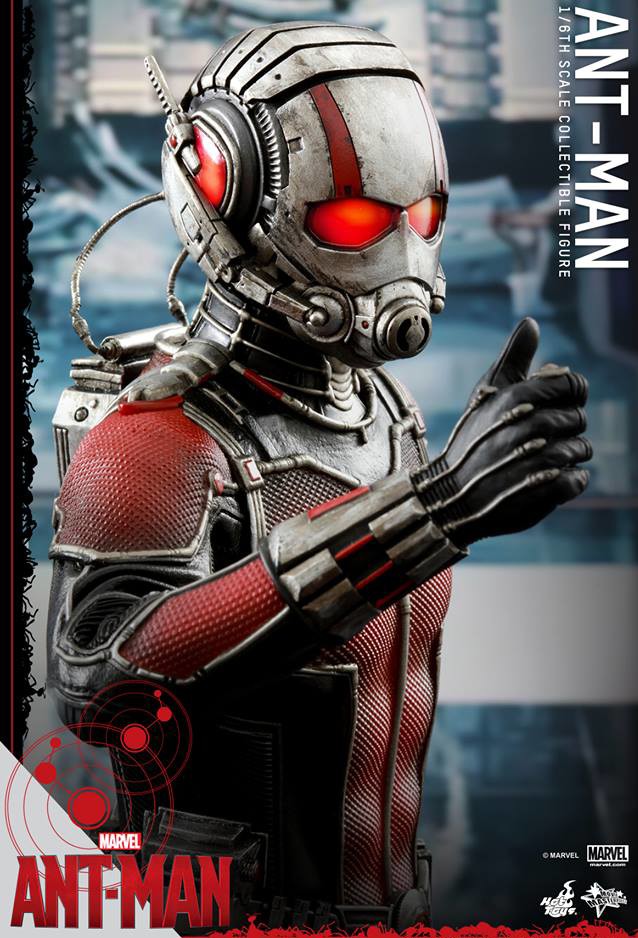 Ordinarily, I don't get excited about light-up features on my 1/6th scale figures anymore (the number of batteries I put into each of my Iron Man MMS figures tends to be greater than the number of times that I actually use the electronic functions these days).
But in the case of this MMS308 Ant-Man figure, I'm very excited for the LED light-up helmet–the glowing red eyes on this figure are one of the most fun light-up features on a Hot Toys figure in ages!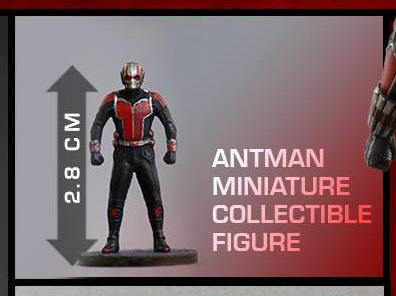 Just like virtually every other company out there putting out an Antman figure this year, Hot Toys will be including a miniature Ant-Man figure as a bonus with the Movie Masterpiece Series Ant-Man. The mini Ant-Man will feature no articulation and stand 2.8 cm (about 1.1″) tall–almost exactly 1/12 the the size of the sixth scale Ant-Man figure (for the math whizzes out there–that's about 1/72 scale)!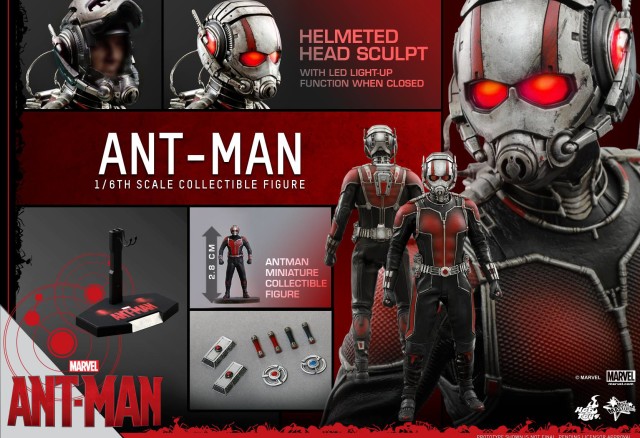 For those wondering whether or not a certain planned feature has been scrapped–rejoice! As originally planned, the Hot Toys Antman helmet
will
still open up in the front, revealing a (hopefully authentic) Paul Rudd Ant-Man head sculpt within.
Unfortunately, Hot Toys hasn't gotten likeness approval on said head sculpt yet, so they can't show it off at this time–all we get to see thus far is a blurred out face where we should be seeing Paul Rudd's handsome mug. But hey, it's Hot Toys–I've little doubt that they can pull off a Paul Rudd likeness marvelously.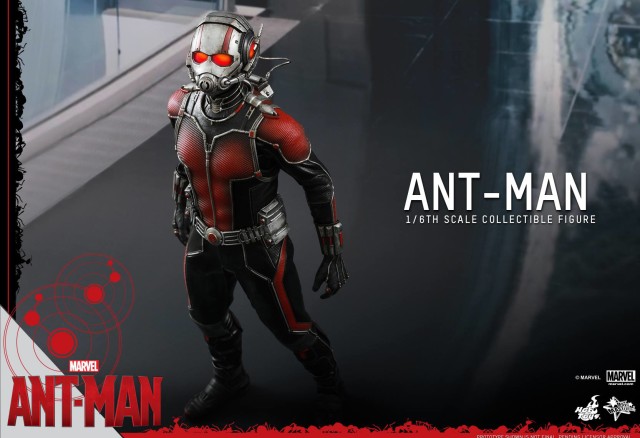 The MMS 308 Ant-Man Hot Toys figure is now available for order on the Sideshow Collectibles website, and is expected to ship out in early 2016. The Hot Toys Yellowjacket sixth scale figure was also on display at SDCC 2015, so I expect to see Yellowjacket go up for sale in the next few weeks (although that figure is a bit more complicated, so I wouldn't expect Yellowjacket to arrive until the spring of 2016).
Is the Hot Toys 1/6 Ant-Man figure an instant pre-order for you, Marvel collectors? Or are you waiting to see how the movie turns out before biting on this figure (or maybe not biting at all)?