It's been an agonizing nearly year-long wait for Hot Toys Marvel figure collectors, but those 1/6 Hot Toys Captain America: Civil War movie figures we ordered last spring…? At long last, most of them are finally starting to arrive! And for those who missed out on the first version and didn't want to pay aftermarket prices for him, there's no figure from the series more anticipated than Bucky! The Hot Toys Civil War Winter Soldier is now shipping and still available for order–and my review of MMS351 will tell you why you should absolutely get one while you can…
The Right:
Believe it or not, before the original Hot Toys Winter Soldier Movie Masterpiece Series 12 inch figure's value exploded on the secondary market, that figure sat around in-stock for a
long
time.
Maybe it's because Bucky Barnes was a villain in that movie or maybe it's because his $240 price-tag was a hair rich for many folks' bloods, but the original Bucky Hot Toys figure actually under-performed sales-wise for a long time.
That doesn't seem to be the case with the MMS 351 Civil War Hot Toys Winter Soldier figure, however, which just arrived in the U.S. and is already sold out from many retailers. And with good reason, because he is fantastic…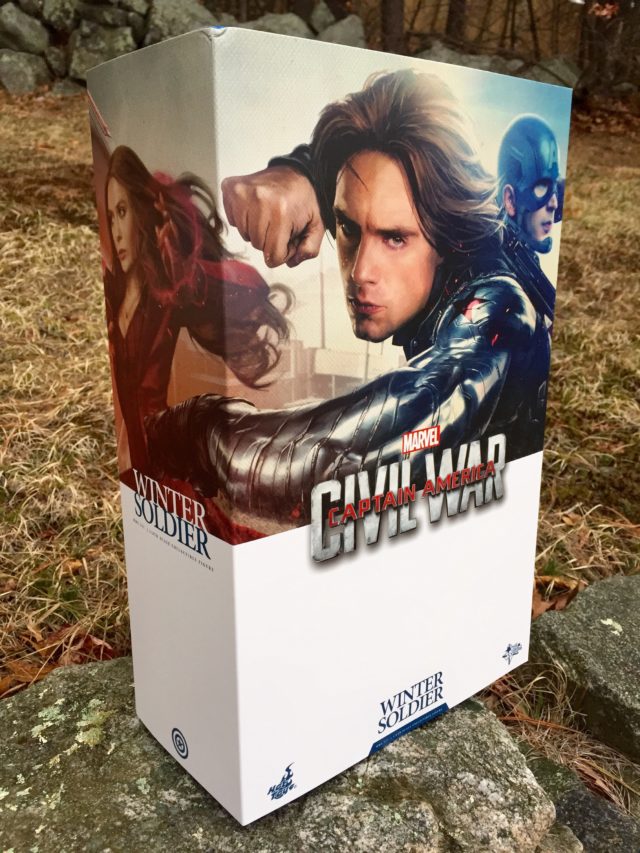 As usual, Bucky's box comes with a really slick slipcover. In honor of Captain America: Civil War, the slipcovers feature a number of characters from both sides of the conflict. My box came with a dent in the top corner, but it's a gorgeous display piece nonetheless for those who display their boxes.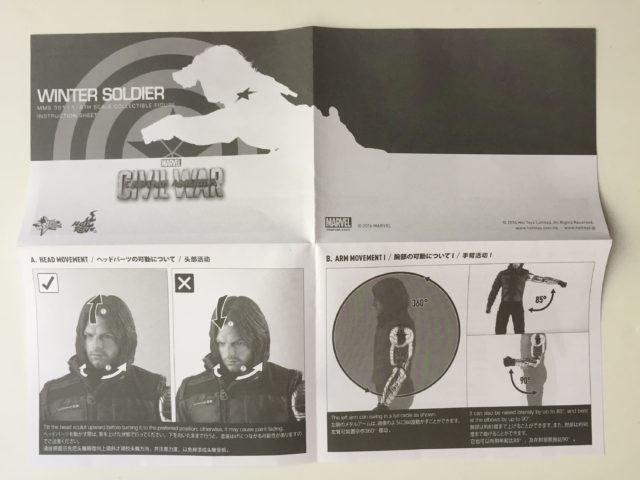 Also as usual, the figure comes with an unfolding instructions sheet. Never get overconfident and disregard this, as the instructions vary a little for each figure and we obviously don't want any of our $200+ toys to get damaged because of overconfidence.
Of course, I collect toys, not boxes or instructions, so let's take a look at the actual MMS 351 Hot Toys Winter Soldier sixth scale figure, shall we?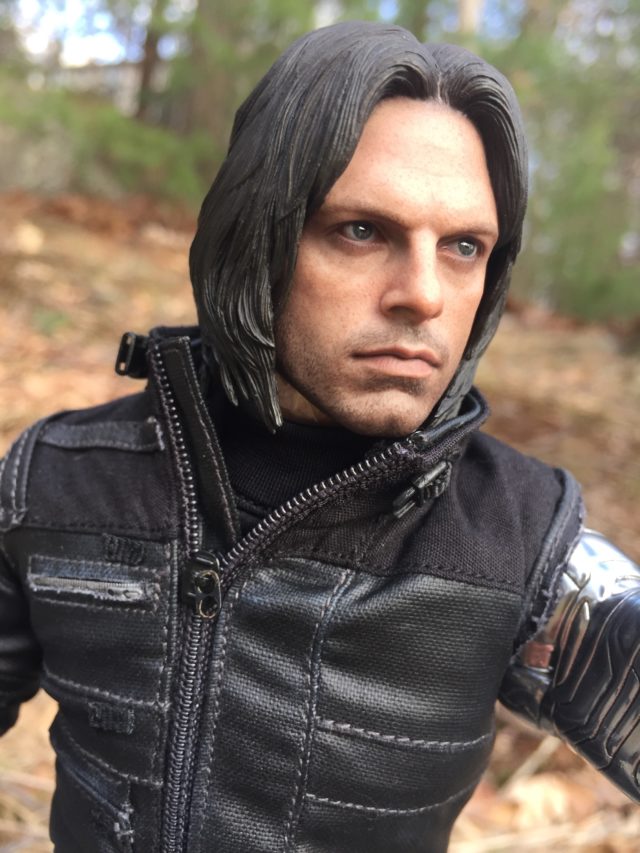 The absolute, no-questions-asked, most important aspect of a Hot Toys figure is the head sculpt and actor likeness. Sometimes Hot Toys' portraits miss the mark a little bit–but this is not one of those times. This Bucky 12″ figure's Sebastian Stan likeness is almost uncannily good. From the facial features to the authentically-sculpted hair, this head is Sebastian Stan. This is some of Hot Toys' best work, and they deserve kudos on it. Beautiful.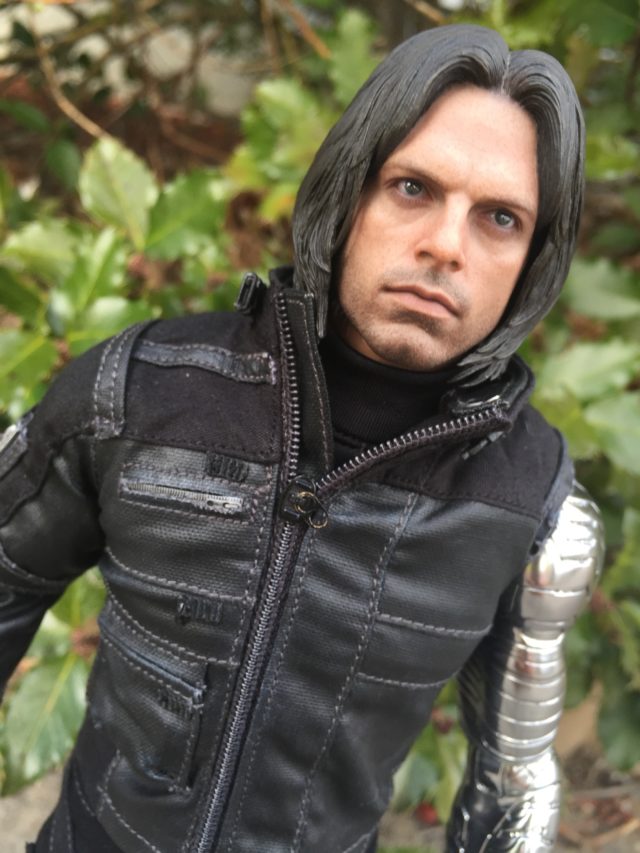 While there are some characters that this sort of expression would look bland for, this stare is basically Bucky's intent "I'm gonna kill you" face and also his neutral expression in the movie. What can I say, Bucky Barnes isn't the most emotive guy! This work perfect for this figure, as the head looks appropriate for whatever mood I decide Bucky is in.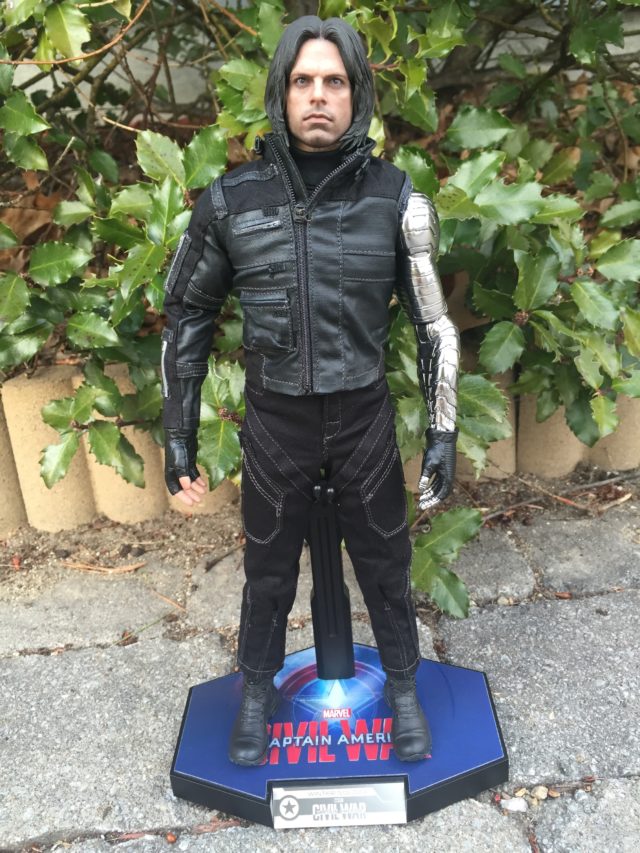 Winter Soldier's costume looks pretty simple in the Captain America Civil War movie, but there's actually a lot of nice details that work really well in sixth scale form. The tiny metal zipper on Winter Soldier's jacket actually works, believe it or not, and the various pockets and stitches look superb.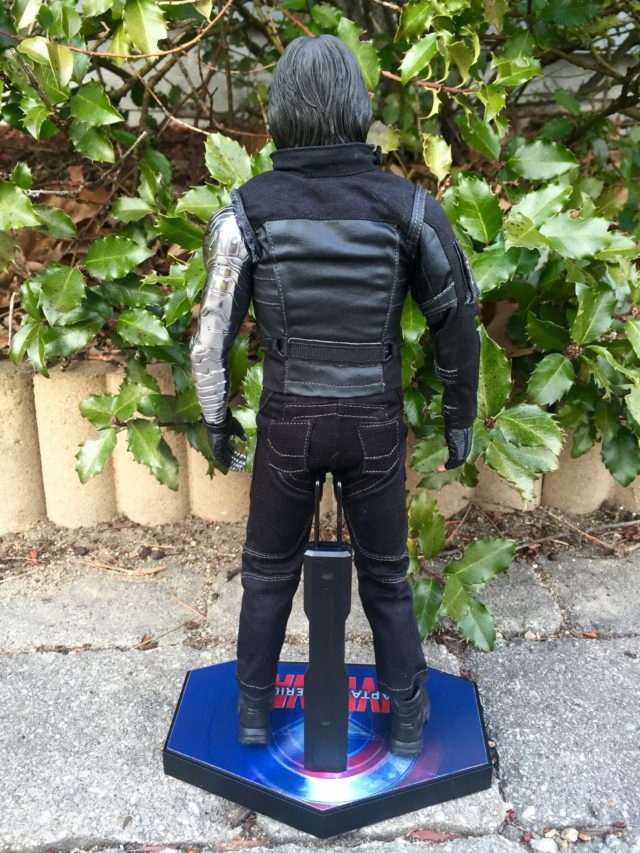 Bucky's costume is a little bit more plain but no less well-tailored from behind.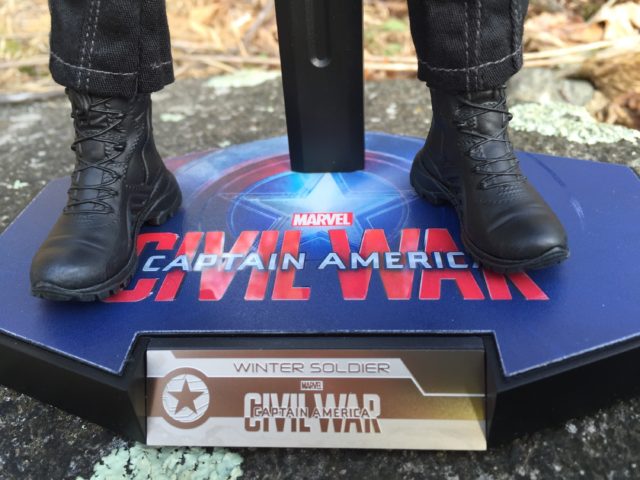 Like almost all Hot Toys sixth scale figures, MMS 351 Winter Soldier comes with a dedicated figure stand.  The base for the Civil War figures is themed for the movie, but there's a metal nameplate to identify Winter Soldier's base (in case you're worried about mixing up your figure stands).
Whether or not this themed base is an improvement over the plain black base from MMS 241 is up to each collector, but I personally like how colorful this one is.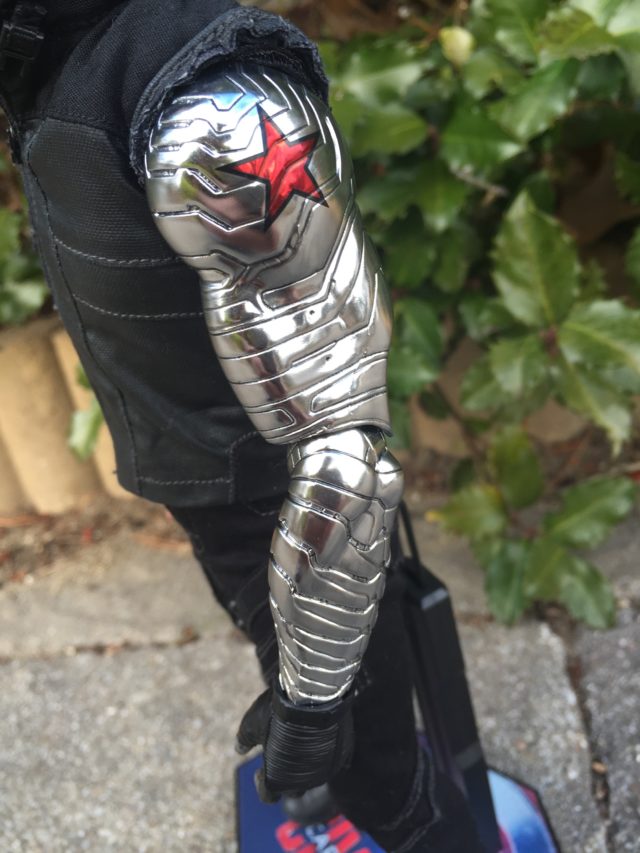 One thing about the 2014 MMS241 Winter Soldier that was a bit disappointing was that Winter Soldier's metal arm… didn't really look all that metal. The flat silver paint used on the arm just wasn't up to snuff, and many collectors were disappointed.
Thankfully, that is not the case with MMS351! This time out, Bucky's metal arm is actually chrome, and it looks terrific!! The chromed arm is aesthetically superior to the old version in every way, and collectors are going to love it. And despite the chrome job, have no fear–all of the sculpting detail and articulation you'd expect is still present, and the paint doesn't seem fragile at all.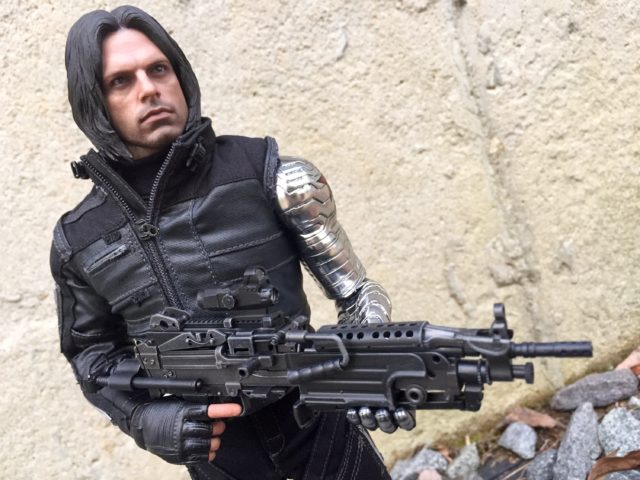 Bucky comes with just one weapon, but it's a pretty spectacular one: a highly-detailed machine gun! I'm no firearms expert, so I can't name the moving parts on the machine gun or anything, but the gun itself is expertly sculpted and looks amazingly lifelike.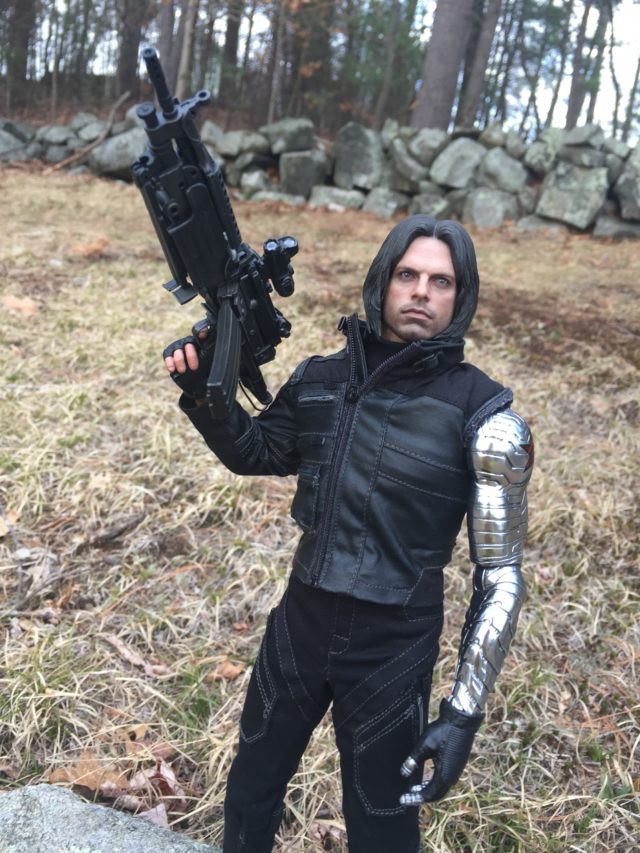 Bucky can hold the machine gun with either both his hands supporting it or just one of them, and the gun has an opening slot where you can attach the ammo magazine.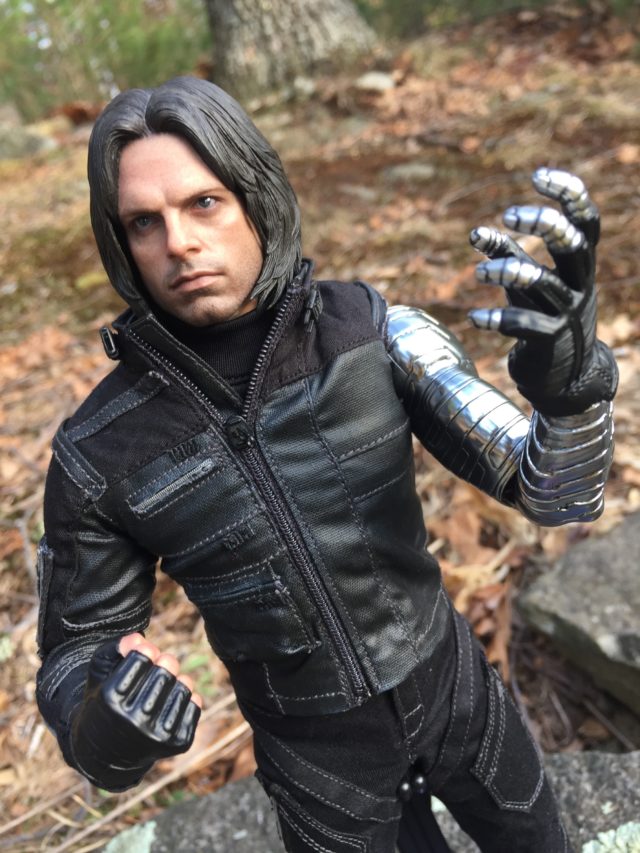 No Hot Toys sixth scale figure is complete without interchangeable hands, and the 12″ Winter Soldier MMS comes with four pairs of alternate hands: fists, relaxed hands, grasping hands and weapon holding hands.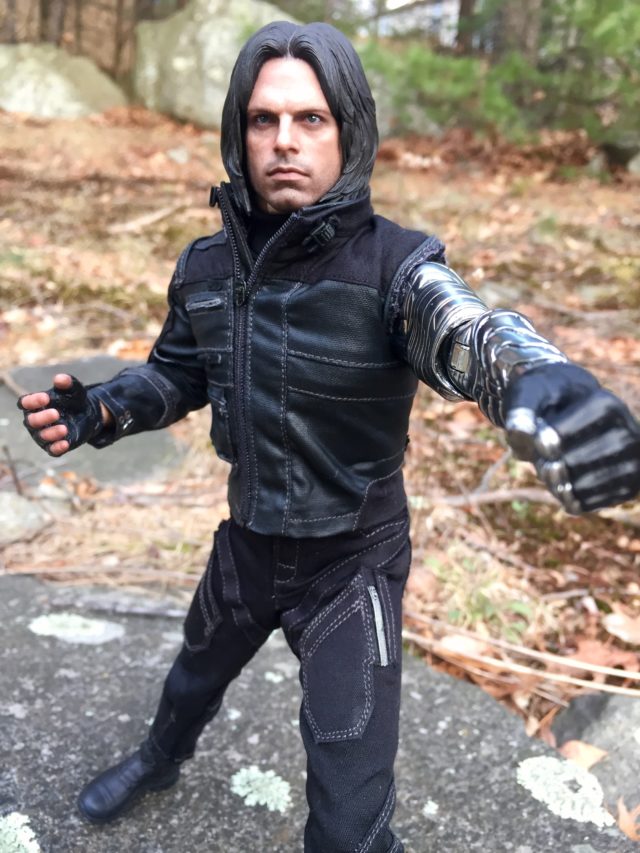 With the alternate hands, Bucky can be put into a wide variety of poses looking like he's gonna choke you to death, blast you with his scary gun or just plain punch your lights out. Basically, all of the Winter Soldier's favorite hobbies.
The Wrong:
As far as the Captain America Civil War Winter Soldier Hot Toys figure goes, I have zero in the way of complaints. From the Sebastian Stan head sculpt to the costume to the accessories and chromed arm, this is a
perfect
Winter Soldier sixth scale figure.
But what's not quite "perfect" about this release is the price. Now, I absolutely applaud Hot Toys for bringing us a 1/6 Winter Soldier figure three years after the original for $20 less than the original, in a marketplace where the prices of collectibles are consistently skyrocketing.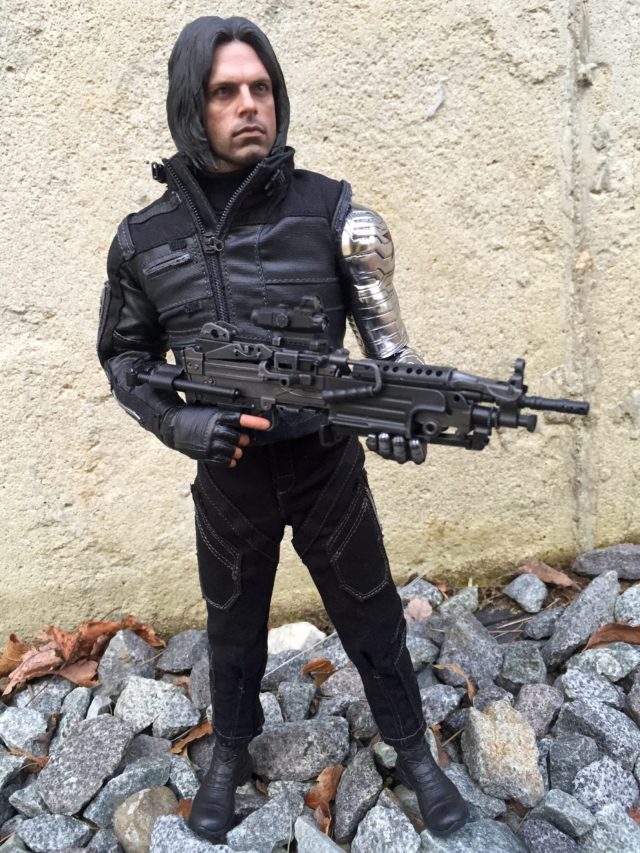 That said, given that the first Winter Soldier (which now sells for way way over its original price on the aftermarket) came with two interchangeable heads and a ton more weapons, it's sort of sad that Hot Toys couldn't manage to fit more than one gun in with MMS351.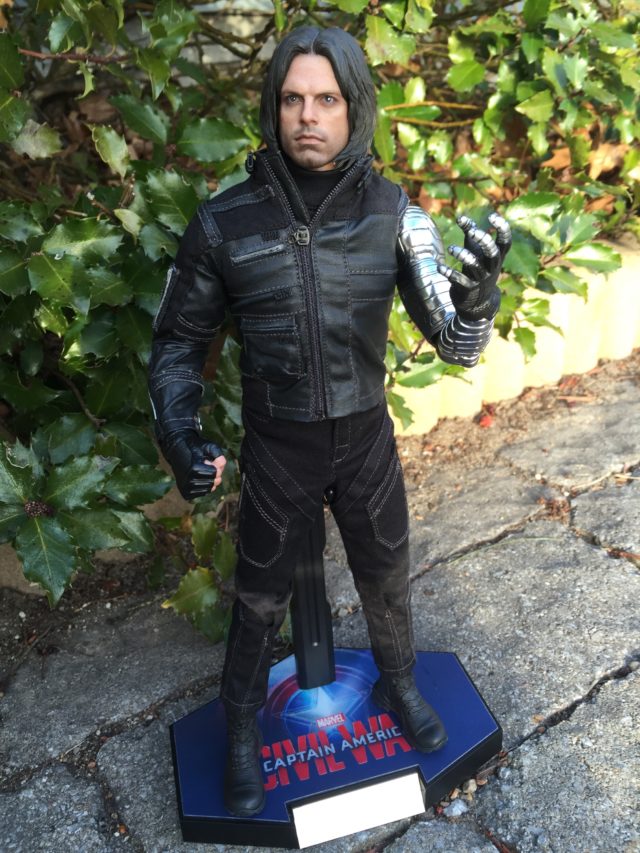 I'm not asking for a lot here: a reused pistol or dagger… anything. For those who don't have a bunch of other 1/6 Movie Masterpiece Series figures to scavenge from, the lack of extra accessories is really limiting. The price here is probably fair, but I'd have like a few more accessories or a few more dollars off nonetheless.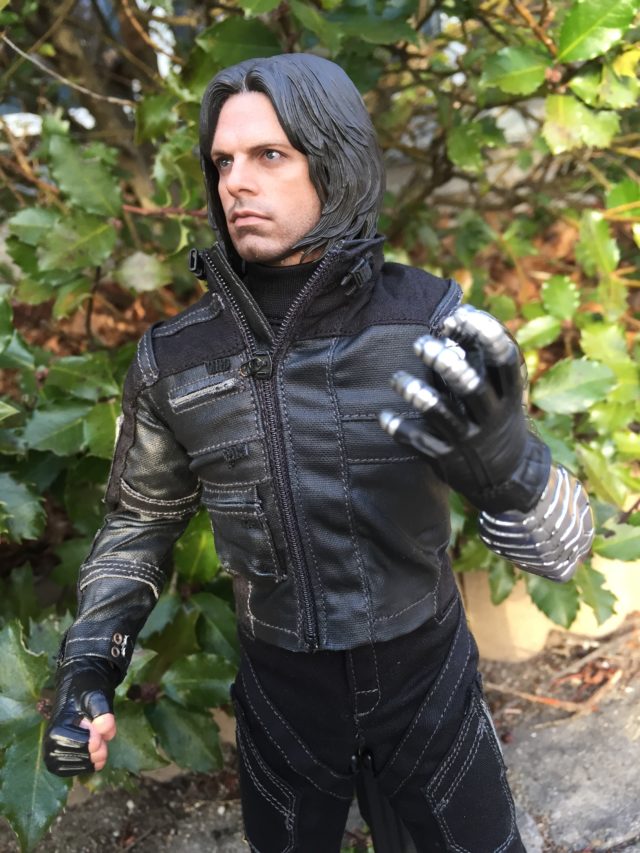 Overall: I really can't get over how good this Hot Toys Bucky figure looks and how much I like it. The Sebastian Stan likeness is incredible, the new chrome arm is superior to the original version's, the costume is perfect and the machine gun and interchangeable hands are excellent accessories. In my opinion, there's no reason to wait for a future version of this character, because everything about this particular one is on the money.
If this figure came with a few more weapons or was slightly cheaper I think I could wholeheartedly give it an 'A+', but I think we're not quite getting enough here to justify our $220. Even so, I'm very pleased with my purchase, and recommend Bucky fans pick up the Civil War Hot Toys Winter Soldier figure online before it sells out in the next few weeks. Another outstanding release by Hot Toys.
GRADE: A