Raise your hand if you thought mech-crazy Bandai Japan was going to skip a chance to release a new SH Figuarts Civil War War Machine figure. Anyone…? I thought not. But for those who skipped last year's expensive Japanese online exclusive War Machine Mark II, don't expect this one to be any cheaper or easier to acquire–the SH Figuarts War Machine Mark III is yet another Japanese-only web shop exclusive that will only be available via expensive import in the US…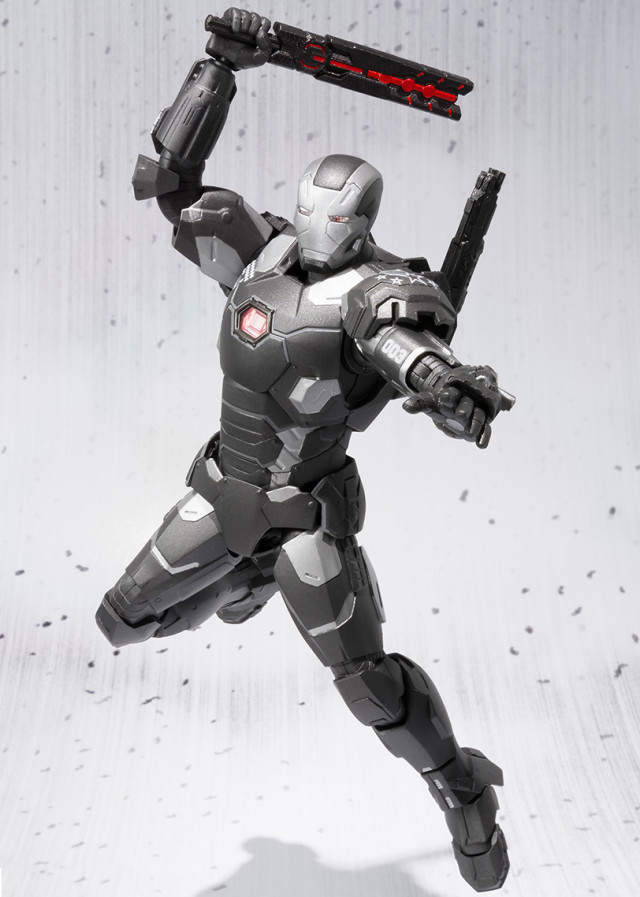 Yesterday I finally got around to talking about
the Marvel Legends Civil War War Machine figure recently released in the United States
–and just in the nick of time, too!
Hasbro's got competition once again from one of the most-loved 1/12 figure lines in the world: Bandai S.H. Figuarts! How do Bandai's efforts compare to Hasbro's? Let's take a look…
It's not uncommon for me to much prefer a Bandai Figuarts Marvel figure to a Hasbro Marvel Legends six-inch figure, but that's not entirely the case with this War Machine Mk III.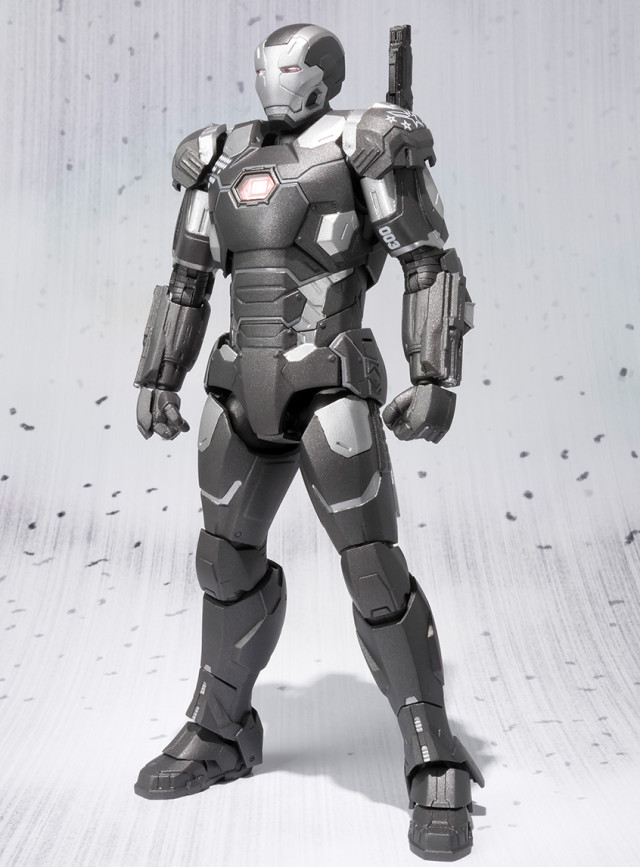 I really prefer the dark grey Hasbro picked for the armor on their ML figure, whereas Bandai opted for a lighter and "friendlier" shade of grey.
In addition, something about the faceplate on the Figuarts War Machine helmet looks very stylized and off-model to me–I just don't like it.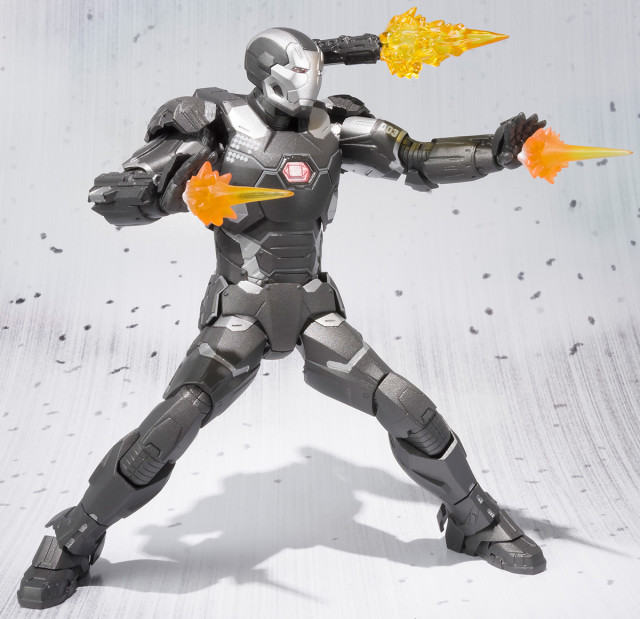 However, one area where Bandai Japan absolutely destroys Hasbro in this instance is accessories. On top of the shoulder cannon and interchangeable hands, you get six more impressive accessories with the Bandai version of James Rhodes.
Figuarts War Machine's energy baton looks far more vibrant than the Hasbro version, and you also get five energy effects pieces for blasting and thrusting with the SH Figuarts. The Marvel Legends War Machine Mark III just can't compete with all that.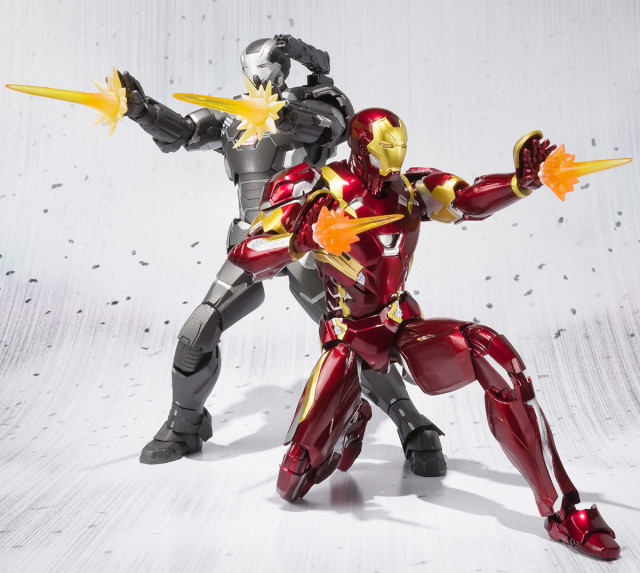 In addition, the overall glossiness of Rhodey and inclusion of undisclosed die-cast metal pieces to Bandai Japan's offering may lure many 6″ collectors over to Bandai's side on this release once again.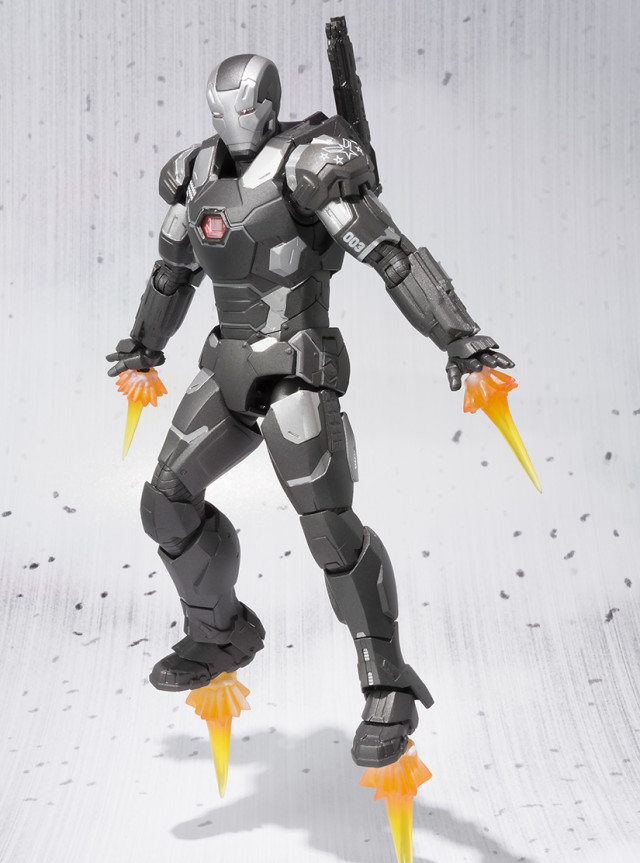 That said, Bandai is once again
not
making things easy for non-Asian collectors. This Civil War War Machine Figuarts will be yet another figure offered exclusively to overseas collectors via the Bandai Tamashii Premium Web Shop online, and North American collectors
cannot
 order from the store.
As such, interested domestic buyers will have to pay the full 6,696 yen price, plus shipping fees from overseas, plus a middleman fee. That's easily going to make this figure $80+ shipped in the U.S. at a bare minimum (though most retailers will charge much more). Ouch.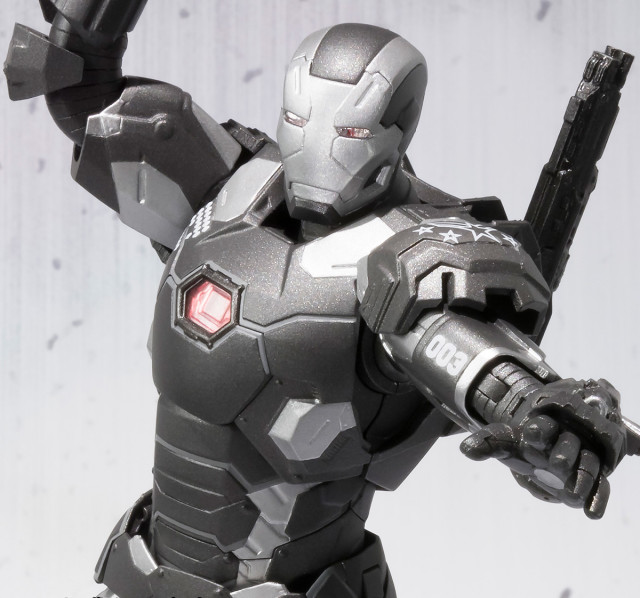 The SH Figuarts War Machine Mark III should be up for order in the U.S. early next week on BBTS, and is scheduled for release in February 2017. As this figure is a Bandai Premium Web Exclusive, U.S. collectors cannot directly import the figure themselves from Bandai's store and must buy it from a middleman retailer. Amiami, HLJ and other popular Japanese retailers will not be able to sell or distribute this Rhodey figure at all.
What do you think of Bandai Japan's interpretation of the Captain America: Civil War War Machine armor, Marvel collectors? Is this version good enough to warrant dropping $80 or more for, or are you good with the Hasbro Marvel Legends 6″ figure?