With all of the excitement surrounding New York Toy Fair 2016, it totally slipped my mind that the Funko Marvel Collector Corps Deadpool box was arriving this week! But there it was this afternoon, just hanging out on my front step welcome mat! The Civil War Collector Corps Box is now up for order, but before that, let's do a spoiler-filled unboxing and photo review of the Deadpool Collector Corps box!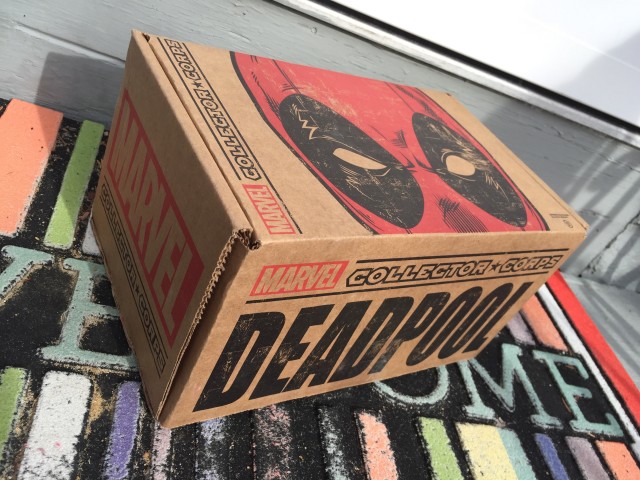 Whereas Funko usually gives us some pretty good hints regarding the contents of their Marvel Collector Corps boxes, they haven't given us much in the way of teases for the MCC Deadpool box.
But, well, now I can see why they didn't give us any teases–it's really hard to tease a box where literally everything is Deadpool! But seeing as how Deadpool is probably more popular this month than he ever has been in the history of the character, I really don't see that as a bad thing. There's a huge demand for 'Pool merch right now, and Funko is delivering a whole batch of exclusive goodies of Wade himself!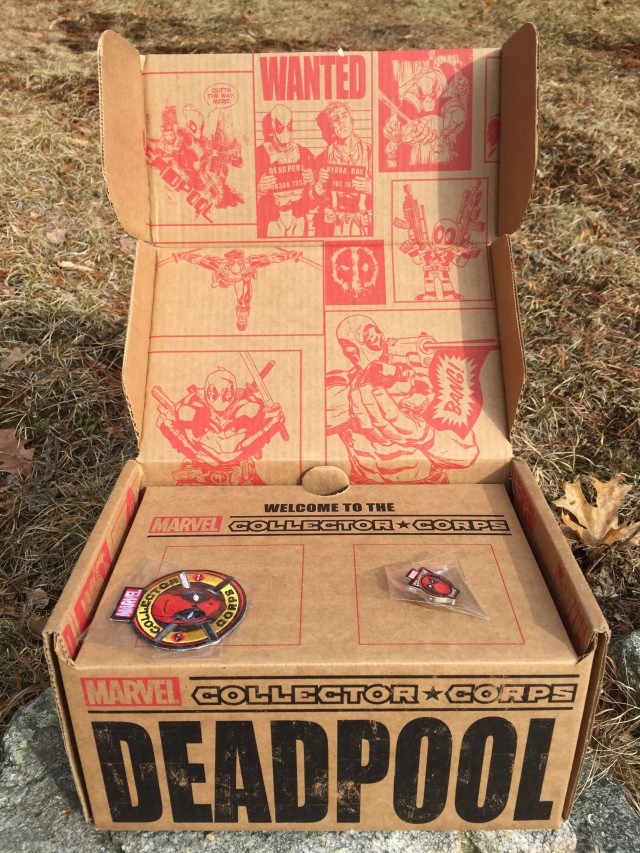 When you open the box you find this month's Collectors Corps pin and patch–which, not surprisingly, are a Deadpool pin and a Deadpool patch! These are both fun, and something I'll actually stick into a backpack or lanyard.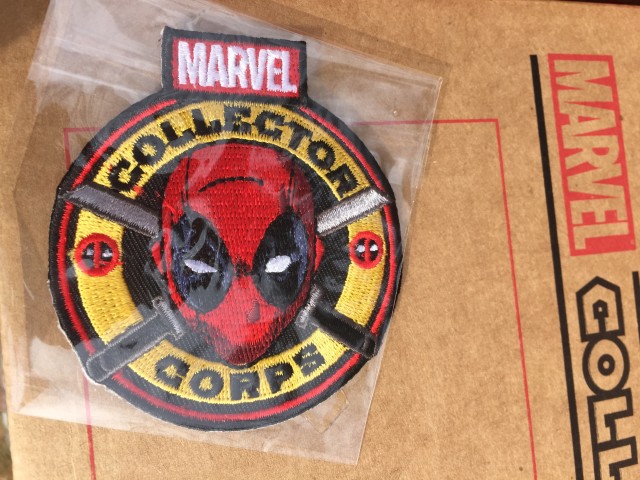 Next layer down, we come to this month's shirt: a Deadpool POP Shirt! There are several different permutations of this T-Shirt, including classic red Deadpool, as well as Yellow and Inverse Black variations.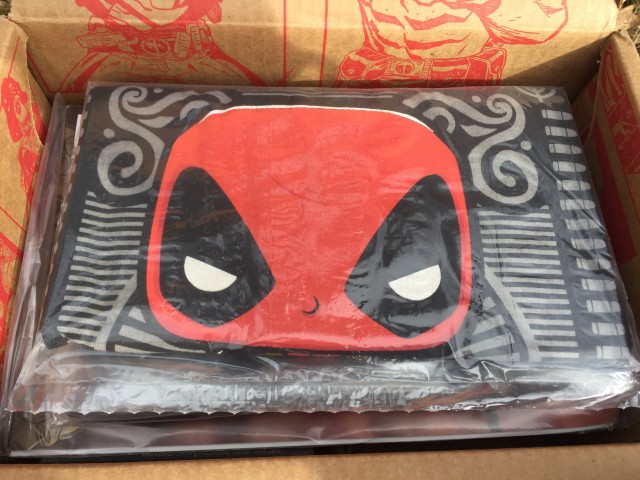 My red shirt is still sealed in the package, as I'm trading it for a yellow Deadpool shirt. I can't imagine many people ordering this box won't enjoy one of these shirts, so this also earns a thumbs-up from me.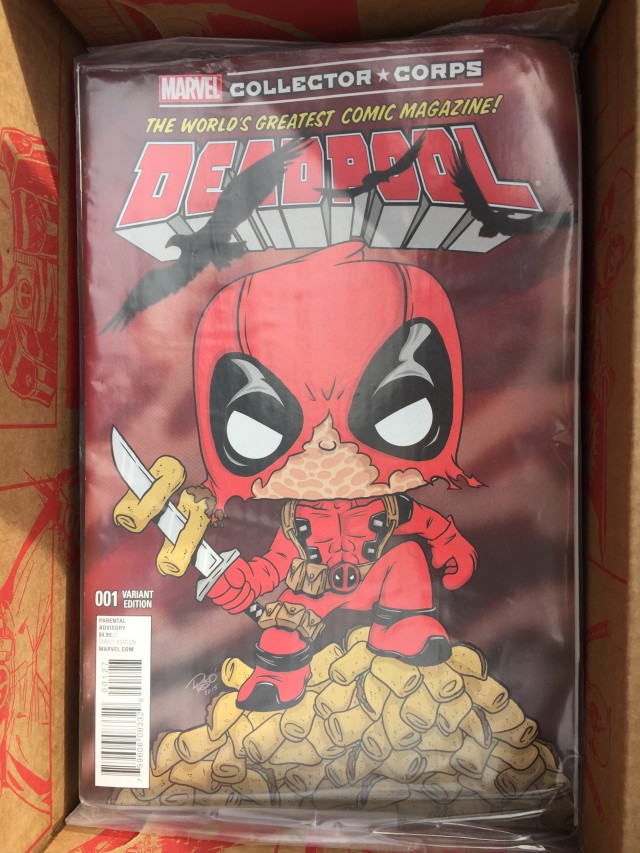 Below the T-Shirt we find this month's exclusive variant cover comic book: Deadpool #1. I thought this was a bit of an odd choice, as this comic was released several months back, but the first issue of Deadpool's solo book might make a good gateway for non-comic book fans ordering this box.
I never like unmasked/hamburger face Wade Wilson, so this isn't my favorite MCC variant cover comic book (although the mountain of chimichangas is pretty funny).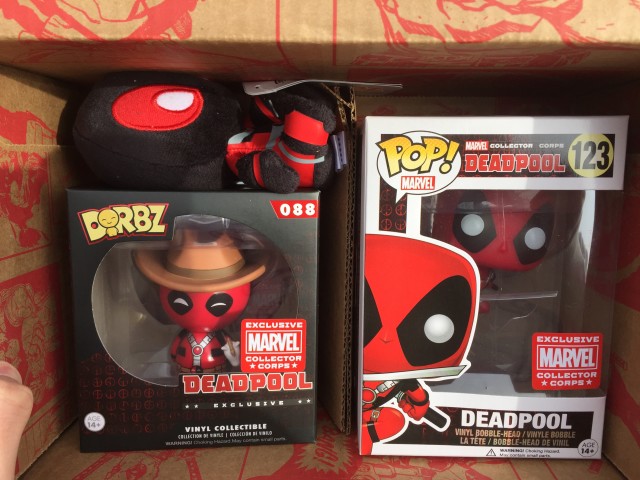 Finally, the bottom level of the box contains the really good stuff: three different exclusive Funko Deadpool toys!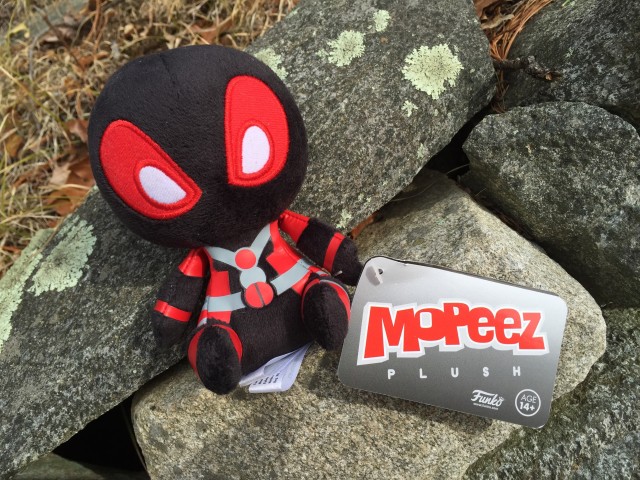 I suspected we'd be seeing the Inverse Deadpool Black Costume Mopeez in this box when it wasn't in the assortment going to retail, so I wasn't surprised to see it present here.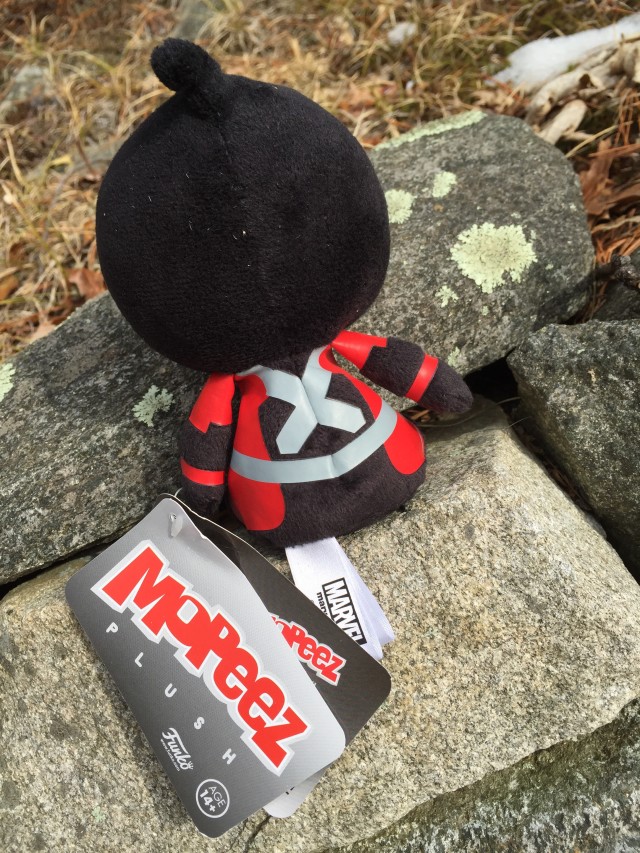 Mopeez are actually very cute little plush Marvel toys, and I'm happy to complete my Deadpool Mopeez set with this Inverse version.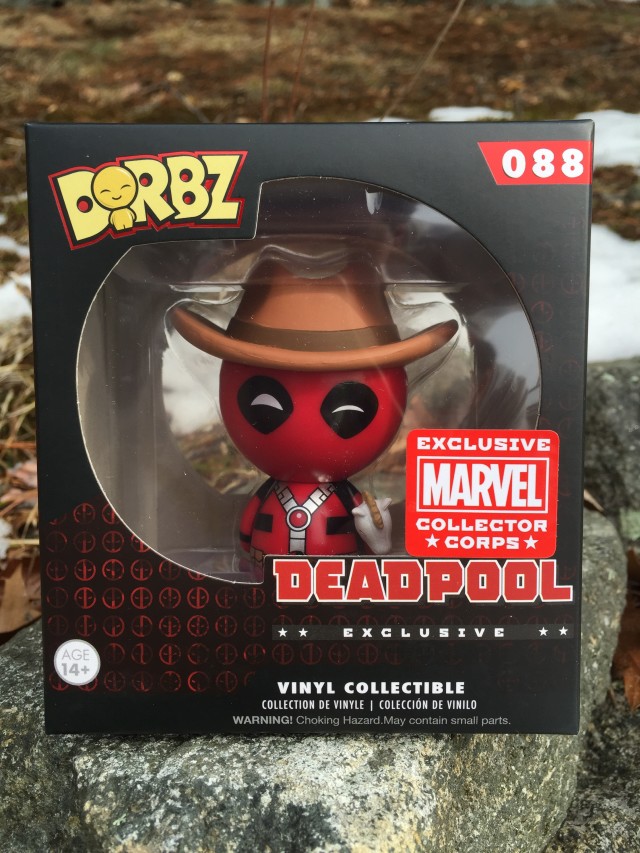 From the ever-popular Dorbz line, we get an exclusive Cowboy Deadpool Dorbz!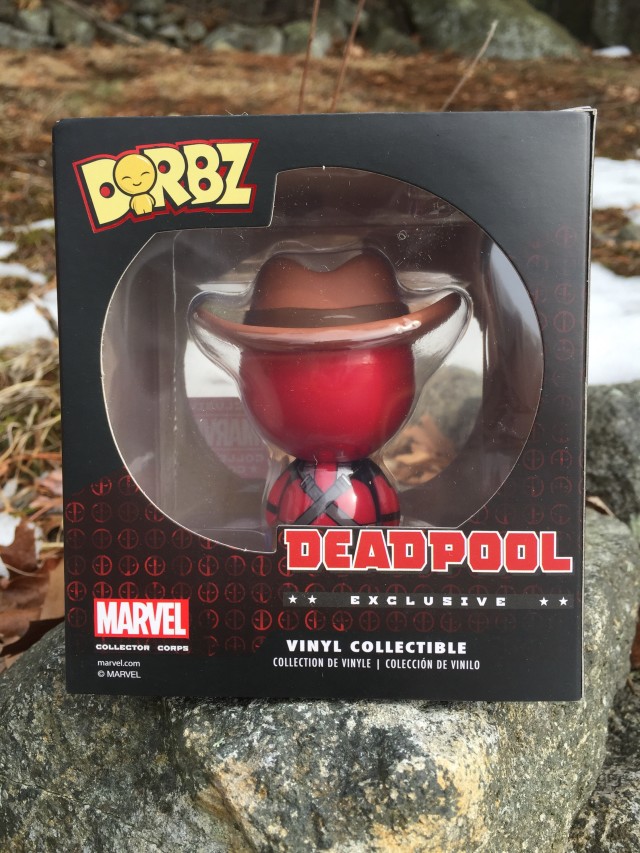 With a Cowboy Hat and a stick horse, this is one of the cutest Marvel Dorbz figures.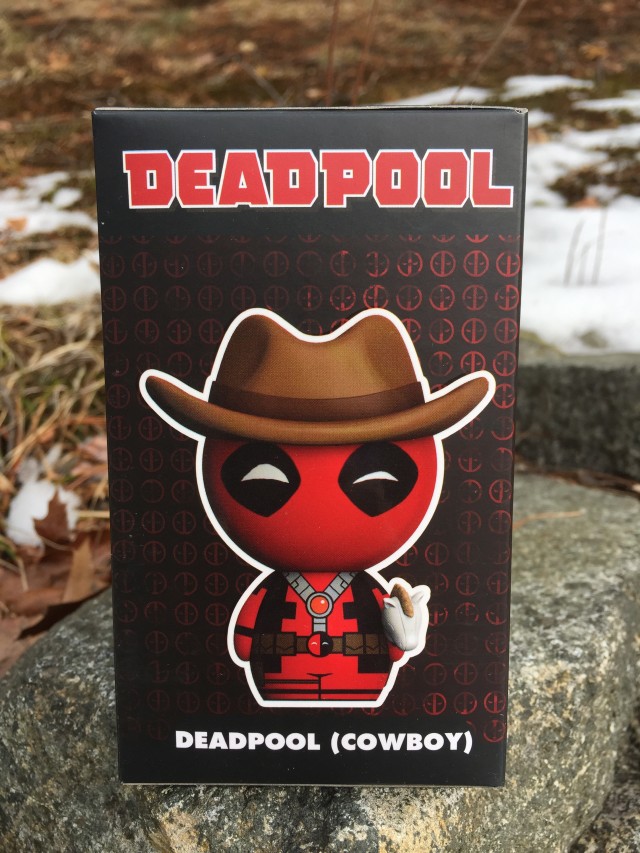 The exclusive Dorbz Cowboy Deadpool has the unique Dorbz numbering designation of #88, so completists will be needing this variant.
Finally, we've got the one true Funko POP Vinyls exclusive in the box: a Leaping Deadpool POP Vinyl.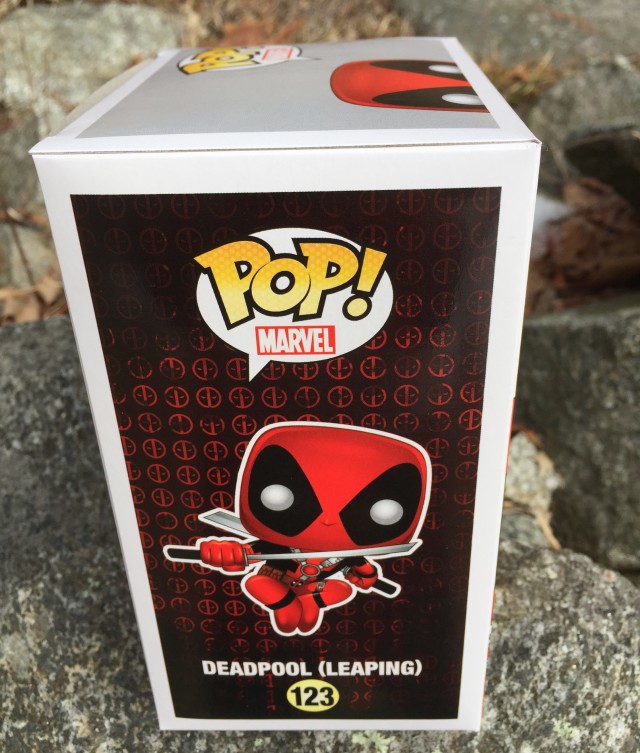 Deadpool (Leaping) is a 100% new mold with unique POP Marvel #123.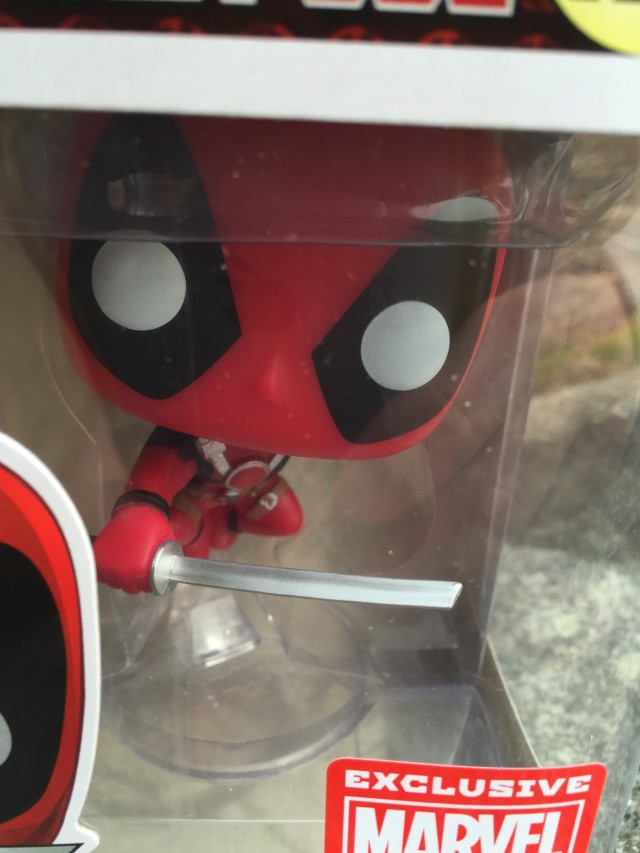 I actually think this is the only item in the box that feels a bit like a letdown, but if we had to get a plain POP of Wade in this box, at least it was a newly-tooled action pose version.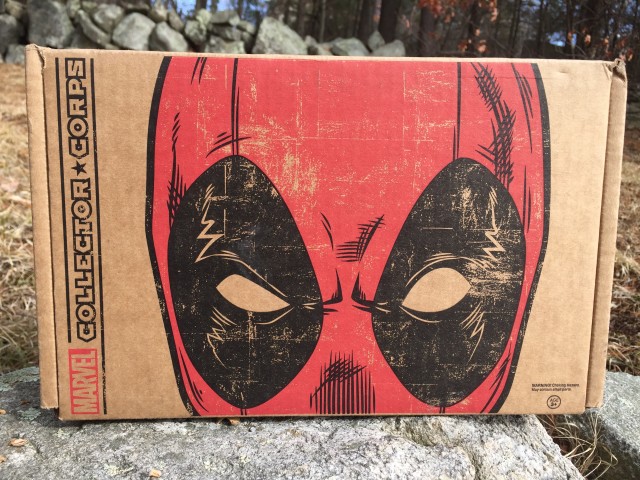 Overall, I thought that this was a very solid mystery box, and it totally felt like $25 well spent to me. If you're not a Deadpool guy, you probably don't want this box (and may not have a soul), but for the rest of us I think this box is pretty golden.
The Funko Marvel Collector Corps Civil War box is now available for order, and is the next MCC scheduled to be released (in April 2016). I'll be posting my thoughts and speculation on that box later on this weekend.
What do you think of the Deadpool Marvel Collector Corps box, Funko fans? Do you feel like you got your $25 worth with this box's wide variety of 'Pool products, or are you disappointed with the actual contents?