Darn it, Loot Crate! Just when I thought I was going to get through this month without having to order any "supplementary" mystery boxes to my usual Powered by Funko subscription boxes, they just had to go and send out April 2017 Loot Crate Spoilers this morning that reveal the best exclusive in this month's box. The Marvel Legends Jessica Jones figure is still months away, but in the meantime, you can use this QMX figure as a placeholder: the Loot Crate Investigate Box including an exclusive Jessica Jones Q-Fig closes for orders tonight!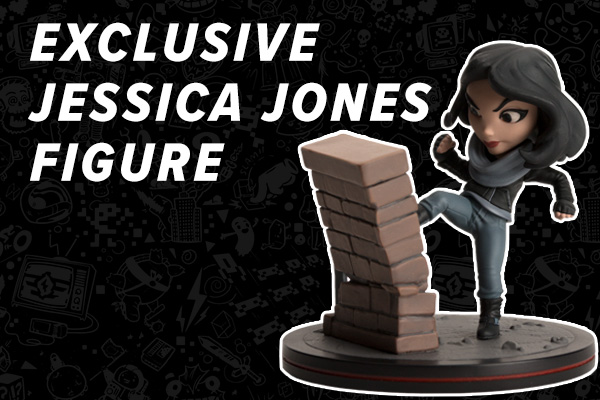 When I first saw the QMX Marvel Q-Figures, I really was not a big fan. I'm pretty heavily invested in the various Funko styles of vinyl figures, and I definitely was not looking to expand to more vinyl figure lines.
But, well, I ended up getting a few Marvel Q-Figs like Deadpool and Doctor Strange from various Loot Crates, and now I really sort of like them (occasionally). So when a rarely-merchandised character gets some love in the Q-Figure style for 15 bucks…? Count me in!
The April 2017 Loot Crate Investigate box includes a Q-Fig Jessica Jones figure in a rare action pose (I can't recall seeing any Jessica Jones figures or statues to date action-posed). Jessica is wearing her signature black leather jackets and is apparently kicking walls and taking names (or else that will just really ticked her off).
The spoiler image for the figure that Loot Crate sent out doesn't confirm any specs, but typically these PVC figures stand about 3.5″ tall, and I'd expect Jessica Jones to be the same.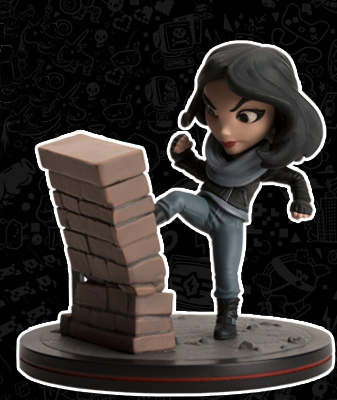 The Investigate Loot Crate Box with Jessica Jones Q-Fig closes for orders tonight, so be sure to place a one-month order for this month's core Loot Crate box if you want it. This is a rare second-month-in-a-row LootCrate purchase for me, as I really wanted their Jada Metals Wolverine figures last month as well. Even so, I don't personally recommend ordering the multi-month versions of the boxes–the contents are just too random and I'm almost always let down when I get a LC that I don't know contains something I want.
Thoughts on the Q-Fig Jessica Jones figure–and the Marvel Q-Figs line in general–Marvel collectors? Are you on board for this month's Loot Crate box to snag this Jessica Jones figure? Is anyone else being taken in by the charm of this line, or are you sticking with Funko vinyls (or perhaps no stylized Marvel vinyl figures at all)?