Diamond Select Toys has slowly but surely been building one of the largest presences in the modern Marvel statue collecting world, with multiple new resin and PVC statues being released practically every month of 2017. DST is becoming a major player on the statue scene with their low-priced, high-quality releases–and this fall, they made an impact with three more major statues! The Marvel Gallery Civil War Black Panther, Netflix Daredevil and Punisher statues have now all been released! Let's take a look at the finished products…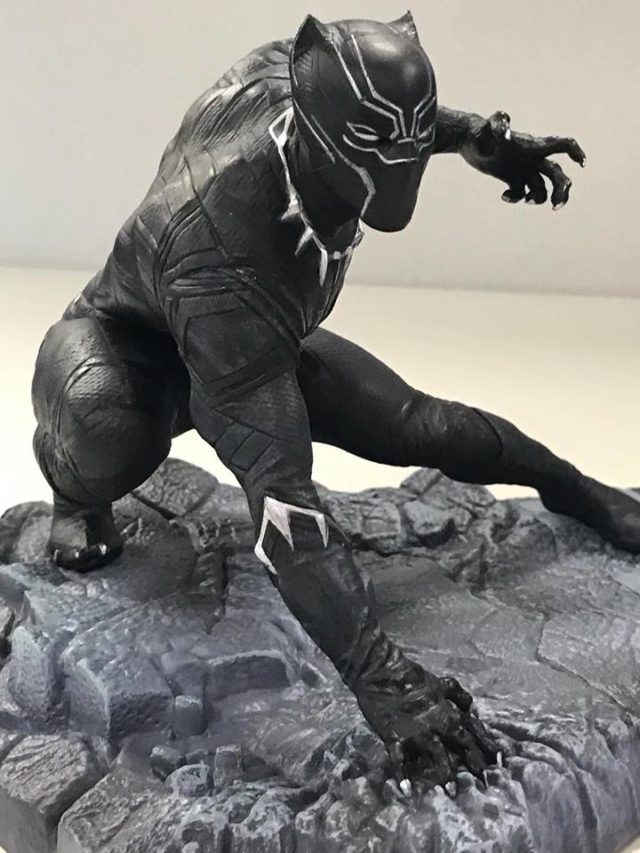 In a world where statue prices are quickly exploding and becoming unaffordable to many collectors, Diamond Select Toys is fighting against the tide and bringing us what basically no other statue company out there is: high-quality Marvel statues at shockingly low prices.
The DST booth has quickly become my favorite booth to visit at New York Toy Fair and conventions, and I'm hugely anticipating grabbing an Astral Doctor Strange statue at NYCC 2017 this week. But while I wait to see their freshest upcoming releases in person, let's take a look at some of their statues released over the past month…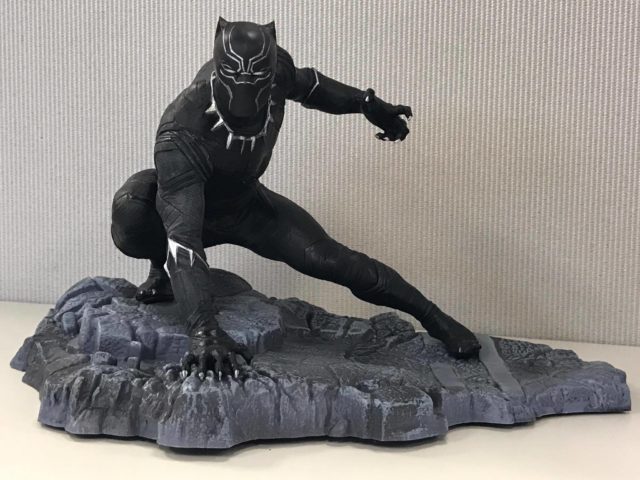 In a perfect world, I would have infinite space and infinite money and could display and buy every Marvel figure that comes out that I like. Alas, I have even less space than I have excess money, and I haven't been able to keep up with the breakneck speed of the Diamond Select Marvel Gallery line this year.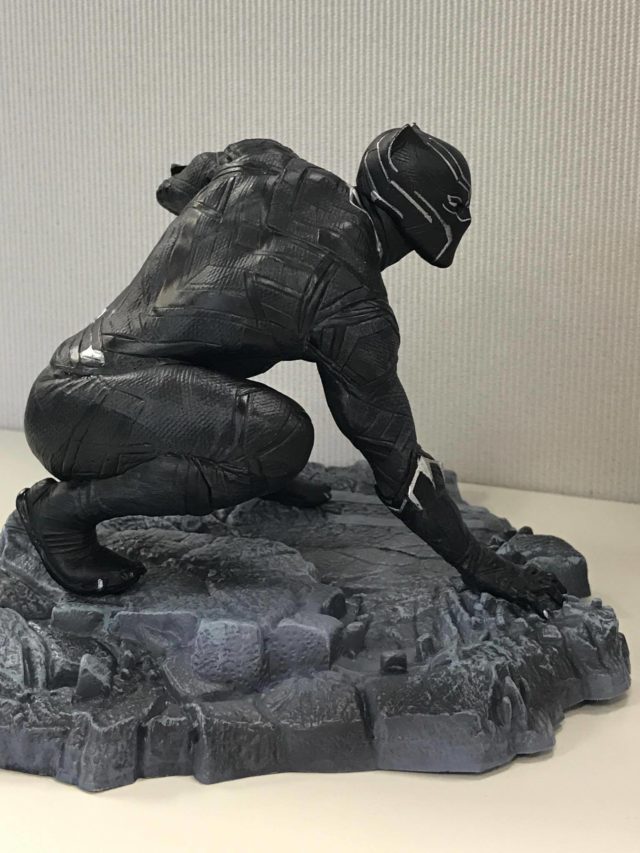 Luckily, Scott Brooks has become a big collector of the series, and was kind enough to give us permission to run in-hand photos of his latest trio of Marvel Gallery statues. Thanks, Scott!!
Of these three, my favorite is definitely the Marvel Gallery Civil War Black Panther statue. I was gaga for this when it premiered at Toy Fair last winter, and the production piece looks just as good.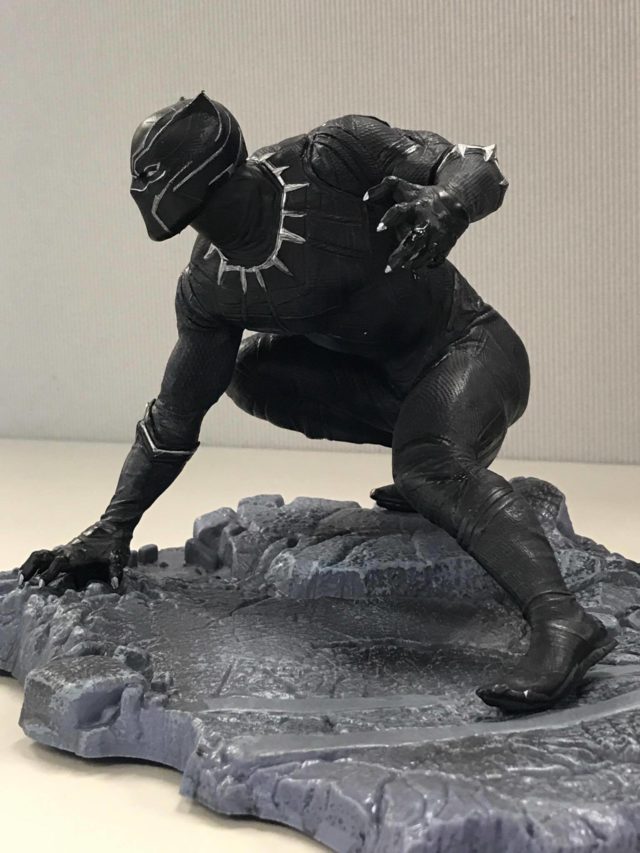 I love the stance on this Black Panther Figure, which is quite a bit different from any T'Challa statue that I can recall seeing before. It feels and looks totally natural.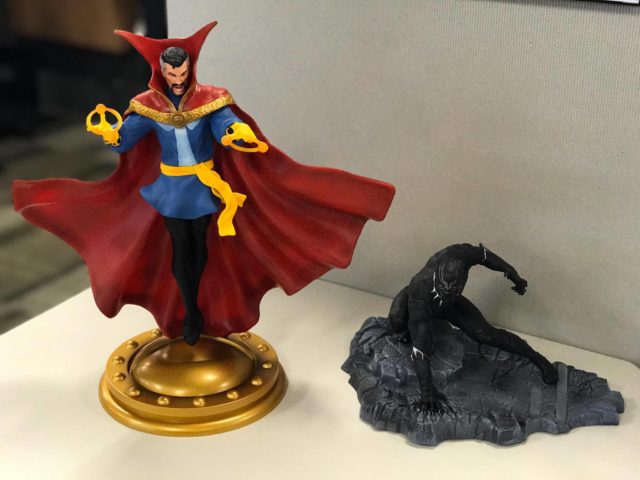 Because this is a movie-licensed statue, that also means that this Black Panther is a limited run, as DST's movie licenses only last for one year. If you want Black Panther—and I'm going to have this one now myself—make sure you don't delay too long. This will likely get expensive as soon as it's sold out.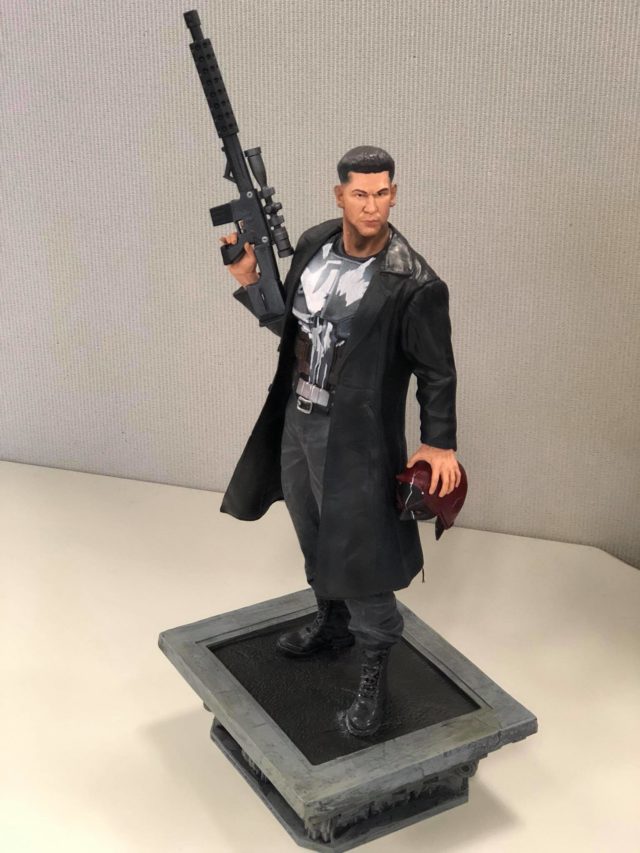 Along with Civil War Black Panther, the next two Netflix Marvel Gallery statues shipped out last week: Daredevil and The Punisher.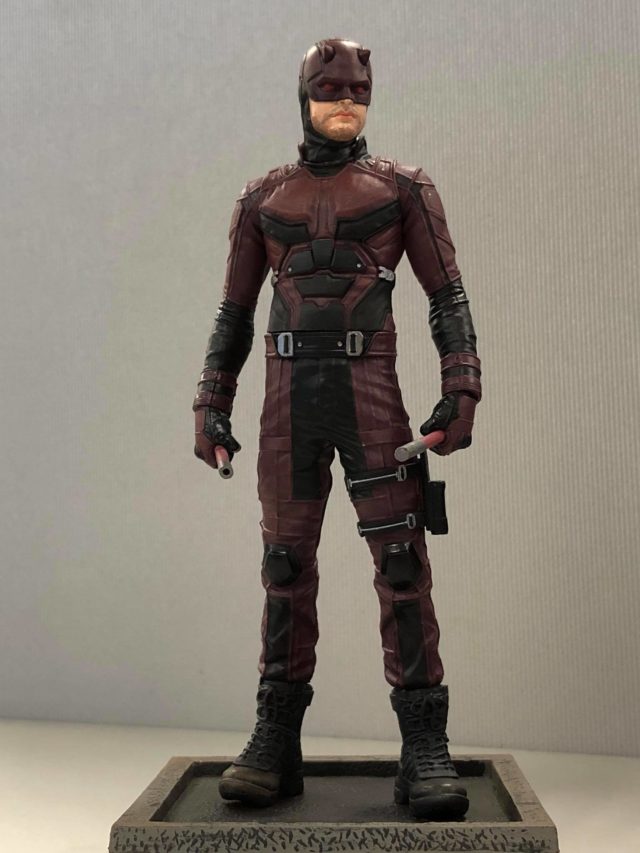 Diamond Select Toys didn't start off with the best face sculpts in this line (a lot of folks were disappointed in Luke Cage especially), but they are definitely improving rapidly.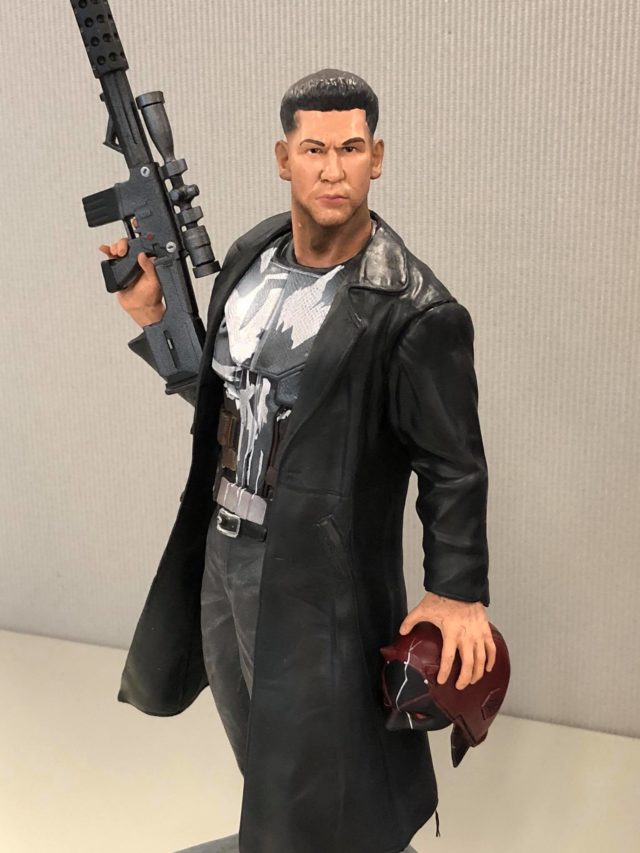 Both the Netflix Punisher and Daredevil portraits look outstanding to me, which is obviously crucial to the overall success of these live-action character statues.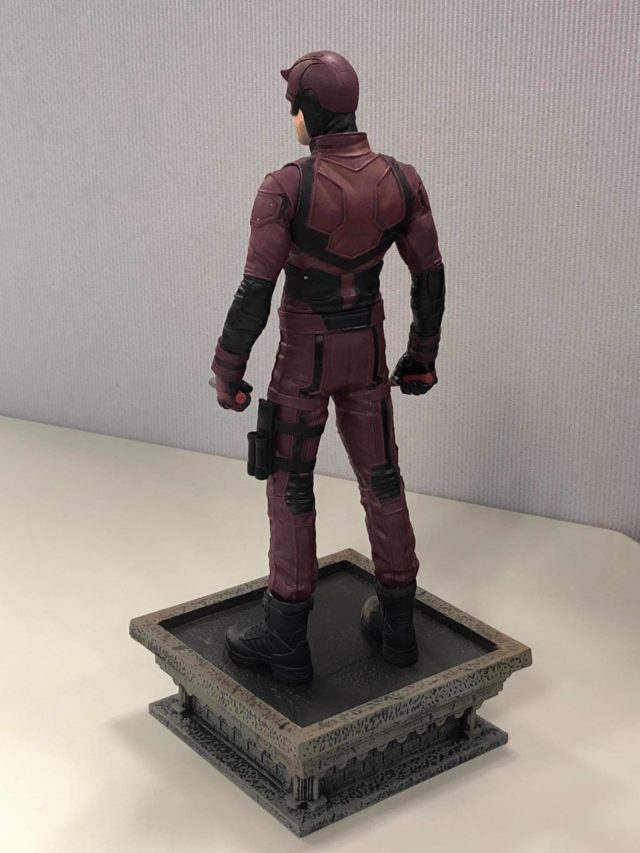 The rooftop motif for the bases on these statues really works nicely as a unifying element across the line, being well-detailed but not distracting at all.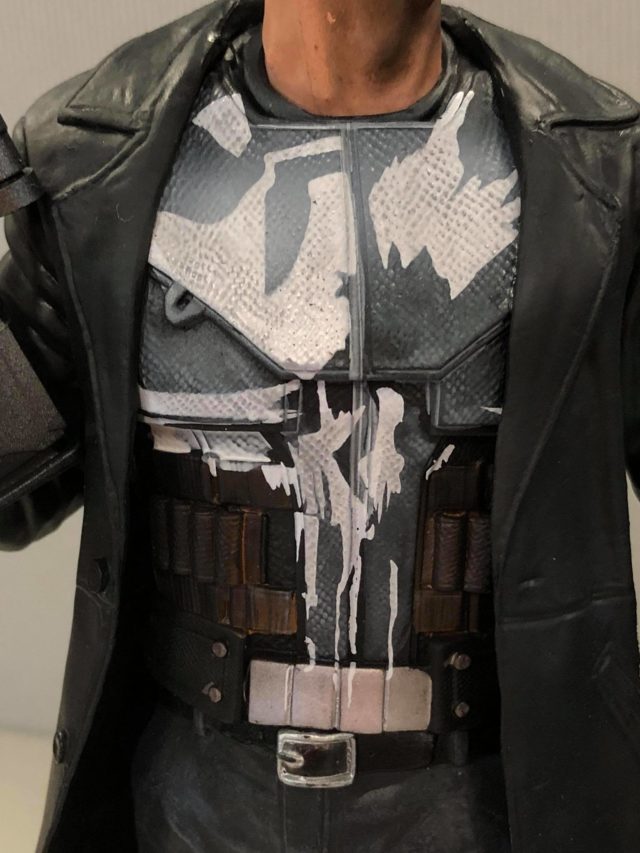 The texturing and paint deco on the Punisher's vest is downright outstanding, and is almost unbelievably great when you take into account that these 11″ figures are just low-priced $40-$45 PVC statues.
The only real complaint I've heard about this release is that Daredevil is slightly too short compared to Punisher, but I think both figures are so well-executed that most collectors will be willing to look past the slight scale issue.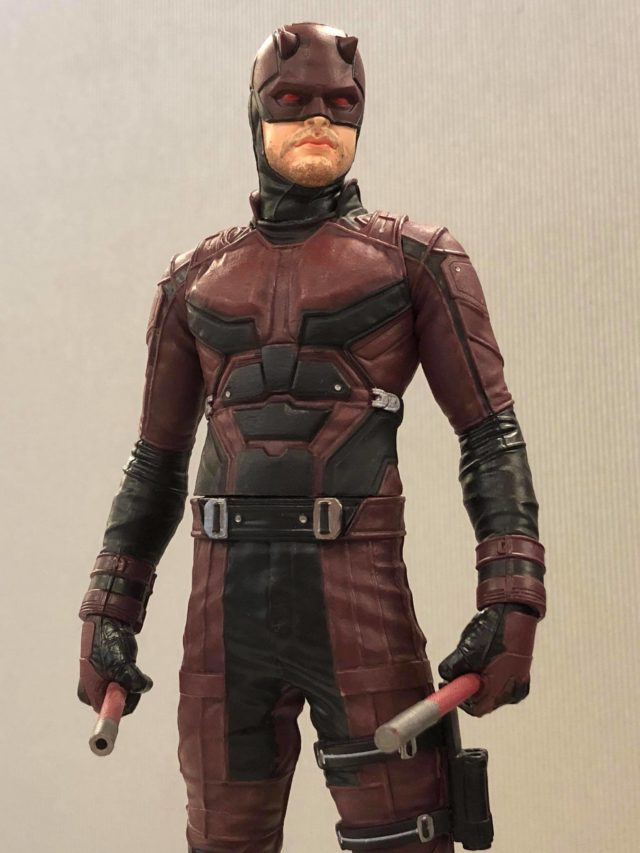 All three of these Marvel Gallery PVC statues have now been released and are available online, although Daredevil and Punisher are so recently released that not all retailers have received theirs yet. The Marvel Gallery Sam Wilson Captain America is scheduled to be the next new statue shipped in the line according to the most recent DST shipping update.
Who out there has been collecting the Diamond Select Toys Marvel Gallery series, and what do you think of the pieces you've gotten from it so far? What do you love about these figures, and in what ways would you like to see future releases improved?