Christmas has come and gone, and now we're just a few short days away from the arrival of 2018, which will bring us the most-hyped Marvel movie ever: Avengers Infinity War! But before we get to Avengers 3, there's another MCU movie just two months away: Black Panther! Diamond Select Toys is set to capitalize on the hype with the only statue of the movie's villain—the Marvel Gallery Killmonger Statue is now up for order, along with a Netflix Punisher Season 1 Statue!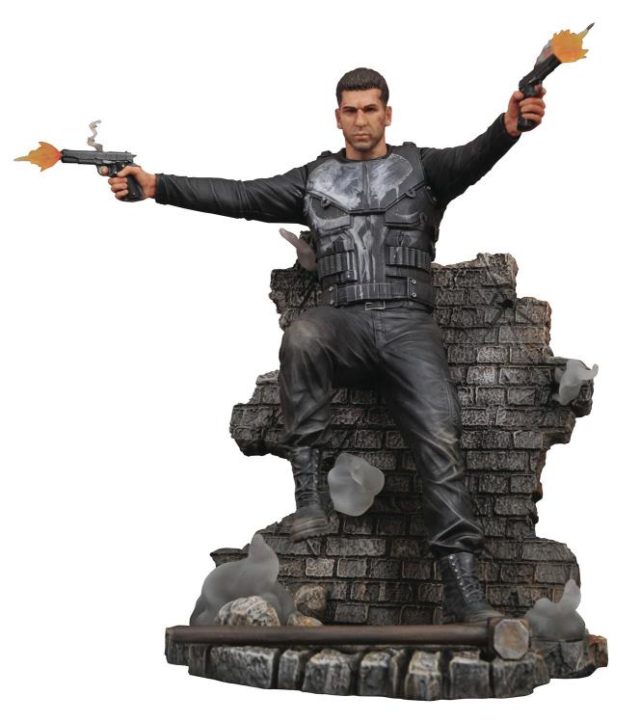 I haven't exactly kept my enthusiasm for Diamond Select Toys' Marvel Gallery PVC statues a secret, as I think DST is doing a great service to the Marvel collecting world with their dozens of smaller, value-priced statues they're releasing each year.
And so, even though they're far (and even father) from my favorite Marvel characters, I was delighted to see two more new Marvel Gallery statues solicited to close out 2017!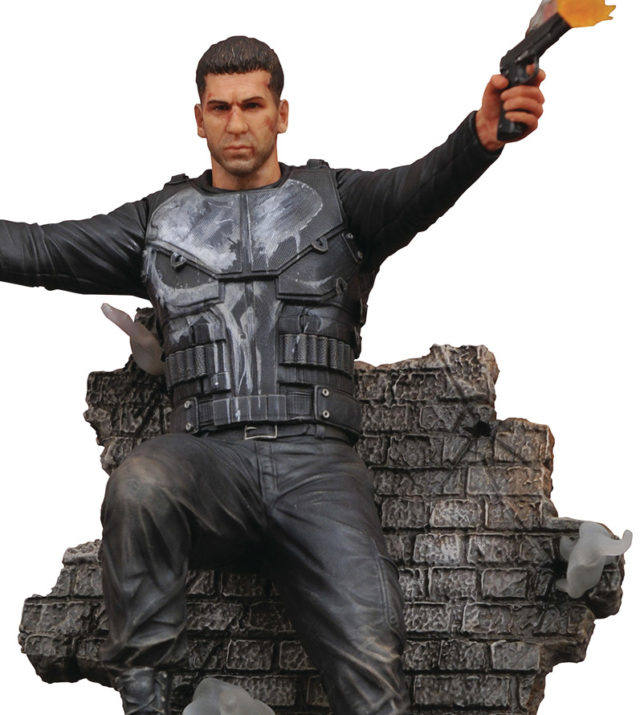 First up, we've got a first in the Netflix wing of the Marvel Gallery Series: a second statue of a Netflix character! While exclusive "action-posed" versions of the Defenders have been shown off for next year, this second Netflix Punisher PVC statue is the first from the various TV series to go up for sale.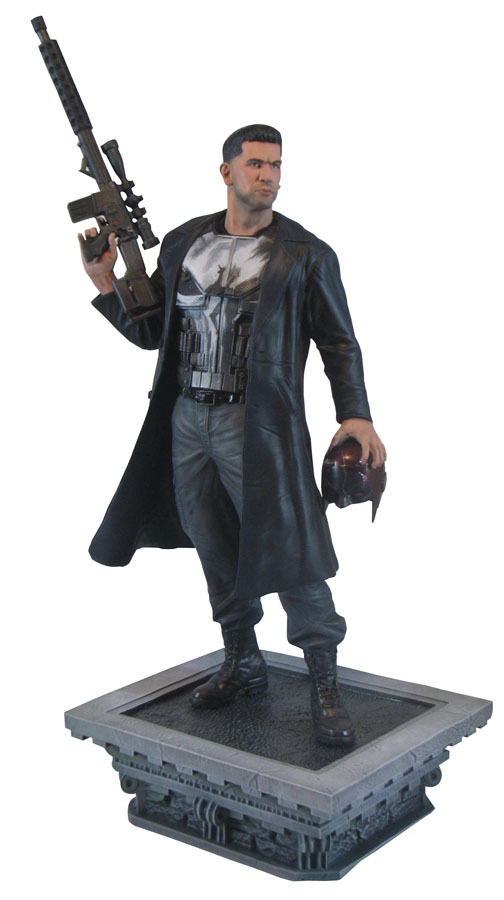 I thought the first, trenchcoat-wearing Punisher that's currently available was one of the best Diamond Select Marvel statues released to date, so I didn't feel a huge yearning for a new version of Frank Castle just yet.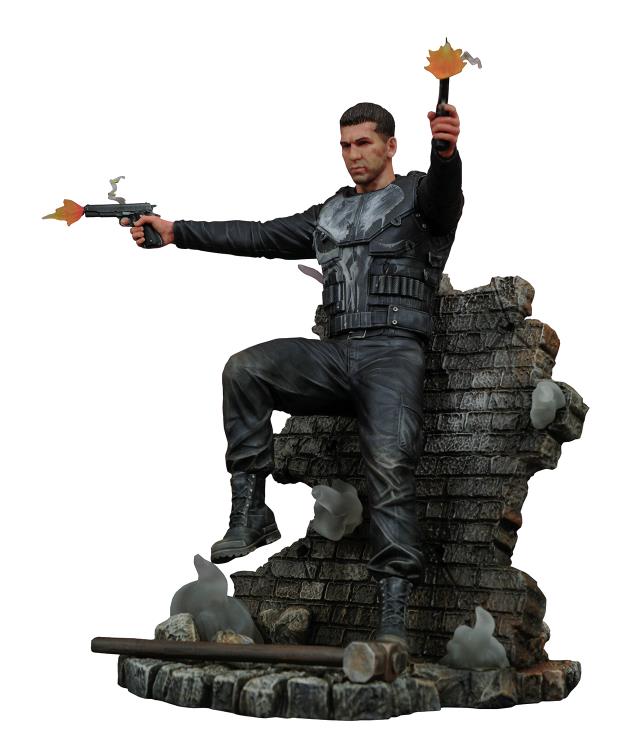 That said, Netflix Punisher Season 1 is still fresh in peoples' minds, so now is the ideal time for marketing a new statue of him. I think the pose on this piece is slightly awkward, but the detailing and brick wall base both look great. I'm also a big fan of the gunfire effects pieces and smoke on the pistols of this statue. I expect this will sell really well for DST.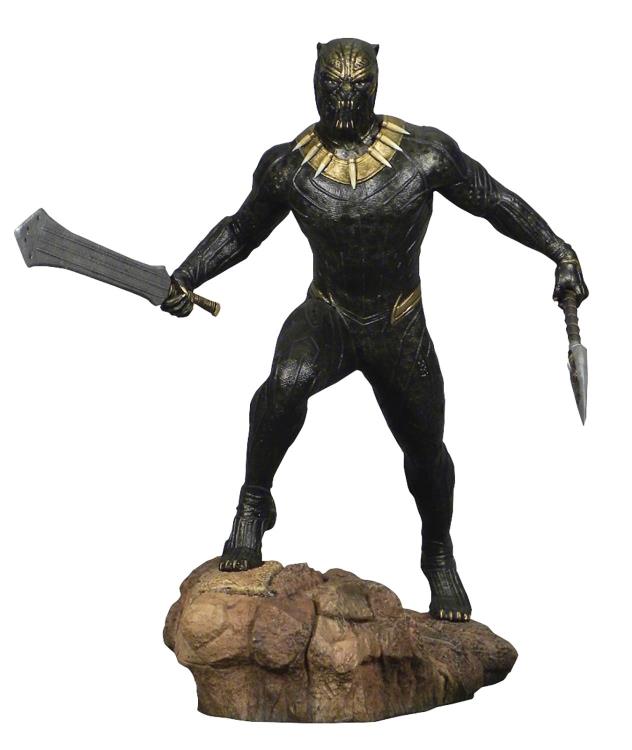 I'm less convinced about how well the Erik Killmonger Gallery Statue is going to sell. I've got 14 longboxes of Marvel comic books in storage—and those are just the ones I've accumulated in the last decade. Exactly zero of those comic books have Killmonger in them. So yeah—he's not exactly a big name villain.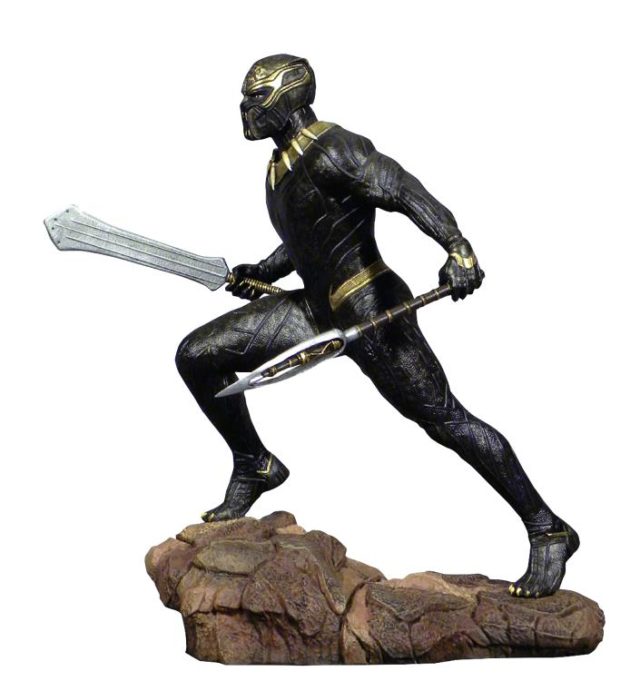 That said, the "golden jaguar" costume Killmonger dons in the Black Panther movie looks tremendously cool, and the character is about to become approximately a million times more famous in February when the movie hits.
The Diamond Select Killmonger statue itself looks pretty groovy, so if the movie turns out to be a big success (and by all indications, it's going to), this figure could be a quick sell-out for DST.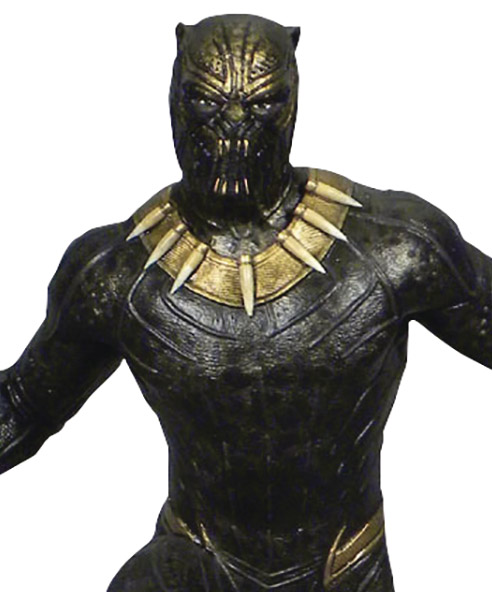 The Marvel Gallery Netflix Punisher Season 1 and Erik Killmonger statues are now up for order, and are set to be released in July 2018. Both figures are carrying the usual $44.99 MSRP, although you can pre-order either from EE or BBTS for $39.99 right now.
What do you think of the last two Marvel Gallery statues to go up for sale this year, Marvel collectors? Are you sold on the first-ever Killmonger statue ever or the second Netflix Punisher, or is something about either statue holding back your interest level?