For big fans of the Kotobukiya Bishoujo Marvel statues series, 2017 was pretty much a bust. The Bishoujo Ms. Marvel Kamala Khan Statue debuted at New York Toy Fair 2017 in February and shipped in the fall, and, well… that was pretty much it. There wasn't even a SDCC or NYCC exclusive Bishoujo this year. But the dry spell is finally coming to an end, with a statue that's just begging for exclusive variants next year: the Kotobukiya Bishoujo Captain Marvel Statue is now up for order!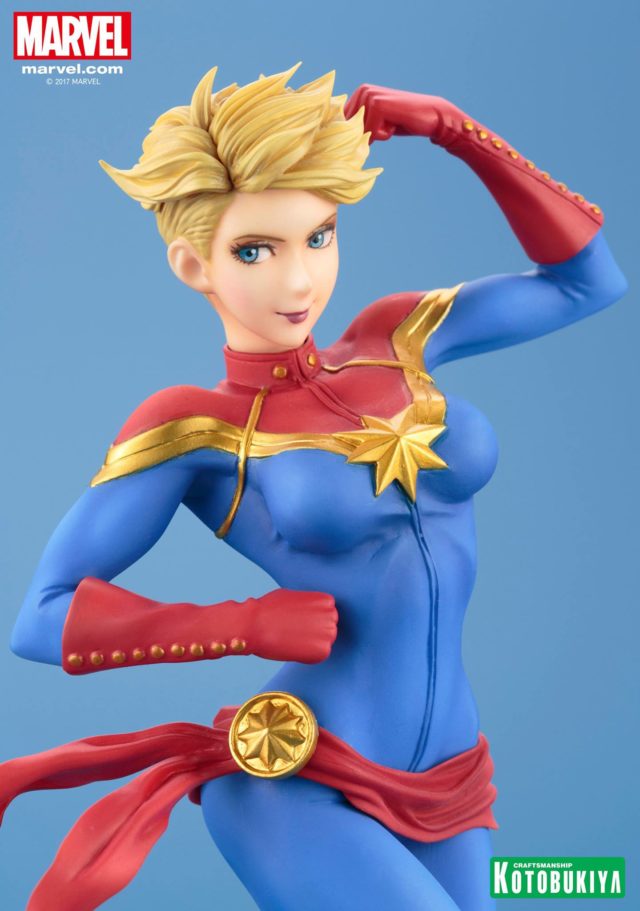 I don't think that there's
any
character that Marvel has tried harder to make into a big deal over the last decade than Carol Danvers, who's been transformed from Ms. Marvel to Captain Marvel and had so many comic book relaunches that I lost track.
Marvel is set on making Carol Danvers their "Wonder Woman", and with the Captain Marvel movie just over a year away, it's no surprise to see Kotobukiya bringing us a new Captain Marvel Bishoujo next year!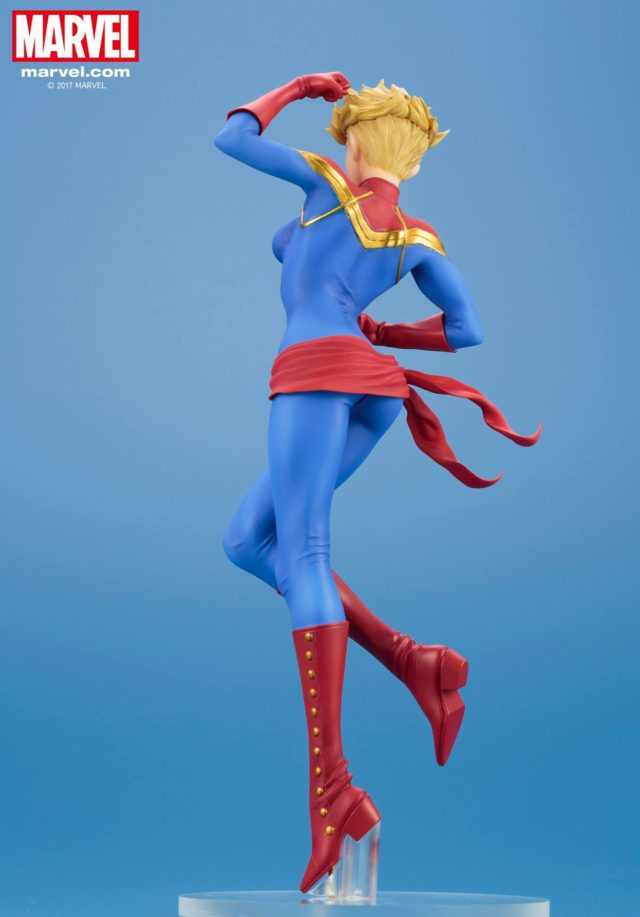 Longtime Bishoujo collectors may groan a bit at this choice, as this is the third Carol Danvers Bishoujo figure Kotobukiya has released, with Ms. Marvel and Binary versions released in years past (in addition to this year's Kamala Khan Ms. Marvel, who's obviously a different character).
Even so, I'd venture to say that this is now the iconic look for Carol, so not getting a new Bishoujo figure of her in this costume in advance of the new movie would be a wee bit weird. I know there are plenty of female characters Koto hasn't done before that fans would like in this form (Hela! Jessica Jones! Lady Sif!), but I think Captain Marvel is a wise choice for Koto to go with.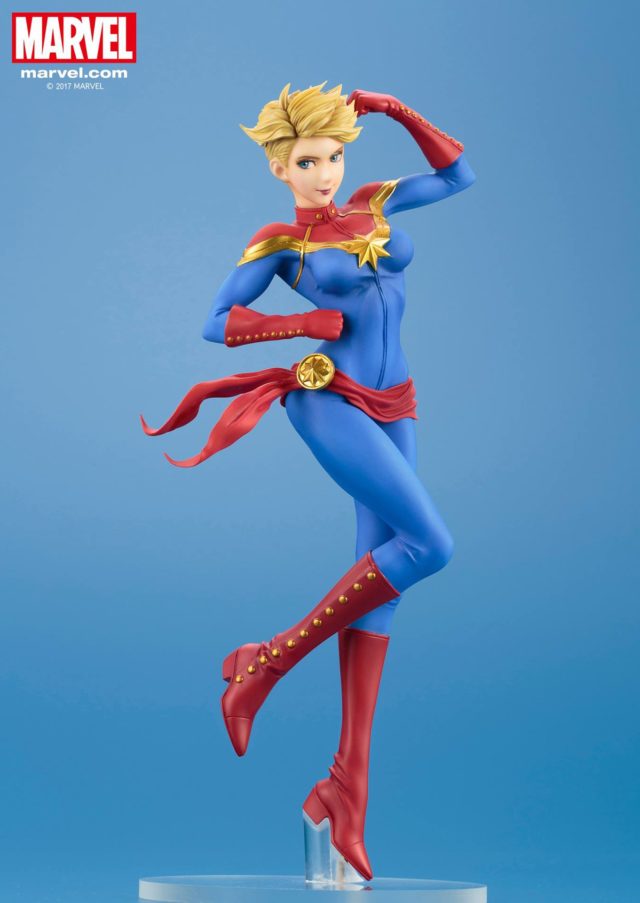 I'm not an ardent Captain Marvel fanboy (at all), but I have to admit that this new Captain Marvel Bishoujo is pretty cute. I think her face looks sweet (though I've seen varying opinions on it), and this costume is easily my favorite for Carol.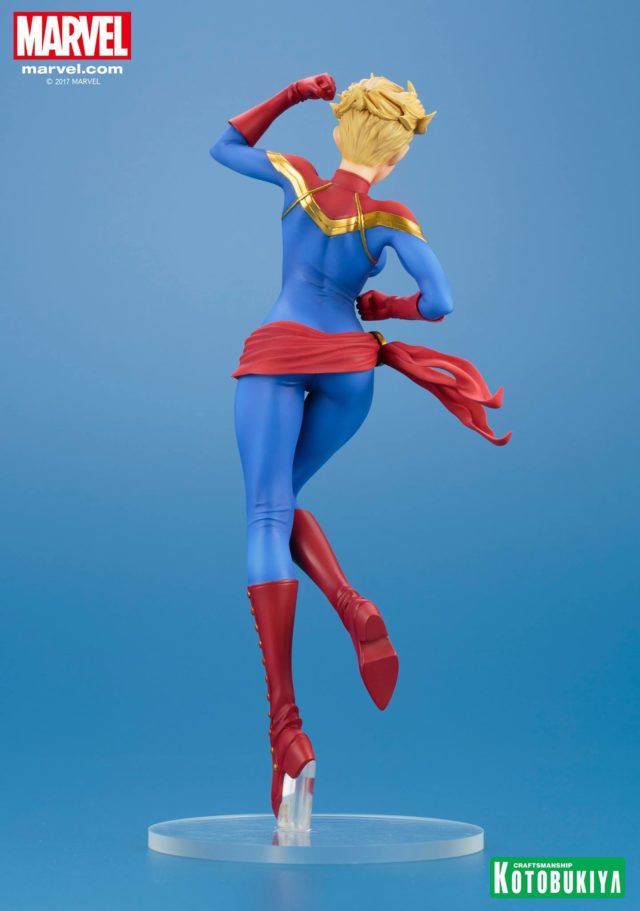 The choice of this piece as the next mass-release Marvel Bishoujo Statue also comes with great potential for at least one convention exclusive in 2018. I'd prefer a masked/mohawk Captain Marvel figure as a SDCC 2018 exclusive, but I think a long-haired Carol Danvers is a legitimate possibility as well.
As far as the downsides of this statues, there are a couple. The increasing price-point for this line won't warm many hearts: $79.99 MSRP for a 1/7 Statue with a simple clear disc as a base is not a thrilling value at all. In addition, I've got a slight worry about the figure developing a lean over the years with just one foot supported by clear plastic.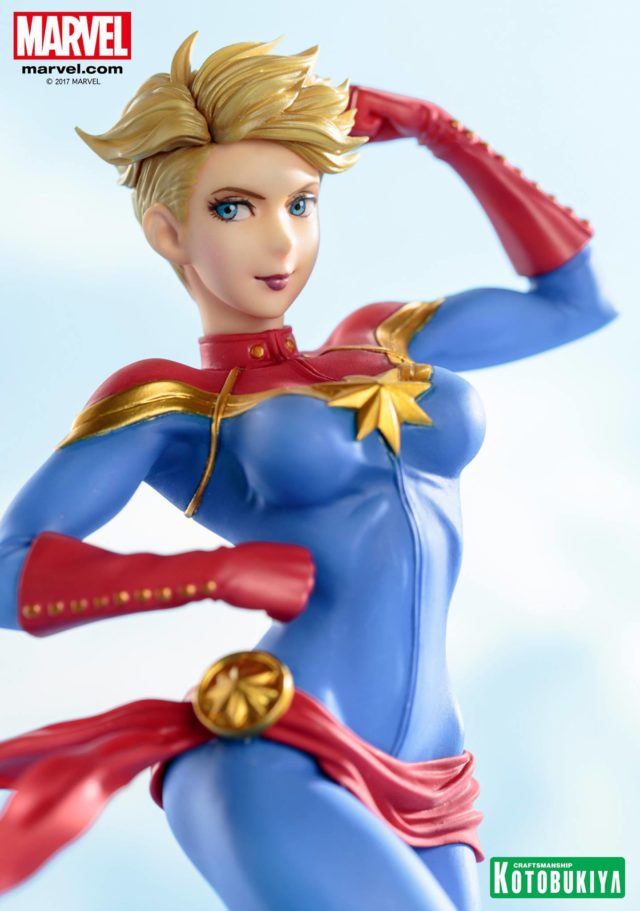 The Captain Marvel Kotobukiya Bishoujo Statue is now up for order, and is scheduled to be released in July 2018. EE has Carol priced at $79.99 and is including free shipping, which was the best PO deal I could find around for her. Your deal-finding abilities may vary.
What do you think of the next Marvel Bishoujo Statue? Is the third time the charm for Carol Danvers, or is the 9" Bishoujo Captain Marvel a hard pass for you?