It's the very last Marvel Legends review of 2017 here on Marvel Toy News! Whether or not I saved "the best" for last I'll discuss in a bit, but there's no question today's figure is the one from the Netflix series we've been waiting longest for! Hasbro announced a 6" Blade figure way back in 2012–and 5 years later, he's finally arrived (with a totally different mold)! Is this Marvel Legends Blade figure worthy of 17 bucks shipped online—not to mention the half a decade wait it took for his release?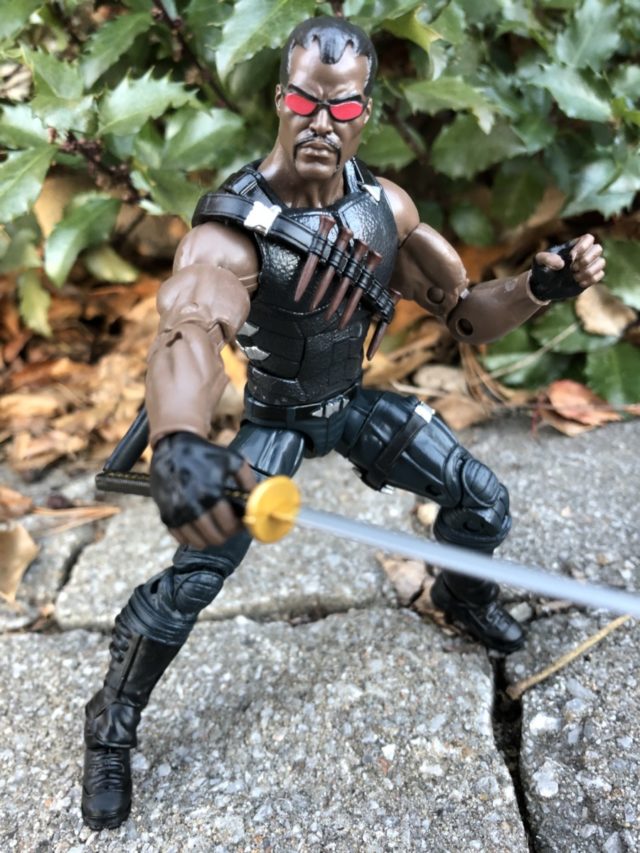 Okay, so this review is gonna require a quick history lesson (believe it or not). While Toybiz released a movie-based Marvel Legends Blade the Vampire Hunter figure way
way
back in 2003, that was the end of the road 6" toy-wise for Marvel's most famous Vampire Hunter for nearly a full decade.
Hasbro announced a new 6" Blade figure as part of their (Return of) Marvel Legends Epic Heroes series as a case-swap with Punisher in 2012, but that figure (and poor Dani Moonstar from the same wave) simply never came to be.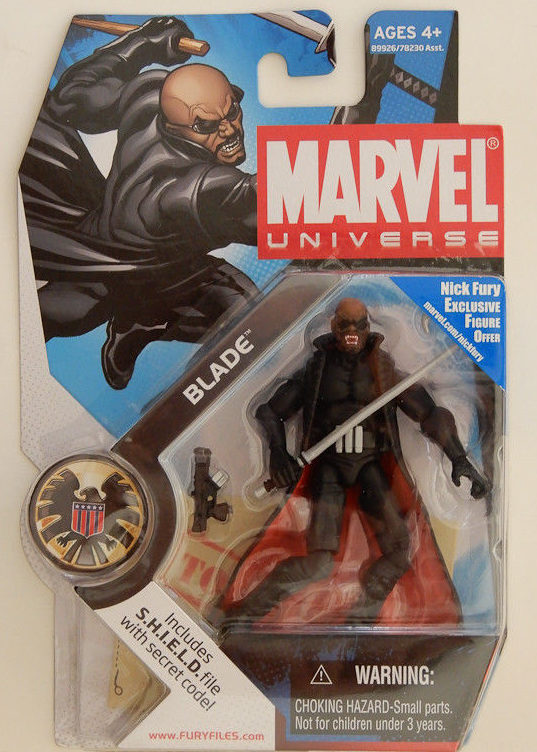 We did get a 3.75" Blade Marvel Universe figure in the same basic style in 2008, but we've been stuck in a holding pattern waiting for a new Blade 6" figure for over half a decade.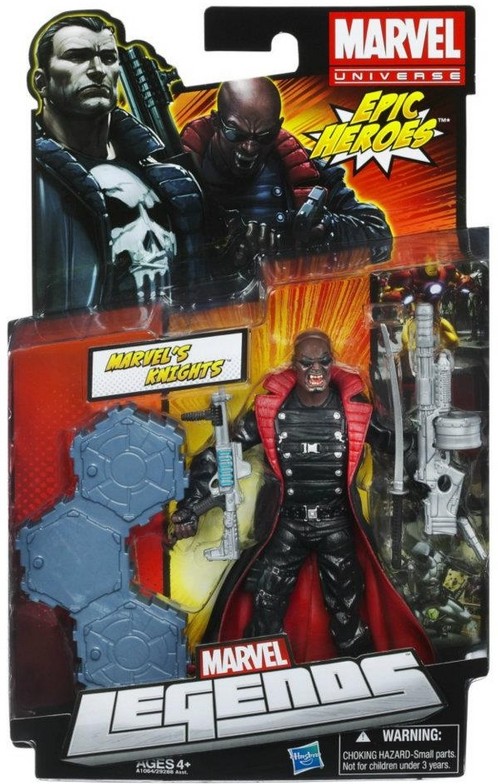 Finally, Hasbro revealed a completely different Blade six inch figure in this fall's Marvel Knights Legends (Netflix Series) wave—and this time, the action figure actually got released. Was it really worth waiting all these years for…?
Well… maybe.You'll notice that I haven't split this review into my usual sections of "Right" and "Wrong", because I feel like the two are intertwined in most aspects in this instance.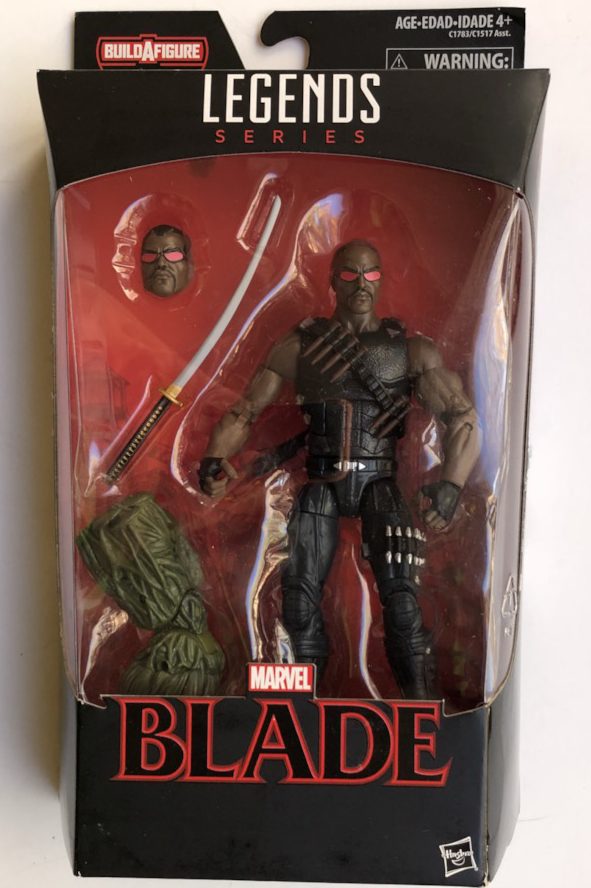 The main thing I don't like about this figure is, well… the design. While much of the tooling from the scrapped Blade Legends figure from 2012 is a bit outdated these days, that figure depicted the classic, trench coat-wearing Vampire Hunter. The figure we get in the Netflix Legends wave, well… doesn't.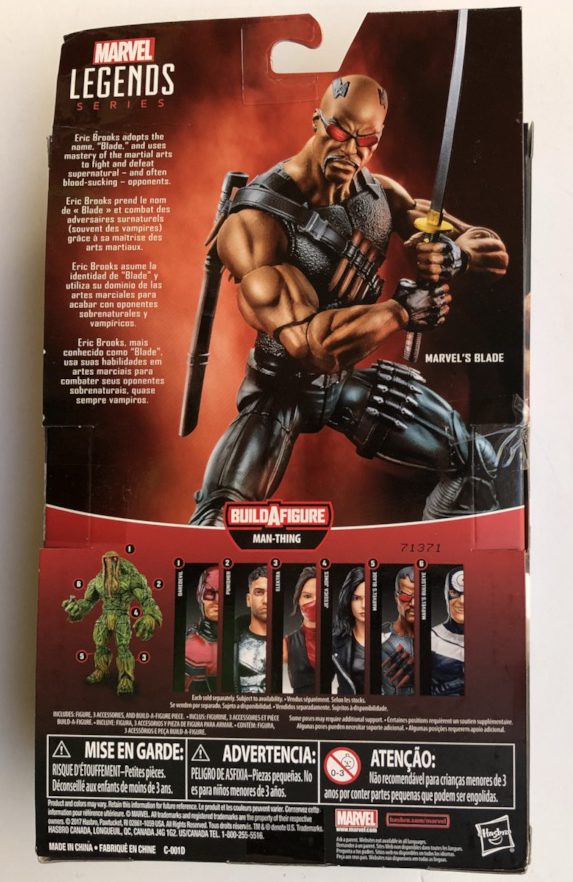 This is the more modern version of Blade, as seen in the "Curse of the Mutants" comic book story arc (and as a **** character in Marvel Puzzle Quest). Totally switching up and getting a modern Blade figure after waiting five years for a classic version does feel sort of hollow to me, and I think it's a bit of a divisive choice.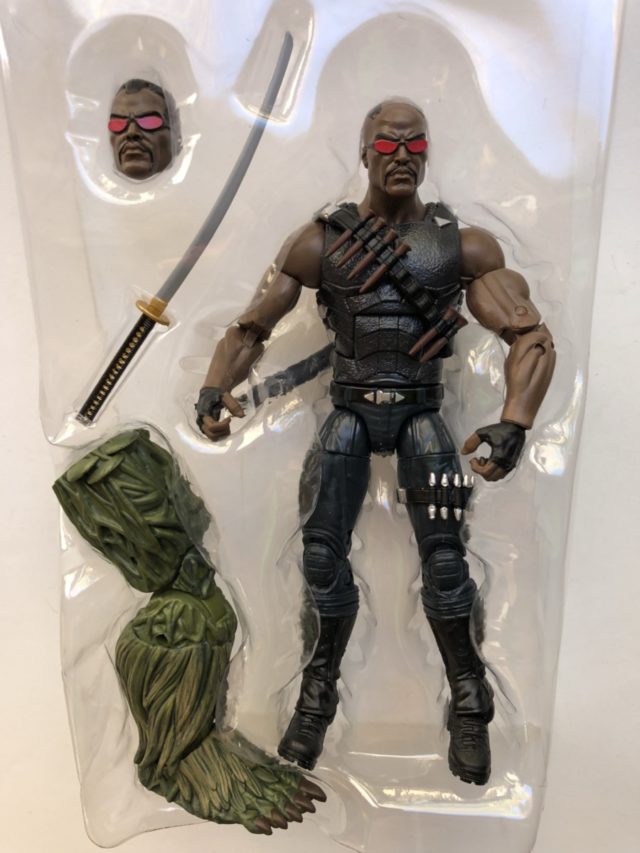 We do get two head sculpts for this Blade—one portrait with a full head of hair and one partly-bald head with stripes of hair. I'm a huge fan of alternate heads, but I'm sort of let down by this pair, as both are basically the same stoic, glasses-wearing, expression-less Blade head… just with varying amounts of hair.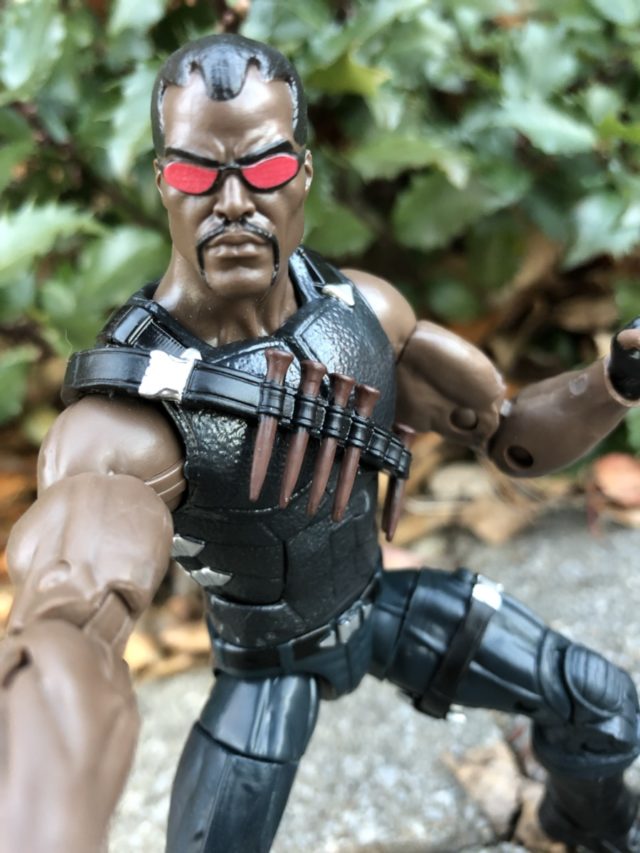 In comparison with the very cool vampire teeth-bared head on the cancelled figure, these two heads are just a bit underwhelming.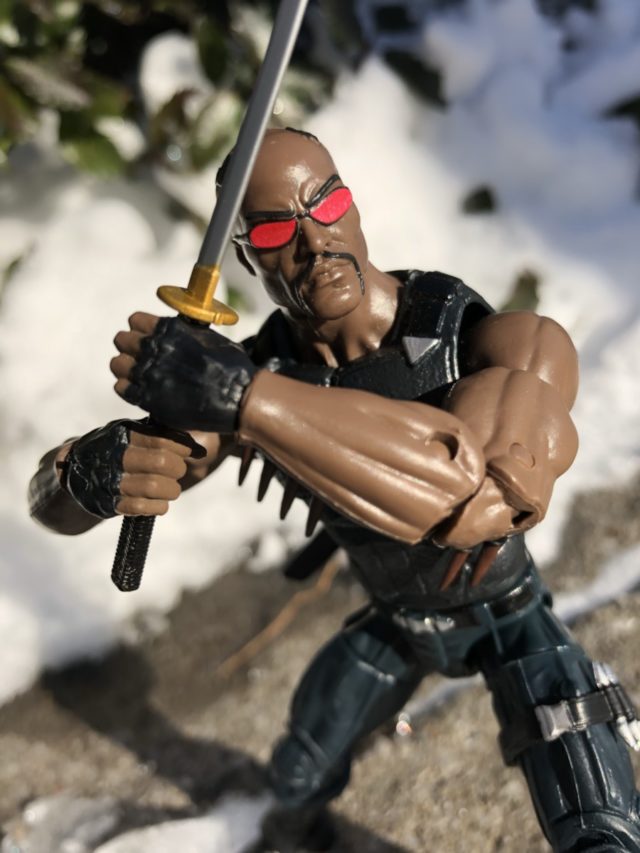 Aside from his interchangeable extra head and Man-Thing Build-A-Figure leg, Blade has one more accessory: a sword. The sword hilt is nicely decorated, but I was really let down that he doesn't come with any extra weapons.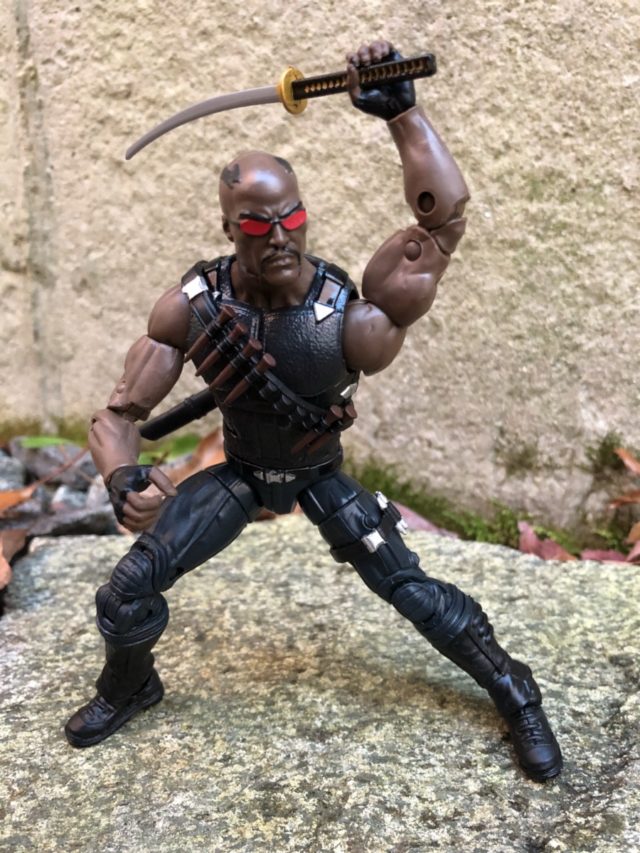 The 2012 Blade that we didn't get would have come with several guns, and I feel like Hasbro should have at least given us a wooden stake with the figure. With just the sword and the expressionless heads, I feel like there's a real lack of interesting poses to put this figure into.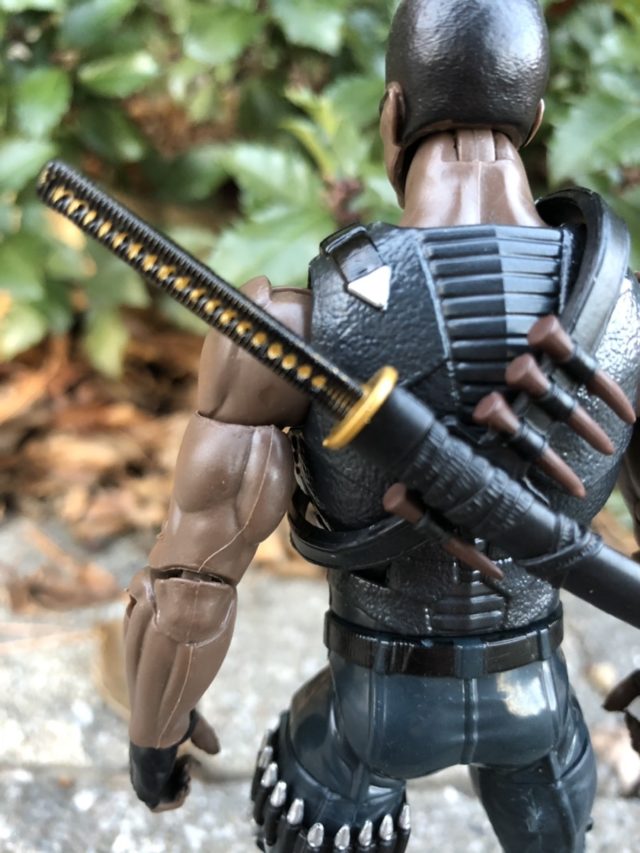 The fact that the sword is very loosely-gripped and wobbly unless it's being held by both hands at once doesn't help. The sword can be stored in the sheath on Blade's bandolier add-on piece, however, which I always dig.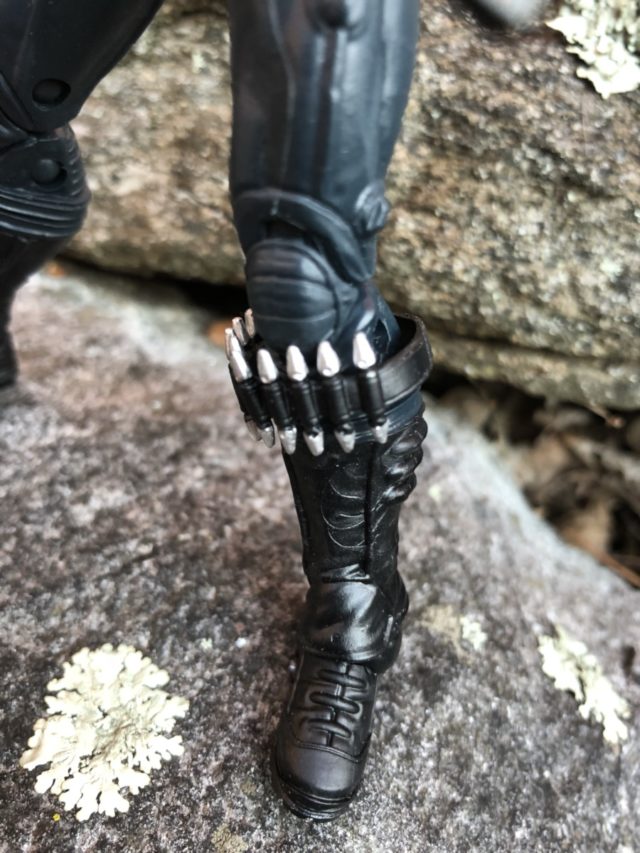 The Marvel Legends Blade figure actually has two add-on pieces to the basic figure mold: a strapped ammo clip for his left thigh and the aforementioned bandolier.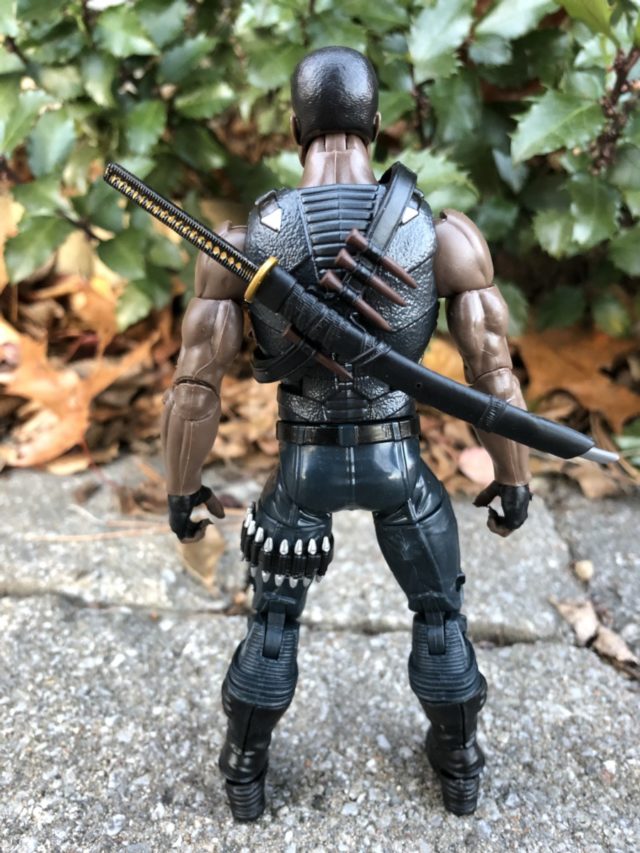 Both have solid paint deco on them (and I do love all the non-removable stakes on the bandolier), although they can easily be jostled and fall out of place whenever you move the figure.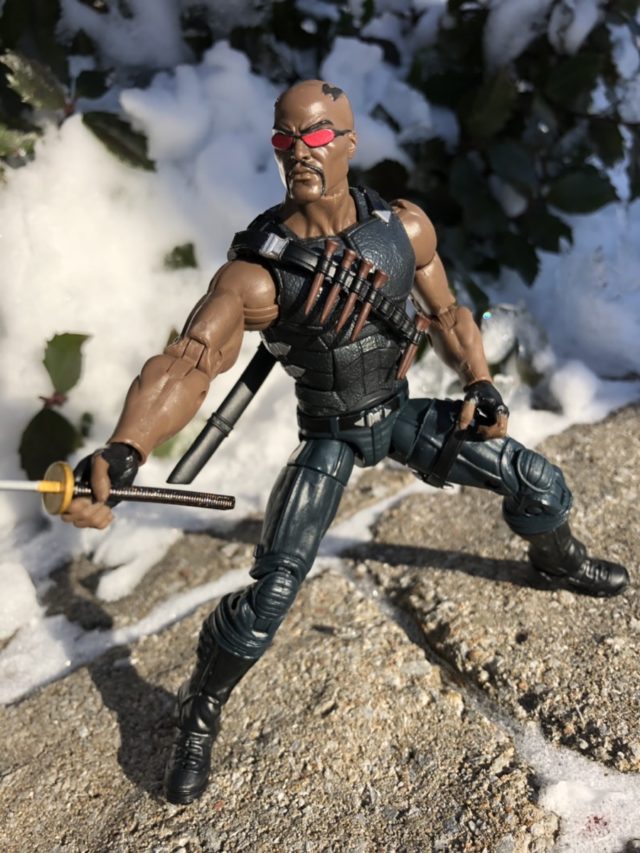 The textured upper torso "vest" is probably my favorite part of the mold, as the detailed sculpting looks really snazzy. His lower body is a bit generic in comparison, but matches the source material well.
We get the usual super-articulation scheme for ML Blade: ball-hinge neck and shoulders; double-hinge knees and elbows; swivel biceps/thighs/boots/waist; swivel-hinge wrists; ball hips; ab crunch and hinged ankles with rockers. The articulation we expect is all here and works well. Good job as always, Hasbro.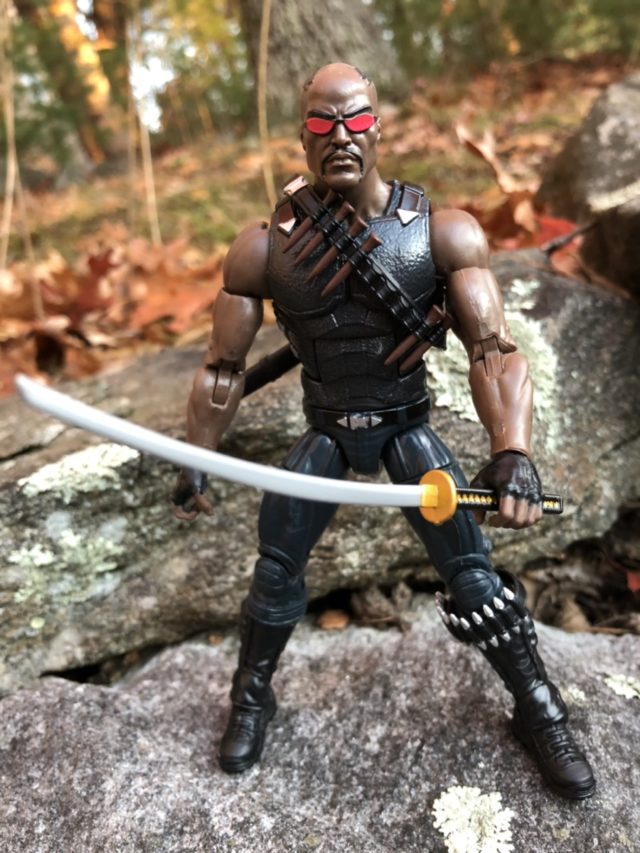 Overall: While I'm glad that we've gotten a Hasbro Blade figure at long last, it just isn't a figure that I'm blown away by. Ignoring the fact that I prefer the trench coat look for Blade, this version comes with just one weapon (and no stake!), two expression-less heads, some floppy overlay pieces, and a sword that he won't grip tightly.
This is far from being a "bad" figure, but this Marvel Legends Blade is rather basic and is my least favorite figure from a series that's otherwise outstanding.  Whereas every other figure in the Man-Thing series really impressed me in some manner or other, Blade just feels more limited and "plain" than the other figures in this series.
GRADE: C+