Our holiday travel plans got obliterated by snow and ice storms, which I can't help but feel is the universe telling me that it's time for another late Marvel Legends Review! And so, digging deep into the bag of past-due figures to review, it's the 2017 Marvel Legends Bullseye! Despite the fact that Marvel Legends Bullseye is available for below MSRP online and not even a Netflix character at all in the "Netflix wave", this just may be the best figure in the series…
The Right:
When we first heard the news that there was going to be an updated Bullseye figure in the inaugural Marvel Knights Legends/Marvel Legends Netflix series, I was one of those collectors who scrunched up their eyes and wondered if we
really
needed a new Bullseye figure.
After all, the Toybiz Bullseye was pretty incredible—could Hasbro really bring something to the table with that little bit of something extra necessary to challenge Toybiz's? Turns out that the answer is "Yes"!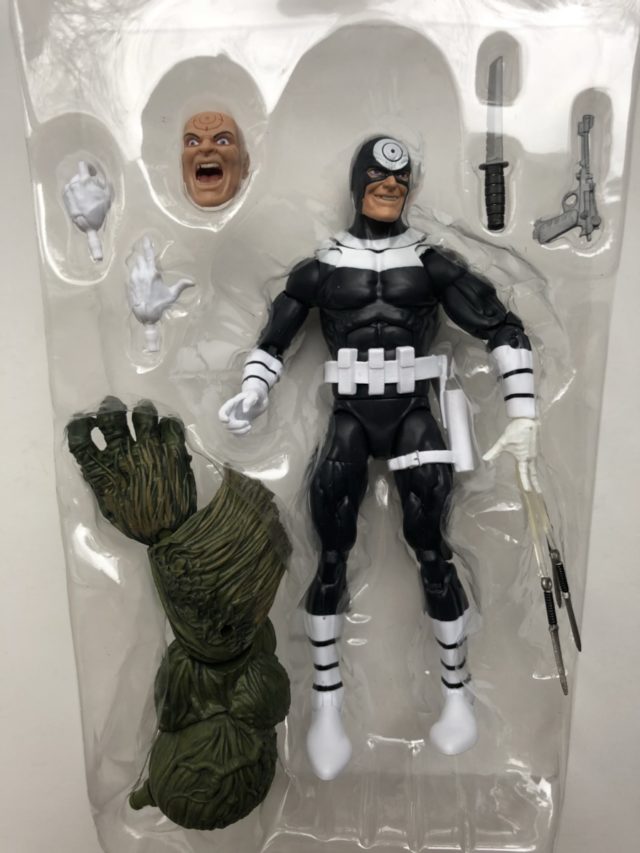 There are two aspects of the Marvel Knights Legends Bullseye figure that really make this figure for me: the accessories and the articulation scheme.
On the accessories front, Hasbro has generously given us—in addition to the Man-Thing Build-A-Figure arm—a knife, a pistol, two alternate hands, an awesome alternate head, and a knife-throwing effects piece that's so cool it just about makes my head spin.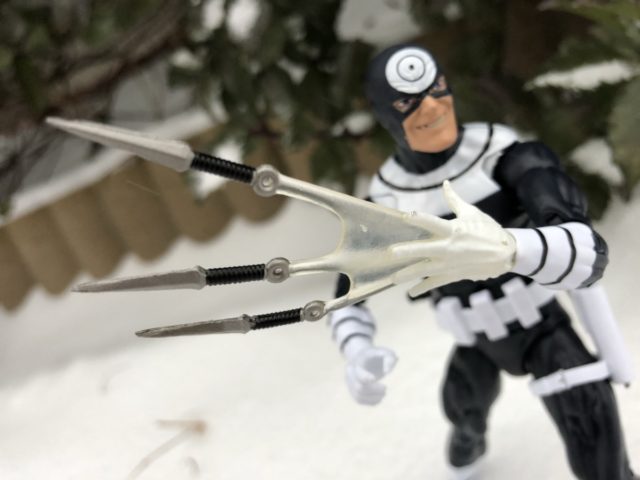 I am a complete and utter mark for effects pieces, so Hasbro pretty much had me as soon as I saw the knife throwing effects piece. I know some collectors hate effects like this, but I love them. This one is cool and dynamic and the de facto accessory my Bullseye Marvel Legends figure is fated to be posed with on the shelf for eternity. <3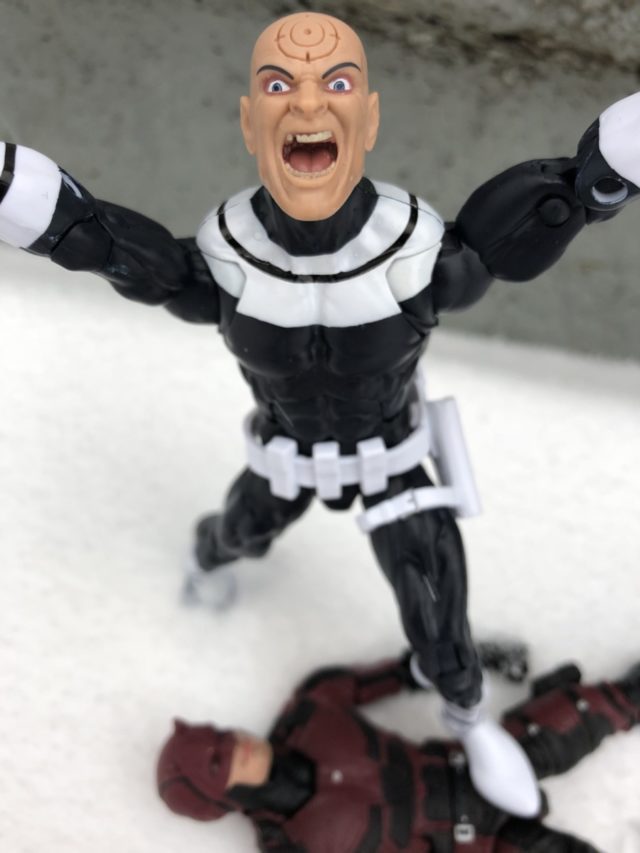 The unmasked Bullseye head is also among the very best that we've seen from Hasbro. Ol' Benjamin Poindexter (yes, I know that's not his real name) is looking totally insane here, with his gaping mouth and bulging eyes.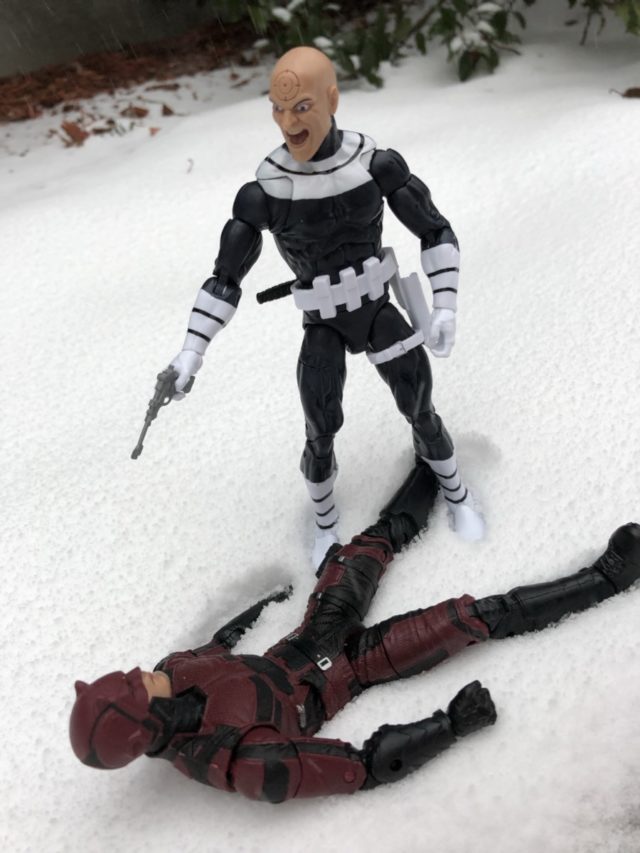 In a world filled with 6" Marvel Legends action figures that have permanently stoic, non-expressive faces, this bat$h*t crazy-looking Bullseye figure is a real breath of fresh air. Kudos on this one, Hasbro.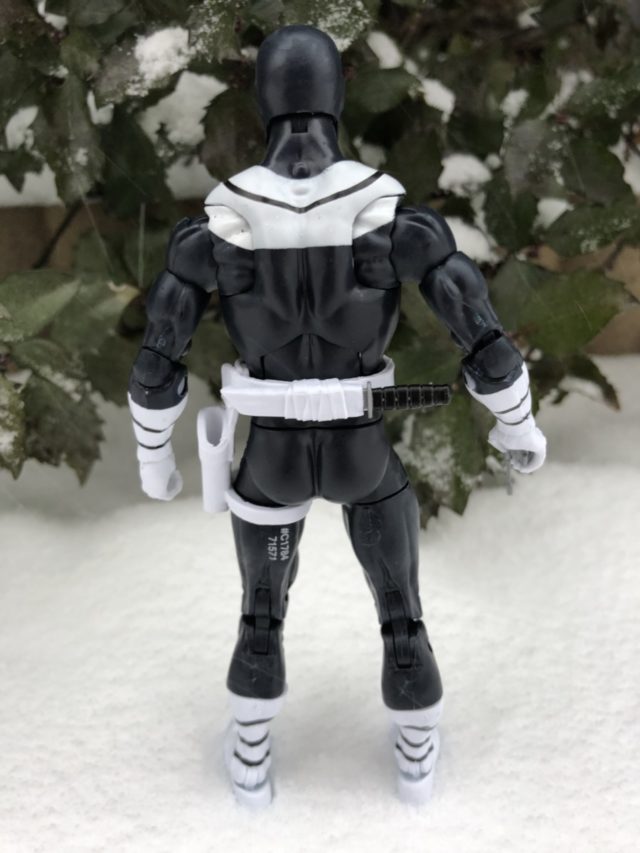 The knife fits snugly in the sheath on the back of Bullseye's waist, while the gun can be bolstered on his left thigh (though not quite as snugly as I'd like). The extra hands are both for his left hand and allow him to wield his weapons precisely and point menacingly.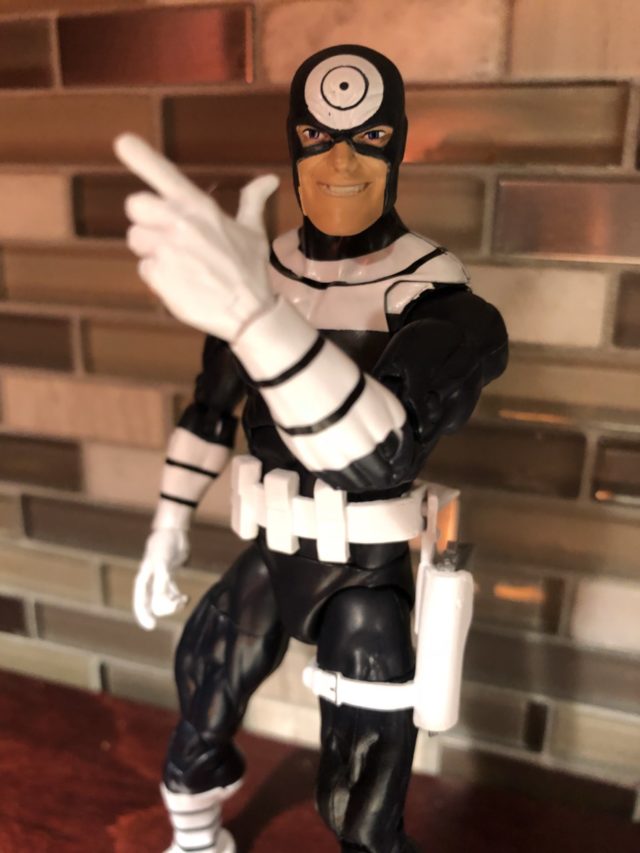 Paint-wise, I'm also very pleased with the Marvel Legends Man-Thing Series Bullseye figure. Figures that are black and white are oftentimes really tough for factories to not botch, but the paintwork on this ML Bullseye is near-perfect. There's a couple tiny areas where a dot of black or white contaminated the other, but overall the paint QC is terrific.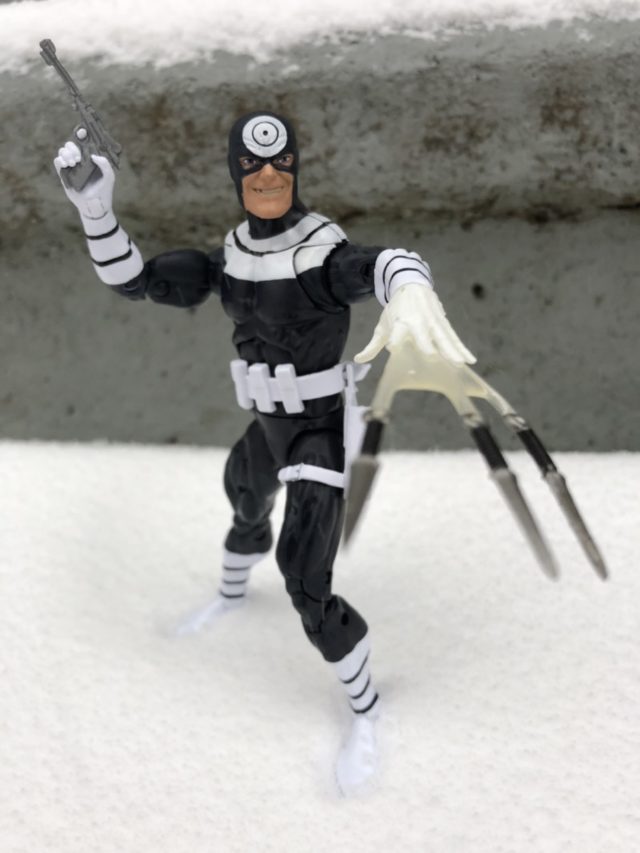 The Bullseye Marvel Legends Netflix series figure has the usual level of outstanding articulation we've come to expect–plus an extra dash more that we don't always get: the butterfly swivel shoulders that add a lot of flexibility to a character famous for throwing stuff. All of the joints feel nice and tight on mine, with only the left knee joint having a slight rubbery feeling to it.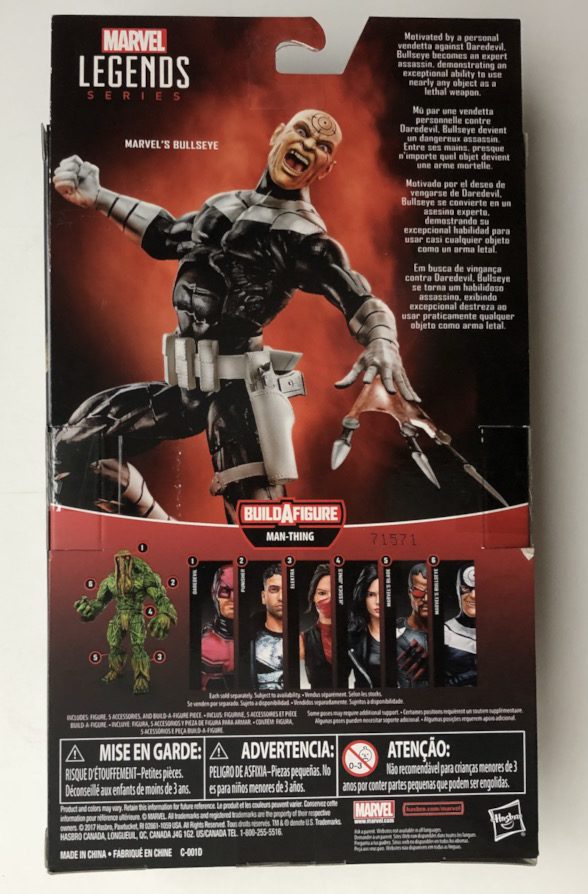 The full articulation scheme include a ball-hinge head and shoulders (plus butterfly swivel); ab crunch; swivel waist/thighs/biceps/boots; double-hinged elbows and knees; ball-jointed hips; swivel-hinge wrists; and hinged ankles with rockers. There might be some articulation missing that someone wants, but I think most of us will be very pleased with what's present and accounted for here.
The Wrong:
This is a bit of a tough category for me, as I feel like Hasbro really did almost everything right with this figure. I would have liked a second right hand so that he had a few more posing options, but with everything that's already included as far as accessories go, it's tough to feel good complaining about not getting a
fifth
hand with this figure.
Bullseye's belt add-on piece sometimes comes unbuckled if I try to pose him too dynamically, there's a couple dots of paint out of place, and his gun doesn't always stay in its holster quite as tight as I'd prefer, but these are all the most minor of nitpicks. This is a really well-done toy.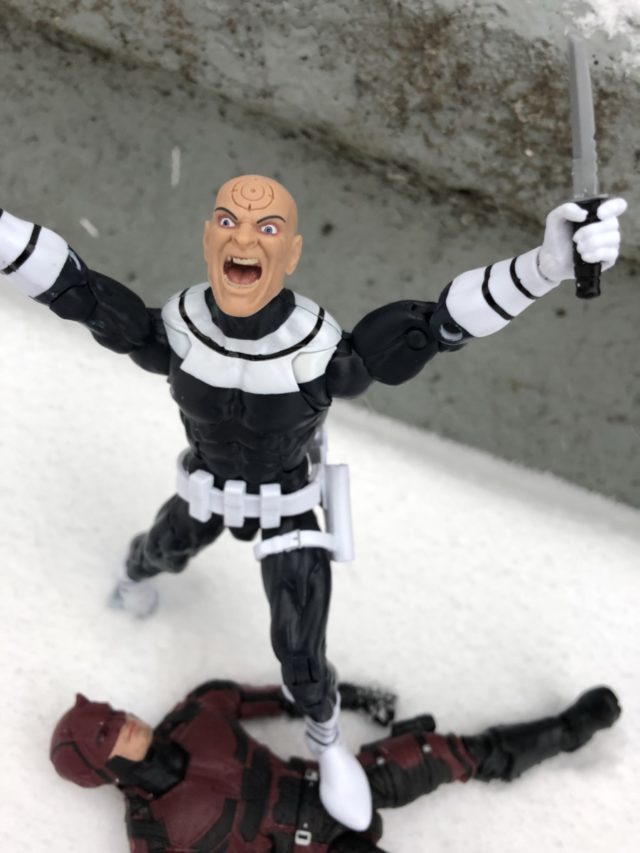 Overall: The Netflix Legends Bullseye figure is another example of an updated character that collectors weren't exactly crying out for, but who Hasbro has utterly knocked out of the ballpark. All of the accessories are great and add to the figure, the unmasked head is a real winner, the paintwork and overall QC is nice, and the articulation is superb. As great as the Toybiz version is, I have to give the nod to the Hasbro Bullseye 6″ figure as being an overall better toy. Excellent work.
GRADE: A