I've been getting sidetracked with convention coverage and Thor Ragnarok merch for the past few months, but finally it's time to take a look at one of the most anticipated waves of 6" Hasbro figures of the year: the Marvel Knights Legends Man-Thing Series (AKA Marvel Legends Netflix Series)! And there's really no way I could kick off the reviews without a review of the headliner himself, right? The Marvel Legends Netflix Daredevil figure is on sale for 15 bucks right now, but he's well worth regular price…
The Right:
Upon release in April 2015, the Daredevil Netflix series became an instant blockbuster success that made DD a favorite superhero of more people than ever before.
Old and new fans of Hornhead began demanding toys based off of the series, but with 12-24 months being a typical development time for action figures, collectors had a bit of a wait in front of them. After two-plus years of waiting, though, the first-ever Marvel Legends Netflix  action figures arrived this summer!
Were they worth the wait? Well—Daredevil sure is.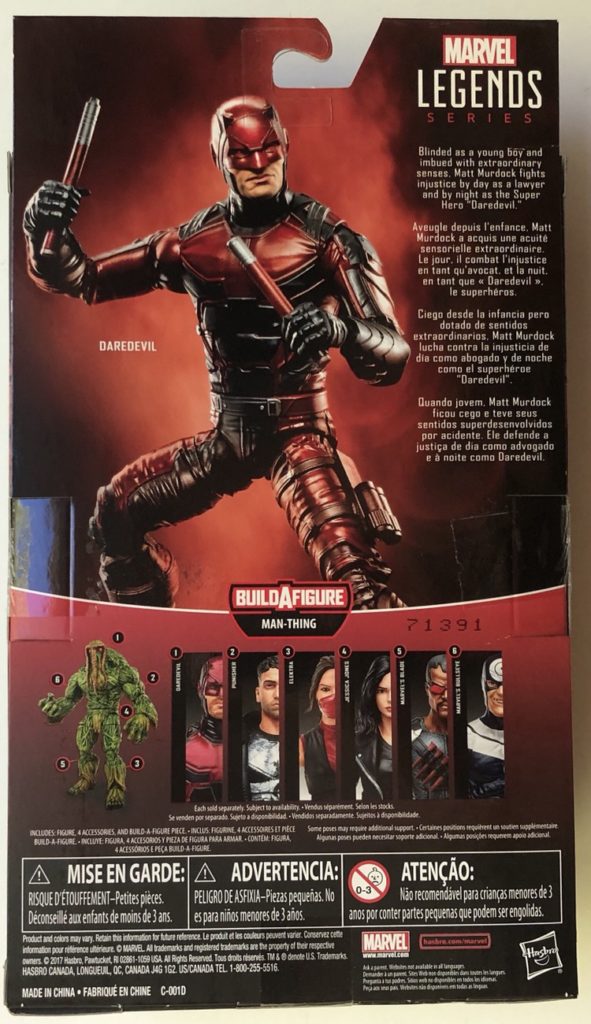 Full disclosure: I don't love the Netflix shows nearly as much as some people do, as they're a bit darker and more violent than my preference. That said, I do love toys, and thus I've been looking forward to this figure of MCU Daredevil more than I do actually seeing him in new episodes on-screen.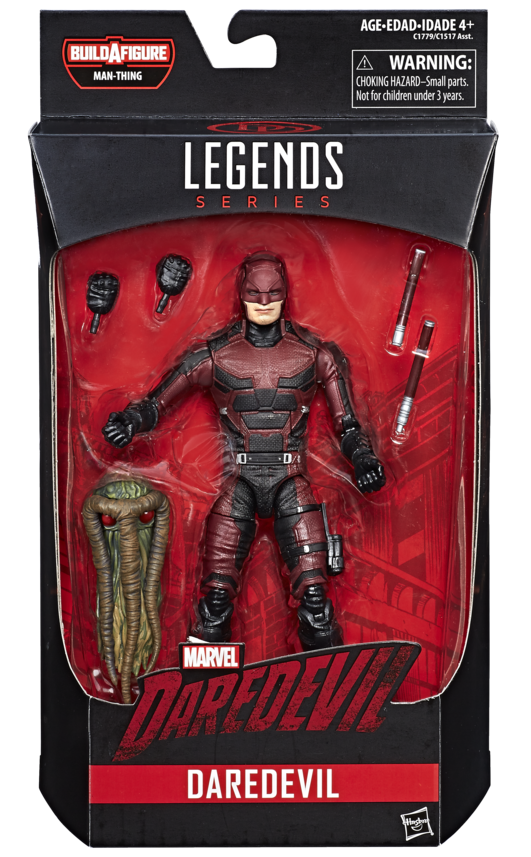 As is necessitated by the fact that this is a live-action character, the 6" Marvel Legends Daredevi Netflix figure is a 100% new sculpt with little or no tooling that looks like it can be appropriated later for another character. Fully-tooling unique figures isn't cheap, but that was the only way to go in making an authentic TV Daredevil action figure. Good job, Hasbro.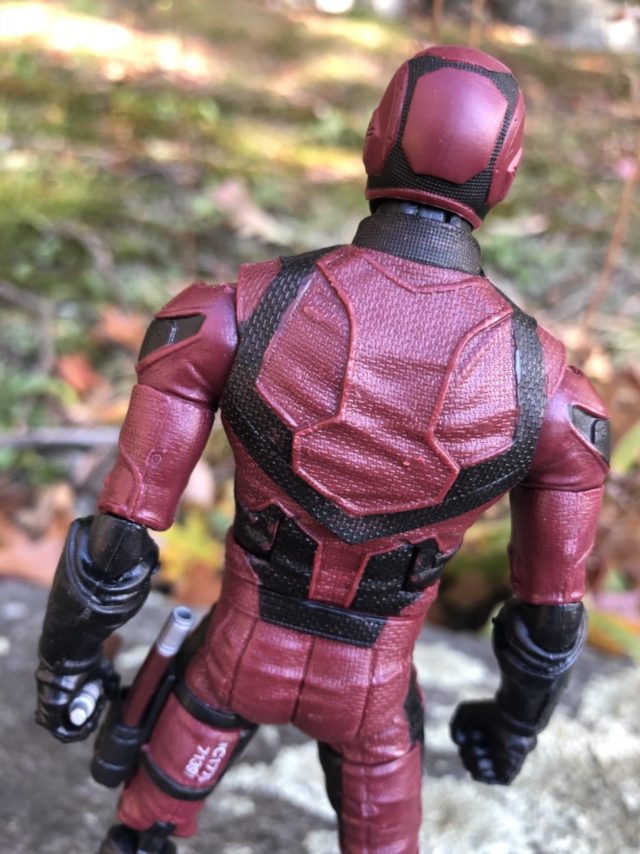 There are literally thousands of little sculpting details on Daredevil's costume, with the rich texture making it stand clearly apart from any of the comic-based figures. The smoothness of the boots and gloves contrasts nicely with the high amount of texturing on the rest of the figure.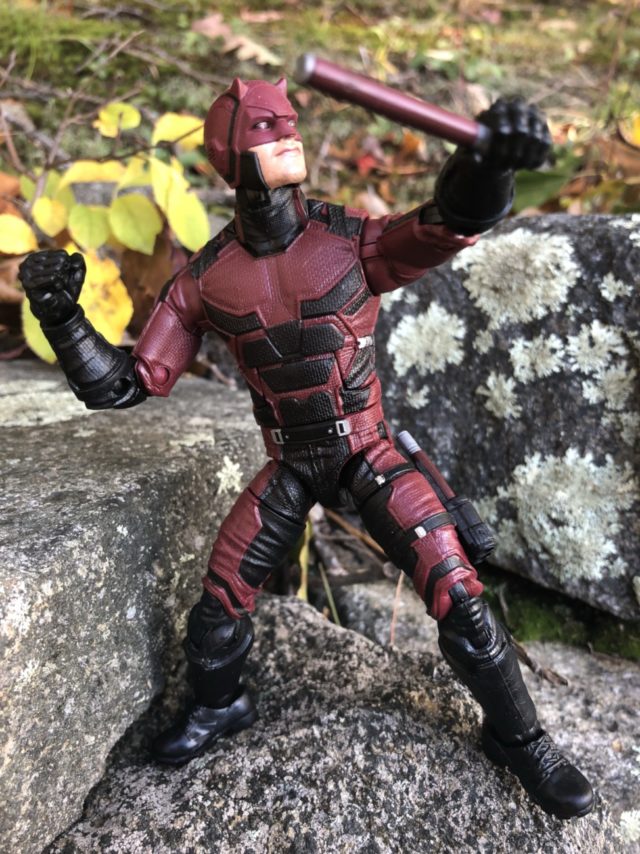 The proportions on the figure look equally great to me. Realistic figures of live-action characters have much less leeway with proportions than comic book-styled ones do, but everything looks authentic and natural on Daredevil.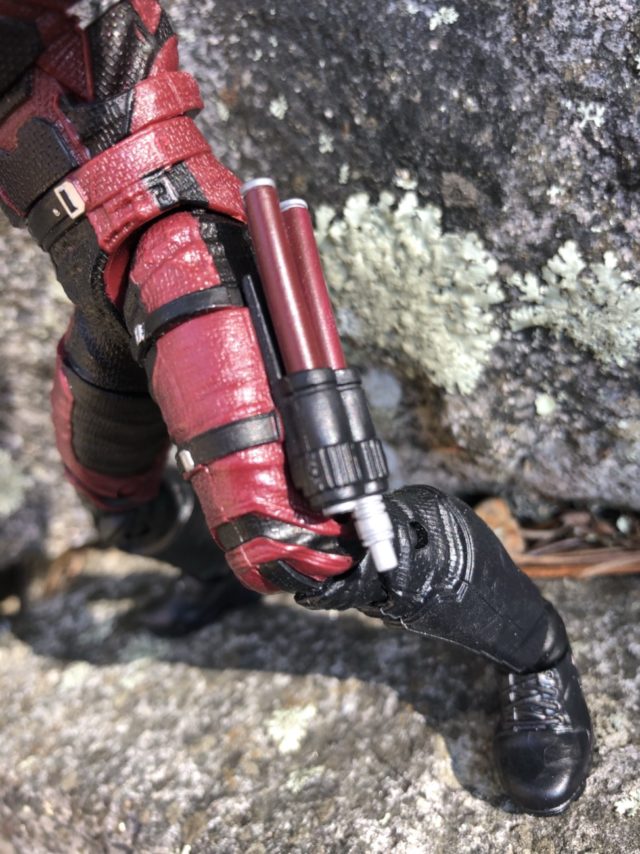 The batons are slightly rubbery, but have paint deco on them that makes them look worlds better than the horrible white batons the comic-based Daredevil 6" figure from 2015 had. I don't love that the "stub" for connecting them sticks out on the thigh sheath, but they do fit snugly into it at least.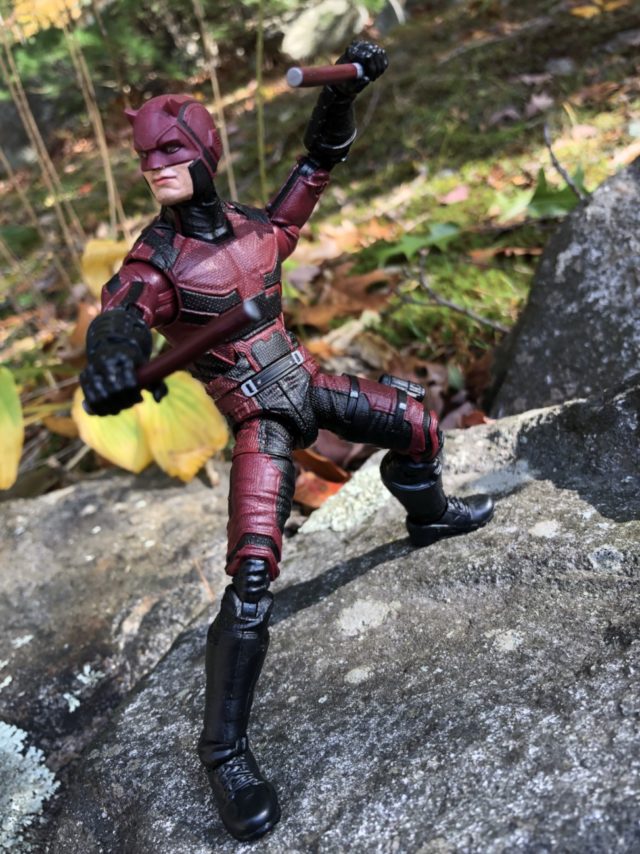 Also, I'm immensely grateful for the option of having one or both hands as fists. It would have been easy for Hasbro to just give us the baton-holding hands, but this version of DD really needs to be able to punch something, and I'm glad that he can.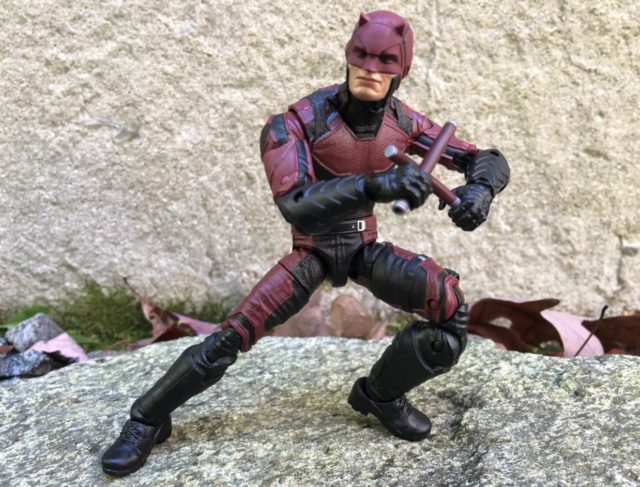 Finally, articulation: this is a Marvel Legends figure, and that means the articulation is the usual level of outstanding. For a 6" figure with a unique sculpt at this price, the amount of articulation is exceptional.
While I think it would be too expensive and/or difficult to implement the newer butterfly-styled shoulder joints with this costume, everything else you'd expect is present: ball-hinge head (with a great range of motion); ball-hinge shoulders and wrists; ab crunch; swivel waist/thighs/biceps; double-hinged knees and elbows; and ball-hinge feet with ankle rockers.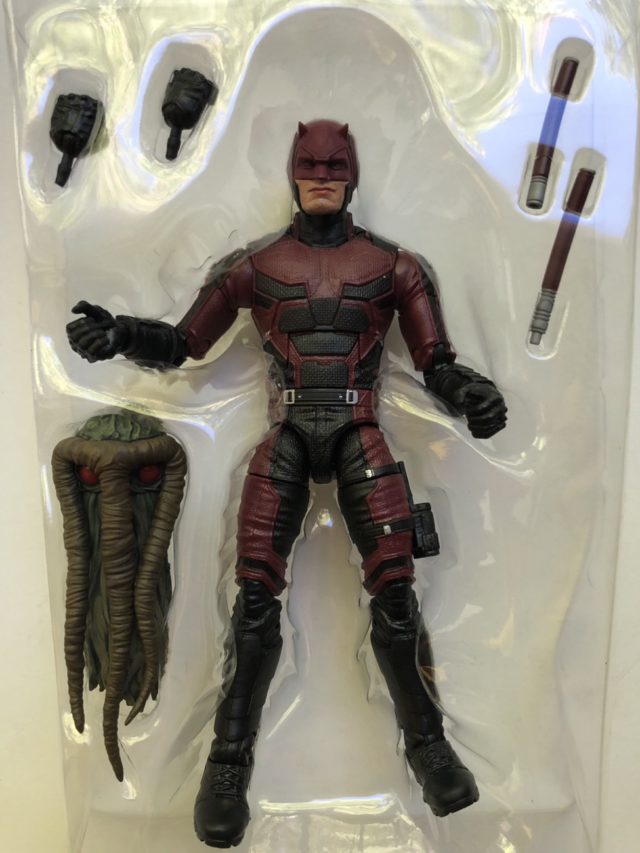 While there's no unmasked Charlie Cox head for this figure (that might be a bit much to ask for considering this was likely a very expensive unique mold to produce as it is), we do get a fair amount of accessories with ML Daredevil: two batons that can interlock and two pairs of interchangeable hands (fists and grasping hands). (And oh yeah–the severed head of Man-Thing Build-A-Figure.)
The Wrong:
One of the advantages of reviewing this figure a wee bit late (okay, a lot bit late) is that I can hear other peoples' criticisms before writing my own review.
In this case, I've heard two primary complaints about the Netflix Daredevil Marvel Legends figure: the Charlie Cox likeness and the glossy paint used for the skin. As it turns out, though, I'm not entirely put off by either of those aspects of the figure.
Since only the lower face of the figure isn't covered by a mask, the only "Charlie Cox" would could see to begin with is the mouth and jaw. While the jaw may be a tad too broad, the mouth looks right on to official photography from the show.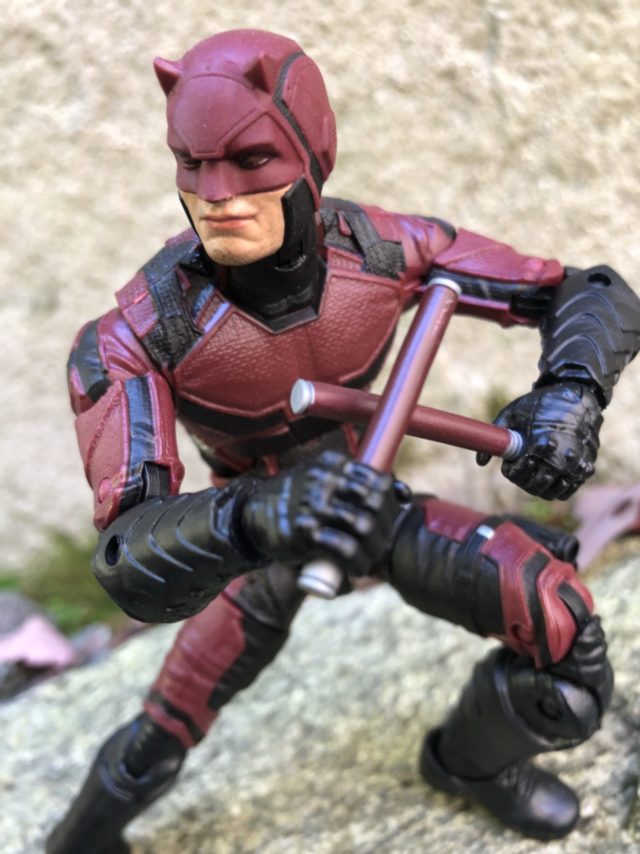 And honestly, when the figure isn't pressed right up to my face, I don't particularly notice that the jaw isn't perfect either. In this instance, the actor likeness being slightly off is way less noticeable than what we've seen on many MCU figures in the past.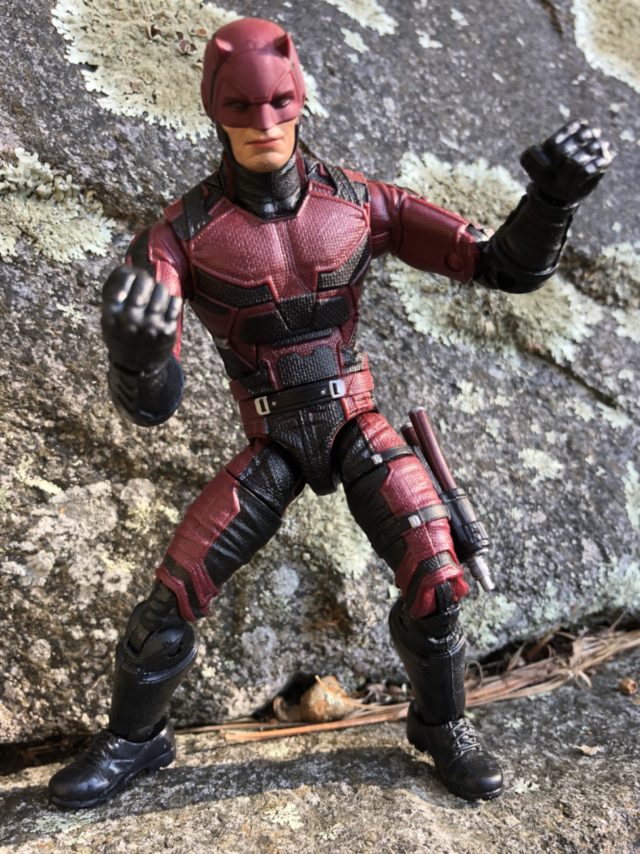 Likewise, while the glossy skin-colored paint is really problematic on some figures, I don't figure it to be a particular issue here. With the stubble deco tempering the appearance, I didn't really even notice the glossy paint here until it was explicitly brought up to me. In my eyes, it's a non-issue.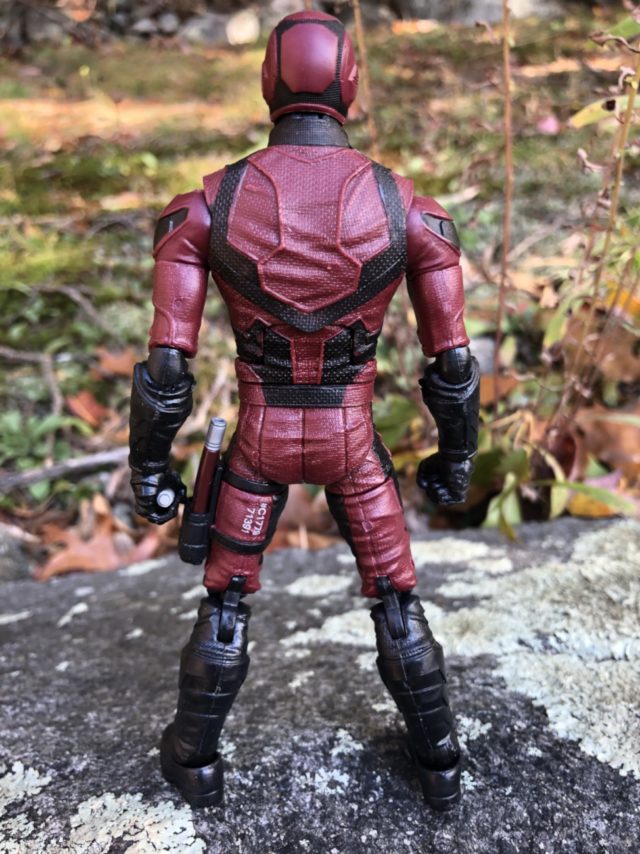 So what don't I like about this figure? Not much. The ab crunch on mine is loosey-goosey like a bobblehead, there's some minor paint bleed in a few places on the figure, and the non-removable attachment stub on one of the batons bugs me. By and large, though, this is a winner.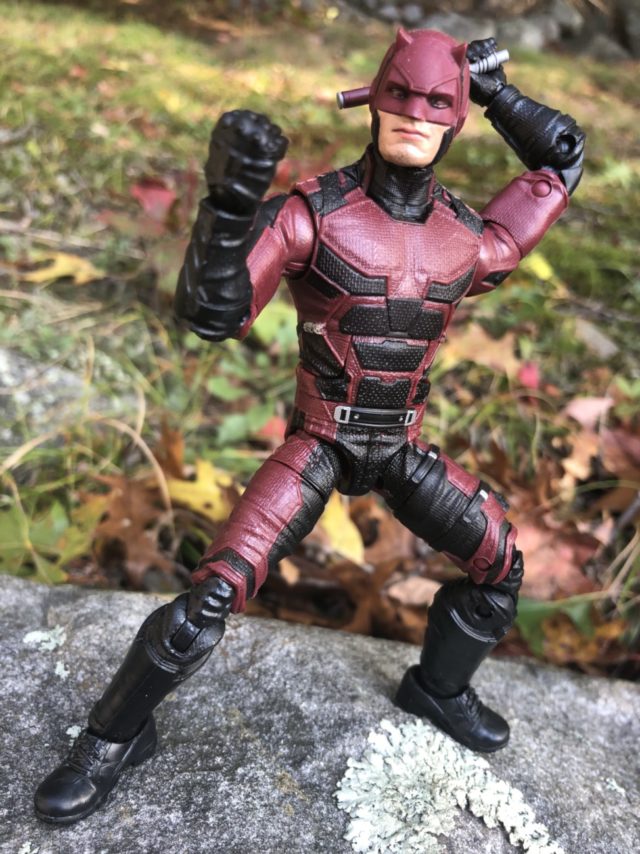 Overall: While I've heard a fair number of nitpicks about this figure, I really think Hasbro brought their 'A'-game (though maybe not their 'A+'-game) for this Netflix Daredevil figure. The sculpting detail on the costume is phenomenal, and short of having butterfly shoulders, the articulation is perfection. The unmasked lower face doesn't look exactly like Charlie Cox with a magnifying glass, but from a foot or so away, it might as well be. For a super-articulated Daredevil Netflix figure that you can get for under 16 bucks shipped, this is pretty brilliant.
GRADE: A