The Marvel Cinematic Universe has developed a bit of a reputation for having villains in the movie that are… not the best. From Malekith to Kaecillius to Yellowjacket, the villains of the MCU have been largely unmemorable (and consequently quickly forgotten). But when I heard that Dark Galadriel herself–Cate Blanchett–was going to be portraying Hela in "Thor: Ragnarok", I got my hopes up that we were in for something great. Hot Toys must have been thinking the same thing, because they developed their first MCU villain figure in quite a while: the Hot Toys Hela sixth scale figure is now up for order!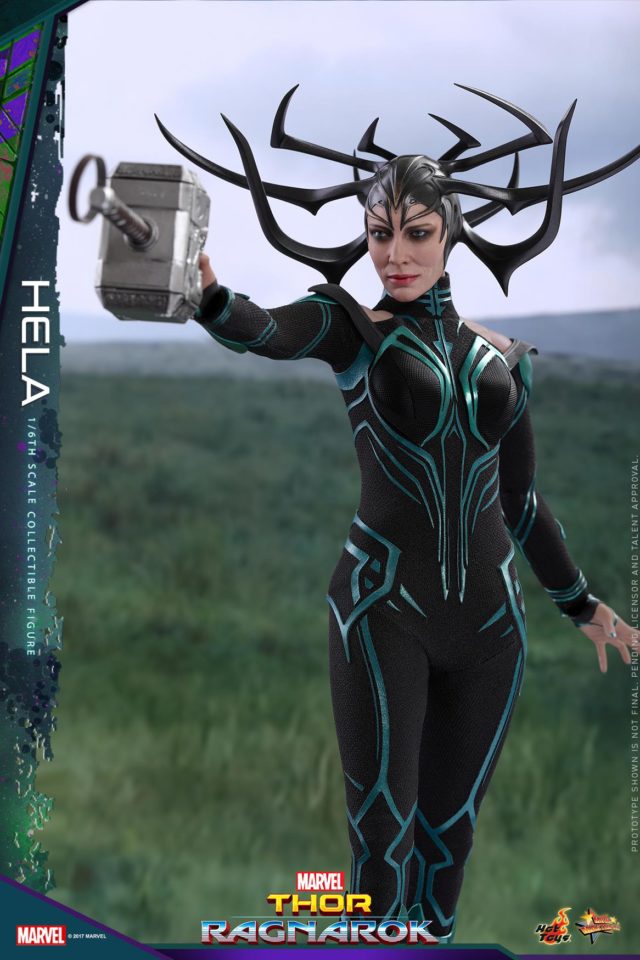 I ordinarily have pretty low expectations for villains in any Marvel Studios movie, but I've got a huge weakness for Cate Blanchett, so I was prepared to be impressed with Hela in the "Thor Ragnarok" movie. And thankfully, I was not disappointed: Hela was the most fun, charismatic, and scene-stealing primary villain created in the MCU since Tom Hiddleston first appeared as Loki.
When I saw the Hela Hot Toys figure prototype at San Diego Comic-Con 2017, I thought it looked great and was reasonably confident I was going to want it. After seeing Hela in "Thor: Ragnarok", I knew I needed it. Now is the perfect time to capitalize on that fresh movie feeling–and in their infinite wisdom, Hot Toys knows it and is ready to strike!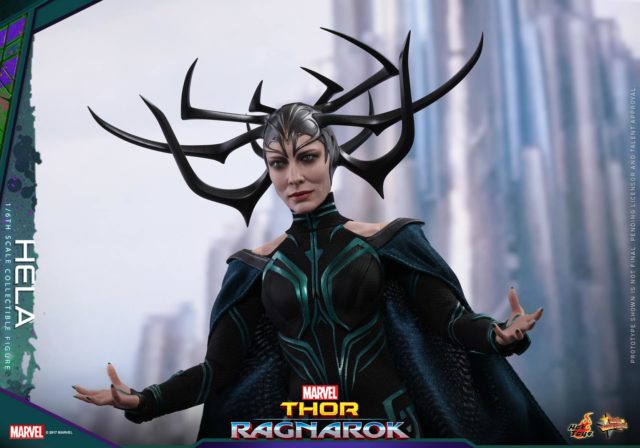 As outstanding as the tailored, soft goods outfit for this 1:6 Hela figure is, the real standout of this piece is the Cate Blanchett Head sculpt. The likeness on the portrait is incredible, and subtly captures Hela's beauty and deadliness at once. Sometimes Hot Toys needs to use more expressive face sculpts, but I don't think this is one of those times.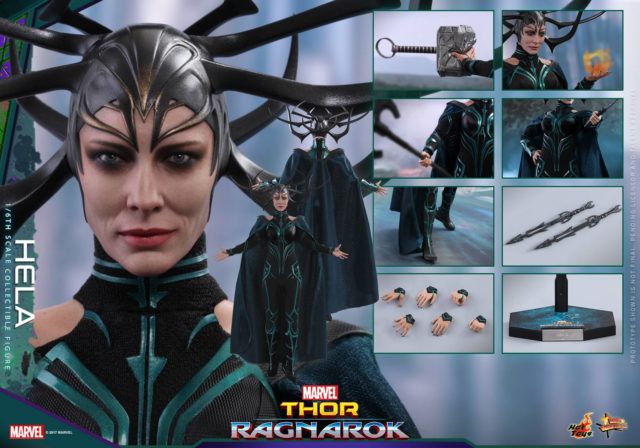 Although Hot Toys is apparently holding back some surprises and hasn't revealed the full lineup of accessories just yet (which is rather peculiar for a toy that they're putting up for sale today, but whatever), the few extras that have been confirmed and shown off are all winners: two of Hela's distinctive black swords, a damaged Mjolnir hammer attached to a crushing hand, a magnetic cape and the obligatory figure stand.
Hela destroying Mjolnir is one of the more shocking things that's ever happened in the Marvel Cinematic Universe, and I can foresee that pose specifically being one of the most commonly used in collectors' displays once this figure arrives next year.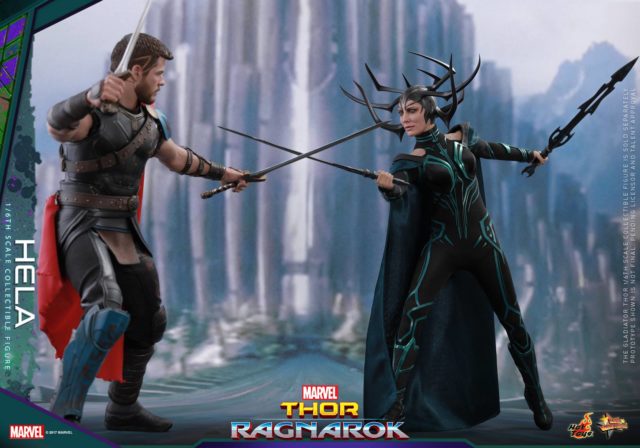 My only legitimate disappointment about this figure is that we're seemingly only getting one Cate Blanchett portrait Hela head with the figure: the version with the "crown" of horns (but no mask). This is a really crucial and great look for Hela, but I really wanted a fully-unmasked Hela with hair, as she appears in many scenes in the movie (and the alternate head of her Hasbro Marvel Legends figure).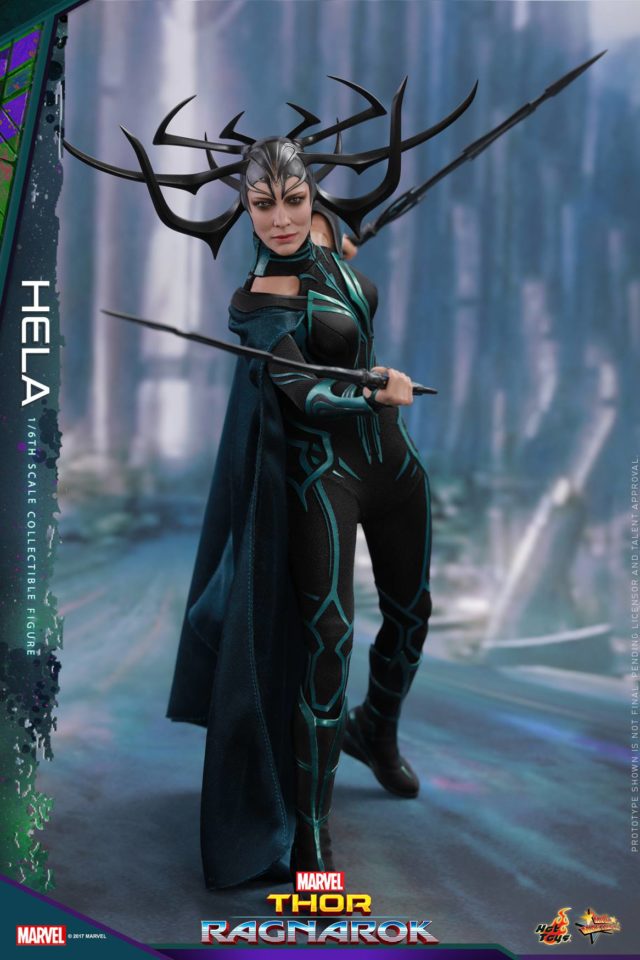 Hot Toys mentioned in the solicitation for this figure that they will be
"including bonus accessories for this collectible figure that will certainly be a delight for fans after seeing the film. Stay tuned with us to find out what they are very soon!"
Now, an additional head sculpt does seem like a bit of a stretch, but I think that would sell more additional units of this figure than any other accessory, so I'm going to keep my hopes up until Hot Toys completely dashes them. And hey–even if we only get the head that's been revealed, it's still a pretty outstanding one. I'd just like options.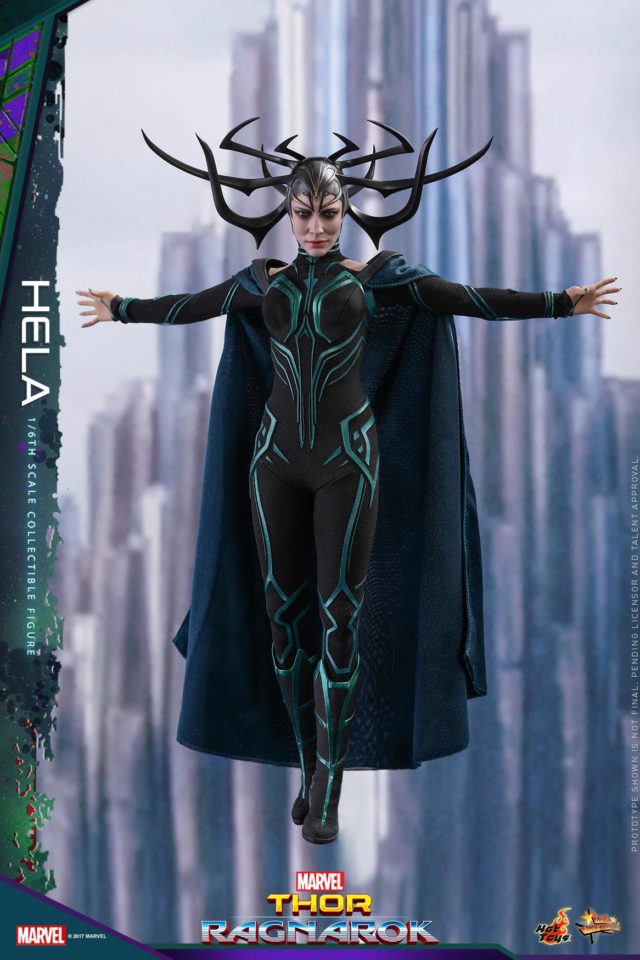 The Hot Toys Hela 1/6 figure is now up for order, and is scheduled to be released in Q4 2018. Traditionally, Hot Toys Marvel villain figures have sold pretty slowly, so it'll be interesting to see if they limit the number of Hela figures that they produce or if there's a huge wave of people ordering her due to the popularity of the character and Cate Blanchett herself.
What are your thoughts on the first Hot Toys Marvel villain figure since Ultron, Marvel collectors? Is Hot Toys going to score a big win with Hela, or do you see this figure hitting the proverbial clearance bins? Will the Hela Hot Toys figure be a part of your collection next year?