Way back at New York Toy Fair 2017 in February, Hasbro showed off finished prototypes of the first four figures from a new "Marvel Knights" Netflix series of 6″ Marvel Legends. Rumors and speculation have run rampant for months regarding what characters would round out these series, but the time for debate is over: the 2017 Marvel Legends Blade, Bullseye and Man-Thing Build-A-Figure have now been revealed!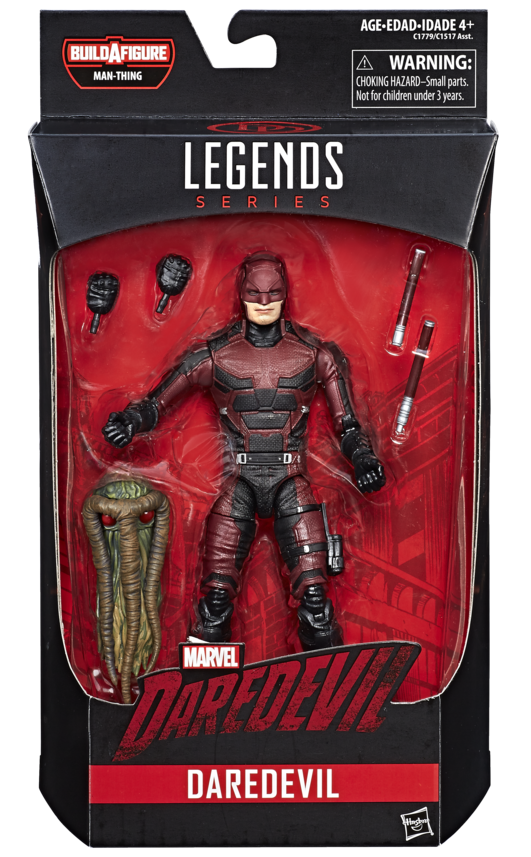 For those who need a refresher (because it's been a little while since their reveal), the following four characters were premiered as Marvel Knights Marvel Legends 6″ prototypes at the 2017 Toy Fair:
Netflix Daredevil
Netflix Elektra
Netflix Jessica Jones
Netflix Punisher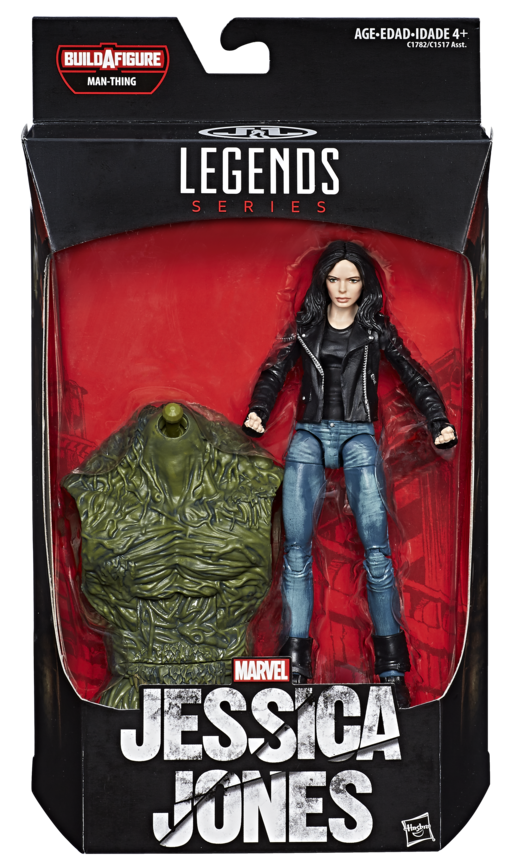 You may notice a pattern there, as all these figures are (obviously) based off of the blockbuster Netflix Marvel Series Daredevil and Jessica Jones.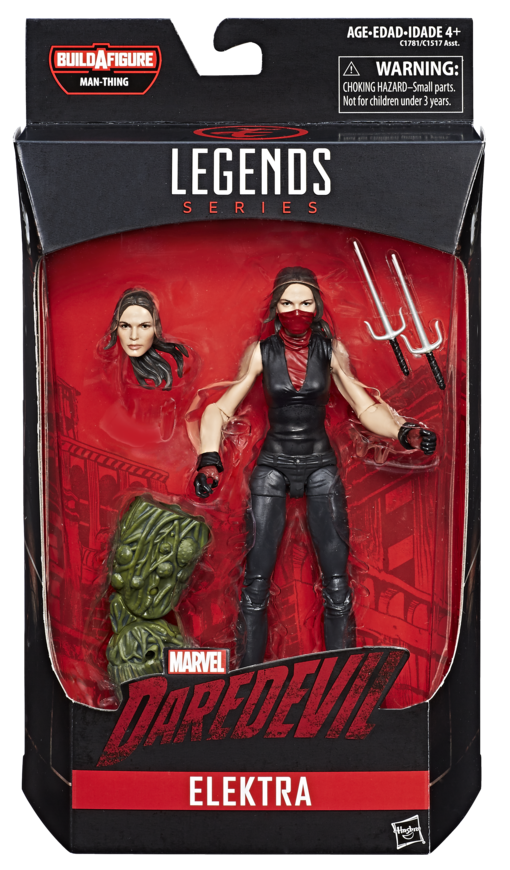 Ordinarily a full series of Marvel Legends figures usually includes at least six figures and a Build-A-Figure, so many fans immediately jumped to the conclusion that the series would be rounded out by other Netflix characters such as Luke Cage, Iron Fist, and even a Kingpin Build-A-Figure.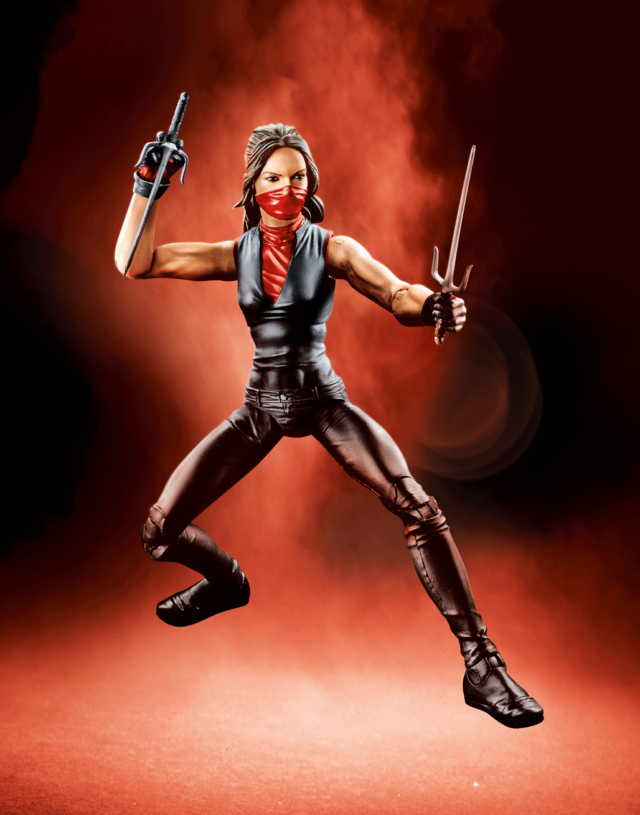 The truth is… a little different.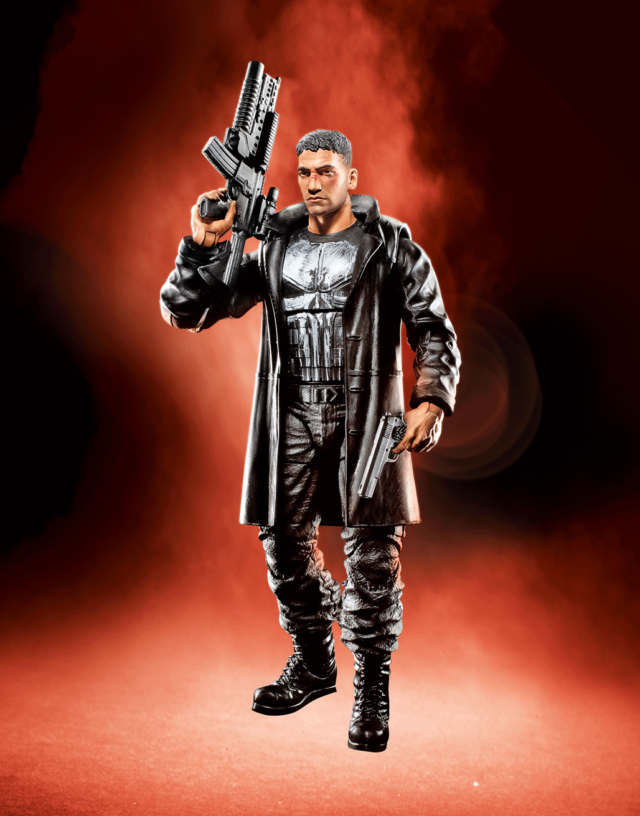 Just like the various Marvel Legends movie figures are intermixed with comic book-based action figures in the same series, the same will be true with this Marvel Knights Legends series.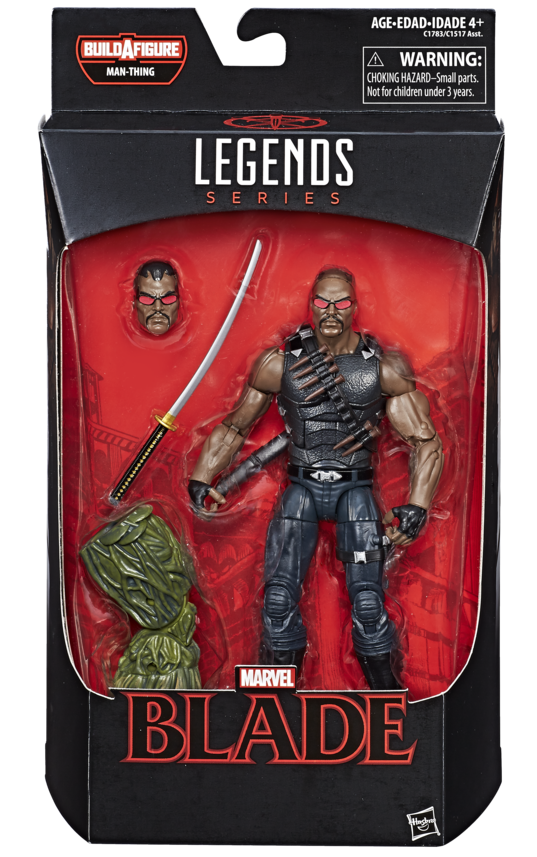 The two comic-based single-packed figures in the series will be a brand new Marvel Legends Blade figure and a new Bullseye.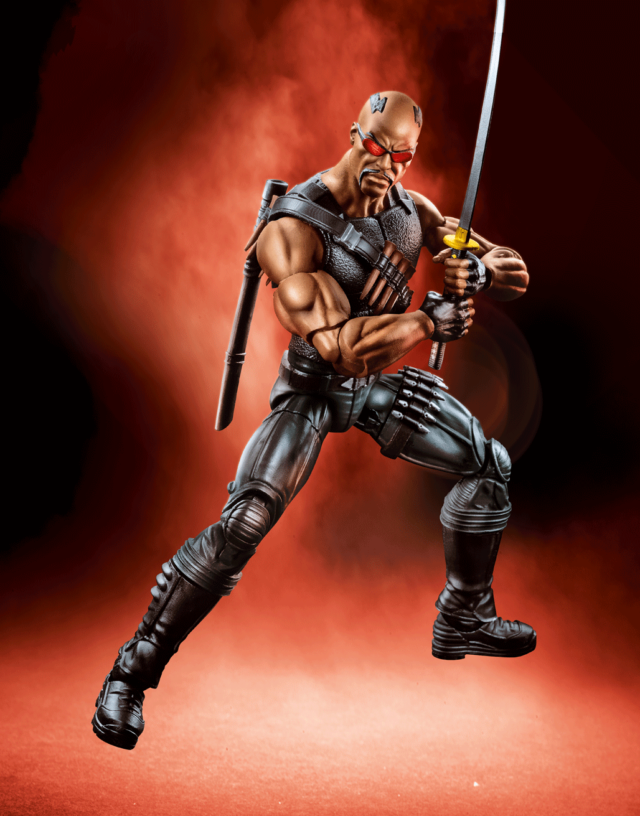 To put into perspective how long we've been waiting for a new 6″ Blade figure, the last one released was in 2003–14 years ago–and based on the Blade II movie. Yikes!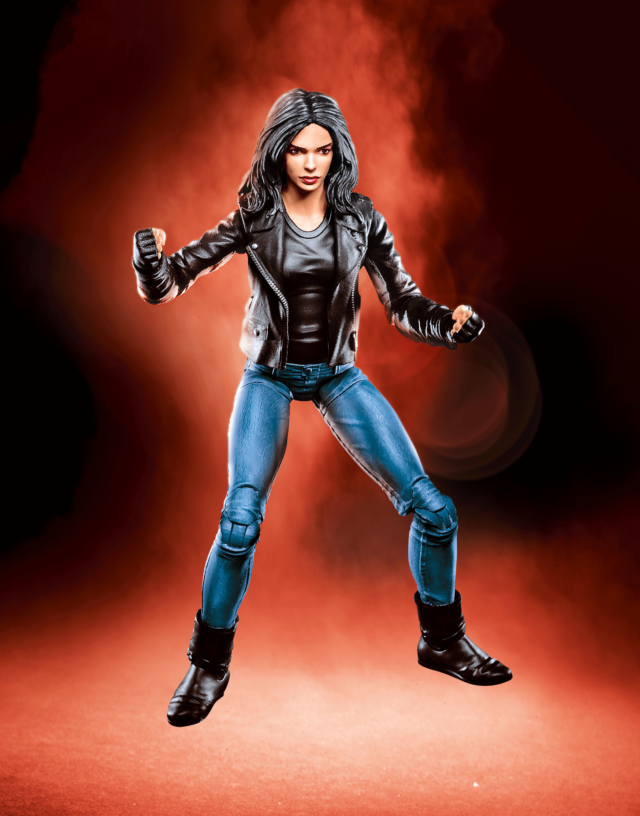 I appreciate that Hasbro is giving us an alternate head for Blade, as it helps to create both the modern look for the character and also a more classic look. Many collectors were disappointed when the 2012 Blade figure was scrapped, so getting two versions in one (sort of) is a nice gesture here by Hasbro.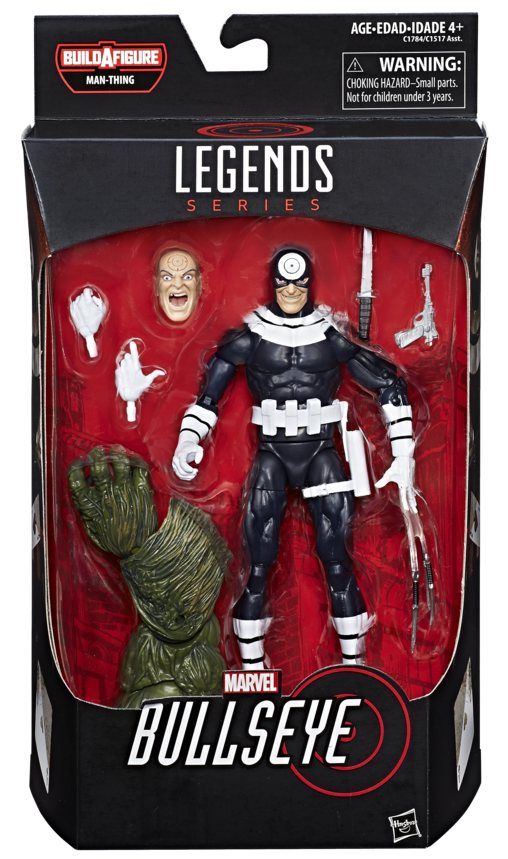 Another character getting redone from the Toybiz days is Bullseye, who first appeared in the Sentinel series in 2005 and hasn't reappeared since.
Bullseye will come with an unmasked head–I believe a first for any Bullseye figure (aside from Minimatesm which don't count)–as well as a super-cool knives-throwing effects piece. His belt looks a bit floppy, but I'm liking the looks of this Bullseye (even if he is kinda gross with his mask off).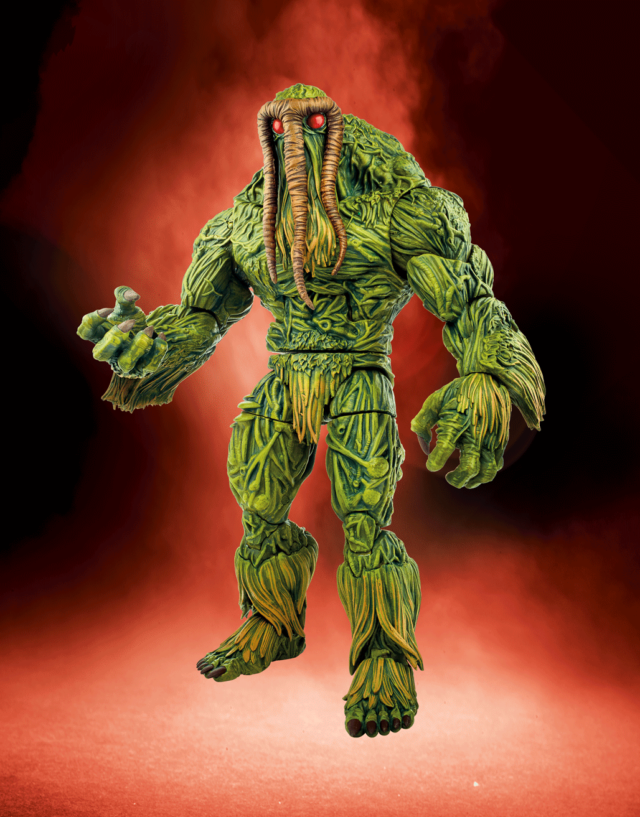 Finally, we've got the Build-A-Figure that
nobody
(who didn't look at leaked lists) expected: the new Marvel Legends Man-Thing Build-A-Figure!
I've always had a soft spots for Howard the Duck's pal–the Guardian of the Nexus of All Realities–and this figure is definitely an improvement in size, sculpting detail and paint deco from the 2005 Toybiz Man-Thing. Love it.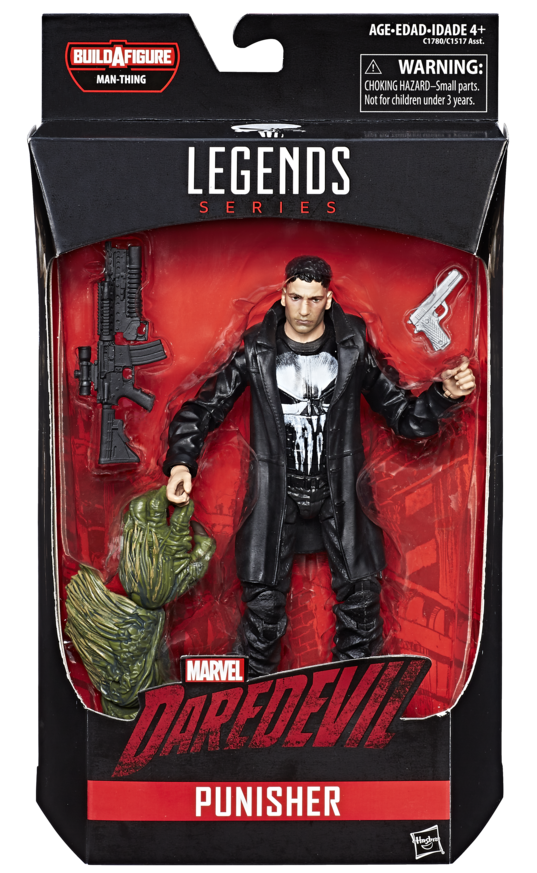 This Marvel Legends Netflix Series is scheduled for release in stores on August 1st, 2017. I'll post links to pre-order the series in full sets/cases and also as individuals as soon as the wave goes up for sale, so stay tuned to our social media pages for that.
Now that we've seen the whole Man-Thing Marvel Legends Series in its entirety and also in glorious hi-res packaged photos, what do you think, Marvel collectors? Will you be picking up any or all of the figures in this wave, and what characters would you use to fill out a second Netflix-centric series in 2018?