Mezco Toyz has been spacing out the announcements of their San Diego Comic Con 2017 exclusives over the past several weeks, and while I was love Thundercats as much as the next guy (okay, probably more than most next guys), it's the SDCC ONE:12 Collective Marvel exclusive I've been really waiting to see. I never had much doubt that it was going to be a Deadpool variant, but at least it turns out to be my favorite one: the SDCC 2017 Exclusive ONE:12 Collective X-Men Deadpool has now been revealed!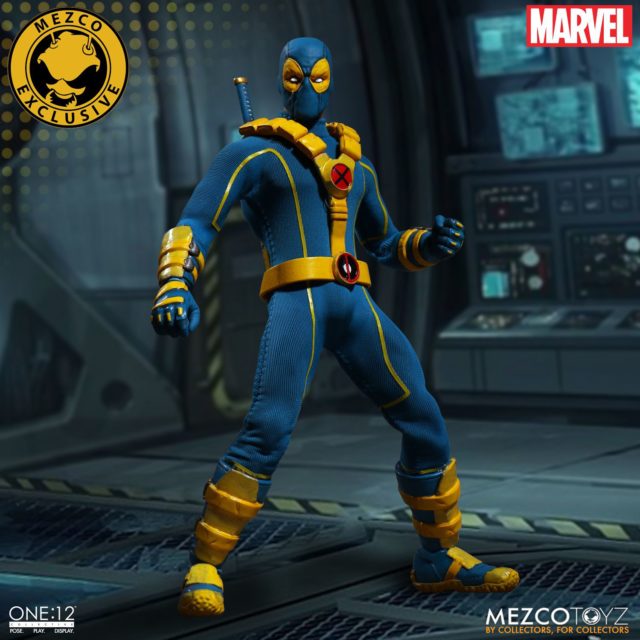 In just one issue of the "Cable & Deadpool" comic book ever, Deadpool had to wear an X-Men costume for a couple panels after losing a bet. And toy manufacturers have never,
ever
forgotten it! From Funko to Diamond Select Toys to Hasbro, blue Deadpool figures have been going strong for years.
And now–it's Mezco Toyz' turn to cash in on Deadpool in X-Men costume, as their Marvel SDCC 2017 Exclusive features Deadpool in his most… well, blue… costume.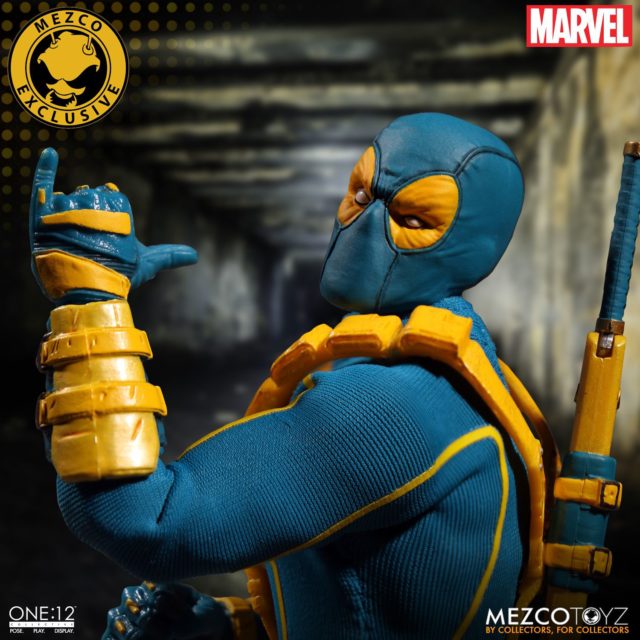 I love quirky, crazy variants like this one, so I've got no problem with this particular figure coming as a niche Comic Con exclusive. I'm glad that Mezco chose this over the Inverse Deadpool (black and red) color scheme, honestly. This is a fan-favorite costume for the character that's mostly going to only appeal to niche, hardcore fans–exactly what a limited exclusive variant should be.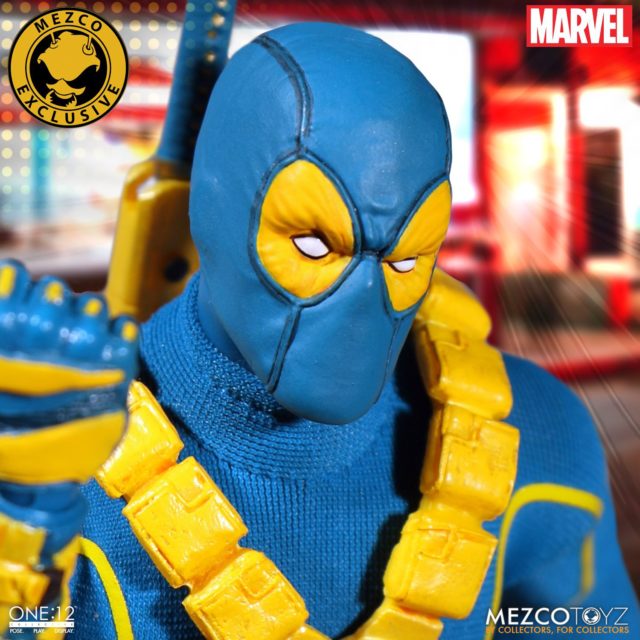 X-Men Deadpool must be in fashion this year, because DST is also releasing an exclusive Marvel Gallery statue of the character for Comic-Con next month. Yay for solidarity!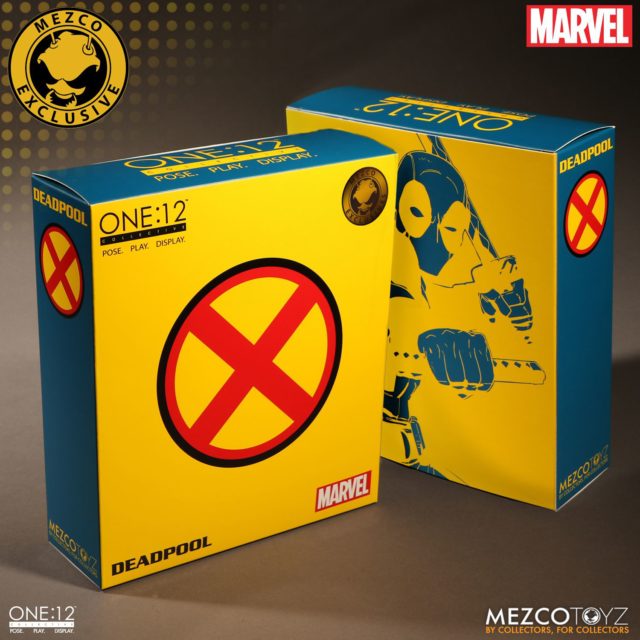 And hey, that bright yellow and blue box that this comes in…? Yeah, that is rockin'. If I were going to review this 6″ figure based solely off of how much the box appeals to my zany sensibilities–'A++' for sure.
Also, since Mezco Toyz has us in mind with their collector-friendly packaging, there are no twist-ties to untangle and nothing to destroy when removing (and putting back) your Deadpool figure. Man, I love modern toy packaging!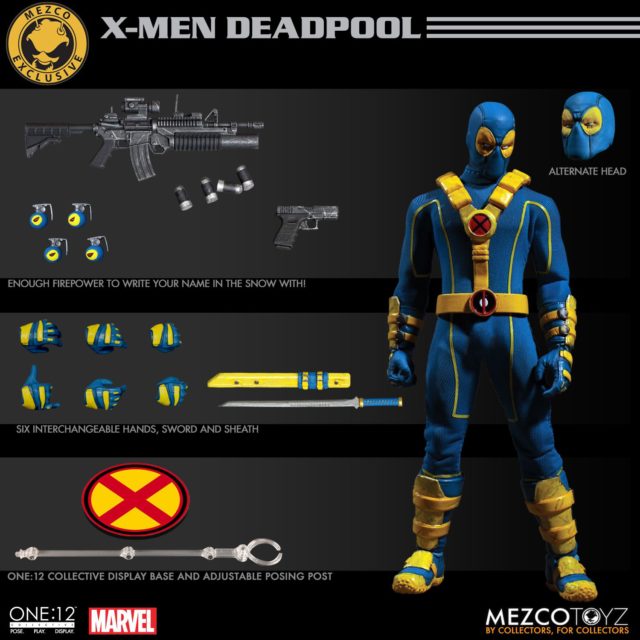 But as far as accessories go… this figure is pretty bare-bones, especially when compared to
the fully-loaded PX X-Force Deadpool exclusive that's up for order now
(and selling out fast).
You get a figure stand, the alternate squinting head from the regular version, some interchangeable hands and grenades, a pistol, a machine gun (with grenade launcher chamber), and a sword with sheath. Not a bad haul, mind you, but at the same price as the X-Force version, clearly not as solid of a value. The yellow sword sheath and yellow and blue grenades definitely do make me smile, though.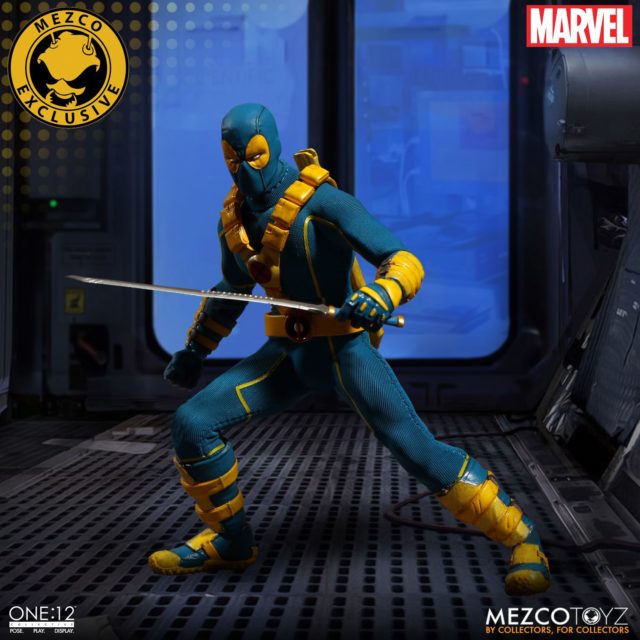 You can pre-order the ONE:12 Collective X-Men Deadpool SDCC Exclusive figure over at Mezco's website now while supplies last. The NYCC Shadowland Daredevil sold out at lightspeed last year before the Marvel ONE:12 Collective line had really even begun to pick up steam, so a similar fast sellout for X-Men Deadpool wouldn't surprise me at all.
What do you think of Mezco's San Diego Comic Con 2017 ONE:12 Collective Deadpool, Marvel collectors? Is this an exclusive that you were hoping for and plan to order, or did you have something else in mind?