Earlier this month we got our first peek at a major SDCC 2017 Exclusive Marvel toy when photos of the Marvel Legends Thor set of figures leaked out. But now, it's time for an official, intentional announcement from Diamond Comics! As usual, Diamond Select Toys has multiple Marvel SDCC Exclusives lines up–and this year, it's in the form of the two SDCC 2017 exclusive Marvel Gallery Statues: Superior Iron Man and X-Men Deadpool that are now up for order!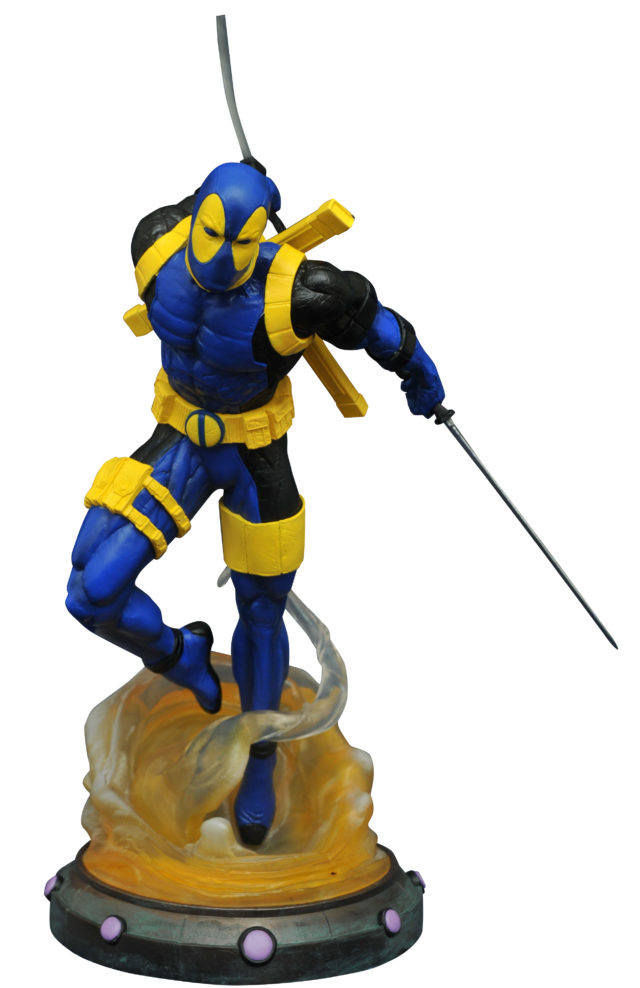 Diamond Select Toys blew me away with their wide range of sizes, characters and price-points of their Marvel statues at New York Toy Fair 2017, so I've been anxiously awaiting a press release to see what they had in store for us for San Diego Comic-Con 2017 in July.
And today, that much-anticipated press release arrived! There's lots of comic book variant covers plus merch for Batman Beyond, Slimer and the Iron Giant, but let's talk about what we all care about most (at least while we're on this site): Marvel toys!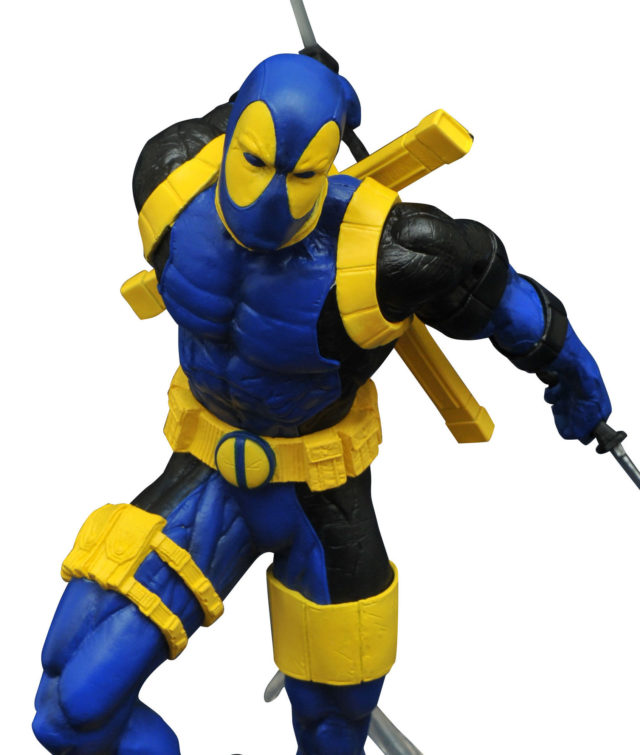 First up, we've got the SDCC 2017 Exclusive Marvel Gallery X-Men Deadpool statue! This is the second repainted variant of last year's 10″ Deadpool Marvel Gallery statue (the other is the GameStop X-Force Deadpool), and is sporting the blue and yellow X-Men Deadpool costume.
This isn't the costume that Wade wore in "Cable & Deadpool"–the version with harness that Hasbro has done in both 3.75″ and 6″ scale, and I'm honestly not sure where (if anywhere) this costume is comic accurate to (although, oddly enough, Funko has done this exact variant already themselves). I do love the garish colors on this Wade Wilson, though, so it's a definite "maybe" for me.
This statue is sculpted by Jean St. Jean and limited to 4,200 pieces (yes, that says 4,200). That is a huge number for a niche con variant statue, so I imagine there will be ample opportunity for non-attendees to order this particular variant (UPDATE: In fact, there is! The statues are up for pre-order now for non-attendees!).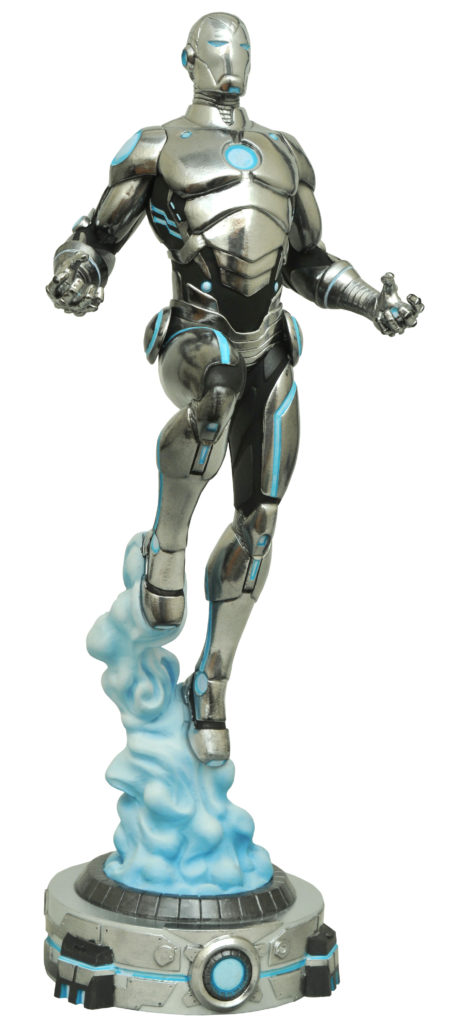 In addition, DST has one more statues planned for San Diego Comic-Con 2017: a Marvel Gallery Superior Iron Man statue! Flying high at 11.5″ tall, this is a statue of Tony Stark in his short-lived Superior armor from pre-Secret Wars.
I was not a big fan of this weird AXIS-inverted iteration of Tony Stark, but I love the look of this statue. The shiny, reflective silver-white paint on Superior Iron Man (with awesome blue Tron lining) looks super eye-catching–this is one of the best-looking Marvel Gallery statues so far.
While there is a mass release classic Iron Man Marvel Gallery statue, this is no mere repaint: Diamond Select Toys went in and basically made a whole new Superior Iron Man figure to put atop the repainted base from the other version. The result is downright gorgeous, and a must-have for me.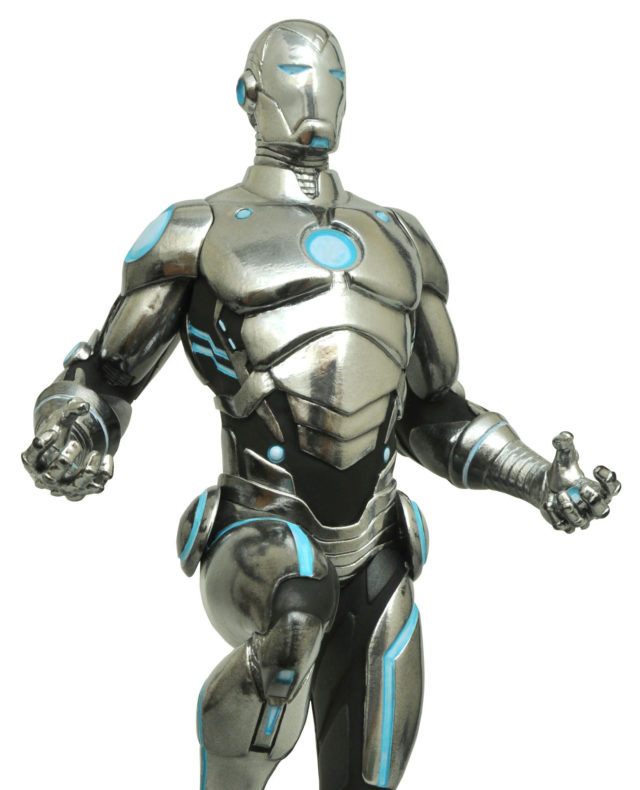 Of course, this Superior Iron Man Marvel Gallery statue isn't just the better of the two SDCC 2017 exclusives (IMO)–it's also the more limited of the two, with just 2,100 produced. That's still a decent edition size, though, so I don't foresee this piece being too difficult to get (I hope).
The Diamond Select Toys SDCC Exclusives are now available for order online while they last, so be sure to reserve your pre-orders for X-Men Deadpool and/or Superior Iron Man if you dig either of these pieces. I  also sent out alerts via the Marvel Toy News Twitter and Facebook Pages as soon as pre-orders opened up for these.
Now that we've seen the first DST SDCC Exclusives, what are your thoughts, Marvel collectors? As they're not too difficult to obtain (at least not yet), are you interested in either of these figures, or were you hoping for something else from Diamond Select Toys this year for Comic-Con instead?