It's been a rather slow couple of days, but if there's one character suitable to break us from the monotony of our humdrum lives, it's the Merc with loads of merch–Deadpool! Believe it or not, this 6″ Deadpool figure was actually announced over 15 months ago, and Revoltech Deadpool has been announced, revealed and shipped in that period. But at long last, the time has come: the Max Factory Figma Deadpool figure is now up for order!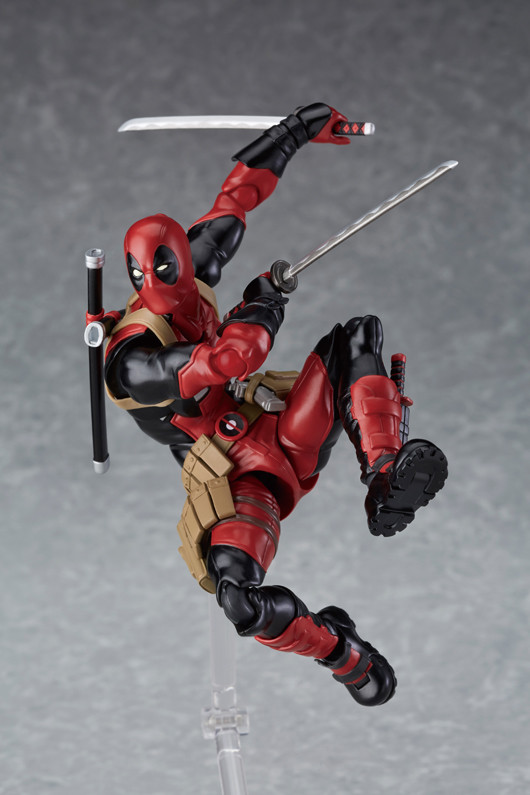 It's been so long since the Good Smile Company Max Factory Deadpool Figma was announced in February
2016
that I
almost
thought that this was a brand new figure on the way that we hadn't heard of before.
But no, this is actually the Wade Wilson figure that's been over 15 months in the making! In that time, numerous other Deadpool 6″ figures have been released on the market, so GSC/Max Factory now have some stiff competition. Let's see how their Deadpool Figma stacks up…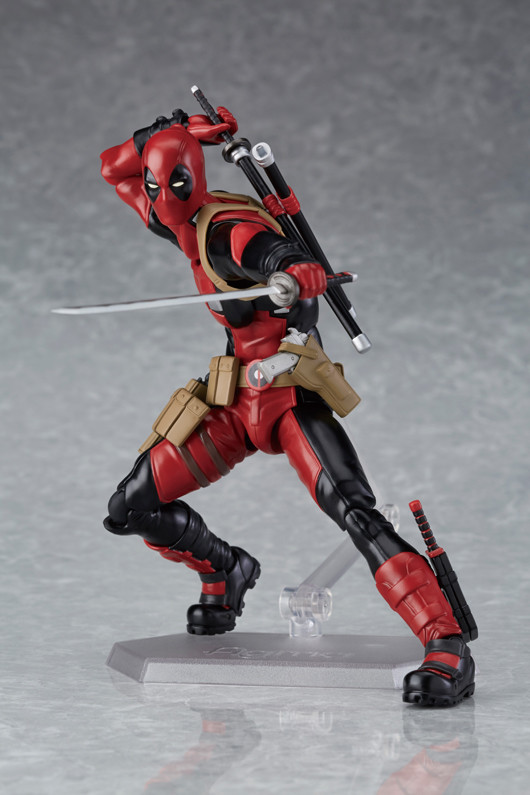 The Hasbro Marvel Legends Deadpool won my (non-existent) Marvel Legends Figure of the Year award last year, so that's a pretty high bar to try to jump.
But while we don't know the exact articulation scheme for this Figma version just yet, if these photos are indicative, Hasbro's version is about to have some extreme competition for the Chimichanga throne–this Deadpool Figma figure looks to be exceptionally articulated, with no obvious points of articulation that I'd expect missing (and a soft plastic torso to allow for extreme poses!).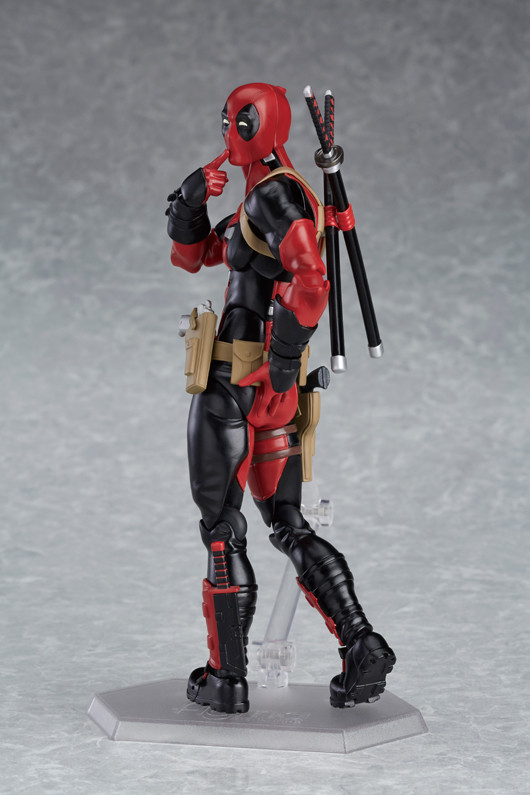 I thought that the Revoltech Deadpool released last year was one of the most fun Marvel toys of 2016 to play with, but he ended up having weird proportions that made him look wrong with my other six inch figures. That's not the case with the Figma DP–he looks like he came straight off the page (other than perhaps those curvy hips).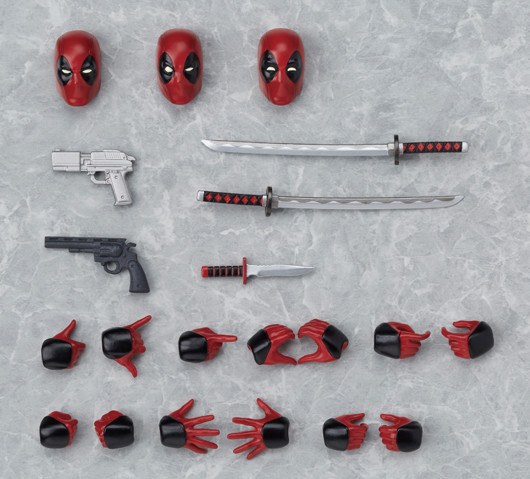 And in the accessories department, this Deadpool is fully-loaded with even more accessories than Hasbro's: three interchangeable heads (all masked), thirteen interchangeable hands, a knife, a pair of katana swords, a revolver and a pistol. Not a bad load-out at all! But if you're still looking for more…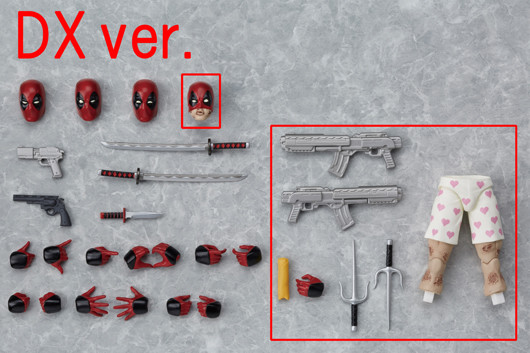 As with their Figma Legend of Zelda Link DX figures, the Good Smile Company has a Figma Deadpool DX version figure lined up that comes with a handful more accessories: two sais, a chimichanga (and hand to hold it), two machine guns, a partially unmasked head to eat the chimichanga with, and… an interchangeable lower torso wearing boxer shorts.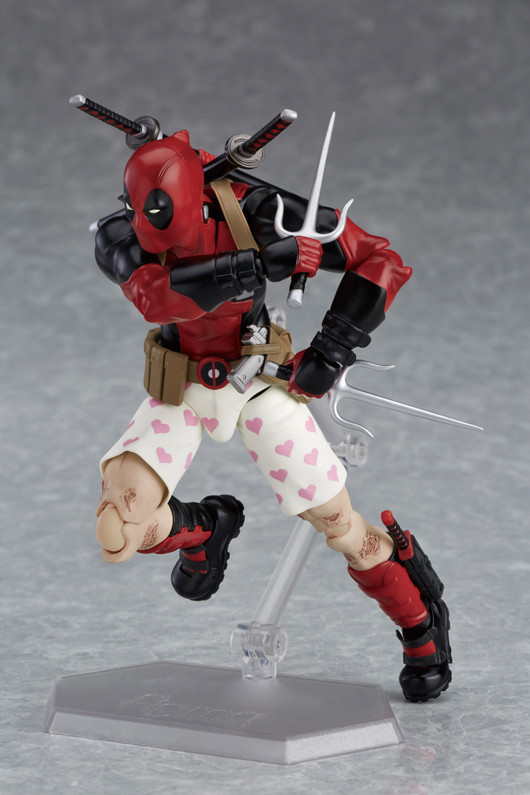 No, seriously: DX Deadpool comes with a swap-out pair of hearts boxers. If this was any other superhero, dressing them up in  boxer shorts would probably seem pretty ridiculously. With Wade Wilson, I don't even bat an eye. What a guy!
While GSC hasn't confirmed pricing yet for either version, if the Zelda DX releases are any indication, the DX Deadpool should retail for about $15 more than the standard version. The DX Ver. is only available from three stores overseas (Amiami, the Good Smile Company Shop and Amazon Japan), but I'd be very surprised if that version isn't also released here in the U.S. in some form.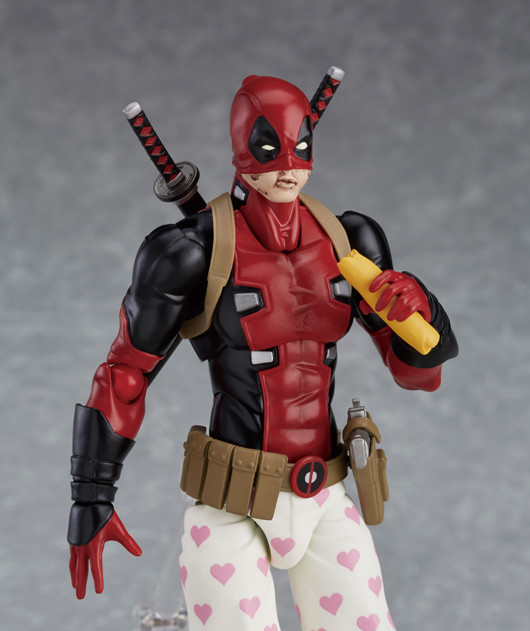 The 6″ Deadpool Figma figure regular version is now up for order in the United States, and is expected to be released in late 2017. I'll update this post once the Good Smile Company confirms the release details for the DX version of the figure for the United States (if it is getting a release in the U.S. at all).
Now that Max Factory finally has it ready to show off, how do you like their Deadpool, Marvel collectors? Do you think this version compares favorably or not to the Hasbro Marvel Legends, Mezco ONE:12 Collective and Revoltech versions that have all been put up for sale over the last year? Which will be the reigning Wade Wilson on your shelf?