Earlier this week, Mezco Toyz threw Marvel collectors a curveball when they announced and opened up pre-orders for not one, not two, but three Previews Exclusive ONE:12 Collective Marvel figures! While the trio of PX exclusive figures went up for order earlier this week with only low-res photos available, Mezco has now unleashed glorious glam shots of Black Costume Spider-Man, X-Force Deadpool and X-Force Wolverine!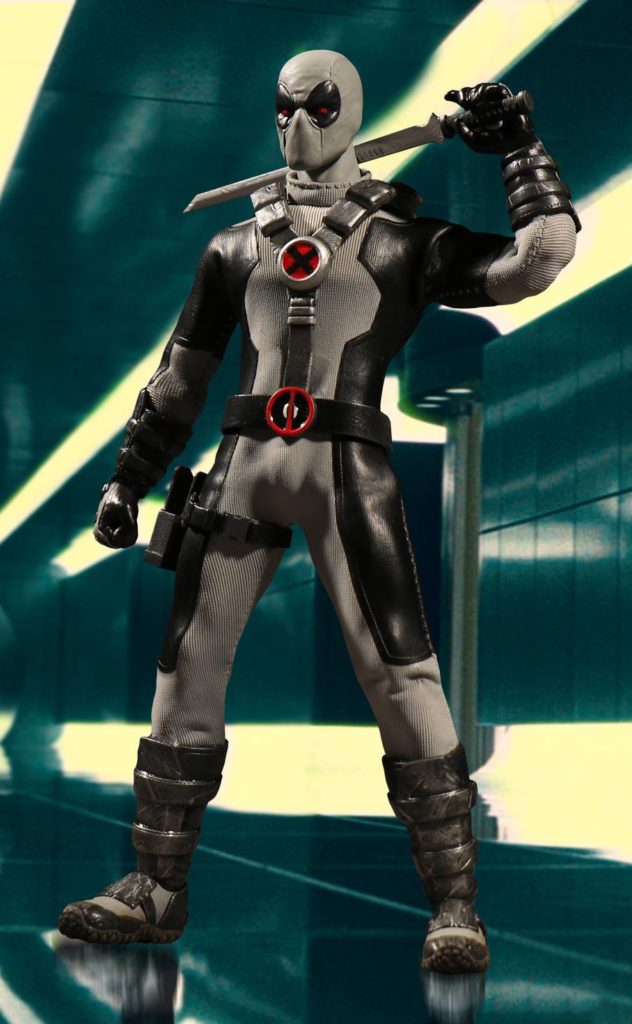 While they're at a
much
higher price-point than Marvel Legends (about 400% higher), the Hot Toys-quality ONE:12 Collective 6″ figures have already began building a humongous following of collectors.
So even though only a handful of new characters will be released in 2017, fans of Marvel ONE:12 Collective have been very vocally receptive to these new Previews Exclusive variants, which are apparently being welcomed with open arms!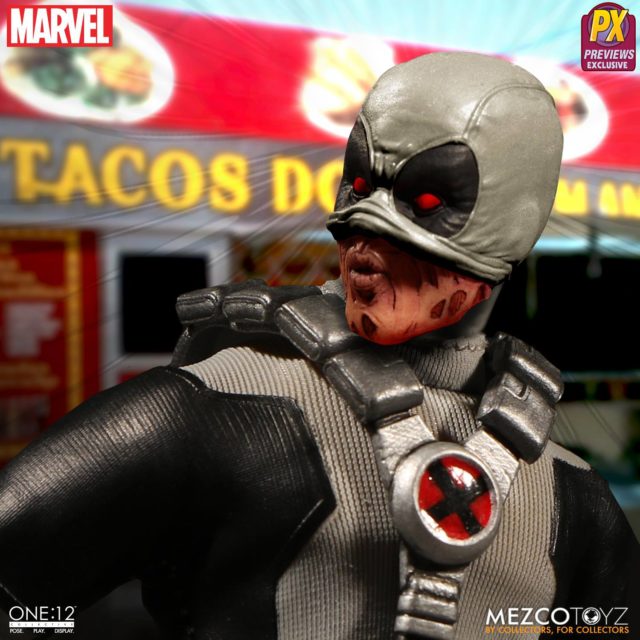 The figure I'm seeing the most hype and excitement for from this trio is the ONE:12 Collective X-Force Deadpool. Along with a variety of new guns (including a rocket launcher!), X-Force Deadpool also has two alternate heads–including one with an awesome half-pulled up mask!
With the huge variety of extras coming with the exclusive Deadpool X-Force variant, this figure really does feel like a steal.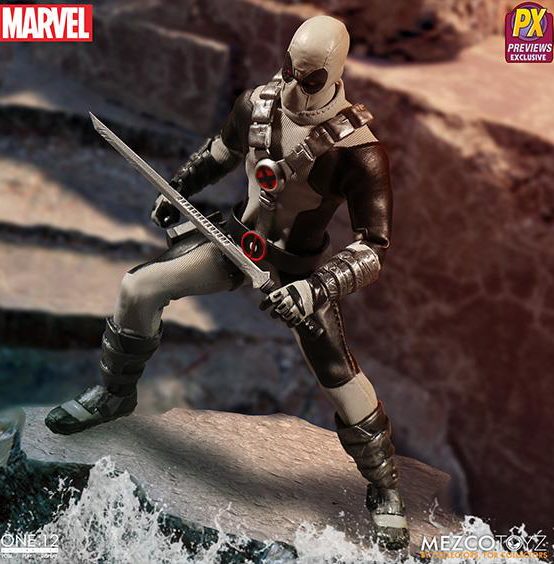 While the red costume is infinitely more recognizable and iconic, the more "mature" Uncanny X-Force costume is a popular iteration–and I think the soft goods actually look better in grey than in signature red.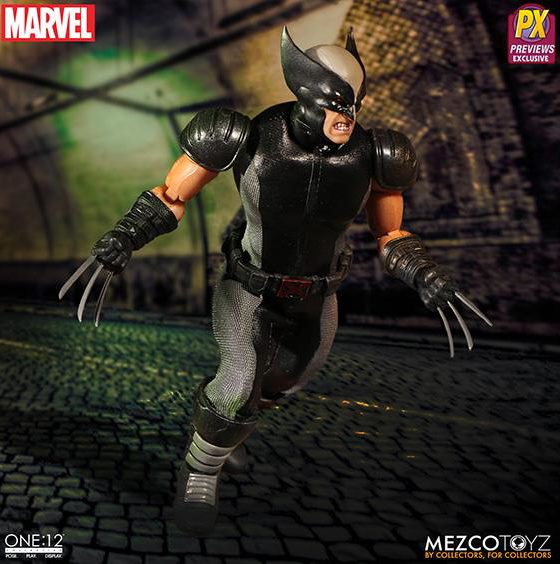 One figure that I think unquestionably looks better in his X-Force uniform than his mass release regular costume, though, is ONE:12 Collective X-Force Wolverine!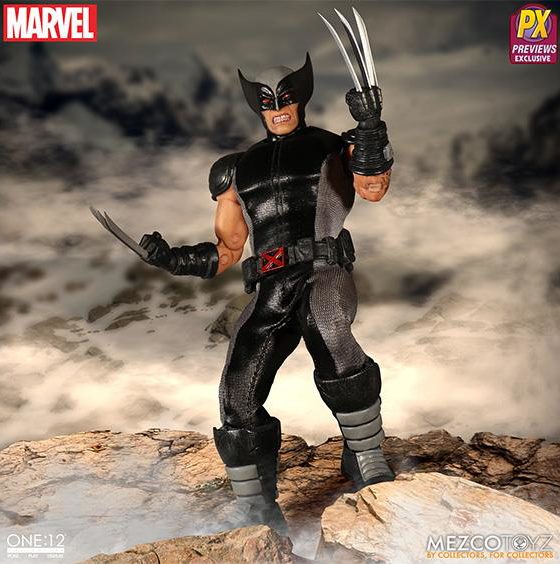 Although Logan hasn't appeared in this costume for a while due to being, well… dead… the black and silver X-Force costume is still quite popular. (Although if we don't still see a Yellow Tiger Stripe Wolverine released as an exclusive later this year, I will be absolutely astonished.)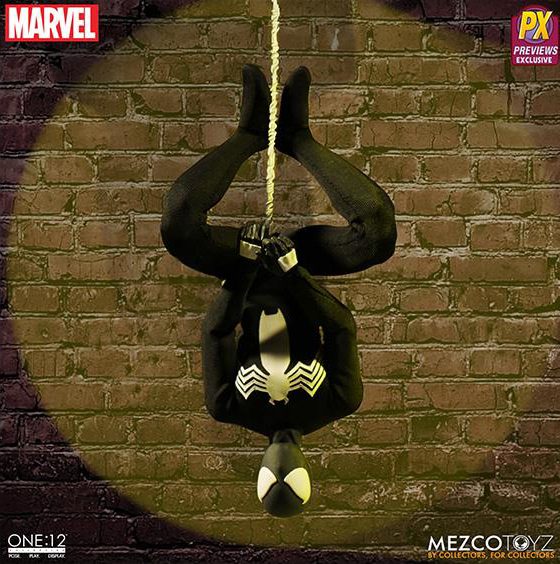 Last–and least liked by most collectors on the Internet–is ONE:12 Collective Black Suit Spider-Man (since the costume is made of cloth and not organic oozy matter, I don't much like calling him Symbiote Spider-Man).
This is actually the figure in this series that I'm most interested in, as Black Suit Spider-Man is a collecting focus of mine. Some collectors think this is a bit of a dud, as the costume is really simplistic, but that's one of the primary things I love about this Spidey costume. To me, it looks great.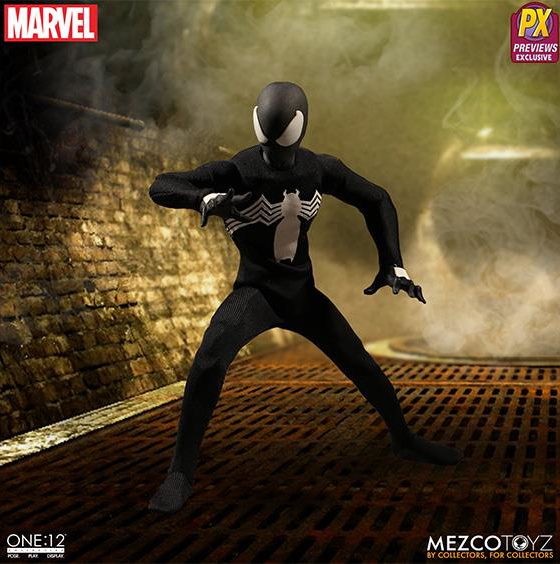 There's no alternate heads included with this Spidey (which is a real shame–I'd love a Peter Parker head in this line), but you do get right interchangeable hands and four web lines, including a poseable webline.
It's a pretty basic figure, but I really love this Spidey–he just may be my favorite Mezco Marvel figure so far, and I think he's going to look phenomenal on display.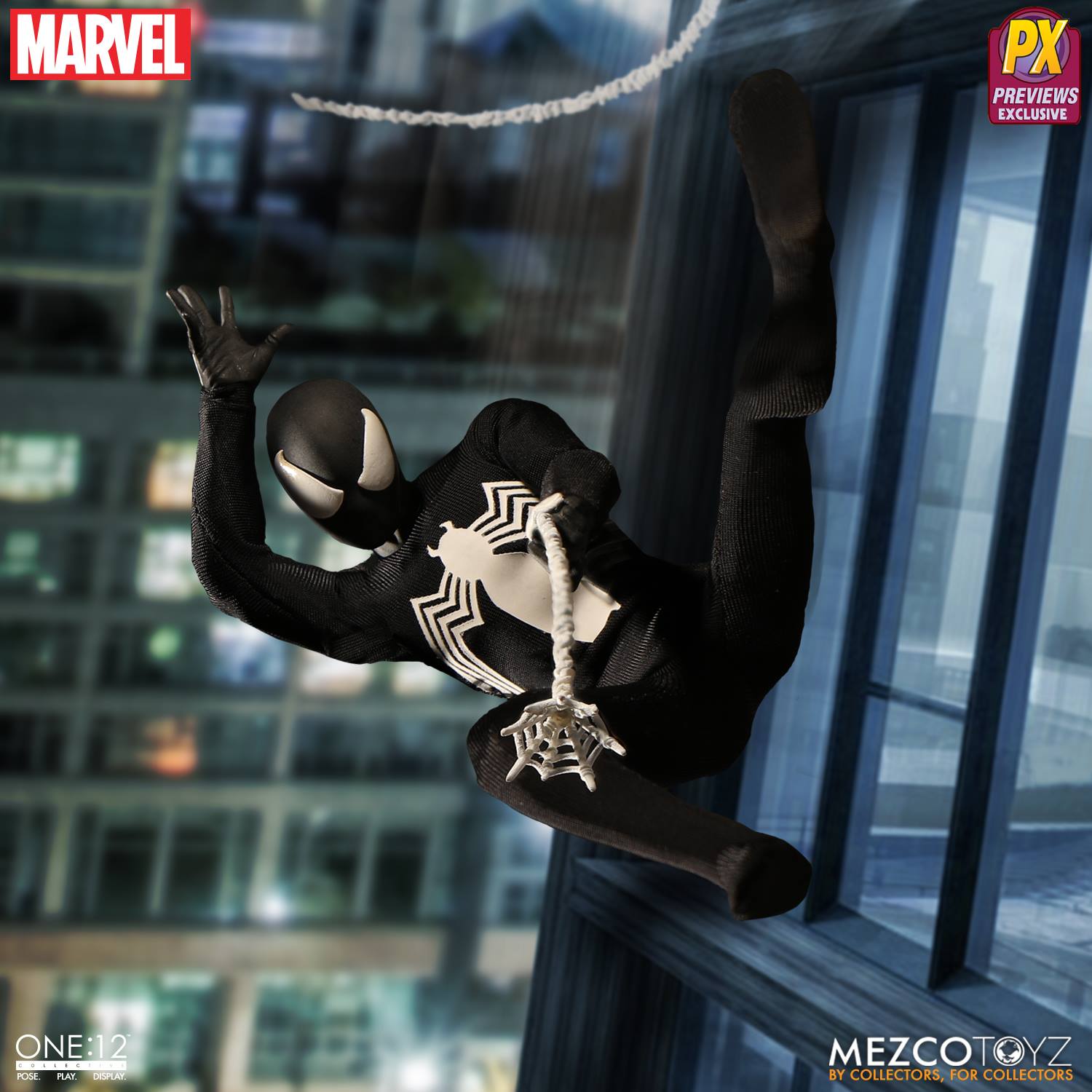 Online pre-orders for all three of the ONE:12 Collective exclusives are available for a limited time, and after the Deluxe Punisher sold out during pre-orders and his price exploded on the aftermarket, I'd advise locking in a pre-order early if you know you want any of these. EE and WoozyMoo are both offering free shipping, which is the best offer around for these variants.
Now that you've seen the hi-res official photos, what do you think of the three specialty store exclusives, Marvel collectors? Will you be ordering any of these variants instead of (or in addition to) the regular versions, or are these secondary costumes just not iconic enough to catch your attention?