Although the kid-friendly, low-priced Marvel Titan Hero Series 12″ figures are not exactly the cup of tea of most adult collectors, the line has continued to prove successful, and Hasbro has really upped their game with recent electronic releases in the series (including last year's awesome Civil War Falcon). And this year, it's Star-Lord's turn to get the deluxe electronic treatment! The 12″ Music Mix Star-Lord figure is now available for about 20 bucks shipped–and while he won't be for everyone, I think he's pretty rockin' (for a Titan Hero)…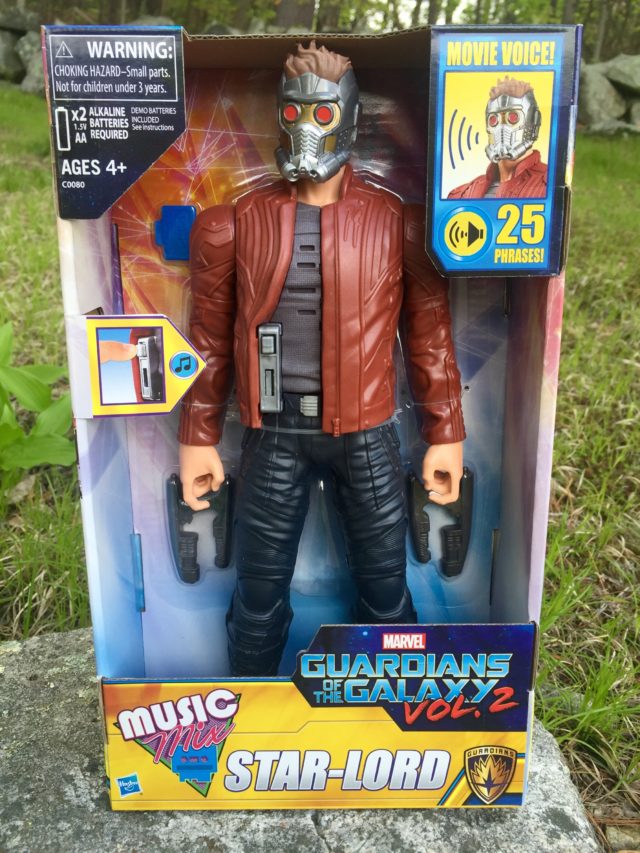 Full disclosure:
If you are hardcore into super-articulated action figures like Marvel Legends, this 12″ Star-Lord figure is probably (okay, definitely) not for you. You can stop reading now.
But for those of us who are a bit more broad in our collecting–or for those whose kids are also into toys–I think this Music Mix Star-Lord is worth a look.
The open-box packaging is bright, cheerful and totally crazy in a psychedelic way. It's like the exact opposite of the Star Wars Black Series packaging, which seems pretty fitting for a franchise as kooky as GOTG.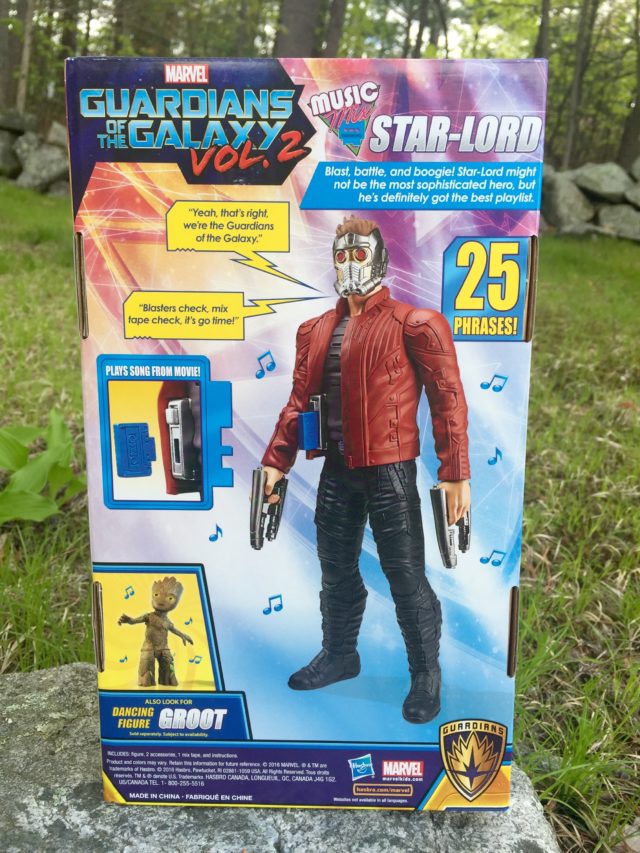 The back of the box does a terrific job of showing off the various features of the figure, letting collectors, kids and parents clearly know the gimmicks of the Music Mix Star-Lord action figure.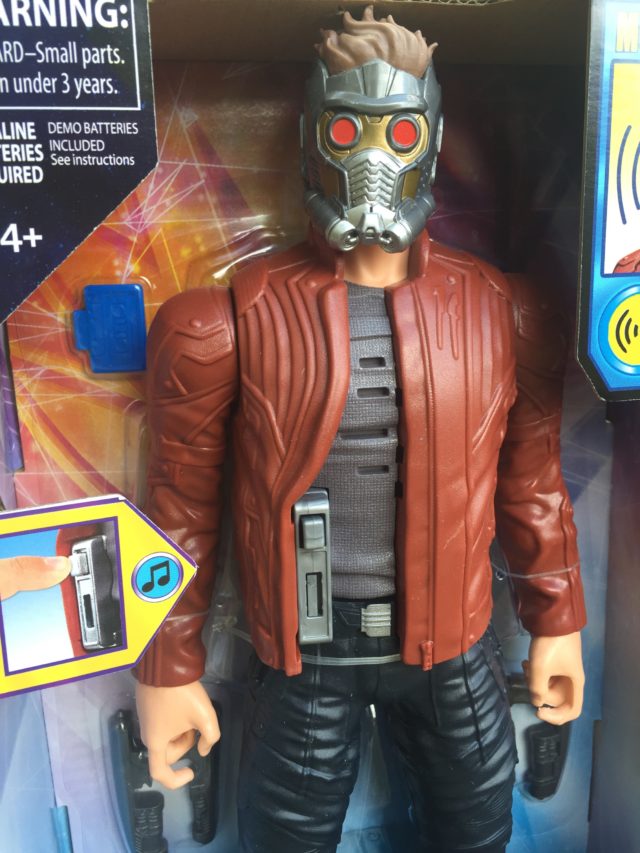 Because the box is open and doesn't have a plastic window at all, you can reach right in to activate the voice and music effects. The speaker volume is extremely loud, crisp and clear.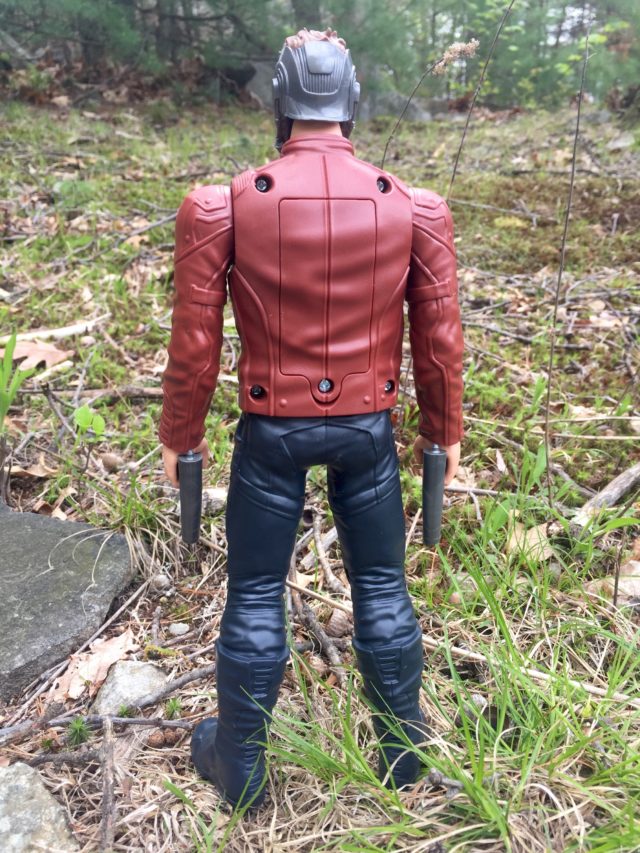 There's about two dozen different sayings, with my favorite being "The raccoon and tree are with me." If the voice clips are said by a voice actor and not Chris Pratt himself, I couldn't tell the difference.
Because I love you guys, I briefly got past my pure hatred of Internet videos (I can't stand watching them, and have even less patience for making them) to tape a few seconds of Star-Lord's dialogue so you could hear how well the speakers work on this figure. As soon as I can remember how to use the Youtube, I'll load that up and add it to the review.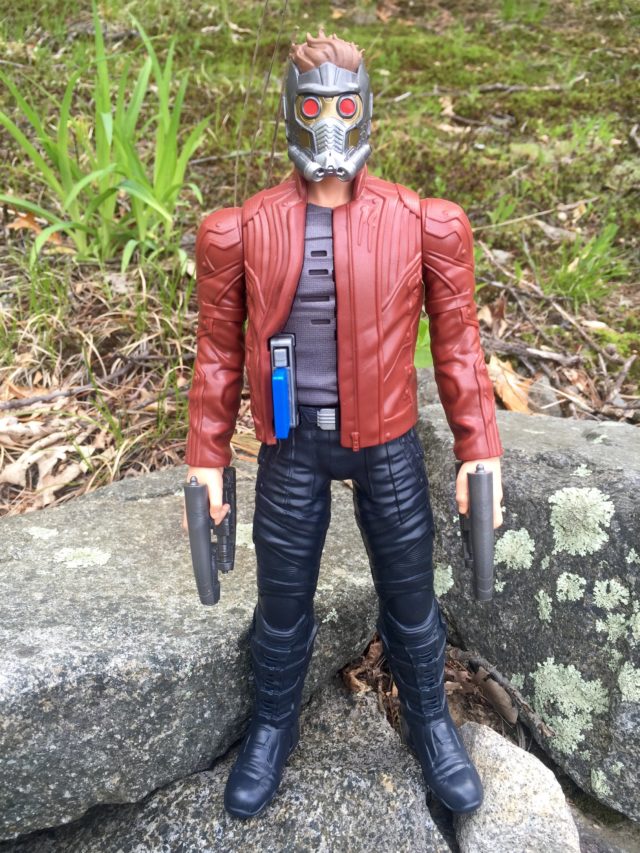 You can also insert an unpainted blue plastic "cassette tape" into Peter Quill's walkman (sort of) to play music. The music clips are probably the most disappointing part of the figure for me, as I really wanted more actual songs from Guardians of the Galaxy Vol. 2, even if this was like an impossibility for licensing reasons.
Two of the songs just sound like plain ol' elevator music to me, although the third and final song–"Come A Little Bit Closer" (by Jay & the Americans)–makes me smile when it starts playing.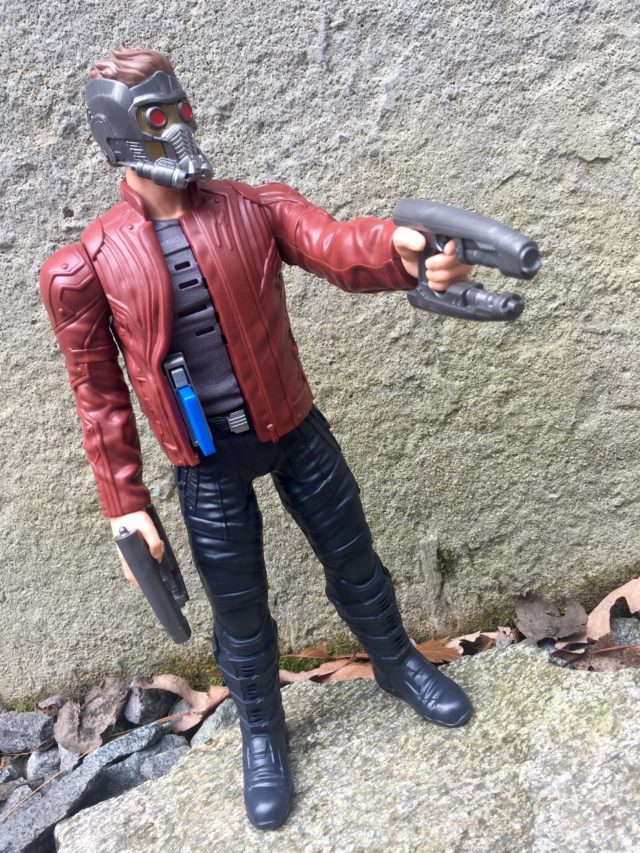 Along with the blue cassette tape, Star-Lord also comes with his pair of Quad Blasters guns. They're unpainted, but they fit into his pliable hands nicely with a finger over the trigger of each. A lot of Titan Heroes figures come with nothing, so it's nice that this deluxe figure gets three accessories.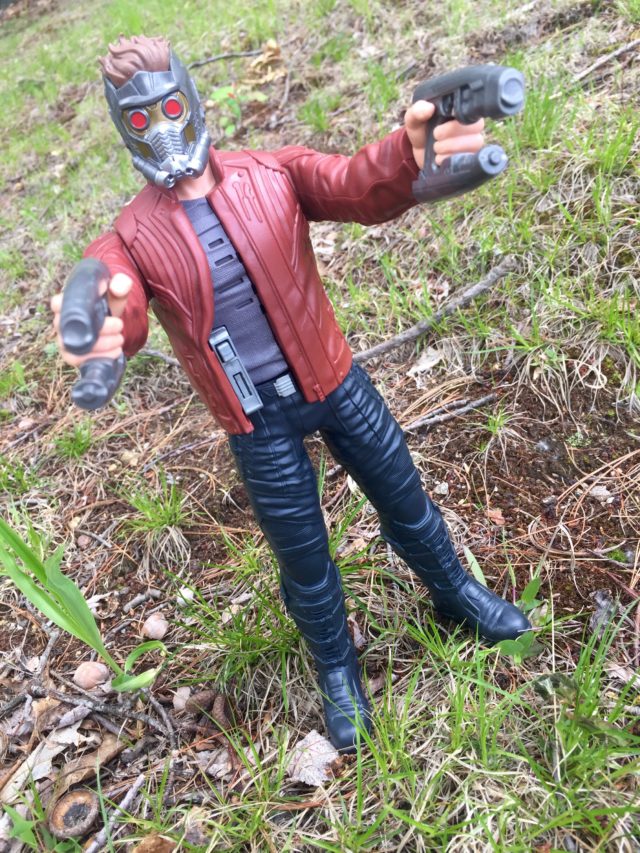 The figure itself is quite decent for the price. While there's only five points of articulation (ball-jointed head and swivel shoulders/wrists)–which is the deal breaker for many collectors–I think the sculpting is well-done and a humongous leap in detailing over the basic $10 Titan Hero figures.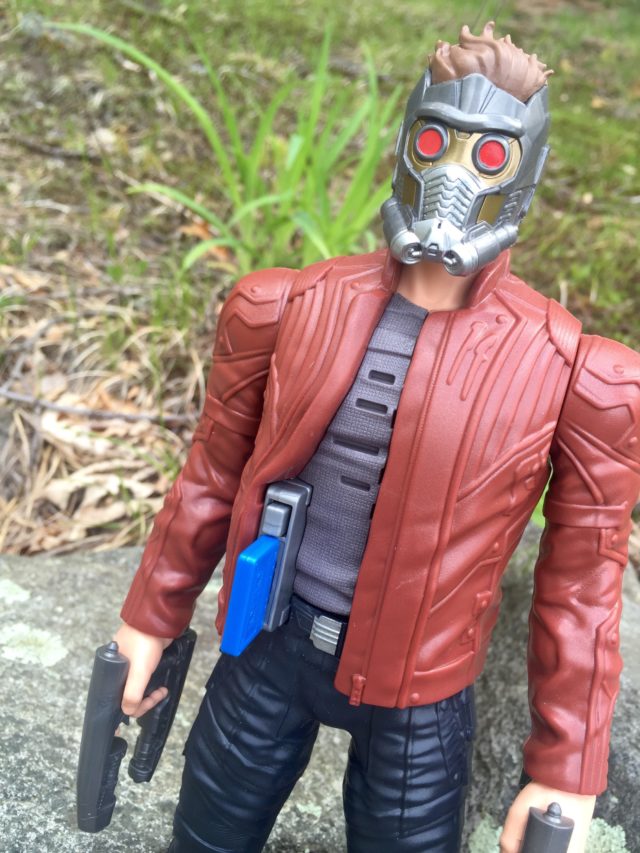 The speakers for the figure are printed on Star-Lord's grey shirt, which I actually think is pretty clever–they just sort of blend in as either rips in the shirt or the black text Quill has on his T-Shirt in the movie.
And unlike some of the more fragile 6″ Marvel Legends that have come out this year, this Star-Lord Music Mix figure is built like a tank. You could drop this figure straight on the concrete (in fact, I tripped and did drop him on the concrete) and he'll be no worse for wear. No one can say this toy isn't durable, that's for sure!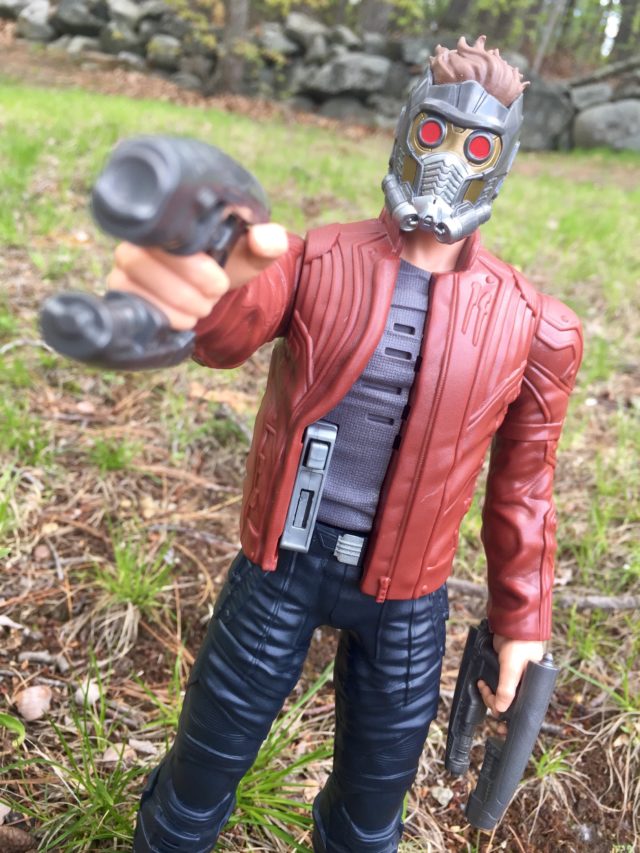 Overall: I'm not going to assign a grade to this figure, as I don't want anyone cross-comparing it grade wise to collector figure reviews, but I will say this: this is a fun $20 toy. Guardians of the Galaxy is is one of my "things", and I get a real kick out of the novelty of a big, low-priced Star-Lord action figure with Chris Pratt's voice coming out of it.
You won't get a lot of cool poses out of this figure (at all), the accessories have zero paint deco, and there's not even an unmasked head–but even so, I think this is a fun toy that I like having on my desk, and I think kids and big Guardians of the Galaxy fans will dig as a simple toy to play with. I wouldn't want a ton of figures of this style in my collection, but as a one-off, I think this Star-Lord is novel and enjoyable.