Ever since Funko began their ongoing series of "Rides" sets including a vinyl figure and vehicle, it's seemed like releasing the most obvious rider and vehicle set in the entire Marvel Universe was an inevitability. And now, the Spirit of Vengeance and his bike have become a reality–although not in the POP Vinyls form that many were expecting! The Funko Dorbz Ghost Rider & Motorcycle Ridez set is now up for order!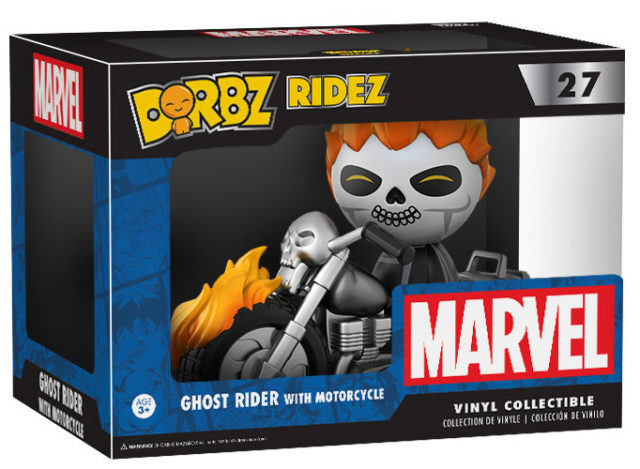 Strange but true: although it's taken several years for Funko to produce their first-ever Ghost Rider flaming motorcycle, there was actually a Dorbz Ghost Rider figure released in the inaugural series of Marvel Dorbz way back in 2015.
At the time, it seemed a little strange that Funko chose to release that Ghost Rider Dorbz figure only in his classic blue costume and a metallic variant of the blue costume, but I guess we know why they were holding out on the iconic black costume now–for the eventual release of this must-have Dorbz Ridez Ghost Rider set!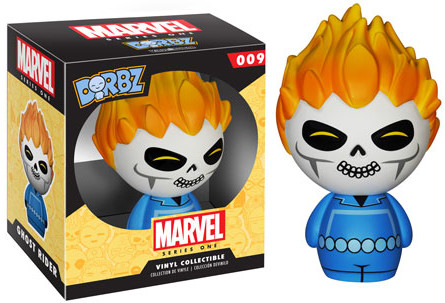 Black leather jacket Ghost Rider is "my" Ghost Rider, so even though I have the original blue costume versions of this figure, I've got absolutely no compunctions about buying this figure again. This is easily the cutest Marvel Dorbz Ridez set we've seen yet. Not that there's been many…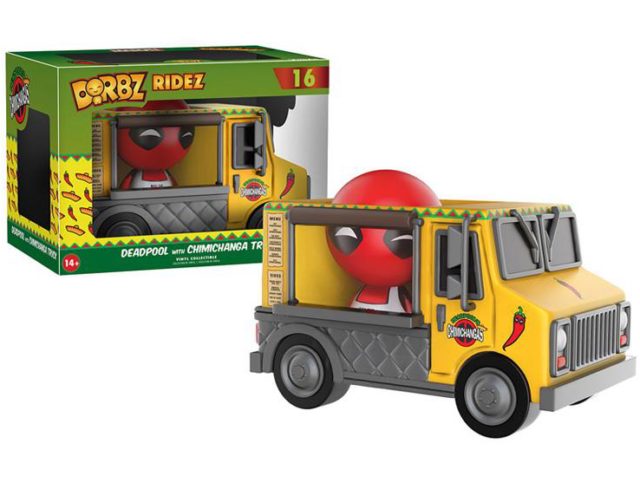 While this is technically #27 in the numbering sequence of the Dorbz Ridez series, this is only the third Marvel vehicle released (crazy, right?!). The Walmart Exclusive Dorbz Blackbird with Beast and Deadpool Chimichanga Truck Rides (#17 and #16, respectively), were just released in stores this winter. We've yet to see the X-Men Blackbird Jet announced for released in POP form as well, so there's no guarantee that inclusion in this line means that a POP Rides is also forthcoming.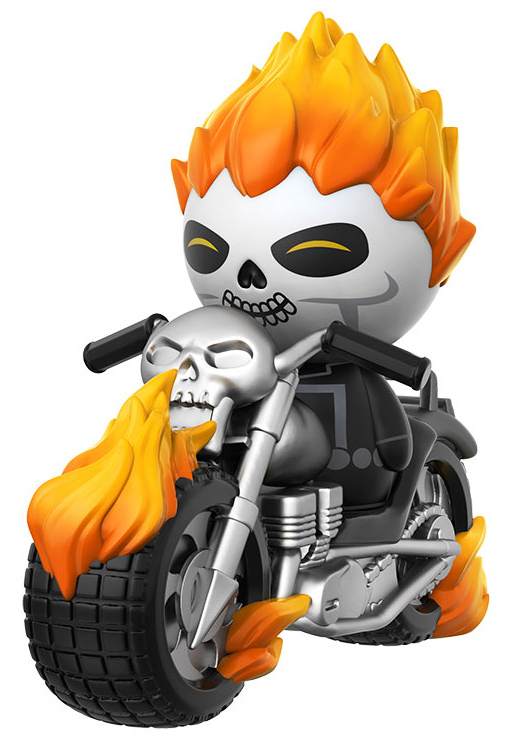 Personally, I'm thrilled to see Ghost Rider taking his rightful place in a line that he's better-suited for than any other Marvel character. Here's to hoping that this sells like Hellfire hotcakes and we see an Agents of SHIELD Ghost Rider with Flaming Car sooner than later!
As these sets are smaller than their POP Vinyls Rides counterparts, this Dorbz Ridez set will carry the usual suggest retail price point of $19.99. Rarely do I see much of a price-drop on these combos, so this is an instance where I don't mind pre-ordering day one (which is today!).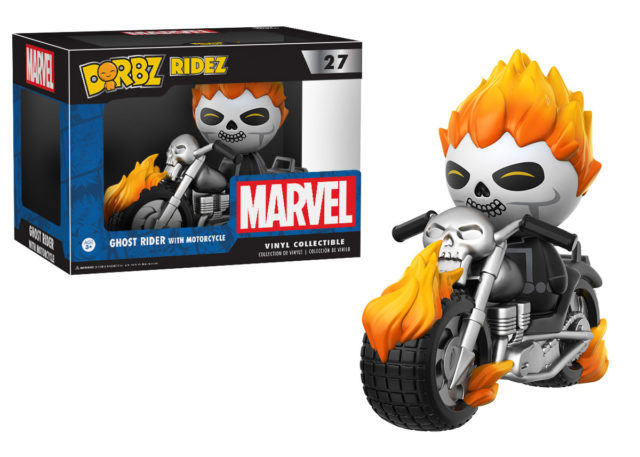 The Funko Ghost Rider Motorcycle Dorbz Ridez set is now available for order, and is scheduled to be released in April 2017 (that's next month!). There's no confirmed word on when–or if–we'll see a POP Ghost Rider motorcycle, but that definitely seems like the biggest no-brainer release that needs to be done, so I'm betting we'll see it within the next year.
What do you think of the Ghost Rider Funko Dorbz Ridez set, Marvel collectors? For those of you who are long-time collectors, are you going to buy a new Ghost Rider figure to get this motorcycle? And for those who usually avoid the most a-DORBZ-able line around, will you make an exception for this motorcycle?