If there was one figure that I was all but certain I'd be awarding an 'A+' to as soon as it was revealed at San Diego Comic-Con 2016 last year, it's the 2017 Marvel Legends Jim Lee Cyclops 6″ figure. And predictably, the one-per-case Cyclops figure is selling for crazy amounts online after arriving in limited quantities last month. But is the Cyclops Marvel Legends X-Men Warlock Series figure really all it's cracked up to be? Well… not exactly…
The Right:
Although the classic "skullcap" Cyclops costume will always be the iconic version to many longtime fans, thanks to the popularity of the 90's X-Men animated series and the Capcom video games, the X-Men Blue Jim Lee Cyclops has become
the
most recognizable, iconic costume for the character.
This costume has been captured a few times over the years in toy form, but never in an official 6″ Marvel Legends series until this year. Is this the definitive Cyclops figure that X-Men fans have been waiting for…?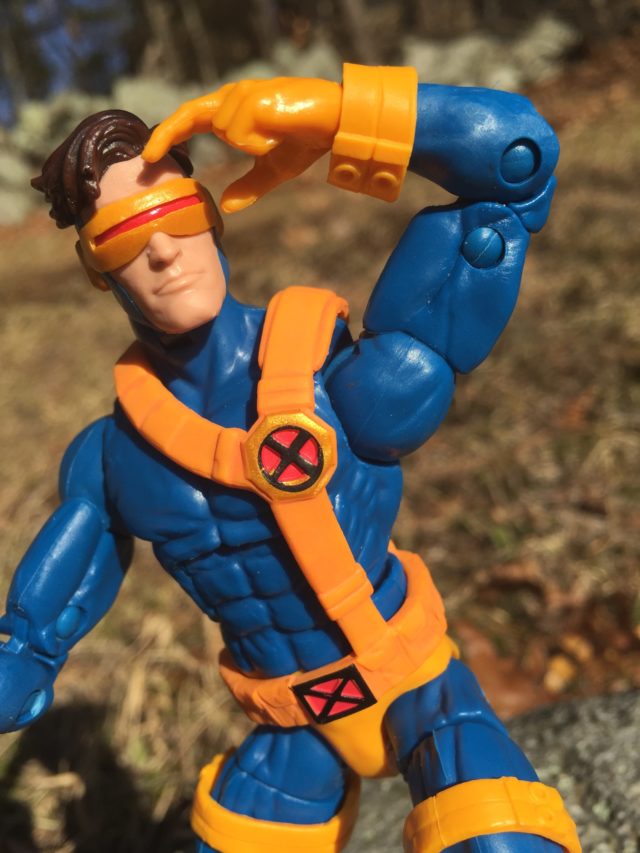 From a head sculpt perspective, I would say "absolutely". The Scott a Summers head on this figure is downright perfect. The wavy brown hair and no-nonsense, slight frowning expression are exactly how I picture this version of Cyclops in my mind.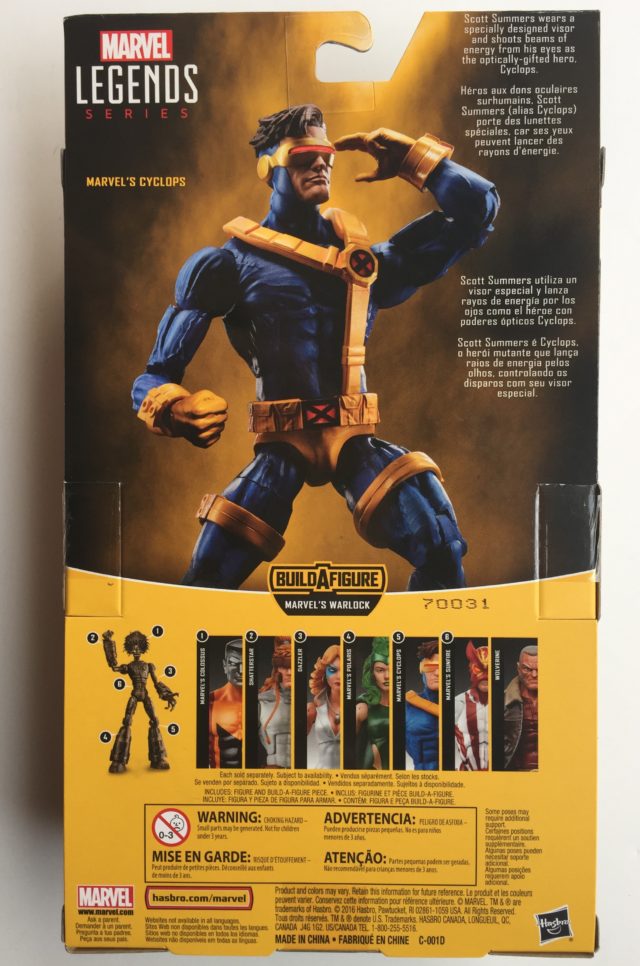 The proportions of the visor and the metallic gold paint used on it look dead-on, as does the vivid red of Cyclops's "eye". I've got no problem calling this the best Cyclops head sculpt ever. Nice work, Hasbro!
The paint apps on this figure are nice and clean, with zero bleed and an ideal shade of blue plastic used for the blue parts of the body.
Articulation-wise, the Warlock Series Cyclops is also golden. Every point of articulation we've come to expect is here: hinged ankles with rockers, double-hinge knees and elbows, swivel waist/boots/thighs/biceps, ball hips, ball-hinge shoulders/wrists/head and torso ab crunch. If you so choose, this ML Cyclops can "ninja" with the best of them.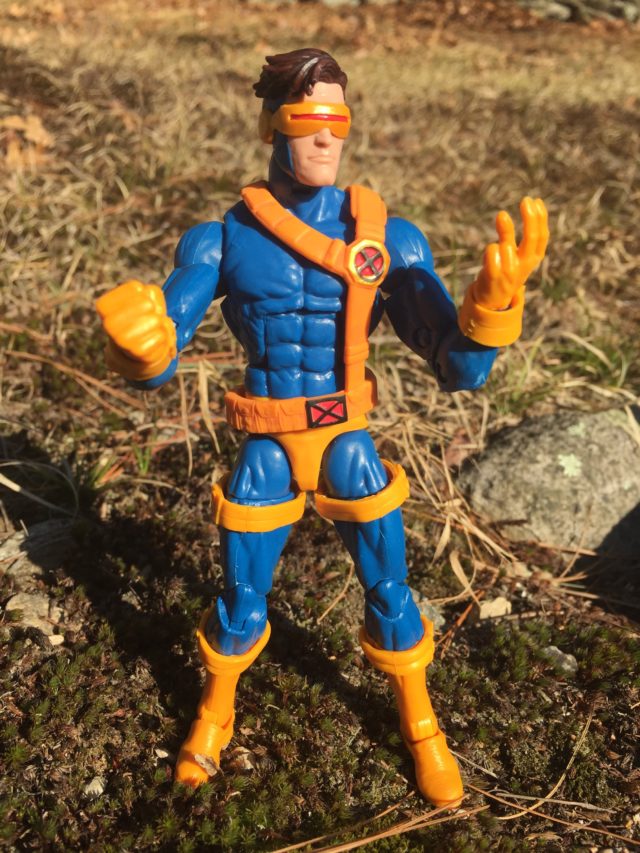 The Marvel Legends 2017 Cyclops has one hand curled into a fist for punching out Magneto, and the other hand positioned to aim his optic blasts or to gesture his X-Men team into battle. For default hands, this is exactly what I'd want.
So far, so good. So what could I possibly have to complain about in…
The Wrong:
While there's a lot that I do like about this Jim Lee Cyclops figure, my love for it is really hindered by some frustrating issues with the final production version of the toy that were avoidable and
really
should have been caught during development and quality-control.
By far the most aggravating thing about the 6″ Cyclops action figure is that his leg bands and boot cuffs are add-on pieces and not part of the mold. This didn't have to be a problem–Hasbro has done plenty of tight-fitting, well-sized add-on costume pieces in the past. Unfortunately, these ain't them.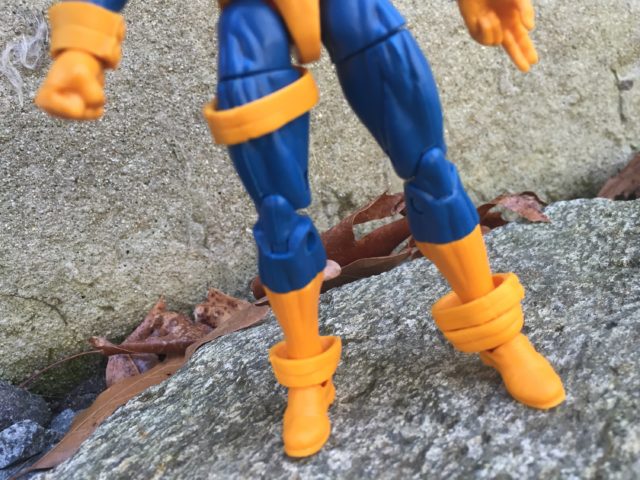 Unless you glue or otherwise adhere the bands and cuffs into place, they're simply not tight enough to lock into place and will flop all over the place when trying to pose or play with this Jim Lee Cyclops Marvel Legends figure. It's downright maddening.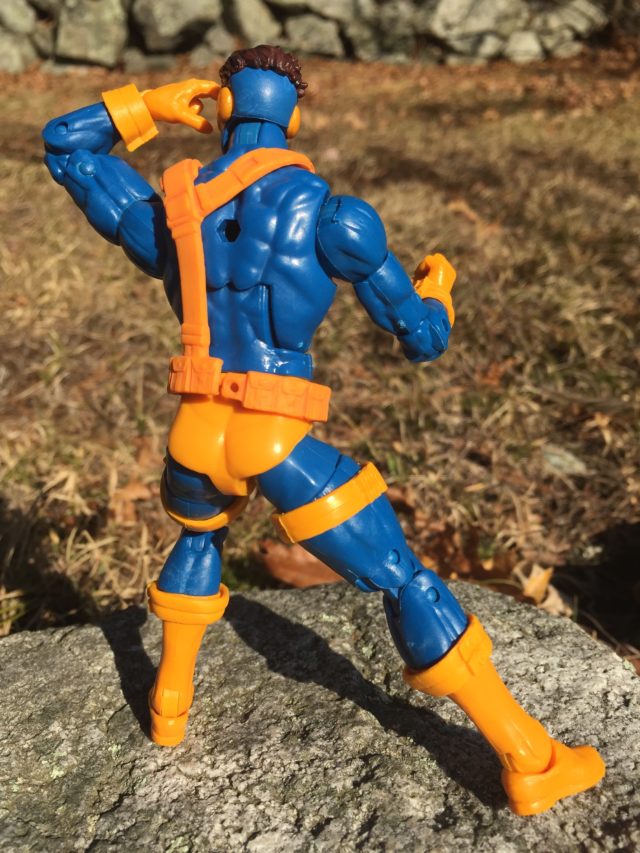 Meanwhile, his upper body belt and straps add-on piece is a little too tight–the only way I can get the back to snap together is by pulling the belt diagonally. If I try to straight the belt to even it out, the snap busts open every time. AUGH!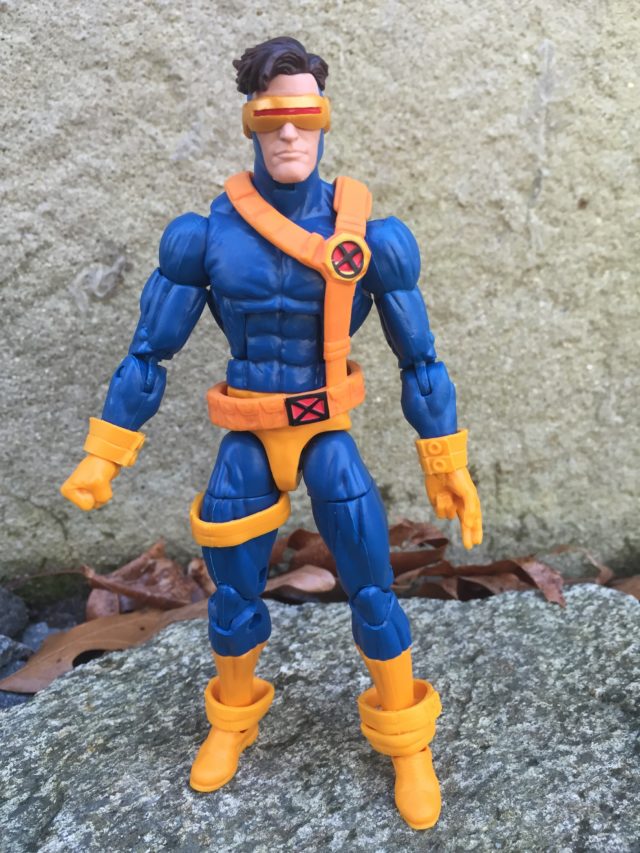 There's another problem with the upper body belt and straps, though–they're the wrong color! For whatever reason, this one add-on piece is very clearly predominantly orange, whereas the rest of the yellow on Cyclops' costume is, well… yellow! I don't know what happened here, but it's pretty jarring that all the "yellow" only on Cyclops' upper-body is a very different and not-yellow color.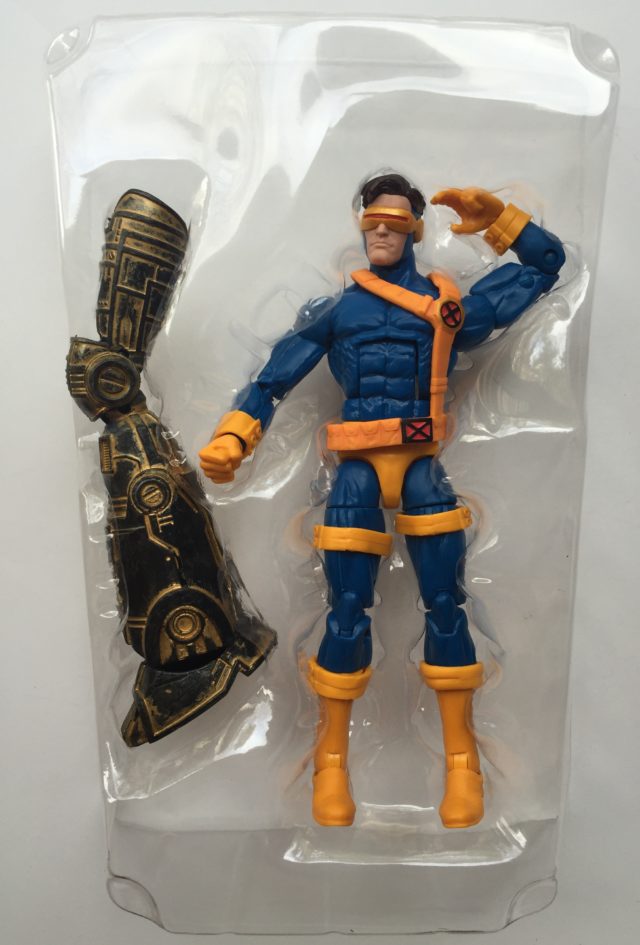 In addition, I'd be remiss if I didn't complain that Cyclops gets a whopping zero accessories other than a Warlock Build-A-Figure leg. For a $20 figure whose only new tooling is a head and some add-on costume pieces that are sized wrong, I think an alternate non-"aiming" left hand could have probably been costed in.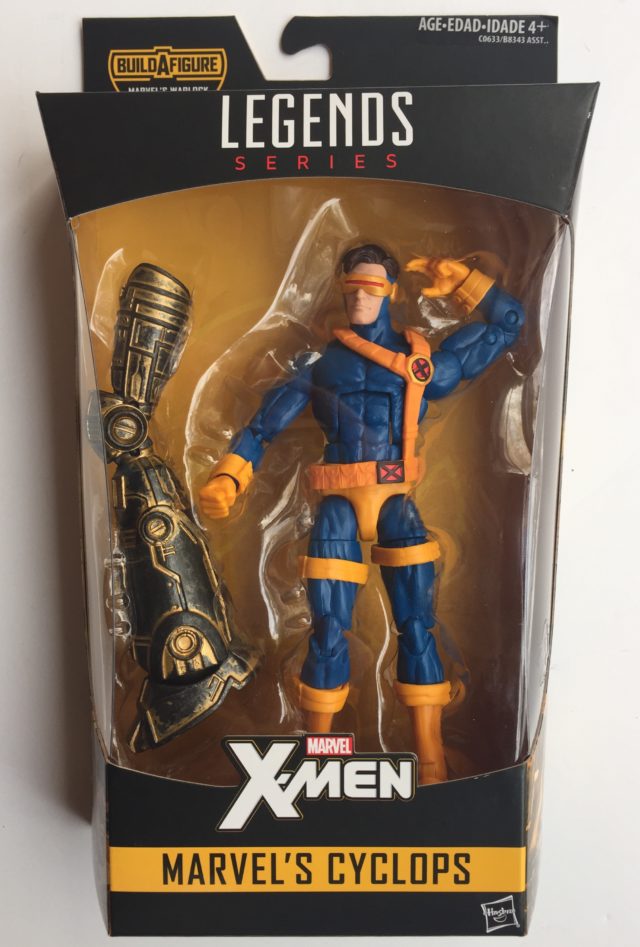 Overall: I love that Hasbro gave us a brand new 90's Cyclops Marvel Legends figure this year, and I think that the head sculpt on this figure is phenomenal. Unfortunately, the lack of any accessories, loose boot cuffs and leg bands, and too tight/wrong-colored upper body straps really leaves a bad taste in my mouth.
This Marvel Legends Cyclops is a nice figure to look at once you've got him set up the way you want, but the off color will still be an issue and trying to pose him without knocking the add-on bits all over the place is just no fun. I definitely don't hate this Cyclops figure, but I unfortunately don't like him as much as I want to either.
GRADE: B-