When the Funko POP Guardians of the Galaxy Vol. 2 Vinyls lineup was announced, there was one humongous omission that fans were left crying out for. The breakout star of the movie, Yondu (AKA… Mary Poppins). Well, it's taken close to a year since the announcement of the GOTG Vol. 2 POPs, but POP Yondu with Mohawk is finally on the way… as a convention exclusive! And Yondu's not the only Marvel exclusive the King of Exclusives has coming our way…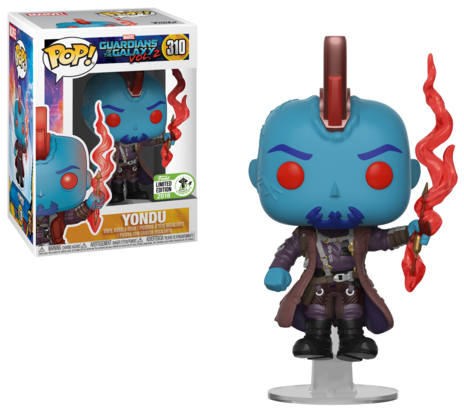 It's been a while since I talked about new Funko Marvel Exclusives, but don't worry—between store exclusives, the upcoming convention season, and several massive MCU movies, Funko most assuredly has
plenty
of exclusive goodness coming our way in 2018.
Four such figures were revealed this week, including three for Emerald City Comic Con and one for Box Lunch stores.
The most "important" of the Exclusives is beyond a doubt the immensely-demanded Mohawk Yondu POP Vinyl. He's been capturing floating down to Earth as only Yondu and Mary Poppins can. This is going to be a hot limited release POP, no doubt about it.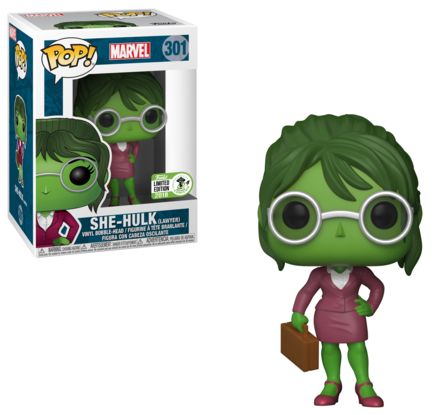 Secondly, we get a true surprise release: a Lawyer She-Hulk POP Vinyl! We've had several She-Hulk figures and exclusives already, so I wasn't expecting to see Shulkie again. That said, seeing her in her professional attire is a true joy for this hardcore She-Hulk fan, making this as much of a "must get" for me as Yondu.
Third and last of the ECCC Exclusives is a pretty weird one: Dorbz Deadpool the Duck! We already have a POP Vinyl of this crazy mashup of Howard the Duck and Deadpool, so we might as well have a Dorbz to complete the duo, right?
This will actually be the fifth Howard the Duck vinyl figure that Funko has released, as they previously released POP Vinyls of comic-based Howard the Duck, mobile game-based Contest of Champions Howard the Duck, and the aforementioned Deadpool the Duck POP Vinyl. Howard has never gotten so much love from any toy company before!
But wait—that's not all! While Funko has yet to officially begin announcing and unveiling their Avengers Infinity War POPs, a Box Lunch Exclusive has already made itself known to the world: an unmasked Iron Spider POP Vinyl!
It's not exactly a secret that Tom Holland Spider-Man will be donning movie Iron Spider armor in Infinity War (what with there already being a Marvel Legends Iron Spider movie figure found and us seeing him unmasked as Peter in the Superbowl trailer and all), so this is about the mildest of spoilers. Unmasked Spider-Man POPs have always sold wonderfully, and I'm sure this will be another hit for them.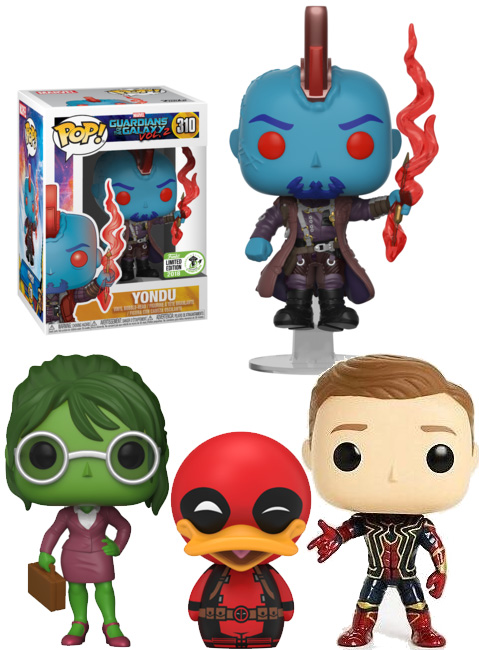 None of these figures have a set LE (limited edition) number, meaning that ECCC POPs will all be available at a partner store in March. Funko will be announcing the shared stores for their ECCC Exclusives on February 28th, so stay tuned for that announcement. Hopefully there will be ample Yondu figures to go around.
I'll also be posting coverage live from the Funko booth at New York Toy Fair 2018 to the Marvel Toy News Instagram, Facebook and Twitter pages next weekend, so be sure to follow our social media accounts for all that news as it happens.
Anything in this quartet of exclusive releases that's a must for your collection, Marvel collectors? Are you glad to see Yondu with Mohawk finally getting a release, or were you ready to let GOTG 2 go after all this time?