When Hasbro released their first Marvel Legends Thanos Build-A-Figure back in Age of Ultron Wave 2 in 2015, fans noticed that there was a little something missing. Specifically, a certain really big glove. But have no fear, Infinity Gauntlet fans! As promised at SDCC 2017, a single-packed Marvel Legends Thanos with Infinity Gauntlet is on the way as a Walmart exclusive—and the first packaged photos of it have now appeared!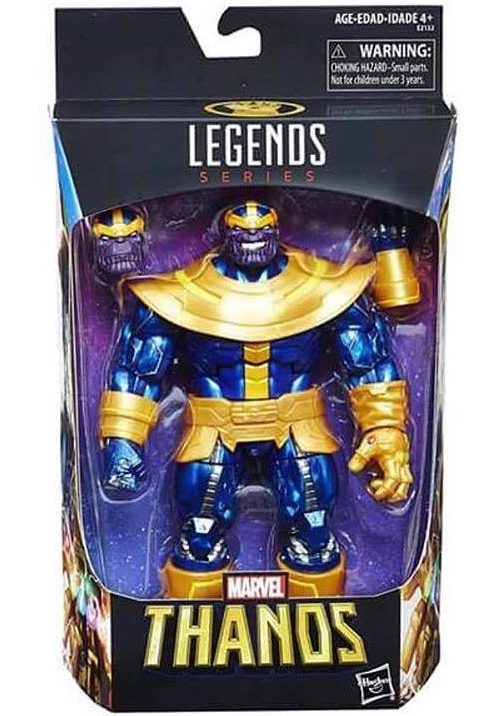 Response to
the movie Infinity War Thanos Build-A-Figure's first photos
has been… less than stellar… as a lot of fans were really hoping for a more classic-looking movie Thanos BAF.
But while a second ML Thanos movie figure is going to have to wait a while, that doesn't mean classic fans have been left high and dry: the Walmart Thanos Marvel Legends Exclusive with Infinity Gauntlet has now appeared in packaged form!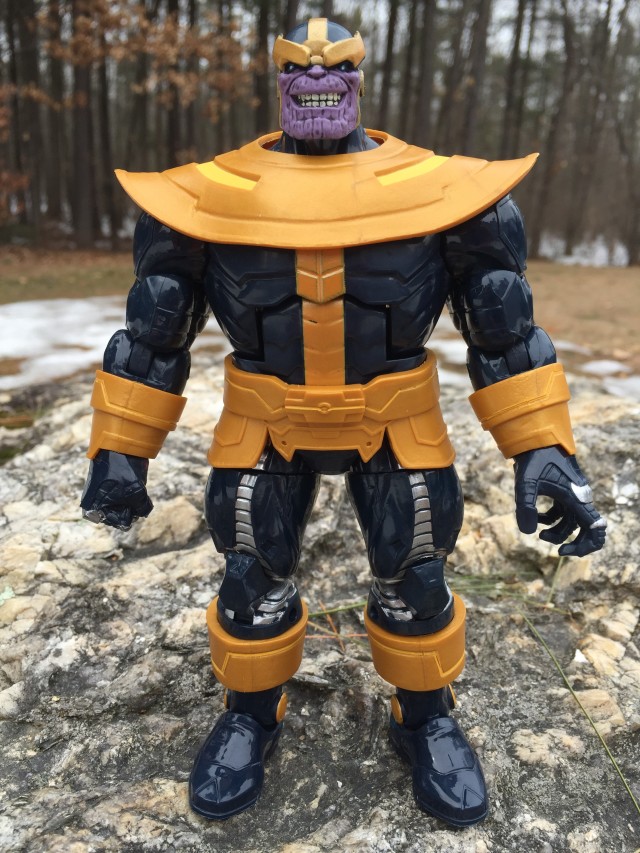 Without having the two side-by-side, it's a little difficult to say with complete certainty if Hasbro has actually changed the blue paint from the previous Build-A-Figure or not. It certainly looks like a much brighter blue to me when we've seen it displayed and in these photos, but that could just be a matter of lighting. I need to see the two side-by-side to be 100% certain–but it sure seems like a sure thing.
What's not up for debate is that this figure has two new parts: a left hand wearing the Infinity Gauntlet and a new, scowling head. I like that both the previous hand and the maniacally grinning head are included for those who favor them, although I must prefer the new head and Infinity Gauntlet hand myself.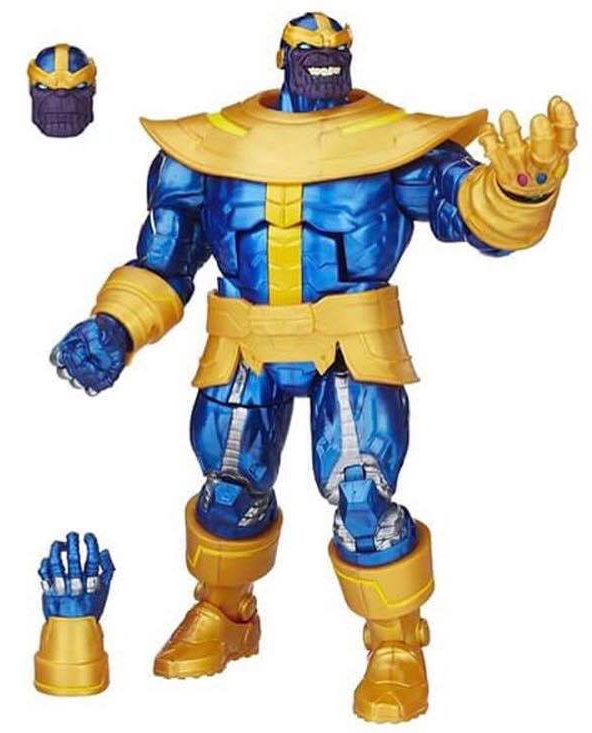 As this figure was previously only available as a Build-A-Figure–and now has a new head and a hugely-demanded new Infinity Gauntlet hand (in addition to potentially having more classic paint colors)–I foresee Walmart having zero problems selling massive quantities of this figure.This is going to be a way bigger hit for them than their "Pink Panther" Vibranium Armor Black Panther figure was.
There's no word yet on exactly when the Walmart Exclusive Marvel Legends Thanos figure will be up for order, but I'll post an update here and send out alerts via the Marvel Toy News Twitter and Facebook Pages once he's been spotted in stores and goes up for sale online. Be sure to watch our social media for instant heads-up once Thanos is available.
Having now seen the final packaged figure, what are your thoughts on this Infinity Gauntlet Thanos figure? Will you be replacing your 2015 Thanos BAF with this version, or is the previous Mad Titan good enough for you?