One announcement that caught pretty much everyone off-guard during this winter's 12 Days of Sideshow Collectibles event was the teaser of a new Black Widow Statue. That first image of Black Widow's head left many fans (including me) praying for an EX. Turns out we've been double-blessed! Not only does the regular head look somewhat better than expected, but a gorgeous long-haired head will also be included when the Sideshow Exclusive Black Widow Premium Format Figure is now up for order!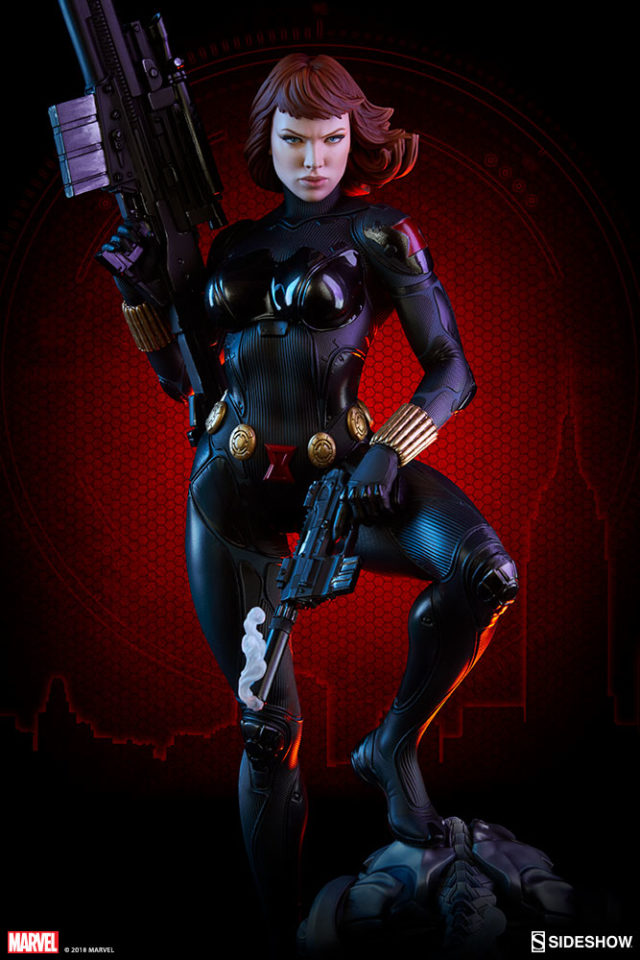 Confession time, once again: I was pretty horrified when I first saw the regular portrait for the Sideshow Collectibles Black Widow PF Statue that debuted during the 12 Days of Sideshow. At the time, I thought that Natasha head was, quite frankly, pretty bow-wow.
As such, I hadn't exactly been anticipating the pre-order for the new Premium Format Black Widow Statue. That is—until Sideshow released official photos and details on the statue, which turned around my opinion on this piece is a rather big way…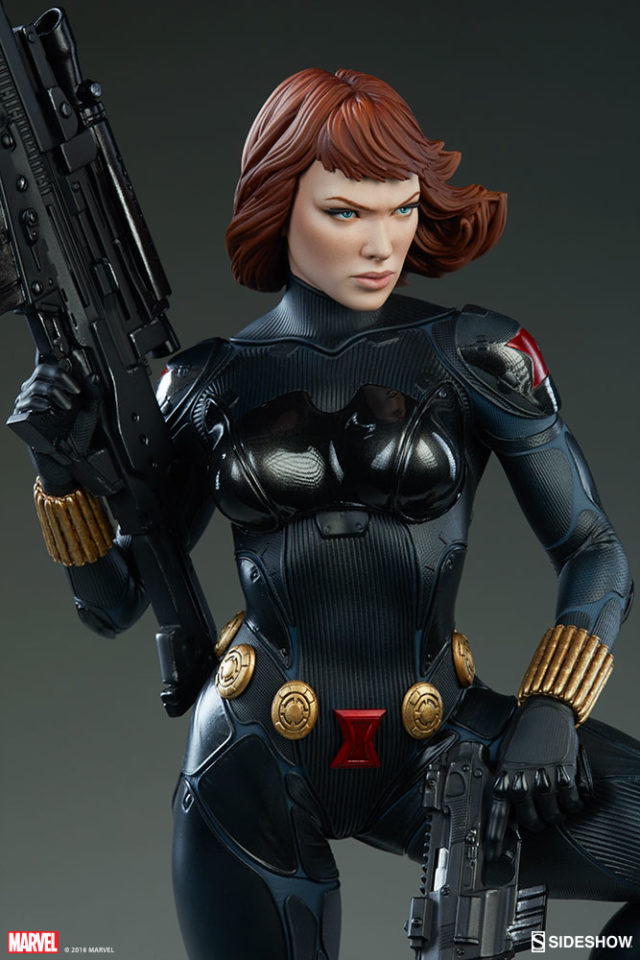 Five Major Things That Turned Me Around on the Sideshow Exclusive Black Widow Statue:
1. To my genuine surprise, from certain angles, I kind of like the regular Black Widow head. I hated the way this looked in the first photo we saw, but depending on the angle, she looks pretty fierce and hardened. I still don't love the head, but I also don't hate it.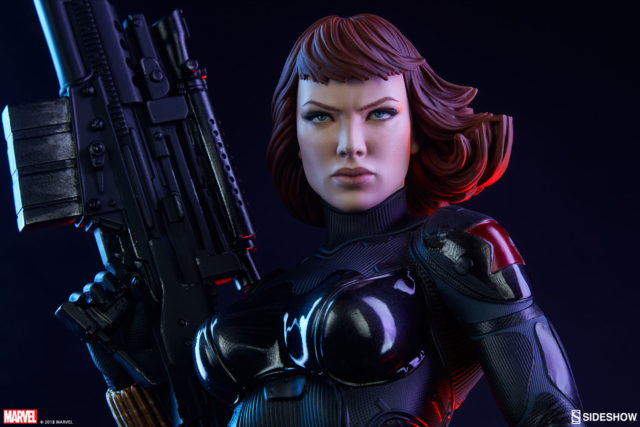 Luckily, I don't have to love this head, because…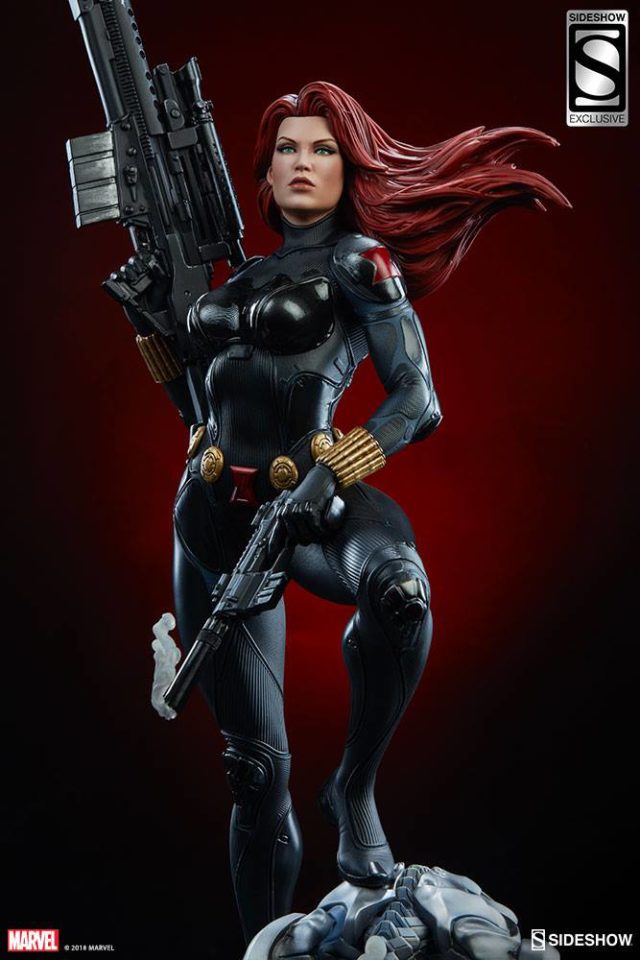 2. As many fans instantly hoped when seeing this piece for the first time, the Sideshow Black Widow EX extra is in fact an alternate head. And man, what a head!
The long-haired Black Widow exclusive head is drop-dead supermodel levels of beautiful. The flowing hair, yet-still-deadly expression combine wonderfully. What a beauty!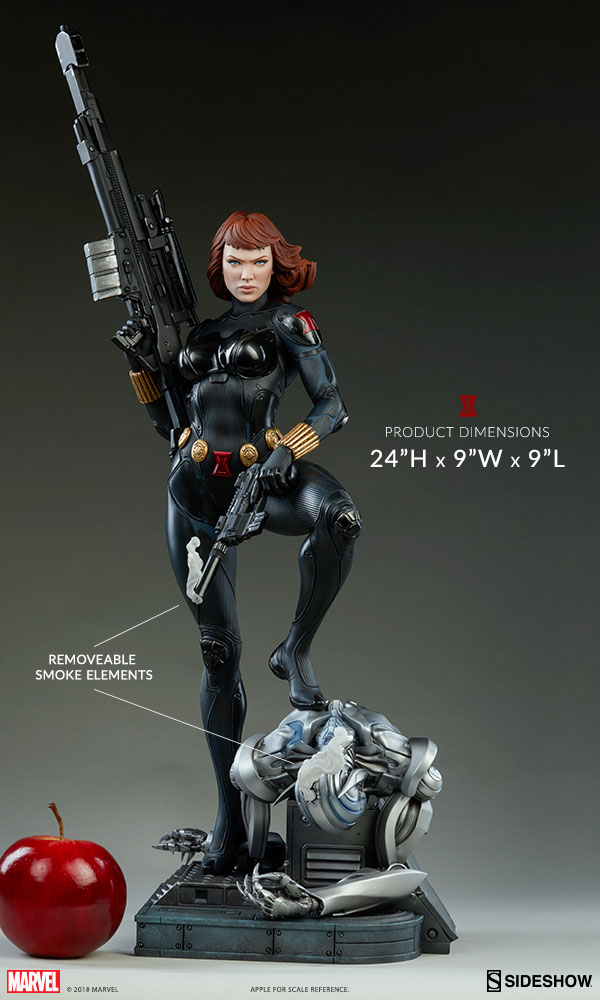 3. I make no secret of the fact that I'm an effects piece whore, and so I don't think anyone will be stunned that I'm in love with the two removable smoke effects that will come with the new Black Widow Premium Format Figure: one for her pistol and one for the smoking Ultron Sentry head.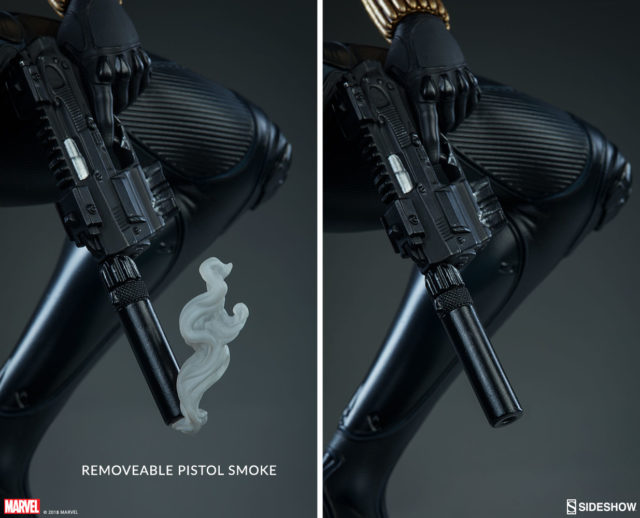 I think these look cool, but for those who don't—just pop 'em out, as they're fully removable. Wonderful touch that I think really enhances this piece.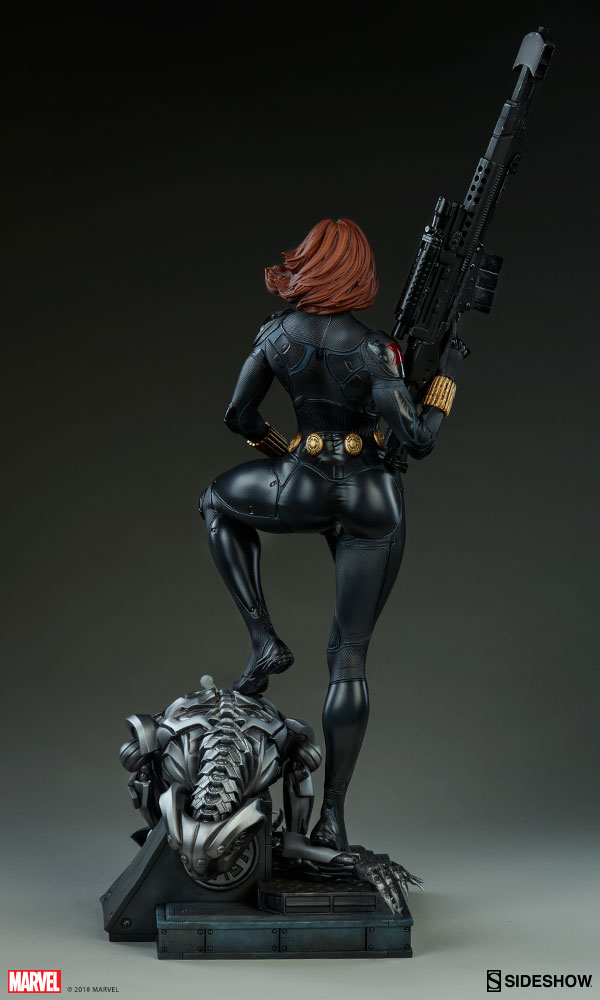 4. A fixed edition size! No worries about a crazy 2500 piece LE on this Premium Format Figure. With an LE of just 750 for a popular character, I'm really curious to see if this doesn't end up selling out faster than people are anticipating. Considering this is a statue many will consider "EX or bust", I really see this being a swift sellout.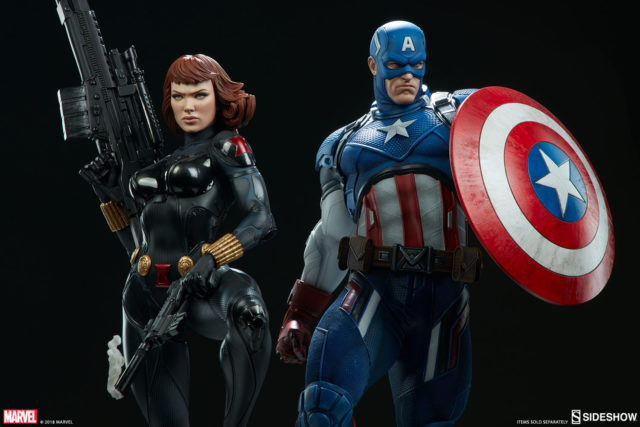 5. This 24″ Black Widow PFF looks killer displayed alongside Sideshow's other upcoming Marvel statues!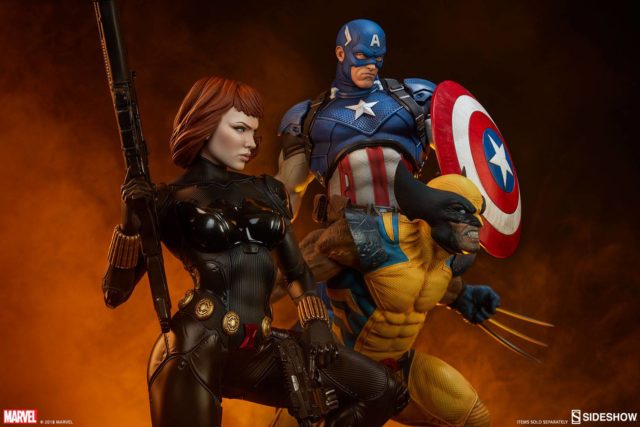 We've always known that Natasha would look good next to Captain America, since she's meant as a companion piece to him (the two even share a nice art print), but I was tickled to see how slick she looks next to that upcoming Wolverine Premium Format Figure. Sideshow's prices have definitely been on the rise lately, but I feel like we're seeing a huge leap forward in the quality to match. And that's the perfect segue to…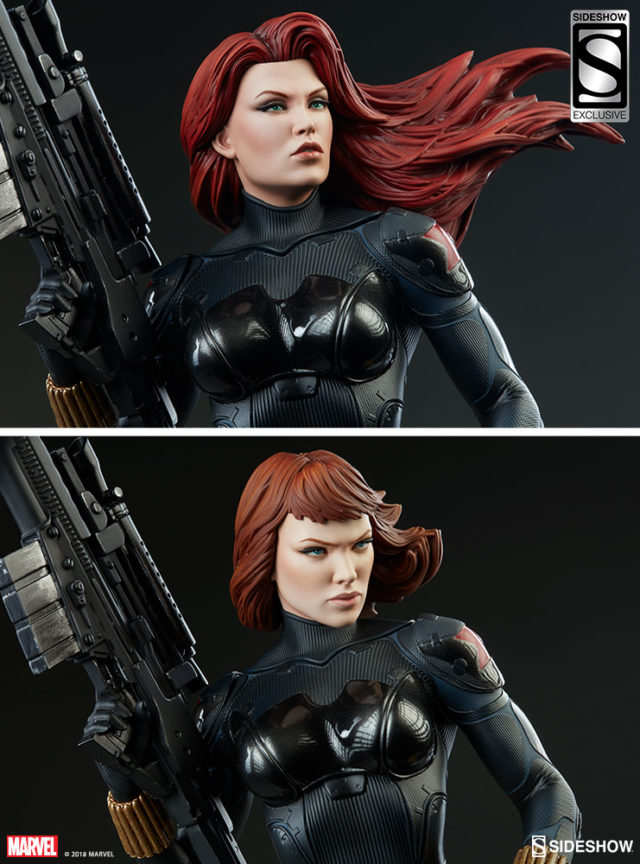 There is one new detail about the statue that did dampen my newfound enthusiasm somewhat, however. It's an old nemesis of mine and collectors everywhere: the price-tag.
The Black Widow Exclusive Edition will retail for $575, with the regular "Collector" edition priced at $560. That… is an expensive price for a piece that's only 24" tall because of a rifle going several inches higher into the air than any other part of the statue.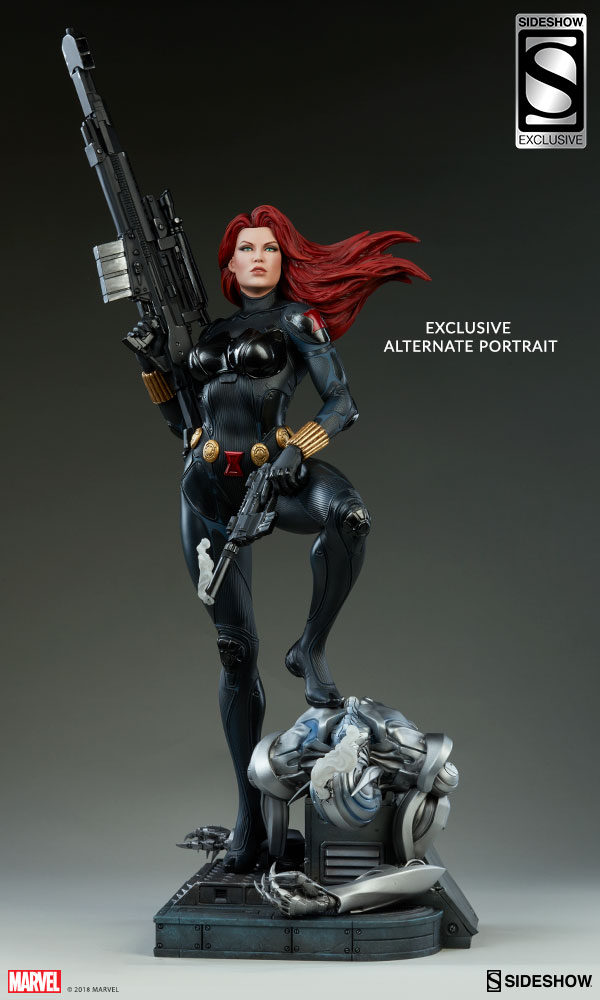 The Sideshow Exclusive Black Widow Premium Format Figure Statue is now up for order, with an expected release date at the end of 2018. I really love that alternate head that the exclusive comes with, so I think I'm going to have to choke down that hefty price-tag on a payment plan, like it or not. Seeing a $575 price-tag on a standard-sized Marvel Premium Format Figure definitely stings, though.
Sound off, Marvel collectors! Now that all the details and photos are revealed, how do you feel about Sideshow's latest Black Widow Statue? Is this piece truly "EX or bust", and are you contemplating dropping major dollars on this figure?