At this point in my collecting life, I don't have the space (or money) to get every new Marvel Hot Toys figure that comes down the pike. And so, being very happy with my Civil War Black Panther, Hot Toys was going to have to really impress me to sell me another one. Luckily for them… they did. The Hot Toys Black Panther movie figure is now up for order—and not only does it have the two features I was looking for, but also an innovative new one I never expected!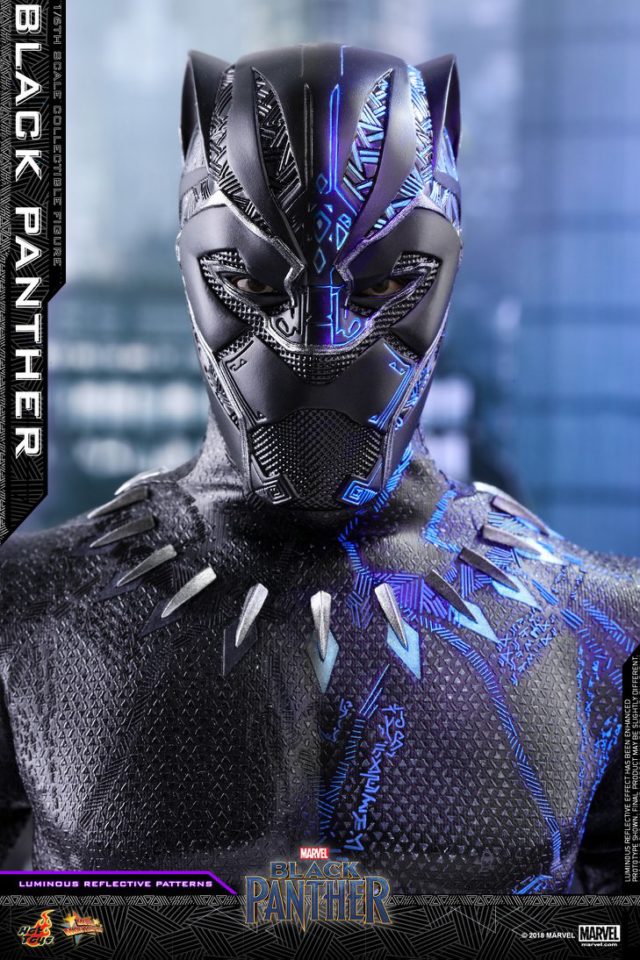 To me, there's zero question who makes the best high-end action figures in the world today (sorry, Mezco—you're close!). But even so, I wasn't convinced Hot Toys was going to be able to sell me another $220+ Black Panther sixth scale figure, as the costume in the movie isn't
that
different from the Captain America Civil War movie version.
But Hot Toys always aims to impress—and as usual, they succeed wildly with their new 1/6 Black Panther movie figure…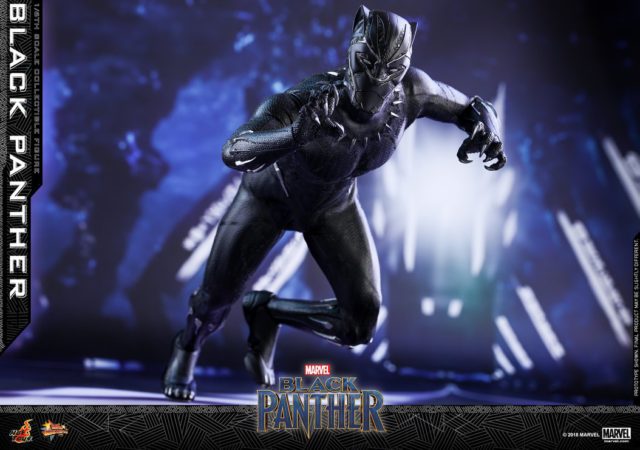 Let's begin with talking about the glowing elephant (well… panther) in the room. Hot Toys has implemented a feature with this Black Panther 12" figure that they have never done before, despite their hundreds of previous releases: luminous reflective patterns on the costume!
Scratching your head? I had to read those words a few times as well to really absorb them. Basically, this 12" Black Panther Hot Toys figure has intricate glowing patterns on his costume that "light up" under specialized LED lighting conditions (which rather look like black lights).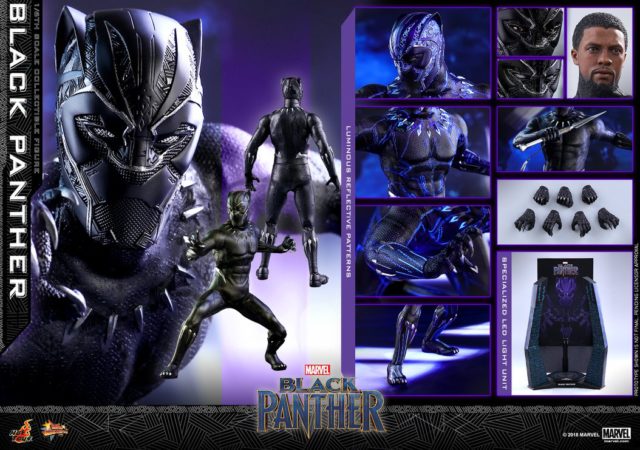 Now, not everyone has black lights in all the rooms of their home, but Hot Toys obviously knew that—they've incorporated the necessary LEDs to activate the luminous reflective patterns in the specialized base that the new Black Panther 1/6 Movie Masterpiece Series figure comes with.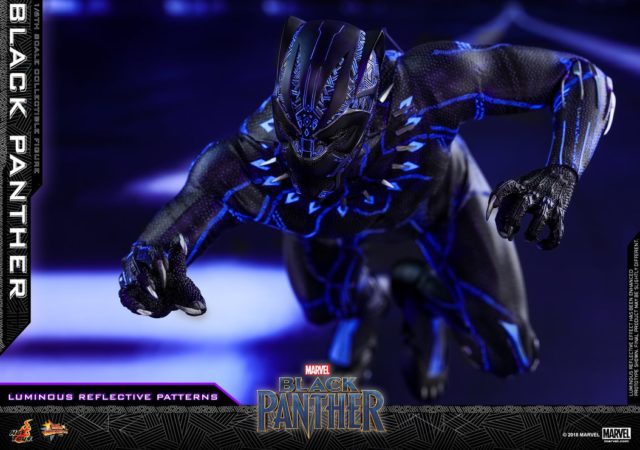 I'm a real sucker for neat gimmicks, and this is a very cool one that Hot Toys has found a way to implement. The glowing portions of the costume look incredible. Bravo for something genuinely innovative, Hot Toys. This really sets their Black Panther movie figure ahead of the pack, in my opinion.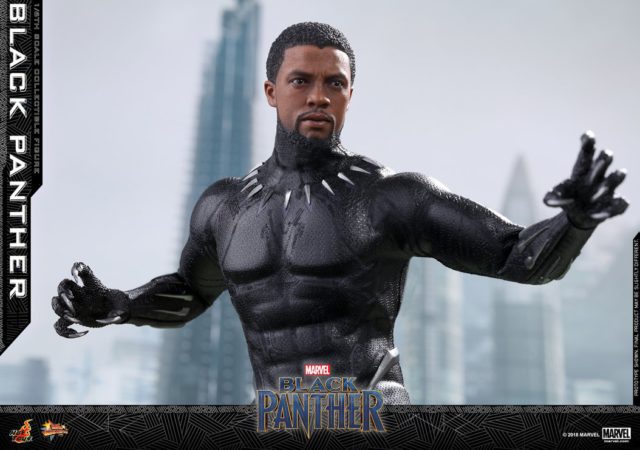 Beyond the wholly unexpected lighting feature, there's two other things I was primarily looking for with this new Black Panther—and Hot Toys has delivered on both.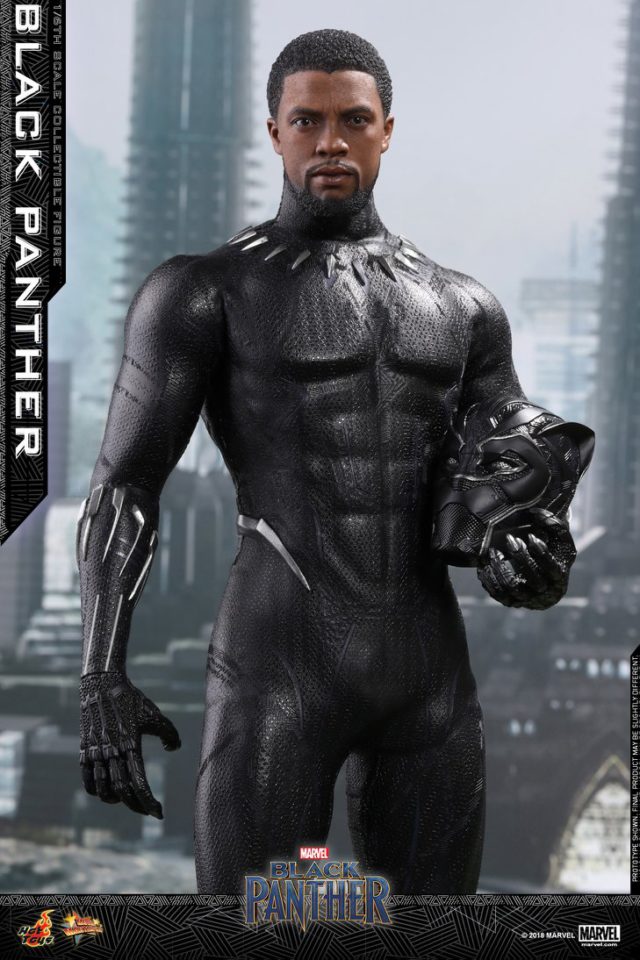 Many collectors said they were holding off on the Black Panther Civil War figure because they wanted an unmasked T'Challa Chadwick Boseman portrait. Well, here it is—and while it's not the most expressive head in the world, the actor likeness is looking mighty fine.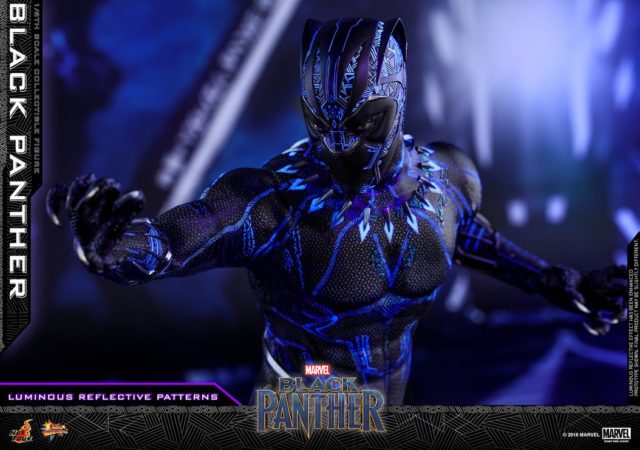 In addition, I really wanted Hot Toys to offer us the option of displaying Black Panther with his mask that has the openings to see T'Challa's actual eyes—an option Hasbro, Diamond Select Toys and Mezco Toyz don't give us.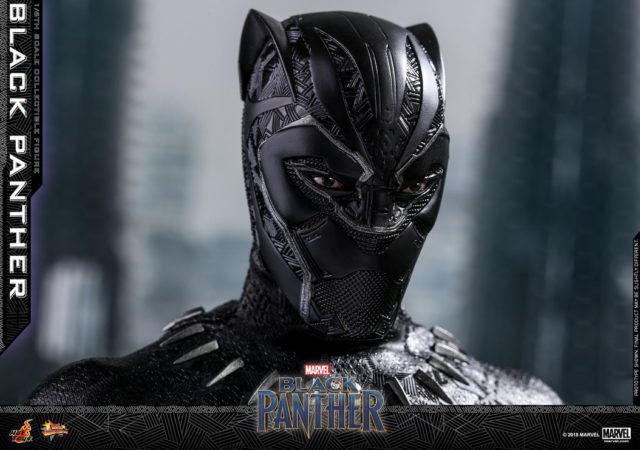 And hey, there they are!—Chadwick Boseman's dark brown eyes are able to be swapped onto the mask for those wanting to pose a slightly more humanized costumed King of Wakanda. Thumbs up!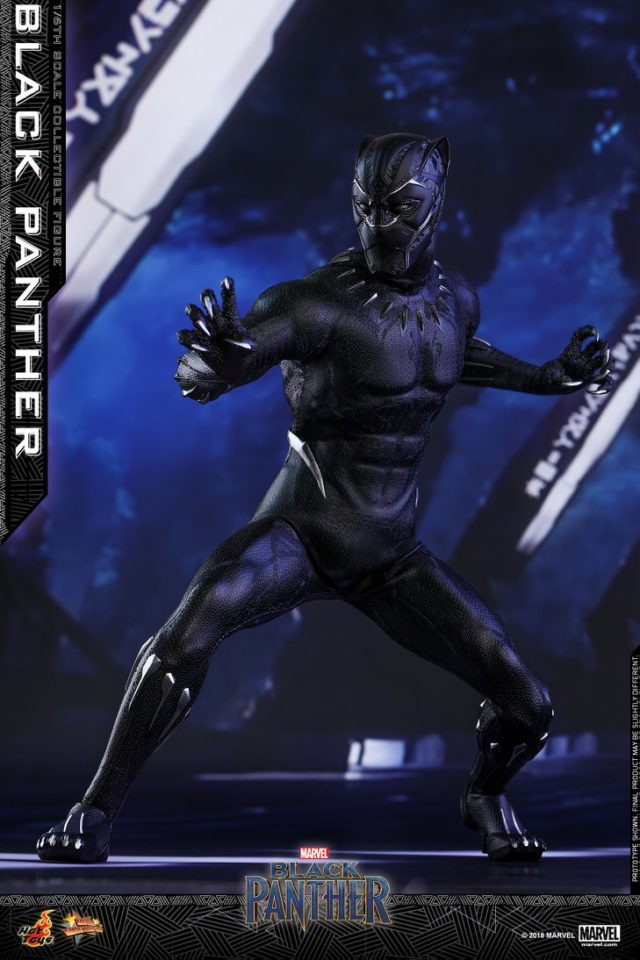 The figure also features a newly-developed body with slightly improved proportions and musculature over the one released for Captain America Civil War (although the ankle joints are sadly still exposed). Looks great to me.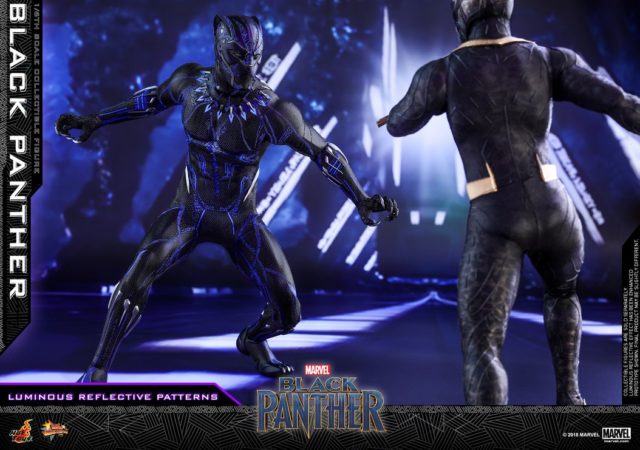 Oh yeah, and one more thing—is that Hot Toys Killmonger making a photobombing in a cameo appearance?! Yep!
Now, while this is far from a confirmation that Hot Toys will actually release a Killmonger sixth scale figure (where's my Valkyrie, Hot Toys?!), at least we know now that they have a workable prototype made up. Let's cross our fingers and hope we get a rare villainous release from Hot Toys with an awesome Erik Killmonger figure.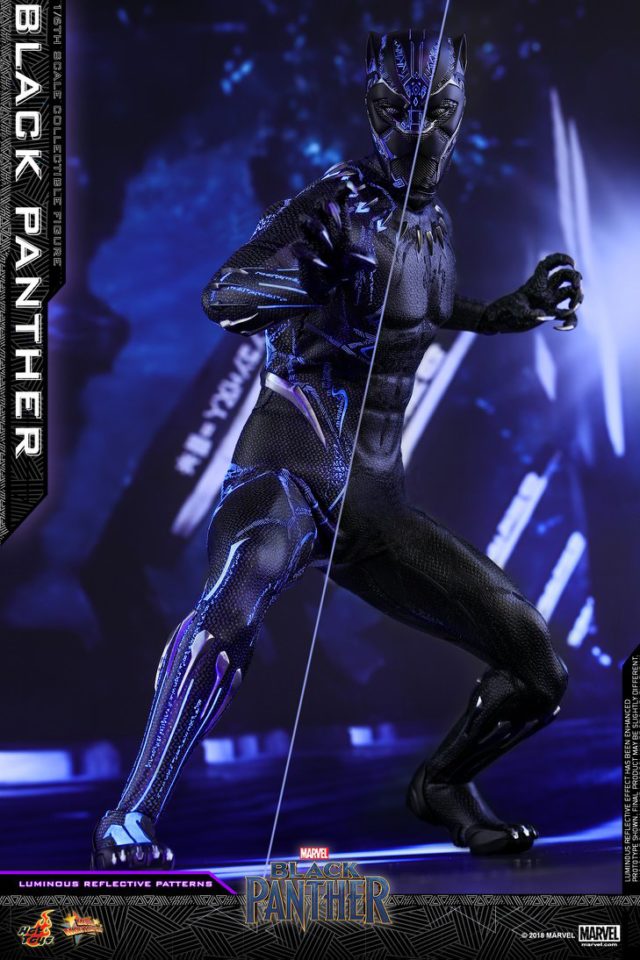 The Hot Toys Black Panther movie figure is now up for order, with an anticipated release date in Q1 2019 (hopefully this'll get pushed forward to the end of 2018 if we're lucky). The new Black Panther 1/6 figure is priced at $259, which isn't a terrible price–I was really worried that the specialized LED lighting base was going to push the MSRP to something crazy like $300.
Make some noise, Black Panther fans! Has Hot Toys soundly thrashed the completion with their new T'Challa movie figure? What do you think about the crazy lighting gimmick this Black Panther MMS features, and are you planning to drop $220+ for this release?