New York Toy Fair 2018 is just 12 days away—but sometimes there are toy announcements that just can't wait. This is one of those times. Because there's a movie coming out in 11 days called "Black Panther", and as such, demand for Black Panther toys is at an all-time high. Mezco Toyz is ready to strike while the iron is hot, and as such, they've made a big reveal prior to Toy Fair: the Marvel ONE:12 Collective Black Panther movie figure is now up for order!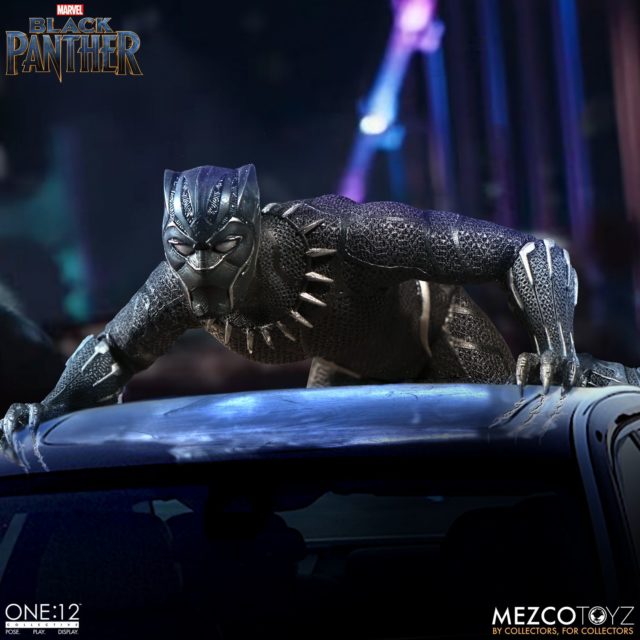 If there was one unannounced Marvel character that we could be
pretty sure
would be getting the ONE:12 Collective figure treatment in 2018, it's Black Panther (what with his movie that has "mega-blockbuster" written all over it and all).
So even though Mezco is pulling the trigger early on what could have been a major reveal at the 2018 Toy Fair next weekend, it's hard to be grumpy—because we all pretty much knew this was going to be in the works anyway.
Of course, what really mattered isn't when ONE:12 Collective Black Panther gets revealed—it's how it looks when it does! And this figure? It's looking pretty sweet.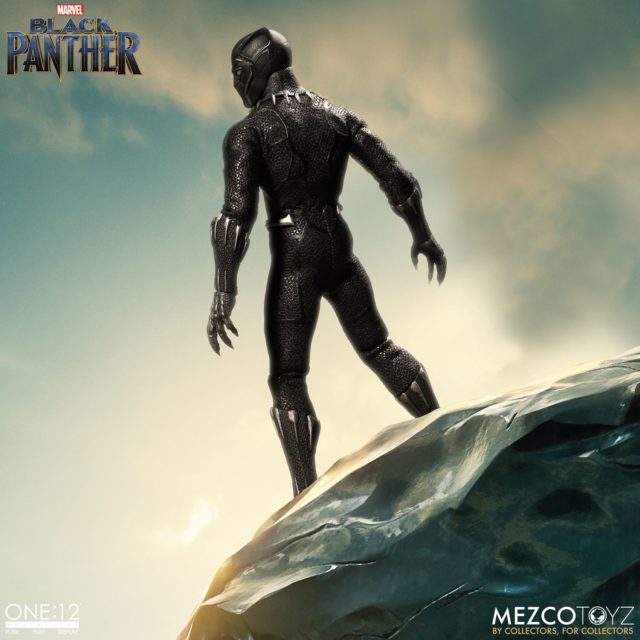 Sometimes the cloth costumes on ONE12 Collective action figures don't look quite right, but in T'Challa's case, the costume flows downright perfectly. Nothing is disrupting the aesthetic, and this looks like exactly what I really want it to be: a half-sized Hot Toys Black Panther figure.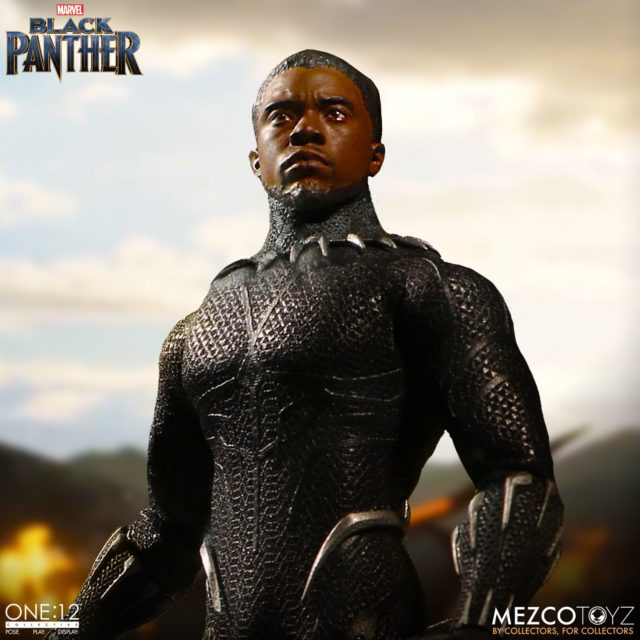 The most important accessory Mezco Toyz could have included is definitely present: an alternate unmasked Black Panther Chadwick Boseman portrait head. It's a tremendous likeness, and unlike Hasbro's BP, this version actually comes with neutral hands so that the neutral T'Challa face doesn't look out of place.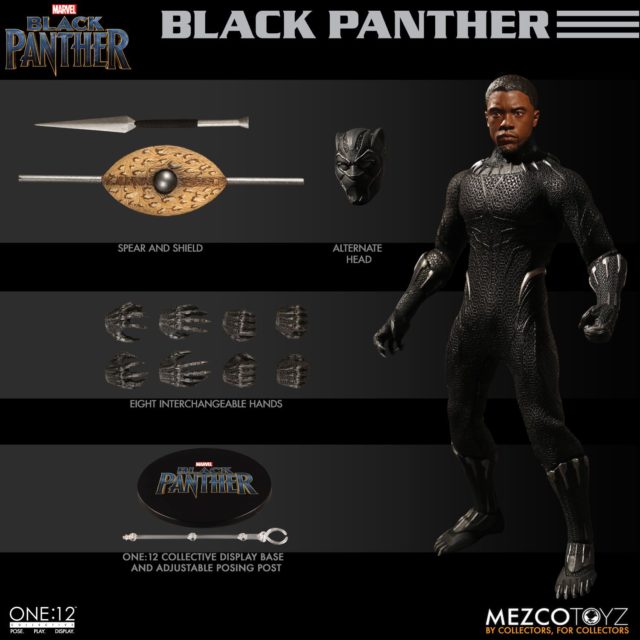 Speaking of hands: T'Challa has got eight of them, including fists, slashing hands, grasping hands, and aggressively flexed hands. In addition, he gets the usual base and posing pole as well.
Last but not least, we get an all-new spear and shield with ONE 12 Collective Black Panther that looks very nice. I don't think I'll ever be posing mine with a spear or shield, personally, but it's always nice to get extra accessories, and I'm sure many collectors will really appreciate these.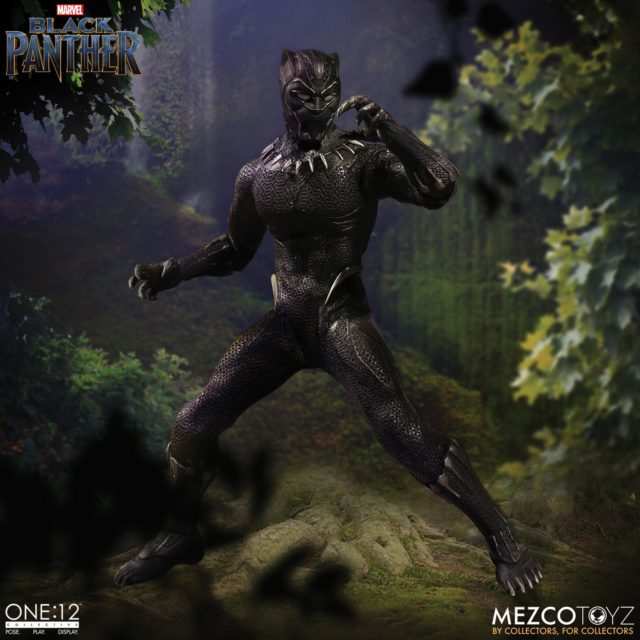 The one real disappointment I have with this figure is the masked head—or more to the point, the fact that we only get one of them. We've seen so many shots of the Black Panther mask with T'Challa's eyes exposed in the promotional materials for this movie that I was
really
hoping to get that look here.
Hasbro didn't have that option either, but I'm hoping that when Hot Toys reveals their own 12" Black Panther this month that we finally do get a super-articulated BP with that look for the mask.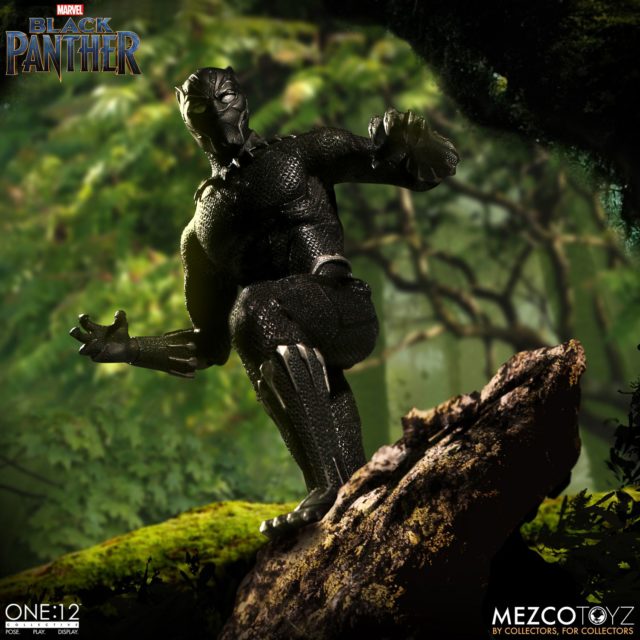 The 6" Black Panther ONE:12 Collective figure is now up for order, and is scheduled to be released in Q3 2018. With this being Mezco's first take on T'Challa in the line—and Black Panther merch being a hot commodity this year—I suspect this will be another early sell-out piece for Mezco. I also have a hunch that this figure won't actually arrive in Q3 2018, as Mezco has traditionally been late with their releases for this line–but hey, maybe this is the year that they're going to prove me wrong!
What do you think of Mezco Toyz' take on movie Black Panther, Marvel collectors? Is this a worthwhile upgrade that you're planning on scooping up, or are you satisfied with the Hasbro Marvel Legends 6" Black Panther figure?