Since today is a bit of a slow day due to the impending holiday, it's the perfect time to catch up on things I didn't have the opportunity to talk about last week. And among those things are exclusives that most of us will never be within 50 feet of, because they're totally exclusive to the 2017 D23 Expo happening later this month (as well as to crazy ebay scalpers)! Coming exclusively to the Disney Store at D23 2017: Funko Guardians of the Galaxy Dorbz and Red She-Hulk Rock Candy figures!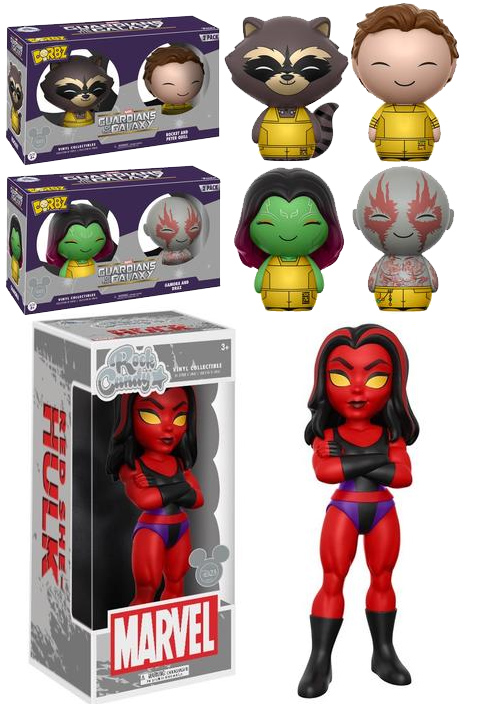 For those who aren't familiar with it, D23 Expo is the official biennial Disney convention that takes place next to Disneyland in Anaheim every two years.
I've been to a couple D23 Expos over the years, but with insane hours-long lines out the wazoo to get the exclusives and even longer lines (sometimes the length of the whole day) to get into any of the "big" panels, it's not an event I'm planning on experiencing again anytime soon (possibly ever).
But I am just a wee bit jealous of those attending D23 Expo this year, because Funko has some pretty nifty exclusives lined up to be sold at the Disney Store during the show, including a couple I'm gonna have to pay crazy scalper prices for to maintain my complete Dorbz Guardians of the Galaxy collection.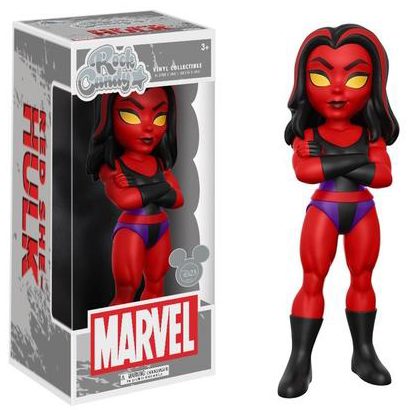 Along with the first-ever Star Wars Dorbz vinyls being released at the show (good luck getting those for less than a couple days' pay), Funko has three Marvel D23 Exclusives on the way:
Dorbz Prison Costume Rocket Raccoon & Peter Quill Star-Lord Two-Pack
Dorbz Prison Costume Gamora & Drax Two-Pack
Red She-Hulk Rock Candy Figure
The Prison Costume Guardians of the Galaxy Dorbz are (obviously) based off of the Kyln prison scene from the first movie. There's no Groot in either set, since adult Groot didn't wear any prison clothes (or any other clothes) during that scene.
There's good news for those wanting the Rock Candy Red She-Hulk figure, as there seem to be very few people collecting the Funko Rock Candy figure line, and Red She-Hulk herself isn't a popular character by any stretch of the imagination. I wouldn't be surprised to see that figure selling for barely above cost within a few weeks after D23 2017.

The bad news is for us GOTG fans. While nowhere near as popular as POP Vinyls, Dorbz are firmly entrenched as Funko's #2 line and can often draw a decent price on the aftermarket for limited items.
With the sheer mass of people who will be gobbling up and scalping these exclusives, I have a hunch these may end up being much more rare and expensive to acquire than any Marvel Dorbz figures released to date.

At the moment, the D23 Dorbz are selling for astronomically inflated prices on eBay, where the two-packs are priced at up to $150 per pack already (yowza!). Red She-Hulk is priced similarly to the GOTG 2-Packs, though I'd be willing to bet her price drops drastically once she's actually available at the show. Of course, these prices are nothing compared to the Hoth Han Solo on Tauntaun Dorbz, which is being pre-sold for up to (*shudder*) $299 already.
What do to think of Funko's first-ever Marvel D23 Exclusives? Were these rather obscure choices the perfect pick for limited convention exclusives, and are any of these (or their Star Wars counterparts) on your summer hit list?