It's a national holiday today in the United States, and that means no new product reveals or pre-orders–and the perfect time for a new figure review! To my embarrassment, there's 1.5 members of the Guardians of the Galaxy Vol. 2 team that I still haven't taken a look at the new Marvel Legends for yet, so today's a good day to fill that void! They're finally steadily available online for below retail price–it's Guardians of the Galaxy Marvel Legends Rocket Raccoon & Groot!
The Right:
I was overjoyed when Hasbro released the first-ever movie Rocket Raccoon Marvel Legends figure three years ago–
but as I said in my review of Gamora
, my standards have risen sharply since 2014.
There was plenty of room for improvement in sculpt, articulation and scale for a new version of Rocket for Guardians of the Galaxy 2–and I'm ecstatic to say that Hasbro has delivered on all those fronts (and more).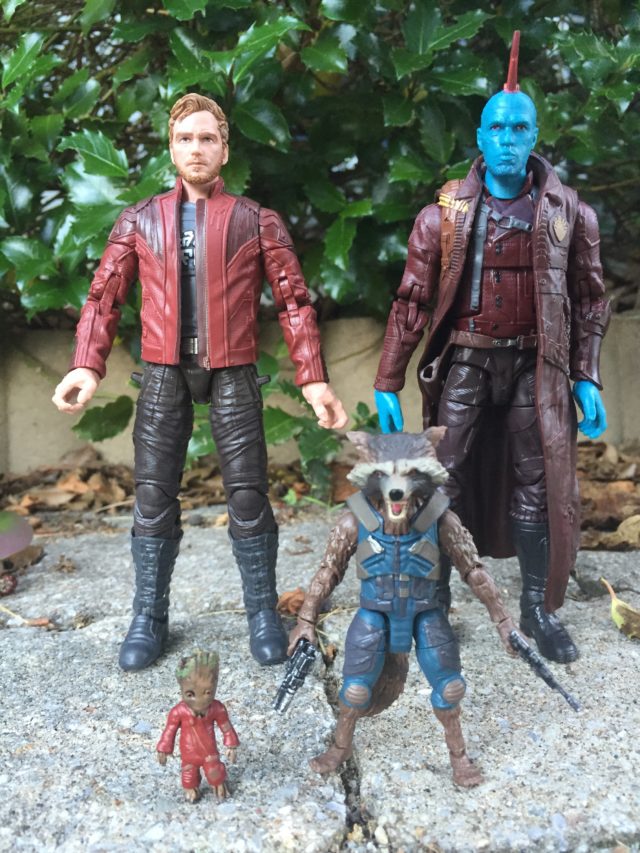 For those concerned about the scale on this figure being too far off the mark (as the original Rocket Raccoon movie figure wasn't sized quite right), fear not: Rocket is sized appropriately this time out and looks totally natural lined up alongside the other members of the Guardians of the Galaxy.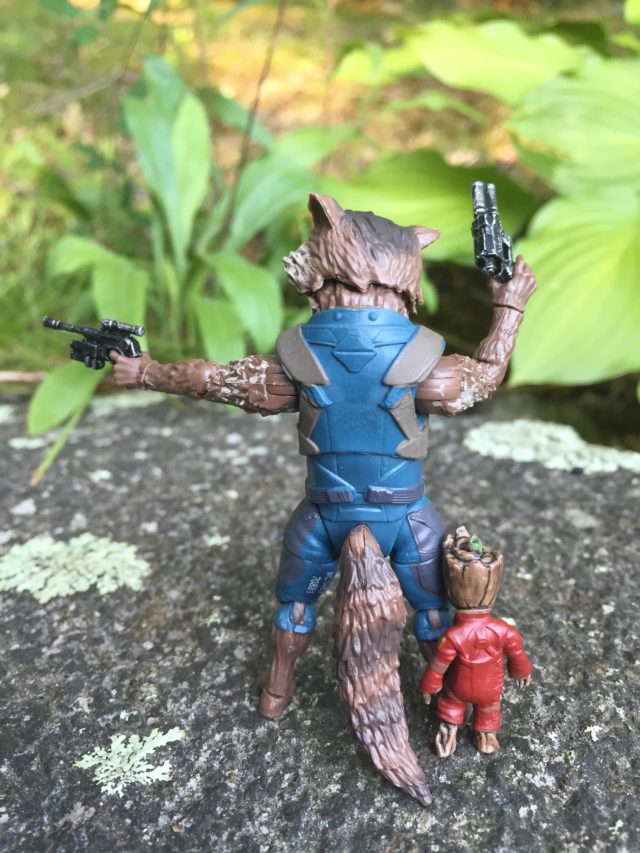 Next up: articulation. Considering this figure is under 3″ tall, how much articulation could Hasbro possibly build in, right? Well… it turns out that the answer is "a lot".
The Marvel Legends 2017 Rocket Raccoon figure features ball-jointed heads/upper torso/hips; ball-hinge shoulders/elbows/knees; swivel thighs/wrists/feet, and even a swivel-hinge tail (yes, tail). 17 points of articulation–yeah, I think that counts as super-articulated on an action figure this tiny, don't you?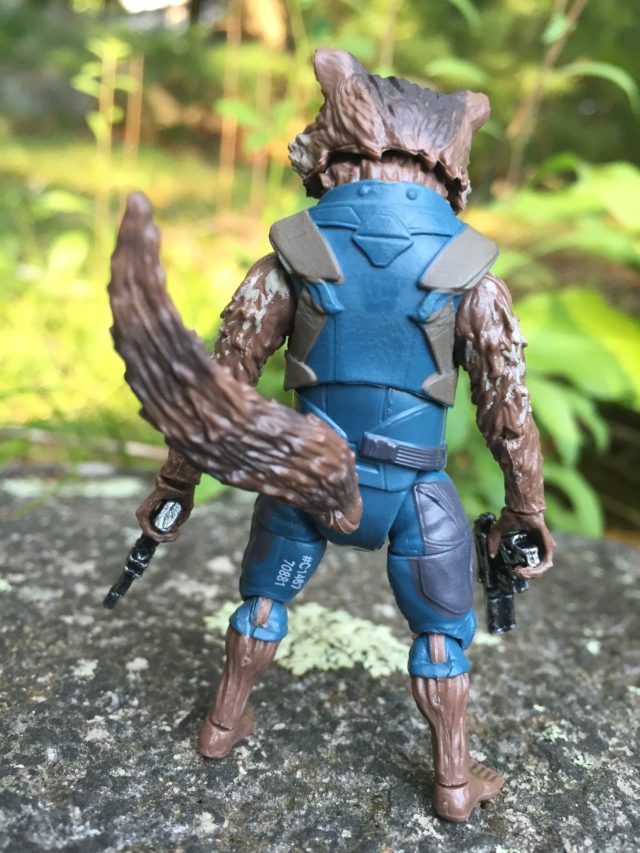 The tail is terrific, as you can put it into all sorts of poses standing upwards, hanging straight out, or (my favorite) keeping it down to use as extra support to keep Rocket standing stably. The tail might just be my favorite part of this figure–nicely sculpted and it works great.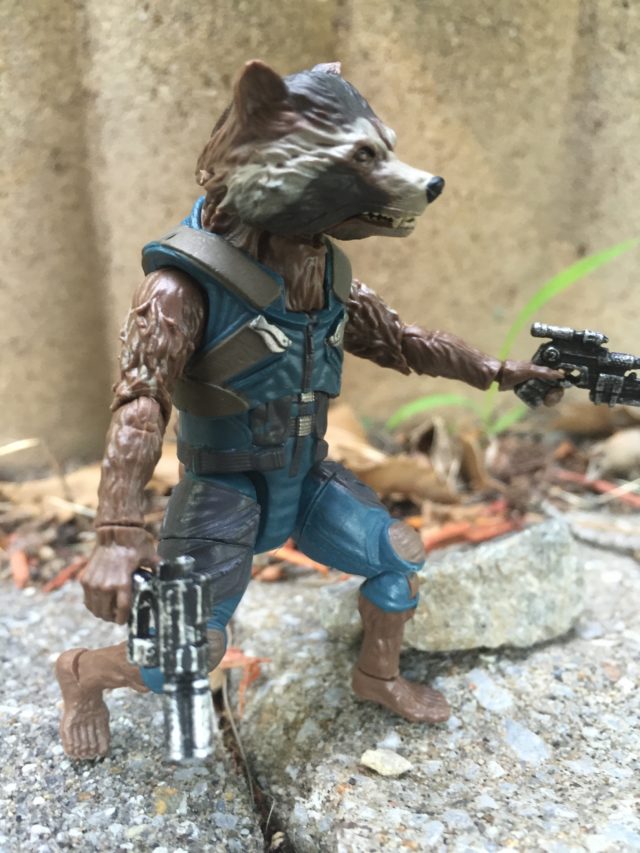 Rocket's feet are on little pegs that allow them to be pulled out of his shins, but they're right enough that they'll only come out when you want to pull them out–and intentionally or not, being removable gives them extra flexibility and allows them to function as almost pseudo-ankle rockers.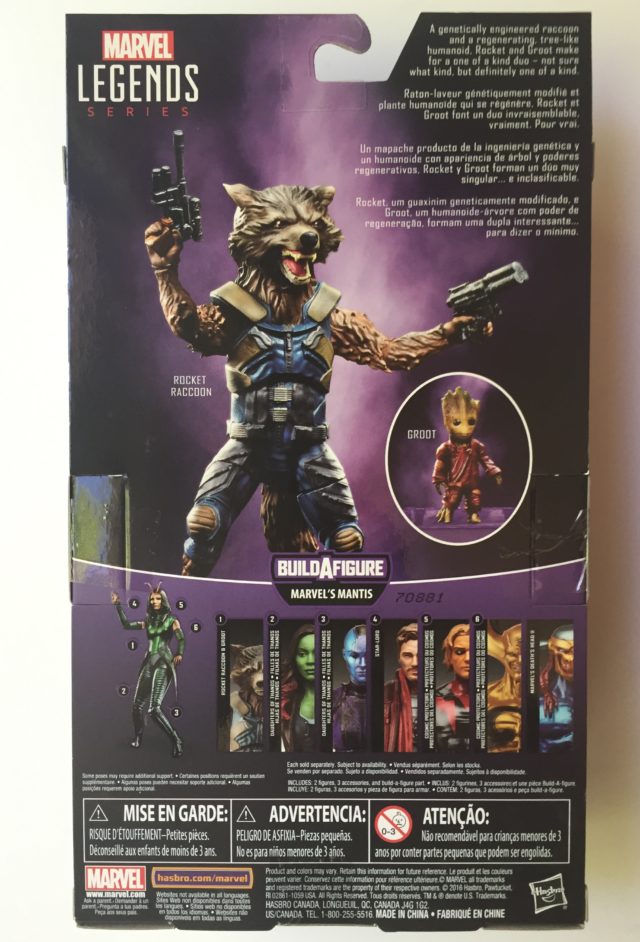 The one quality I have with the Rocket Raccoon Marvel Legends figure's articulation is the limited range of motion of the head and upper torso ball-joints, as both are somewhat restricted by the sculpt. That's a limitation of the size and character design, so I'm not too bothered about it, but it is something to be aware of.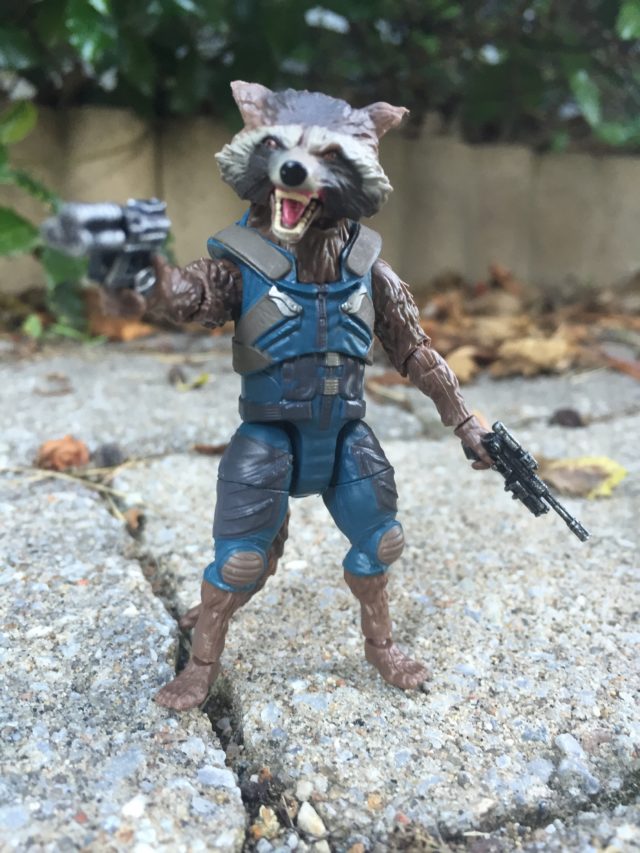 The solid arm articulation on Rocket Raccoon is especially useful, as it allows Rocket to get into a variety of dual-wielding, gun-toting poses that make this figure tons of fun.
Rocket includes two guns, and surprisingly they're different sculpts. What can I say: Rocket likes variety in his arsenal of destruction! The guns fit his hands (and trigger fingers) perfectly and snugly, and have a nice dark wash on them to look realistic. Great stuff.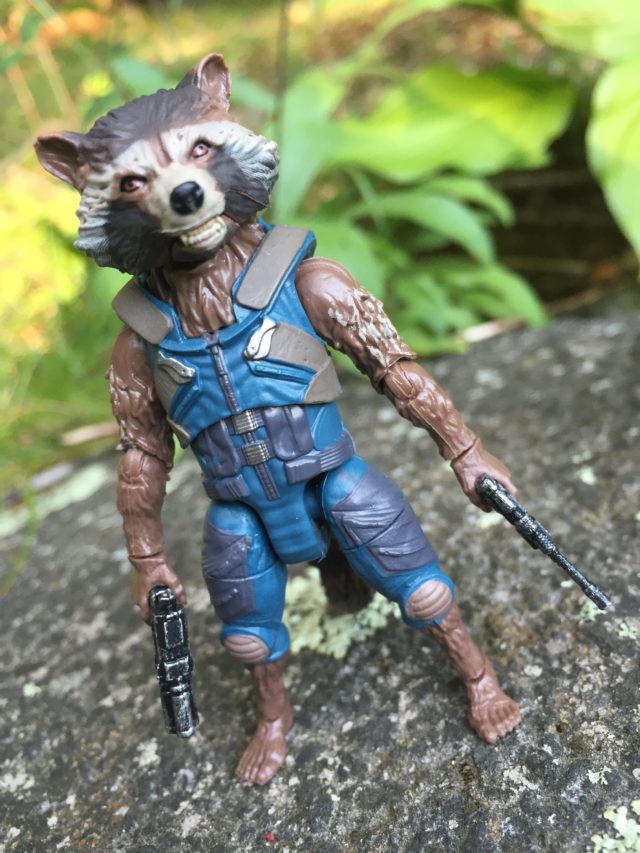 Marvel Legends Rocket Raccoon doesn't just have two guns, though–he's also got two heads! Rather than doing an articulated jaw, Hasbro is gifting us with a closed-mouth Rocket head and an open-mouthed, yelling Rocket head.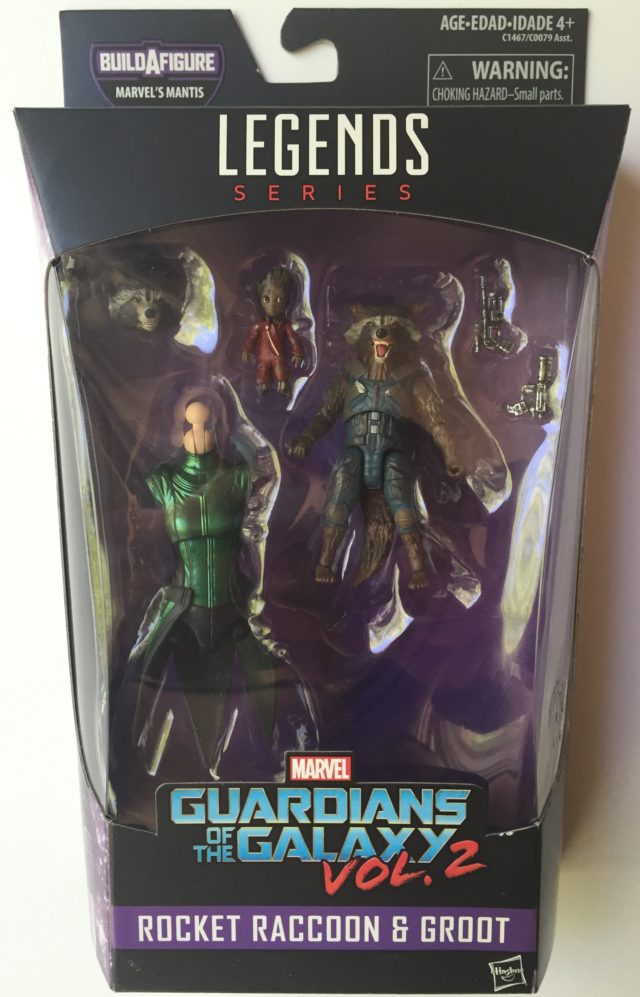 I much prefer the look of the maniacal, open-mouthed head, as I think it jives well with Rocket Raccoon's violent tendencies, but both heads look nice and having (good) options is always a plus.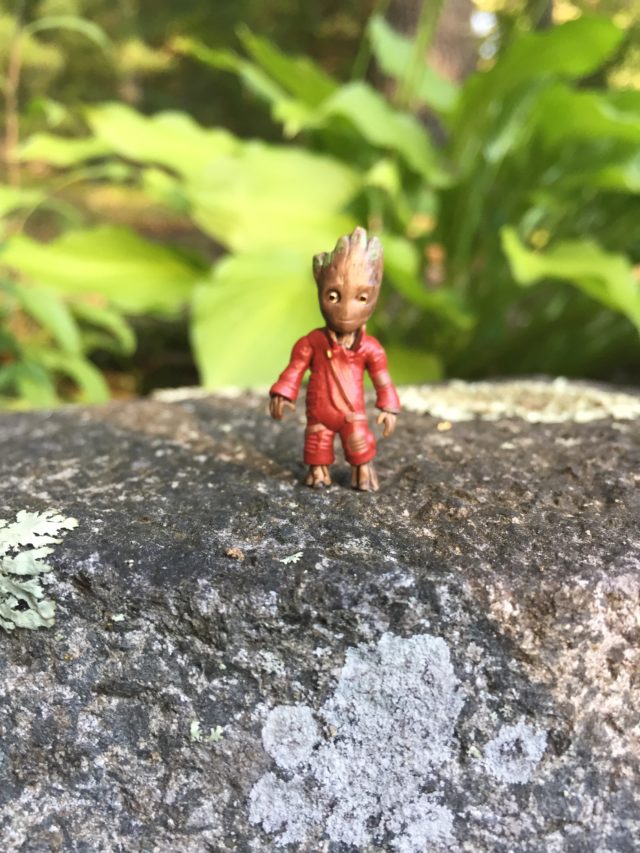 A tiny Baby Groot/Juvenile Groot figure is also included here exclusively (as it should be). This Ravagers Groot figure looks properly scaled to Rocket and the other GOTG Legends, and I was impressed with the quality of sculpting and paint Hasbro put into this itty-bitty figurine.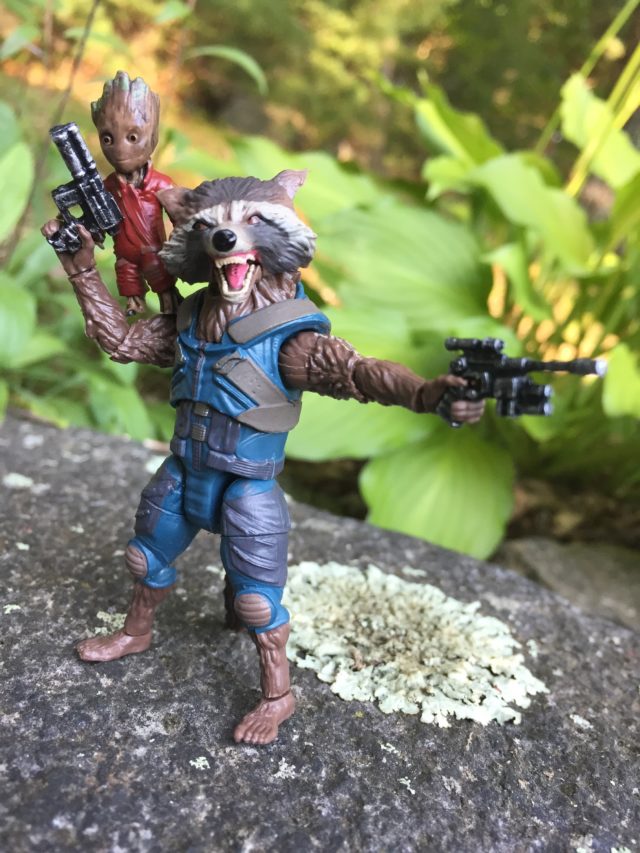 For those wondering, the Ravagers Groot Legends figure can not only stand up rather well independently, but you can also get him perched on Rocket's shoulder without much fuss. Good work by Hasbro on an essential inclusion in this Groot figurine.
The last accessory Rocket gets is the whole torso of the Mantis Build-A-Figure. This is the largest piece of the Mantis BAF, and its being included here definitely makes this set feel like a better "value", since we're getting a big chunk of a whole other character along with the smaller Rocket and Groot figures.
The Wrong:
While I can't fault Hasbro for the limited range of motion on much of Rocket's articulation–the character design simply doesn't allow for any more flexibility–the one thing I do want to dock this figure for is a specific part of the paint deco.
I have two copies of this figure for a total of four heads–and none of them have Rocket's pupils positioned quite right. I know it sounds ludicrous to even bring up two minuscule dabs of paint on each head, but Rocket looks deranged with his eyes not looking quite right.
It's far, far from a deal breaker, but this is the one aspect of this figure that really bugs me (especially considering little Groot's tiny pupils are perfectly straight), so I'd be remiss if I didn't bring it up.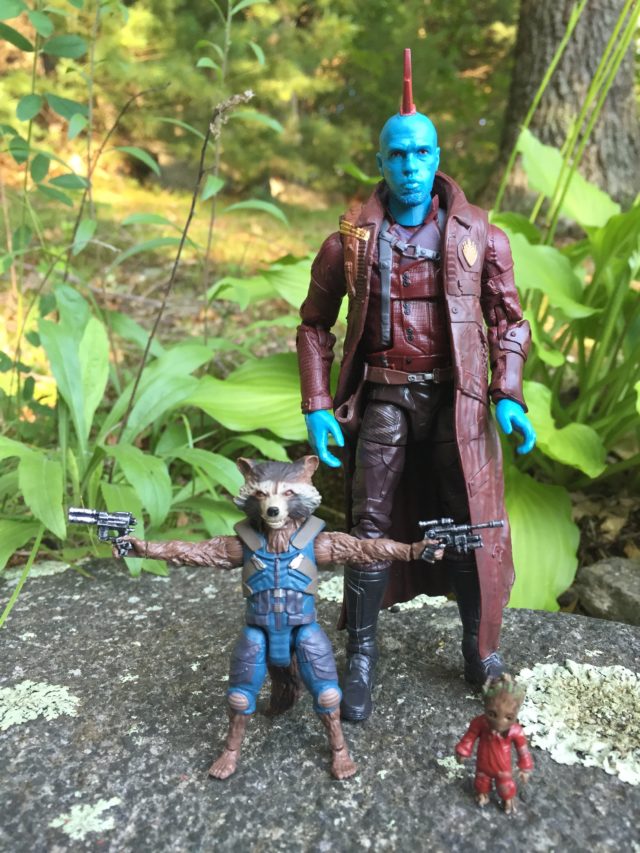 Overall: This 2017 Marvel Legends Rocket Raccoon figure quite frankly puts the 2014 movie version to shame. The articulation is on another level, the scale is much more accurate, he's got the biggest Mantis BAF piece and also a Groot figurine to improve the value of being a smaller figure, and both heads are improvements on the original one.
I do think the placement of Rocket Raccoon's pupils is off and it makes him look a mite deranged up-close, but otherwise this is an exemplary super-articulated anthropomorphic raccoon action figure.
GRADE: A