When Target stores suddenly started restocking the original 2014 Marvel Legends Guardians of the Galaxy series of figures a couple months ago, I speculated it was because 2017 GOTG Wave 2 wouldn't be out for a while and Hasbro probably wanted Gamora and Rocket available before the movie hit. With the movie under two weeks away now and no pre-order in sight, that certainly seems to be the case. But one thing that is now in sight is images of all seven figures in this wave packaged…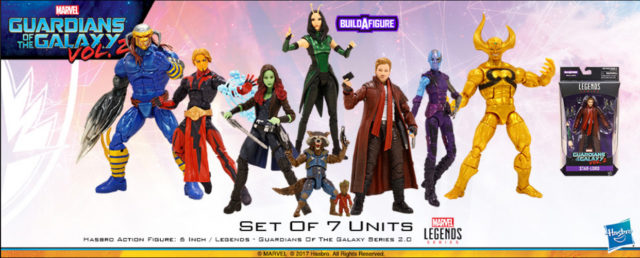 As a total GOTG fanboy, Guardians of the Galaxy Legends 2017 Wave 2 can't hit soon enough for me. But while I'd love it if these new toys were on store shelves in time for the movie premiere in two weeks, it
really
does not look like that's going to be happening (especially since the Spider-Man Homecoming figures we saw packaged last month haven't even gone up for order yet).
Even so, while we're gonna have to wait a bit to buy these action figures, at least now we can get our first glimpse of them (and their accessories!) in packaged form, care of the overseas Toy Sapiens website…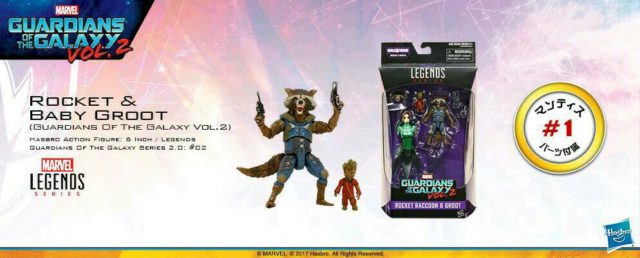 First up, we've got the new Marvel Legends Rocket Raccoon and Baby Groot. Hasbro did a really good job filling up the package this time to make Rocket a solid value, as you're getting the only Ravagers costume Baby Groot with this figure, along with two guns, an alternate head for Rocket and the body for the Mantis Build-A-Figure.
This is a fun pack–and not surprisingly, my favorite one in the whole wave. Looks great!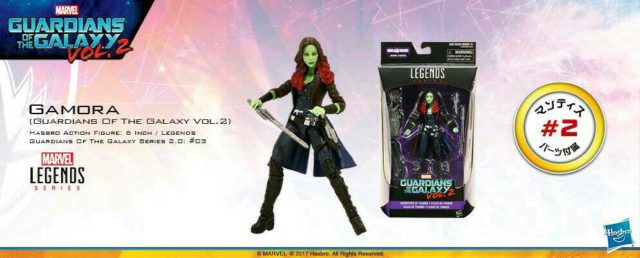 Completing the core Marvel Legends Guardians of the Galaxy 2017 Wave 2 lineup, it's the new Marvel Legends Gamora! I've seen a lot of folks say they prefer the new jacketed look on Gamora from the sequel. I don't know that I'm one of them (yet), but I'll do my best to remain open-minded until the movie.
Gamora comes with a Mantis Build-A-Figure leg, as well as a rifle, a sword, and some other bladed object I can't quite make out.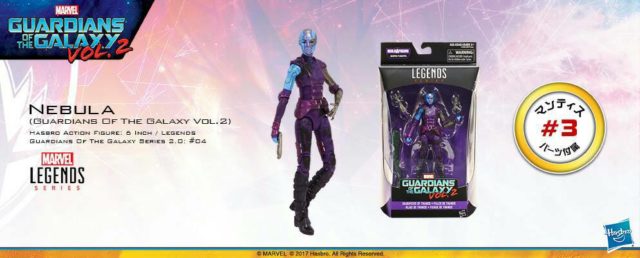 Thirdly, we've got the only first-time movie figure in this wave (besides the BAF): Nebula! There were plenty of requests for Marvel Legends Nebula after the first movie, and those pleas did not fall on deaf ears. ML Nebula just may be the best-looking figure in this whole wave! She comes with an alternate cybernetic left hand, a pistol and the other Mantis BAF leg.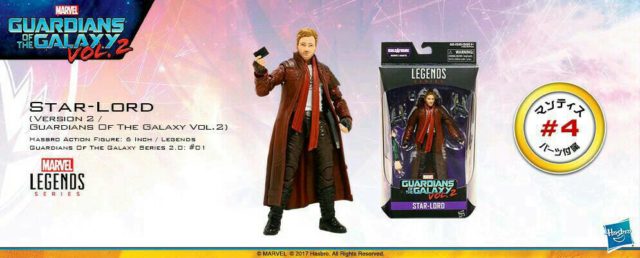 The last of the four Marvel Legends GOTG Vol. 2 movie figures in this wave is another Star-Lord figure. This one has a totally different head sculpt than the one from Wave 1, along with a scarf and the iconic long jacket.
I'm not really sure that the Chris Pratt likeness is any better here or that I like the costume more, but Star-Lord has a Mantis arm (along with a mix tape and two Quad Blasters), so I'll be buying him nonetheless.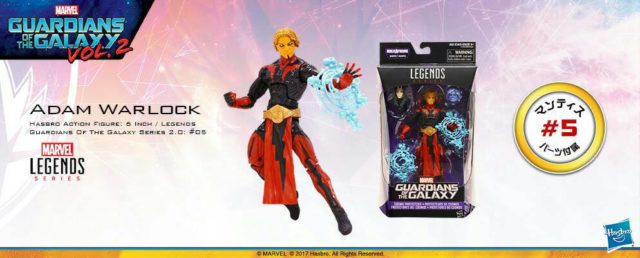 Fifth, it's an always-popular character who didn't quite make it into the Guardians of the Galaxy Vol. 2 movie: Marvel Legends Adam Warlock. We've had a ML Adam Warlock before, and he's been a hot figure, so I don't doubt this one will be as well.
Along with the oft-used cosmic energy effects pieces (this time in a bright blue I don't believe we've seen before), Adam Warlock will come with an alternate Magus head (awesome) and the Build-A-Figure Mantis head.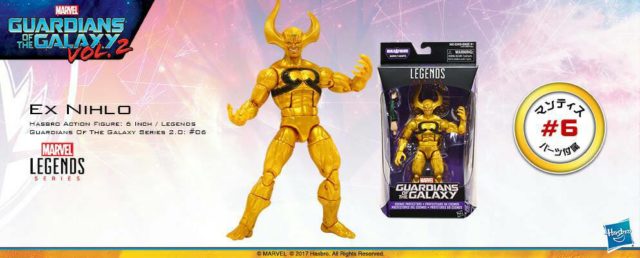 Rounding out the wave, we've got two more comics-based figures that I'm frankly terrified are going to sink this wave at retail and kill any chance of further Marvel Legends GOTG movie waves: Marvel Legends Death's Head II and Ex Nihilo.
These are both mainstream unknown characters, and poor Death's Head II doesn't even have a Mantis BAF piece as a selling point. I don't think there any question that both of these chaps will be packed at one-per-case–I'm just concerned most stores will be accumulating those "one"s all summer long.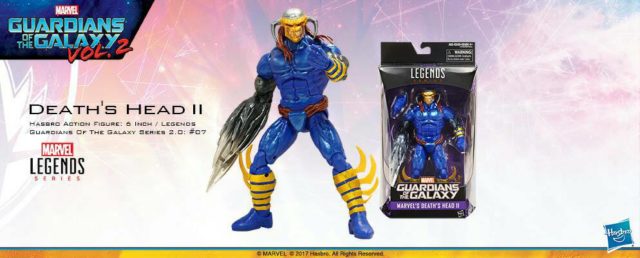 Marvel Legends 2017 Guardians of the Galaxy Wave 2 listings are already posted online and should go up for order in May, and the series is expected to arrive in late spring/early summer 2017. I'll send out alerts via the Marvel Toy News Facebook & Twitter Pages as soon as Hasbro allows retailers to start taking orders for the figures.
Thoughts on our first packaged look at GOTG Wave 2, Marvel collectors? Which figures (if any) are you planning to scoop up from this series, and how do you think the non-movie characters are going to fare at retail this time out?