If there was a meter that gauged how much of a Hot Toys fanboy you are, I would have caused it to utterly explode a long time ago. I've got at least one of every sixth scale Hot Toys Marvel character that's been released, and God knows how many Iron Man figures. In short, I am hopelessly addicted. I wanted to lead off with that information because it really gives weight to what I'm about to say. What just may be my favorite item they've ever made has now been revealed: the Hot Toys Life-Size Baby Groot figure is now up for order!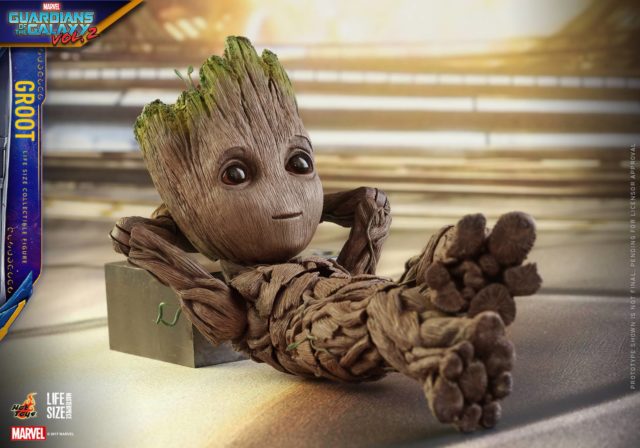 While I was at Star Wars Celebration 2017 last week, I missed out on covering the new Guardians of the Galaxy Vol. 2 Star-Lord Hot Toys figure when it was first revealed and put up for order (and I'm still trying to get around to going back and talking about that figure now).
But luckily, while I missed out on discussing Star-Lord's launch, I'm blessed that Hot Toys waited until this week to debut what is (no lie) my favorite thing that they have ever done: a Baby Groot Life Size figure based off of his appearance in Guardians of the Galaxy Vol. 2!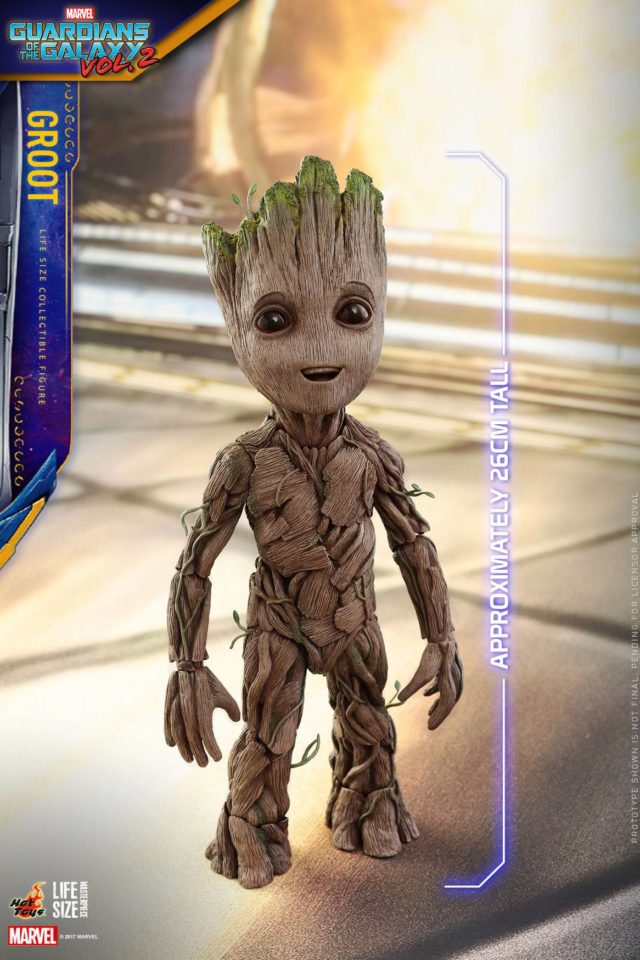 Although I liked the 1/4 Potted Baby Groot that HT produced for the first Guardians of the Galaxy movie, while that figure was very cute, it was also pretty dinky being in the quarter-scale. But now, Hot Toys is launching their first ever Marvel Life Size Masterpiece with this 26 cm (about 10.2″) Kid Groot figure, and it blows me away in pretty much every way!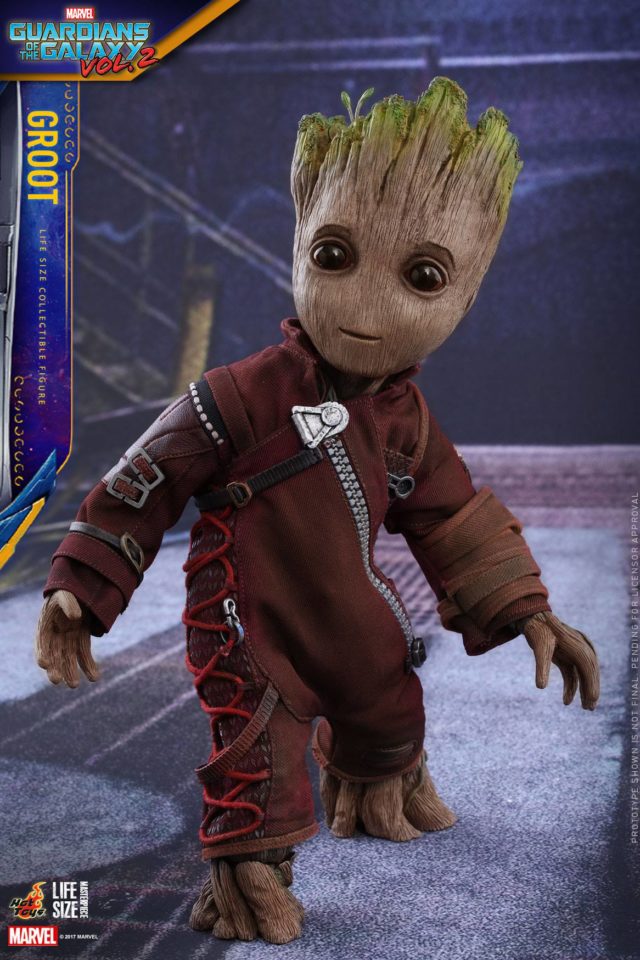 As is obviously required to make a figure of this sort, Hot Toys has created a 100% newly-tooled body with 15 points of articulation for this life-size Groot figure. That's not quite "super-articulated" levels, but it's pretty dang good for an anthropomorphic tree person.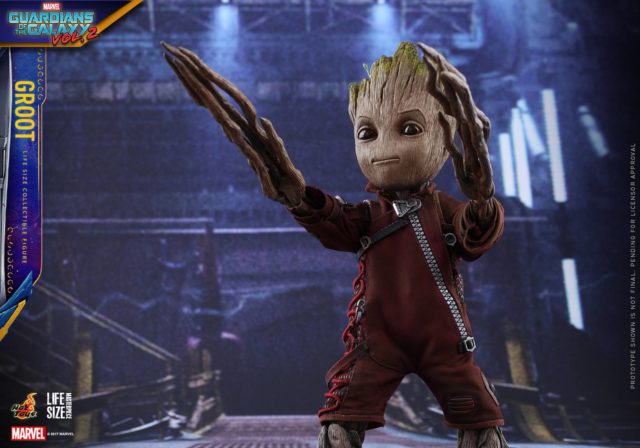 And to sweeten the pot a little bit more, Little Groot will also come with interchangeable attack arms (with bendable wires in them to allow posing!) and even an adorable (not a-DORBZ-able, since we're not talking about Dorbz here) soft goods Ravagers costume! The joints on the Hot Toys Groot Life Size figure are decently concealed to begin with, but they're really well hidden when they're underneath the costume.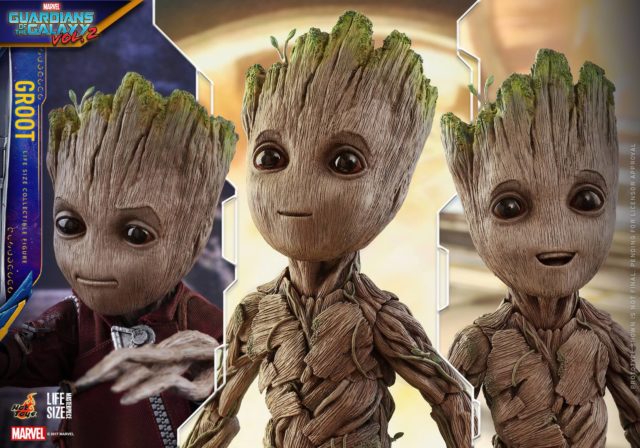 But wait–that's not all! Completing the deal, the Hot Toys Baby Groot Life Size figure will also come with three interchangeable faces, allowing his personality to really shine through in a variety of different poses and scenarios!
Want your Little Groot to have his mouth agape in wonder, looking at the world around him? You can! How about a subtle, cherubic closed-mouth smile? Yup–you can achieve that as well! And when Groot is feeling a bit grumpy, he's even got a "less friendly" face where his eyes have the slightest bit of fierceness to them! Hot Toys has covered all the bases here, and I love the results.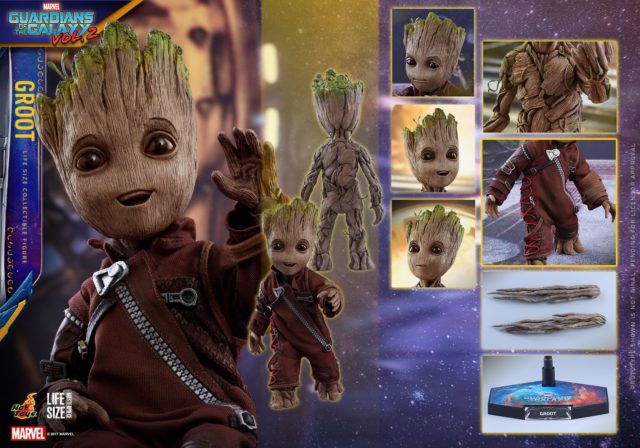 The Guardians of the Galaxy Hot Toys Life Size Groot figure is now up for order, and is expected to be released in early 2018. That 1/4 Potted Groot released for the first movie sold out very quickly and was unavailable months before it ever shipped, and I would be stunned if this doesn't follow suit and become the absolute most popular item from the entire Guardians of the Galaxy Vol. 2 lineup (possibly from anybody!). If you know you want this figure, make sure to pre-order it–this one is gonna be hot.
I'm (obviously) elated by this Life Size Groot Masterpiece, but how do you feel about, Marvel collectors? Is there a special spot in your heart–and your collection–for the best-looking Groot item that I've ever seen in my life? Are there any other MCU characters you'd ever want to see life-size figures of, or are you satisfied with Baby Groot (or perhaps none at all)?