Exiting the theater from seeing Guardians of the Galaxy Vol. 2 in the spring, there was nothing–nothing–I wanted more in the world than a Hot Toys Yondu sixth scale figure. At that point, A Yondu MMS figure hadn't even been teased, so it felt like a lost cause. But at SDCC 2017, the curtain dropped on what I've heard many other collectors calling the best sixth scale figure of the show. And now, Mary Poppins himself is on the way in deluxe and regular versions–the Hot Toys Yondu figure is now up for order!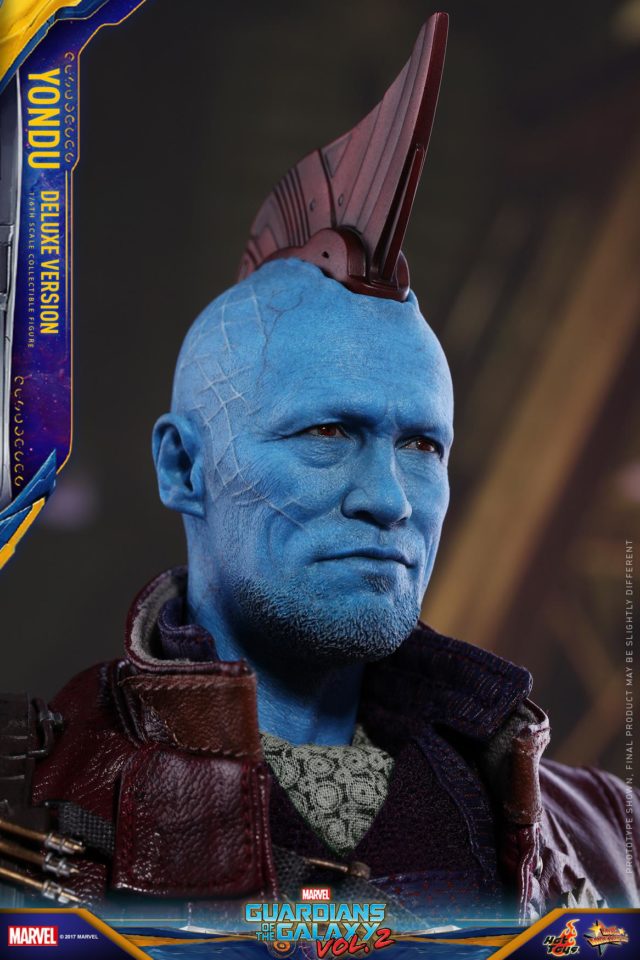 I thought that Michael Rooker's Yondu was one of the breakout characters in the first Guardians of the Galaxy movie in 2014, but to my surprise, a lot of friends I talked to in the lead-up to the sequel could barely even remember who I was talking about.
That wasn't that case after Guardians of the Galaxy Vol. 2, where Yondu captured the hearts of audiences perhaps more than any other character in the film. And now, Star-Lord's daddy is finally coming home in 12″ Movie Masterpiece Series form!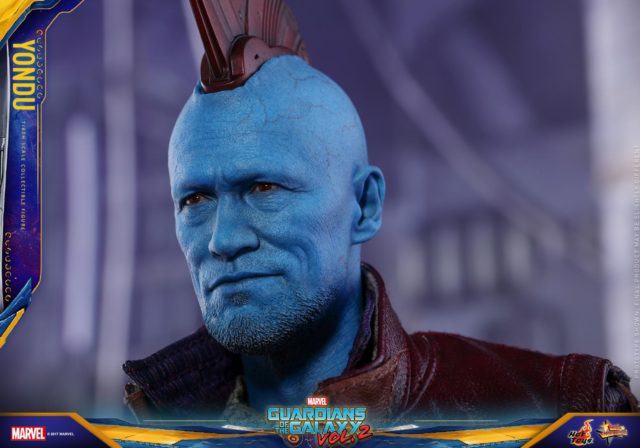 Let's start with the highlight of this figure: that Michael Rooker portrait is gold. Hot Toys does the best actor likenesses of any company in the toy business today (and probably ever), and their Michael Rooker Yondu head is some of their very best work.
Hot Toys picked a neutral expression, but it's so well-done that I don't get the dreaded "zombie stare" vibe from this piece at all.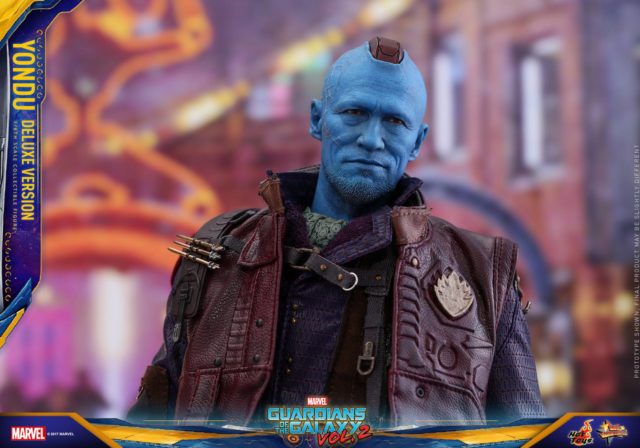 As he should, Yondu will come with intechangeable magnetic fins for his head–both the short one from the first movie and the "Mohawk" prototype fin introduced in the second movie (though c'mon, we're all gonna display him with the large fin, right?).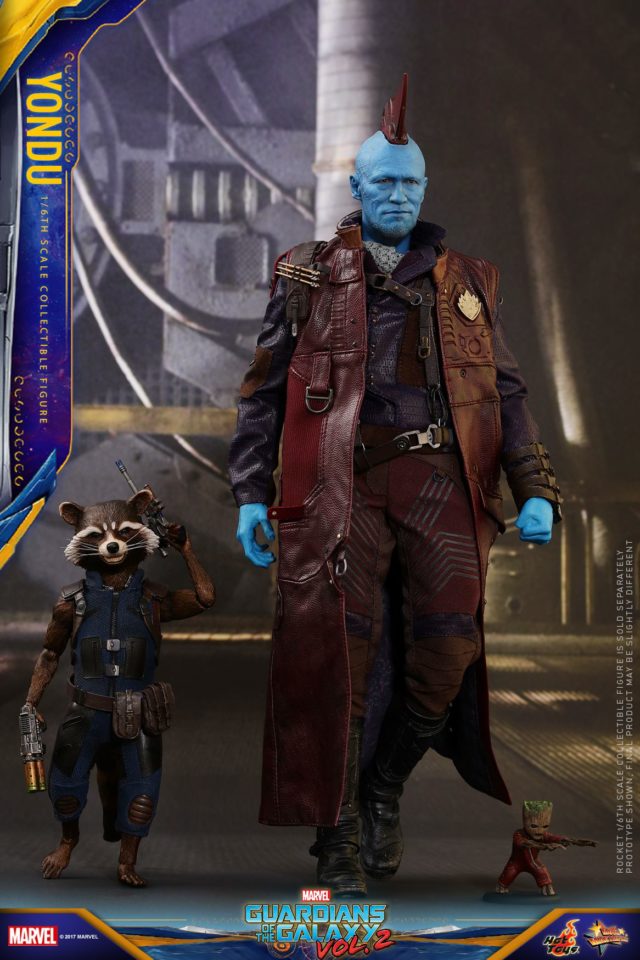 Besides actor likenesses, Hot Toys' other expertise is making the best tailored 1:6 figure clothes in the business, so it's no surprise that Yondu's Ravagers costume looks incredible. Yondu's coat in particular is impressive to me, but the whole costume is perfection in my opinion. (Though if you've got nits, please do pick them in the comments!)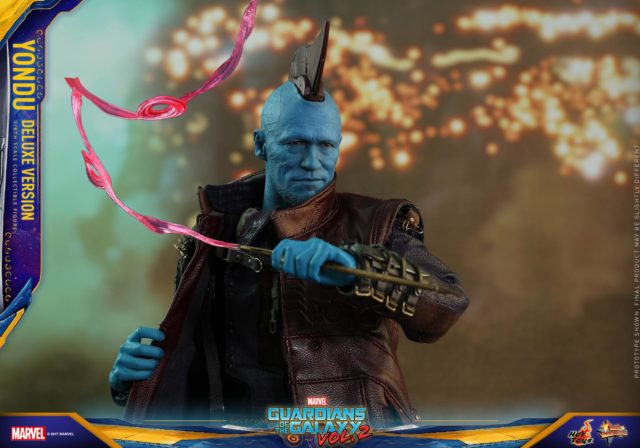 In addition to the little attacking Groot figure, Yondu will also come with the obligatory figure stand display base and interchangeable hands, as well as a dagger, several arrows, and (of course) an energized arrow with effects piece energy trail attached.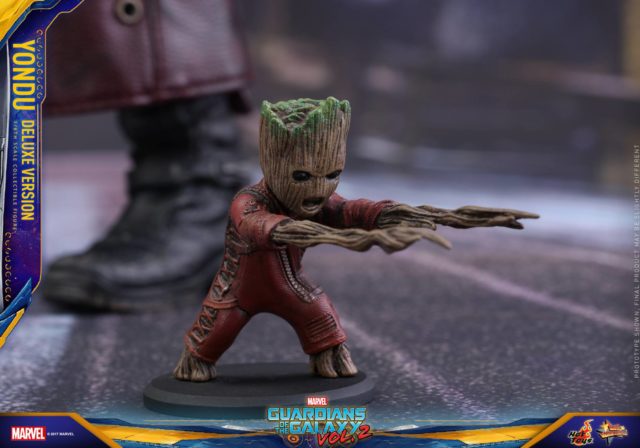 In the continuing trend of including a different Young Groot figurine with every Guardians of the Galaxy Vol. 2 Hot Toys, an "Attack Groot" figure in his Ravagers costume is included here with his tendrils extended. For those who prefer their little Groot to be murdering baddies, this is gonna be the one for you.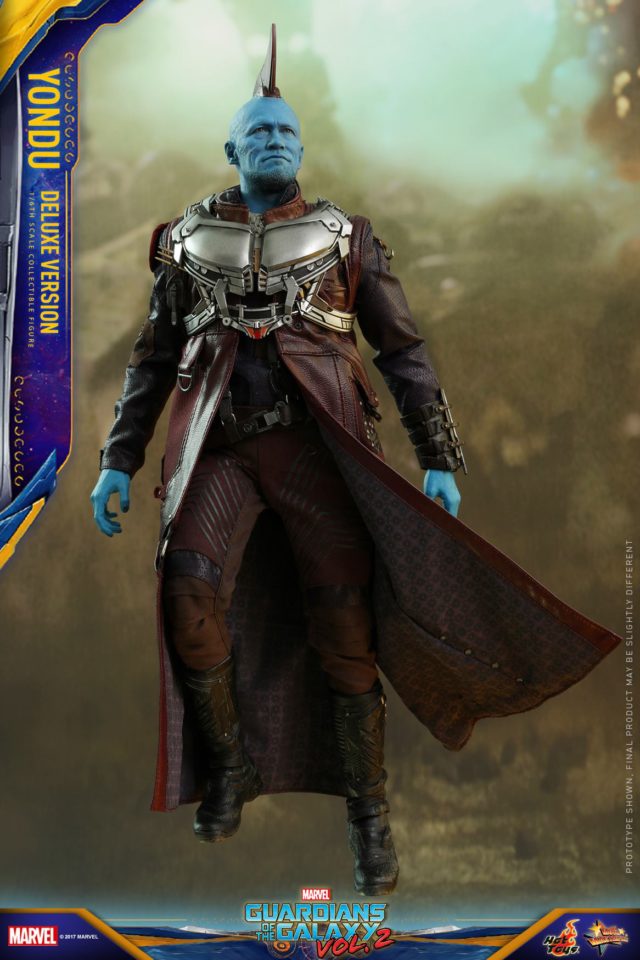 Ah, but just like the previously-solicited Star-Lord and Rocket Raccoon figures, Hot Toys is offering a "Deluxe" version of Yondu with a few more accessories for a few more dollars. And in this case, they're accessories I think most collectors will want.
The Hot Toys Deluxe Yondu includes the aerorig he wears during his final scene (which is enough to sell this version to me right there), as well as a unique blaster for Rocket Raccoon from the battle with Ego and the cage that Taserface holds Baby Groot in.
While none of these accessories are absolutely essential, they'll give more posing possibilities to Yondu, Rocket Raccoon and Baby Groot, so they're worth the extra 20 bucks to me. Your preferences may vary.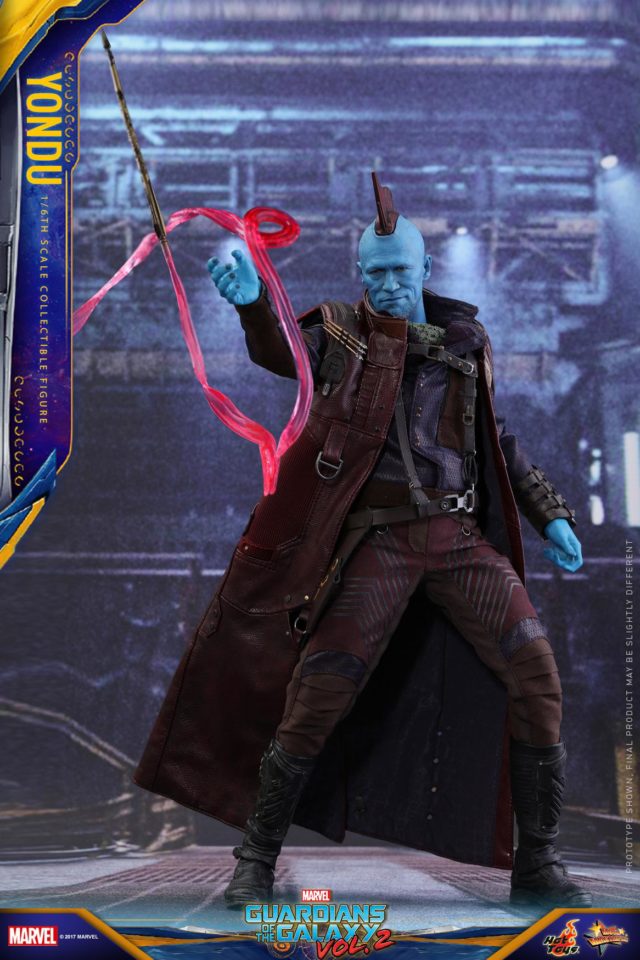 The Hot Toys Yondu figure's regular and deluxe versions are now up for order, and are scheduled to be released in Q3 2018. This figure instantly is at the top of my "going crazy waiting to have it" list, so it's gonna be a tough wait for the Yondu 1/6 Figure to arrive.
As you can tell, I'm pretty floored by the quality of this Yondu Hot Toys figure. But what do you think, Marvel collectors? Am I exaggerating his greatness, or is this one of Hot Toys' best figures to date? Are you ordering this 1/6 Yondu figure for your very own, and if so, are you opting for the deluxe or regular version?