And so–it begins!! It's been a quiet fall and winter for Hot Toys Marvel fans after the veritable onslaught of Hot Toys Civil War pre-orders last summer, but the respite is at an end and it's time to get our credit cards warmed up once again! The high-end sixth scale Guardians of the Galaxy Vol. 2 Movie Masterpiece Series is ready to kick off this afternoon, with the new Hot Toys Deluxe Rocket Raccoon & Baby Groot figures now up for order!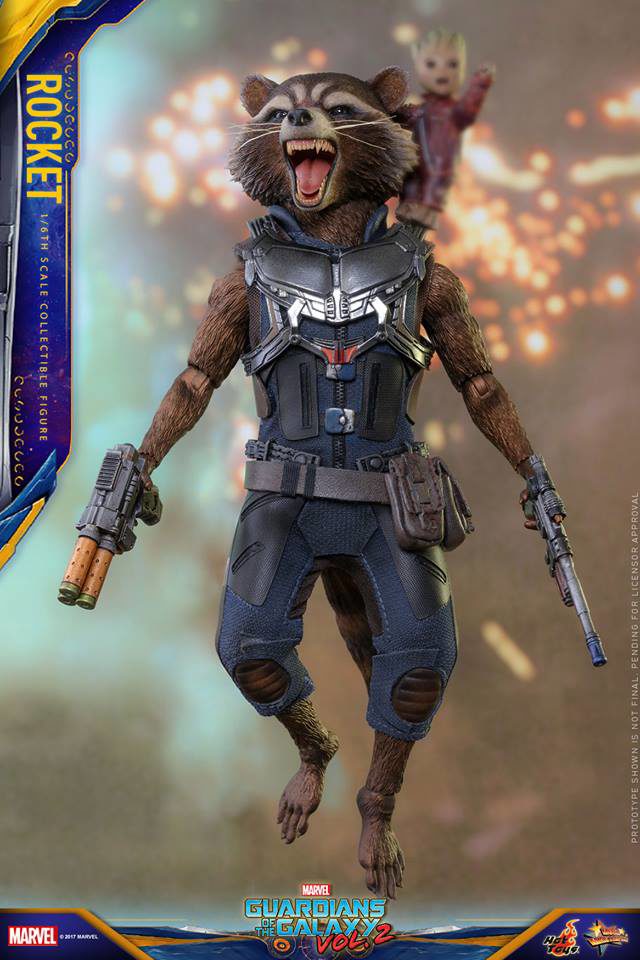 I woke up this morning to an ominous air that seemed eerily familiar, but I couldn't quite place it. But once I opened my browser and reconnected with the world, I realized I knew the feeling well: the feeling of hundreds of future dollars crying out in terror as Hot Toys preps a new 1/6 Marvel line: Guardians of the Galaxy Vol. 2.
The GOTG Movie Masterpiece Series for the first movie was rather small and limited to solely the five members of the Guardians plus Thanos, but hopefully we'll get Nebula, Yondu and Mantis this time around.
But before we get to possible new characters, Hot Toys is kicking off the line with a new and improved Rocket Raccoon sixth scale figure!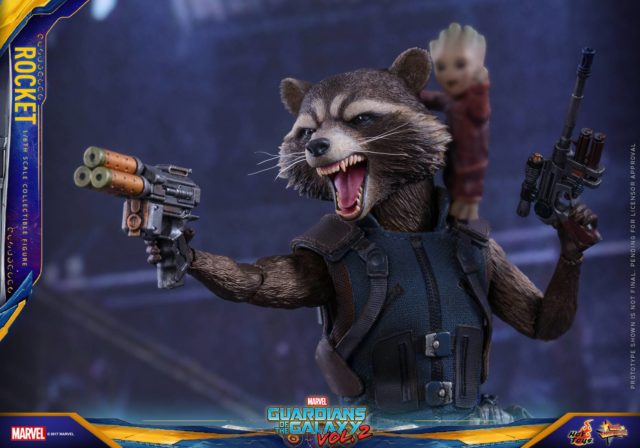 The first and most immediately obvious upgrade to this new Hot Toys Rocket Raccoon is the open-mouthed, screaming portrait head. The sculpting on the fur of Rocket's head is immensely impressive, and the expression on his face is way more compelling than yet another zombie stare.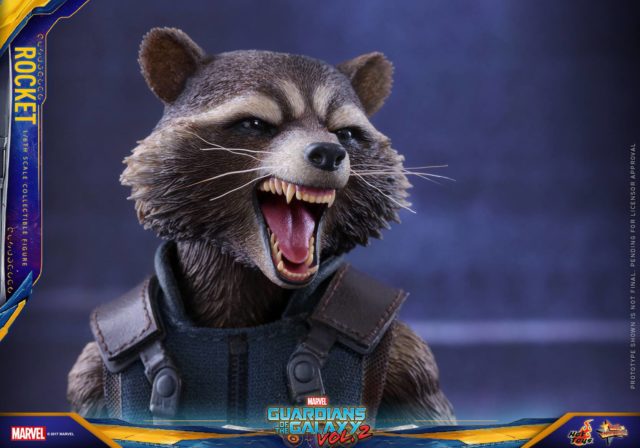 This is easily one of the most fun Hot Toys Marvel head sculpts ever!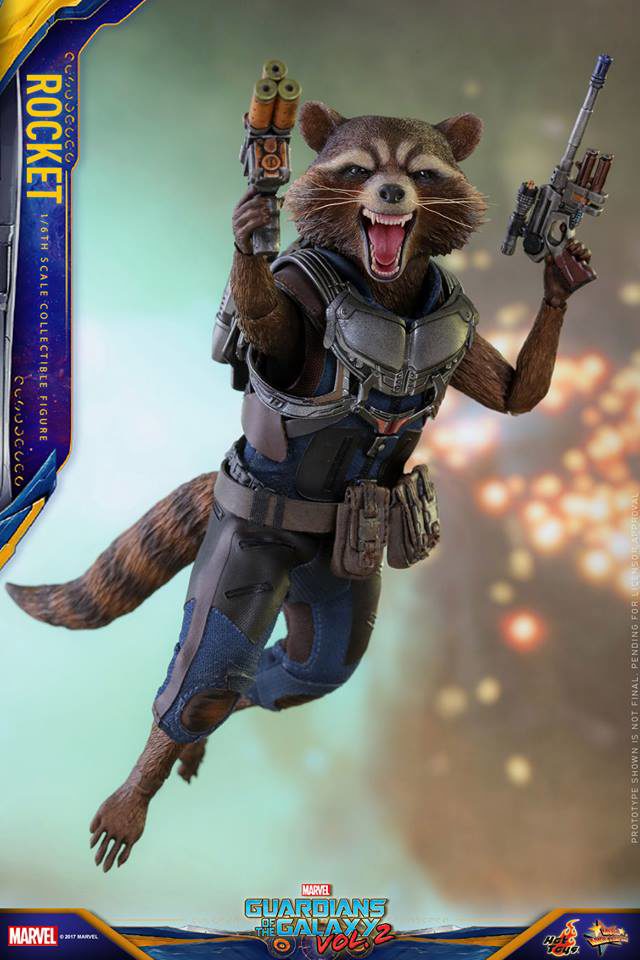 But of course, that's not all that's new about this GOTG Vol. 2 Rocket Raccoon Hot Toys figure. He's coming adorned with his new blue costume this time around, along with his armored jet pack (which sadly does not seem to get any flame effects piece).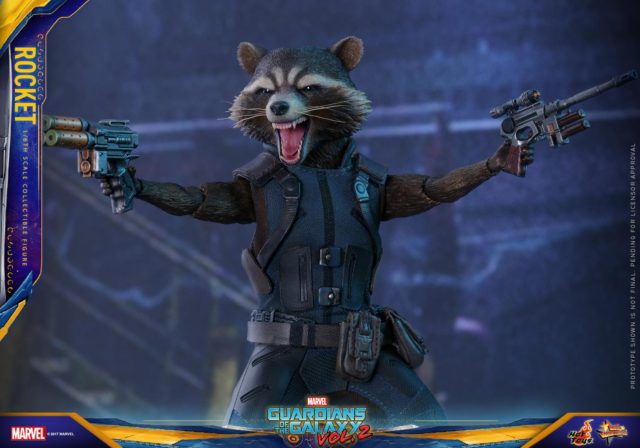 And of course, he just wouldn't be Rocket Raccoon without some murdering tools, so Rocket comes equipped with two blaster pistols and five pairs of interchangeable hands to properly wield them with.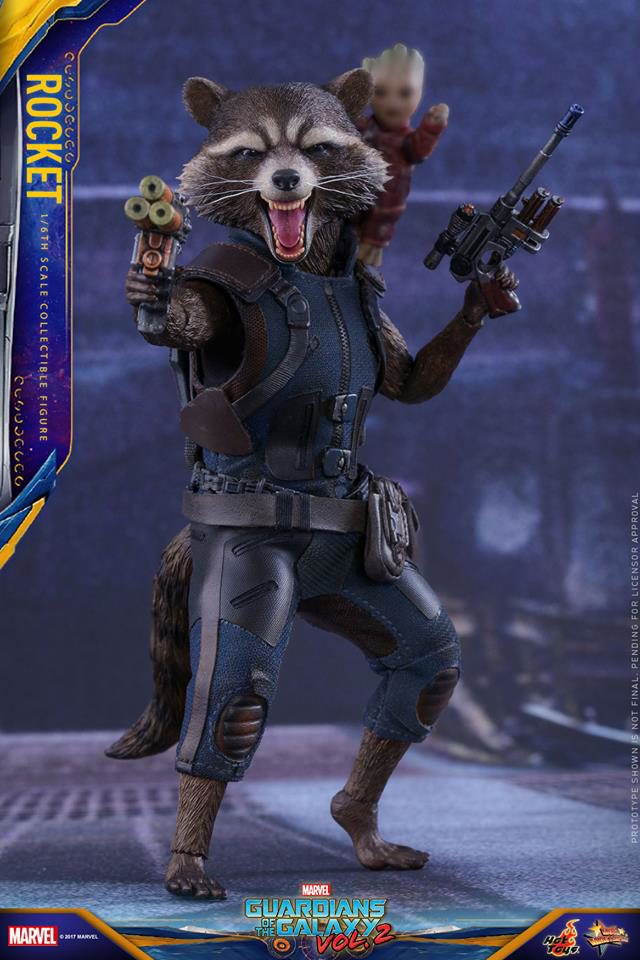 And oh yeah–Baby Groot…? He's here too! Though the figure isn't finalized and it still blurred out a bit, we can clearly see a Hot Toys Baby Groot in his Ravagers uniform, waving happily while perched atop Rocket's shoulder!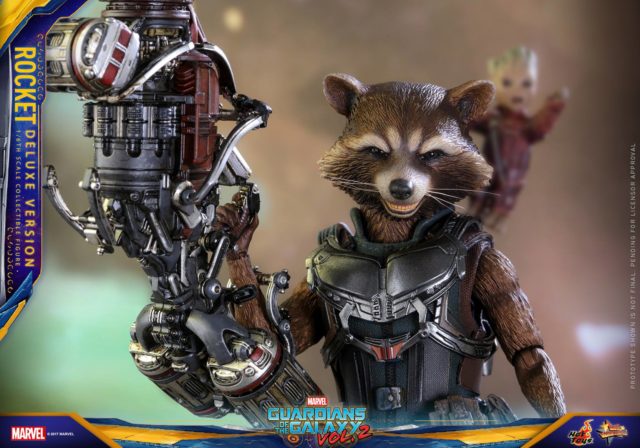 I wouldn't be surprised if each figure in this series comes with a different Young Groot figurine, but it'll be hard to top the cuteness of this one.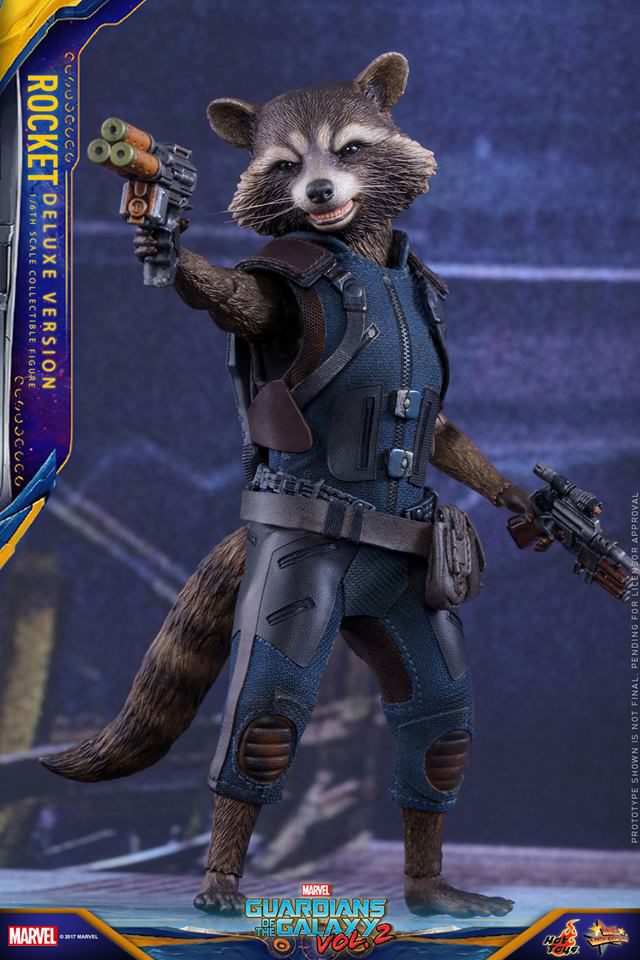 But wait–there's more! …If you pay for more, anyway. Hot Toys is also releasing a Deluxe Rocket Raccoon figure that will come with everything the regular edition does, along with two more highly desirable accessories.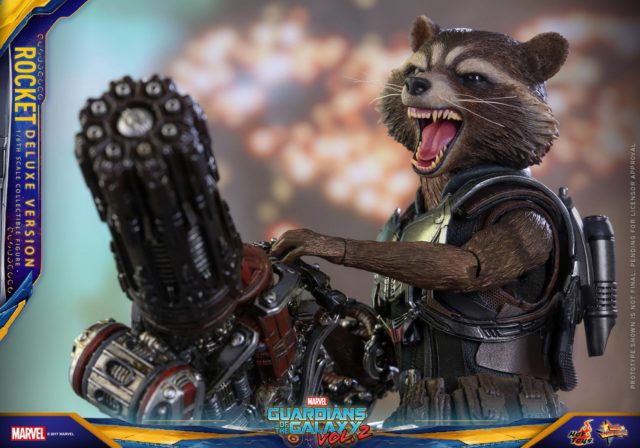 If you want your favorite anthropomorphic raccoon to be packing even more heat, the Deluxe version comes with a humongous, Gatling gun-like "mechanically complex" machine gun that is just plain awesome. I can see that I'm going to have to re-pose this Rocket Raccoon sixth scale figure pretty frequently, because there are a ton of poses I want to put him into!
And for those who missed the first Rocket Raccoon MMS, a closed-mouth head comes with this deluxe version as well. I've had the original closed-mouth Hot Toys Rocket Raccoon on display for about two years now, so I'm over the closed mouth look for him personally, but it's always nice to have options!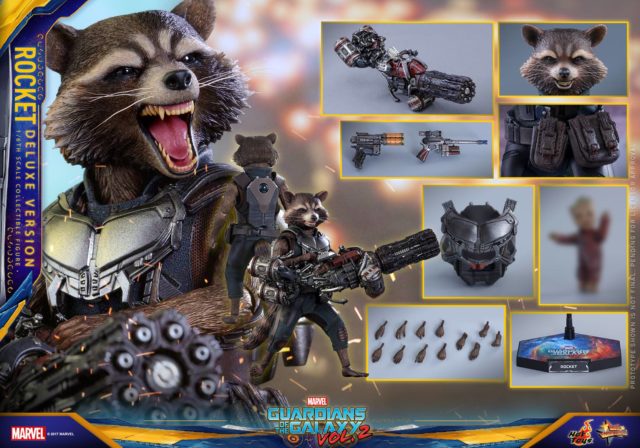 The Hot Toys Guardians of the Galaxy Vol. 2 Rocket Raccoon figure goes up for order this afternoon, and is expected to be released in late 2017. The original Rocket Raccoon Hot Toys sixth scale figure has been sold out for around a year and half, so I expect this version's sales to be, well… hot.
What do you think of the Hot Toys GOTG2 Rocket Raccoon 1:6 figure, Marvel collectors? For those of you who have the original, is this one upgraded enough to make you buy him again? And if you didn't buy the first version, has this improved Rocket earned your buy this time?