Well, I'm just full of "wrong" lately. With under a week until the beginning of San Diego Comic Con 2014, I had truly figured that Hot Toys would hold off on debuting any new Movie Masterpiece Series figures–particularly the Hot Toys Guardians of the Galaxy figures–so that they'd be able to premiere them at SDCC 2014. Evidently, Hot Toys figured otherwise. But I'm glad they did, because the first Guardians of the Galaxy Hot Toys figure unveiled is the one I wanted to see most–the MMS 252 Hot Toys Rocket Raccoon figure is now up for order!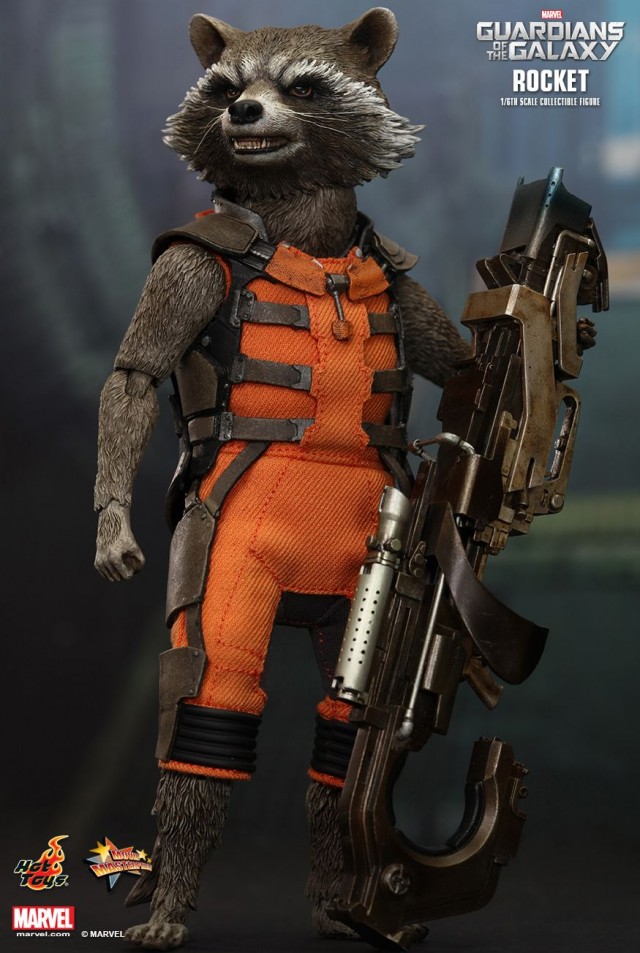 If you're a regular reader, you already know that I'm absolutely rabid for Rocket Raccoon toys and collectibles. So I'll forgo talking about my bizarre love affair with Rocket Raccoon this time out and cut straight to discussing Hot Toys' latest masterpiece: the Guardians of the Galaxy Hot Toys Rocket Raccoon 1/6 figure!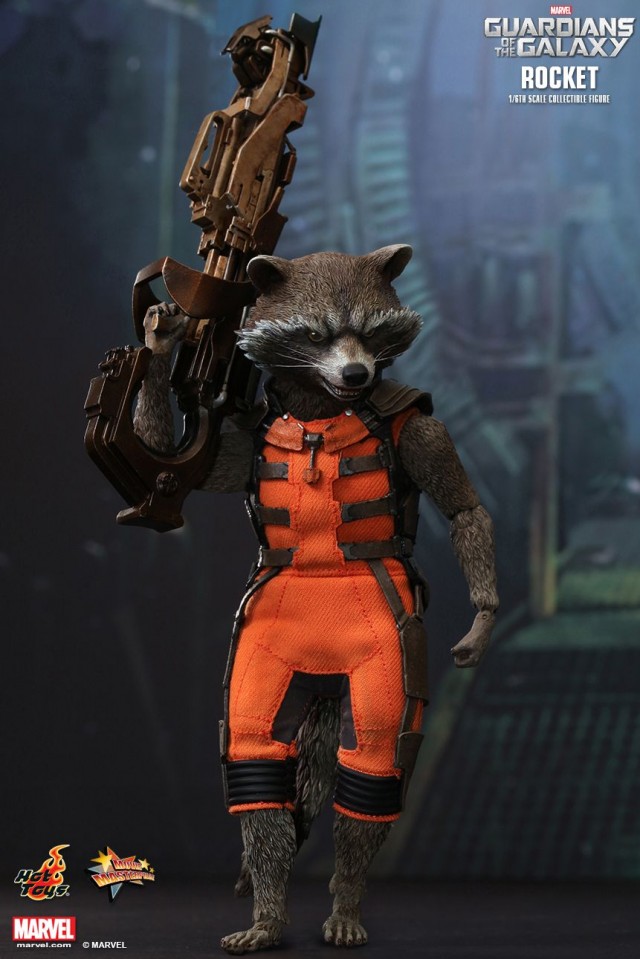 With a character like Rocket Raccoon, getting the scale accurate is crucial–but it looks like Hot Toys was up to the task.
The Hot Toys Guardians of the Galaxy Rocket Raccoon figure will be a total of about 16 cm–or about 6.3″–tall. That puts Rocket at a height that's just a raccoon hair over half the height of a typical Hot Toys figure–meaning that Hot Toys got the scale correct according to what we've seen of Rocket Raccoon in Guardians of the Galaxy movie trailers and screenshots.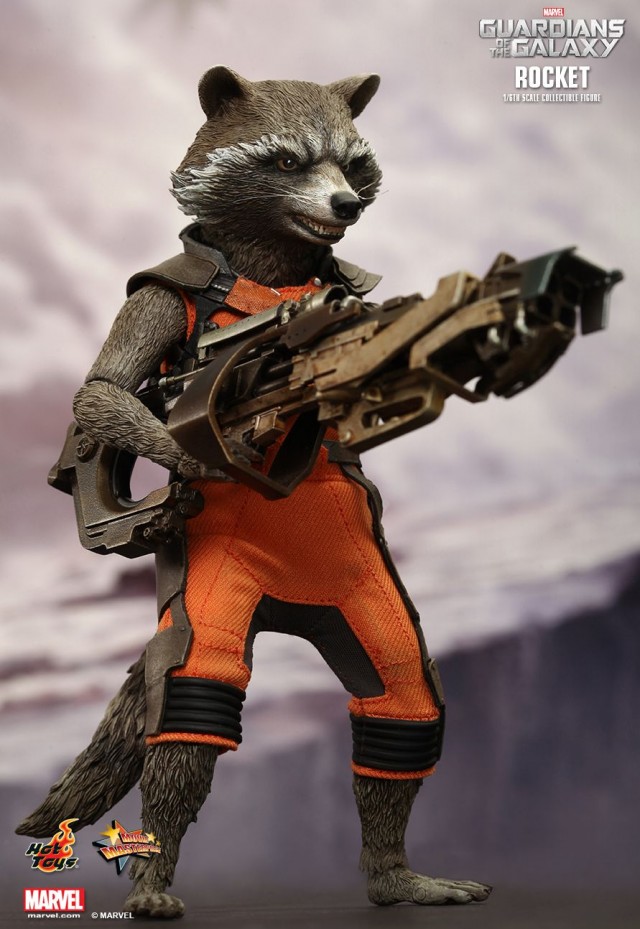 I was never legitimately concerned that Hot Toys would try to make Rocket Raccoon with any kind of fuzzy material or flock the figure, but in case you were worried about it–breathe. As it should be, Rocket Raccoon's body is entirely made of plastic with meticulously-sculpted fur on it. Hot Toys may need to tweak Rocket's head sculpt ever-so-slightly to make it totally authentic, but otherwise Rocket is looking excellent.
And though Hot Toys didn't share any photos of the back of the Rocket Raccoon MMS252 figure, we can still see his bushy little tail sticking out behind him a bit!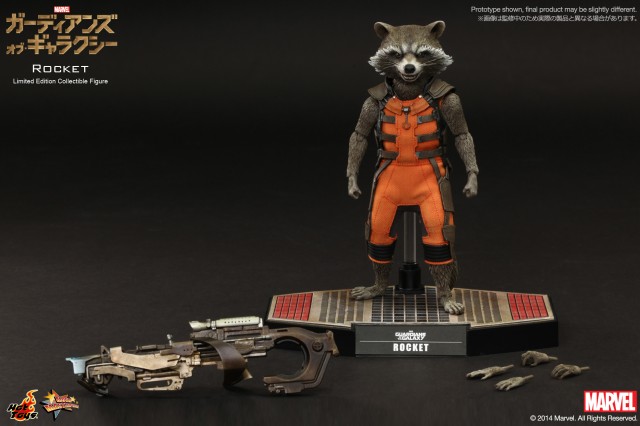 Rocket Raccoon will come with just a handful of accessories: a very cool figure stand base that looks like the grated floor of a space ship, a couple pairs of alternate hands, and a BFG rifle. And it really is a big rifle for such a little raccoon to carry around!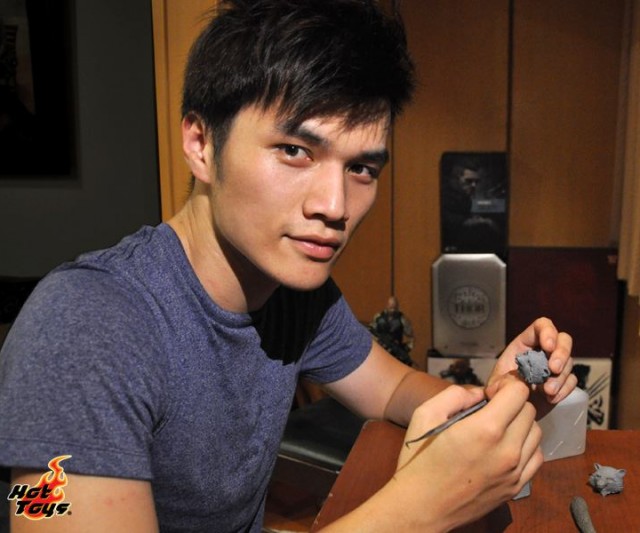 What's perhaps more interesting than what comes with the Rocket Raccoon Hot Toys MMS252 figures, however, is what
doesn't
come with him. Hot Toys has already shown us a yellow prison outfit costume for Rocket Raccoon, as well as a neutral (non-feral) head, and neither of those items are included here. I smell another Hot Toys Rocket Raccoon 1/6 figure (or two!) in our futures!
The Guardians of the Galaxy Rocket Raccoon Hot Toys sixth scale figure is priced at 160,000 yen overseas, so it's likely he'll be priced somewhere between $150-$170 in the United States, making him one of the cheapest Hot Toys Marvel figures ever (as he should be, being just over six inches tall and all). We'll know very soon.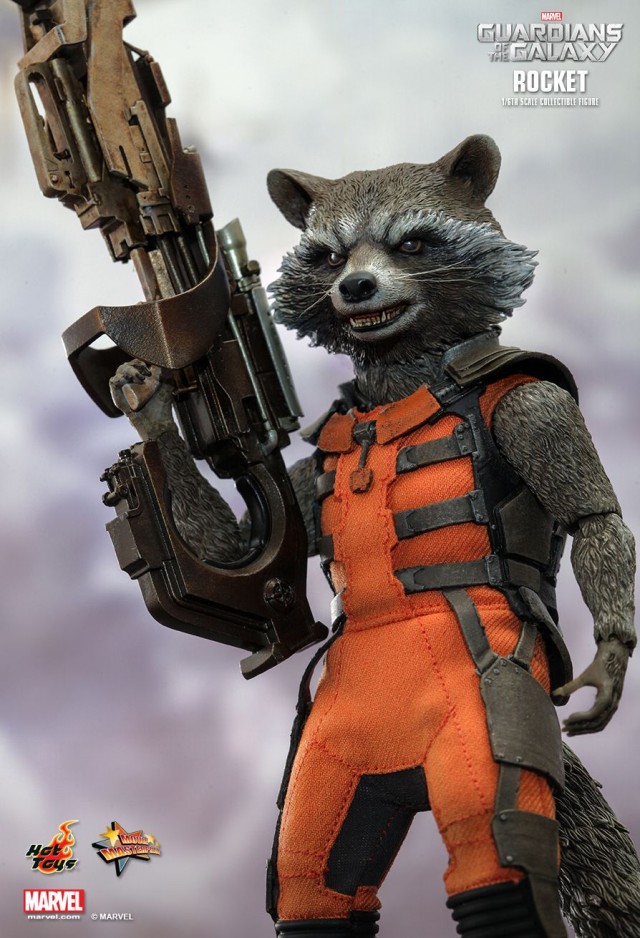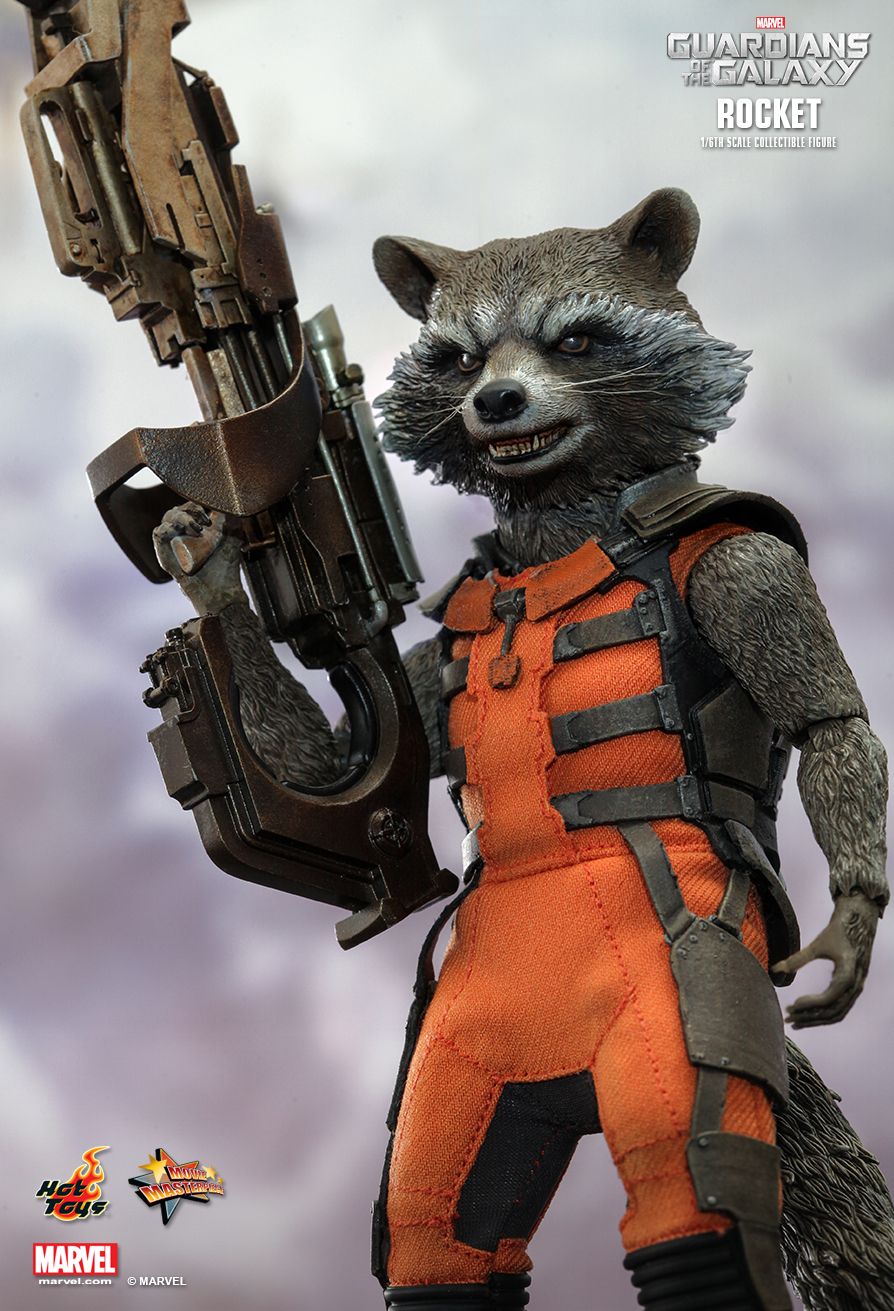 The Hot Toys Rocket Raccoon sixth scale figure should be up for order on the Sideshow Collectibles website shortly. Rocket Raccoon has easily more buzz than any other character going into the Guardians of the Galaxy movie, so he'll almost certainly be the Hot Toys GOTG 1/6 figure to sell out first. Rocket should be priced at under $199 and with no non-refundable deposit, so make sure to lock in a crazy anthropomorphic raccoon now if you think you might want one later!
What do you think of the Hot Toys Rocket Raccoon 1/6th scale figure, Marvel collectors? Is this destined to be among your favorite (and most unique) sixth scale figures ever, or is a talking humanoid raccoon just too weird for your figure collection?