Hot Toys announced in July 2013–close to a full year ago–that they had obtained the license to make Guardians of the Galaxy Hot Toys sixth scale figures. So it's not exactly an unexpected development that Hot Toys has revealed their first photo of the impending Hot Toys Guardians of the Galaxy 1/6 line of Movie Masterpiece Series figures (what with the Guardians of the Galaxy movie hitting theaters in under two months and all). What is a twist, however, is exactly what Hot Toys has unveiled–prototypes for all five members of the Hot Toys Guardians of the Galaxy figures!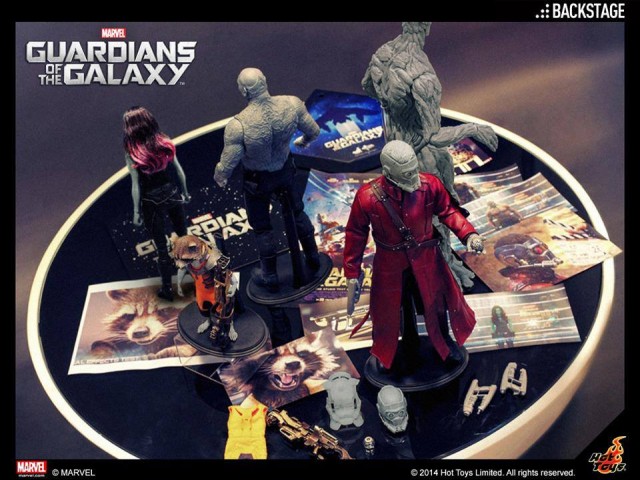 If anyone had asked me a few months ago which members of the Guardians of the Galaxy team Hot Toys would be immortalizing as Movie Masterpiece Series 1/6th scale figures, I would have said they'd do Rocket Raccoon and Star-Lord and call it a wrap.
Clearly, I underestimated Hot Toys, though–as in the very first publicly-revealed photos of the their 1/6 Guardians of the Galaxy figures, they've given us our first glimpse at all five members of the team: Drax the Destroyer, Gamora, Groot, Rocket Raccoon and Starlord!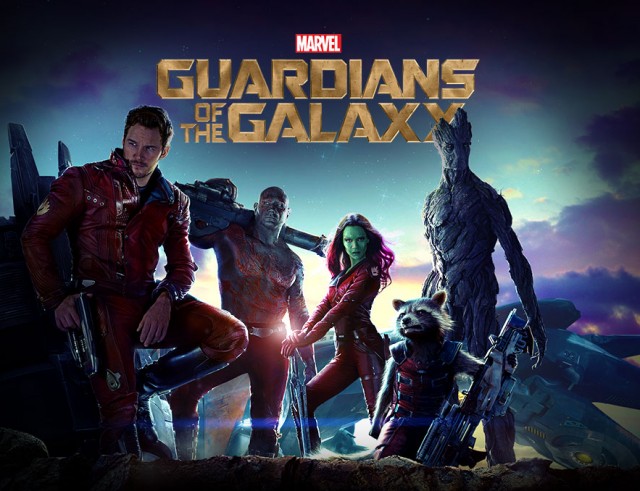 Here's a few of my observations and impressions of this debut photo:
At least two Rocket Raccoon costumes are in development–both the orange one that Rocket is wearing in most of the trailers and other merch, as well as a yellow outfit with red highlights. In addition, an "angry" Rocket Raccoon head with Rocket snarling also is hinted at by the photos on the table. Could Hot Toys be insidious enough to make us buy a second Hot Toys Rocket Raccoon figure just for the alternate head and yellow costume…?
The Guardians of the Galaxy Hot Toys Gamora figure will have rooted hair, just as all three Hot Toys Black Widow figures do.
The Groot Hot Toys Guardians of the Galaxy figure is noticeably taller than any other figure in the preview photo. It's difficult to gauge exactly how much taller since we can't see the top of his head or if he's standing on a base, but he obviously Hot Toys Groot won't be as large in comparison to the other members of the team as the Marvel Legends Groot Build-A-Figure is to his counterparts.
The photo shows two different masked helmet Star-Lord Hot Toys heads, but there's no indication at all that an unmasked Hot Toys Chris Pratt head is being worked on. I'd be surprised if there isn't one included with the final product, but I'm surprised there's no hint at all that a Chris Pratt unmasked head is in development–not even a picture of the actor on the table.
All of the Hot Toys Guardians of the Galaxy figures have their heads turned away from the camera. This is probably because the likenesses haven't been approved yet and Hot Toys doesn't want to hear all us fans whine about the unfinished sculpts not being accurate to the actors' film appearances.
Hot Toys Star Lord's red coat looks terrific! I'm also loving the extreme amount of sculpting detail on the Hot Toys Drax back tattoos and Groot's treelike texture.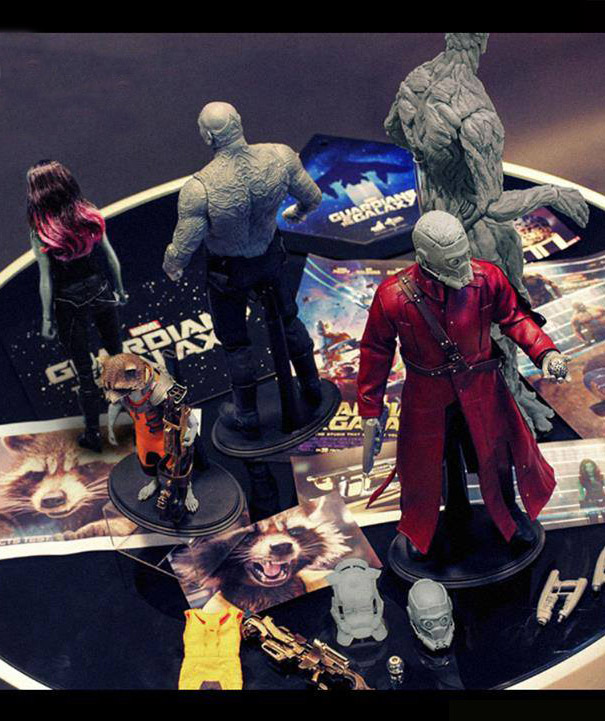 I'll update as more news and photos about the GOTG Hot Toys figures become available, and you can 'Like' Marvel Toy News on Facebook to have updates sent right to your Facebook Newsfeed.
What do you think of the first reveal of the Hot Toys Guardians of the Galaxy MMS figures, Marvel collectors? Are you excited about the prospect of building another complete Marvel Studios team in Hot Toys form, or is this investment of likely $1000 or more just not up your alley?