Asia is becoming quite the hot spot for Marvel Legends news! The news that the Captain America: The Winter Soldier Marvel Legends Black Widow figures would be increased to two-per-case came first from Asia, as did the first leaked photos and information regarding this summer's X-Men Marvel Legends Infinite Series figures. And now, we've got an announcement that's almost as unexpected coming from a Hasbro Asia solicitation: the long-lost 6″ Marvel Legends Agent Venom figure appears to finally be shipping this summer!
At San Diego Comic-Con 2013, Marvel fans got to feast their eyes on the much-loved modern version of Venom in 6″ figure form–the Flash Thompson Agent Venom Marvel Legends figure! Hasbro had the figure's availability on the placard listed as "TBD" (To Be Determined)–probably because they already knew at the time that that particular wave of Marvel Legends action figures was doomed (orders were in for the prior Marvel Legends 2013 series–the writing was on the wall).
Many fans feared that the Marvel Legends 6″ Agent Venom action figure would suffer the same hellish fate of being stuck in perpetual limbo as other MIA Marvel Legends figures such as Dani Moonstar, Blade and Bulldozer. I was one of those collectors who feared the worst for good ol' Venom Flash Thompson.
Luckily, it appears that grim fate for the Agent Venom Marvel Legends figure was be avoided–a new Hasbro solicitation for an Amazing Spider-Man 2 Marvel Legends revision case has included Agent Venom in the assortment!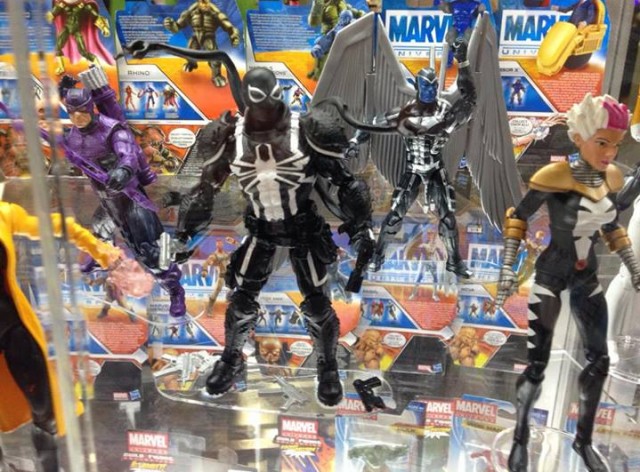 The Amazing Spider-Man Marvel Legends Infinite Series Revision Case Is As Follows:
(2)
Marvel Legends Agent Venom Figure
(1)
Marvel Legends Amazing Spider-Man 2 Electro Figure
(1)
Marvel Legends Superior Spider-Man Figure
(1)
Marvel Legends Spawn of Symbiotes Figure
(1)
Marvel Legends Skyline Sirens Figure
(1)
Marvel Legends Amazing Spider-Man 2 Spider-Man Figure
Ordinarily I might take this case assortment with a grain of salt, but the case assortments for Marvel Legends that have been solicited in Asia before the United States have been spot-on every single time.
It makes complete sense for the shelf-warming Superior Spider-Man Marvel Legends figure to be reduced to one-per-case, and Hasbro promised us at Toy Fair 2014 that a future revision case would bring back the Marvel Legends Carnage and Marvel Legends Black Cat figures. This most likely is that case (presumably with Marvel Legends Ultimate Beetle back in the mix as well).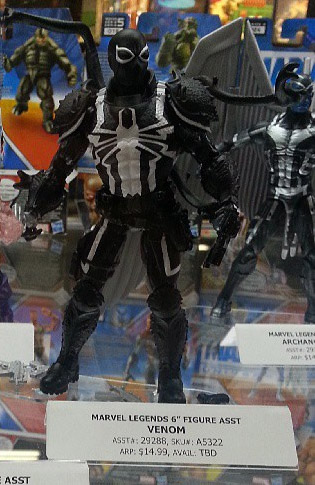 This Marvel Legends Amazing Spider-Man 2 Infinite Series revision case is scheduled to hit Hong Kong in late June 2014. There's no word of a U.S. release date for the revision case yet, but my best guess would be late July/August 2014 for the United States (if any U.S. retailers ever order this revision case with all of the Superior Spider-Men jamming up the pegs).
If this is true–and I'm willing to stake that it is–what do you think of this Marvel Legends Spider-Man Infinite Series revision case, Marvel collectors? Are you psyched for the chance to own a 6″ Agent Venom Marvel Legends figure and another shot at Marvel Legends Black Cat and Carnage figures?